Chilly studios and morning yoga flows can leave your legs feeling too frigid to flow through sun salutations and relax in Savasana.
Fortunately, leg warmers aren't just for autumn fashion anymore. Yoga leg warmers can be paired with workout shorts or worn over the top of your leggings for extra warmth, style, and relaxation.
Here are our top 6 favorite yoga leg warmers to make your wardrobe more versatile and cozy, no matter the studio or season.
Quick Picks
Why wear yoga leg warmers?
Sometimes you're headed to the studio on a summer morning in your favorite yoga shorts and get hit with unexpected goosebumps on the mat. On the flip side, ultra cold winter days can leave you feeling stiff and frigid as you try to warm up with your morning sun salutations.
Trying to focus on your breath and movement while you're freezing cold is arguably harder than any balancing pose. Muscles naturally want to contract and stay tight in cold weather, meaning more soreness and less freedom to de-stress and stretch out.
When a hoodie and leggings aren't enough, leg warmers warm you up right where you need it: from the foot to the knee.
Yoga leg warmers are our favorite trend for warming up without having to change outfits altogether. Obviously they warm your legs, but they also:
Aid in floor or mat traction (thanks to the common "stirrup" design)
Create more seasonal versatility in your yoga wardrobe
Keep you cozy en route to winter studio classes
Help with flexibility
Warm and loosen stiff hamstrings
Create a cute outfit with yoga shorts or a leotard
Help you warm up without changing bottoms
Can be slipped on just for Savasana and resting poses
Create extra sweat in heated studios or Bikram classes
Whether you wear leg warmers specifically for your yoga practice or you use them to transition athleisure gear into stylish autumn outfits, these ultra soft leg warmers are our absolute favorite picks for staying comfy and free to move.
6 Best Yoga Leg Warmers
Product's Name
Height
Material
More Info

Best Overall


Goddess Leg Warmer by Alo Yoga
Thigh-high
Sweat-wicking airbrush Goddess fabric
See Latest Price

Best Winter Leg Warmers


ToeSox Women's Thigh High Ribbed Knit Leg Warmers (Charcoal Grey)
40" (thigh-high)
Acrylic, polyester and wool blend
See latest price

Best Non-Slip Grip


Pole Tribe High Thigh Leg Warmers for Women - Long, Thick Socks for Women -...
Ultra thigh-high
Acrylic and spandex blend
See latest price

Best Cozy Pick


Foot Traffic Cable Knit Legwarmers (Super Long, Oatmeal)
39" (thigh-high)
Nylon and polyester blend
See latest price

Best for Cold Feet


Moon Wood Women Thigh High Socks Black Over the Knee Leg Warmer Girls Tall...
Thigh-high or foldover
Yarn and cotton blend
See latest price

Budget Pick


Guojanfon 1 Pair Fashion Yoga Socks for Women Girls Workout Socks Toeless...
Calf-high
Cotton and nylon blend
See latest price
At first thought, leg warmers sounds like a weird hand-warmer-heat-packets or footless socks thrown over your pants. But the best yoga leg warmers are actually engineered specifically for traction, stretch, sweat-wicking, compression, and style.
These are our top-rated favs that check all the boxes for wearing on or off the mat:
When you want a leg warmer that feels as smooth and lightweight as your yoga leggings, Alo has you covered. These Goddess Leg Warmers are made of a crazy soft ribbed Airbrush fabric the moves with you in every asana. They hit right above the knee and look amazing with a leotard, yoga shorts, or biker shorts. The bottom stirrups fit comfortably under your heel or tucked up over your ankle for adjustments throughout your practice.
We love that they are warm yet sweat-wicking and help you keep traction while staing cozy. Available in 8 trendy colors to match your favorite Alo set or compliment other gear, this pair also looks amazing with a winter dress and boots.
Pros
Trendy enough to wear off the mat
Sweat-wicking technology
Performance airbrush fabric
Ultra soft ribbed material
Stirrup design can be worn under the heel or bunched at the ankle
Thigh-high design
Cons
Thinner fabric (not as warm as winter leg warmers)
Higher price point
Need to be specially washed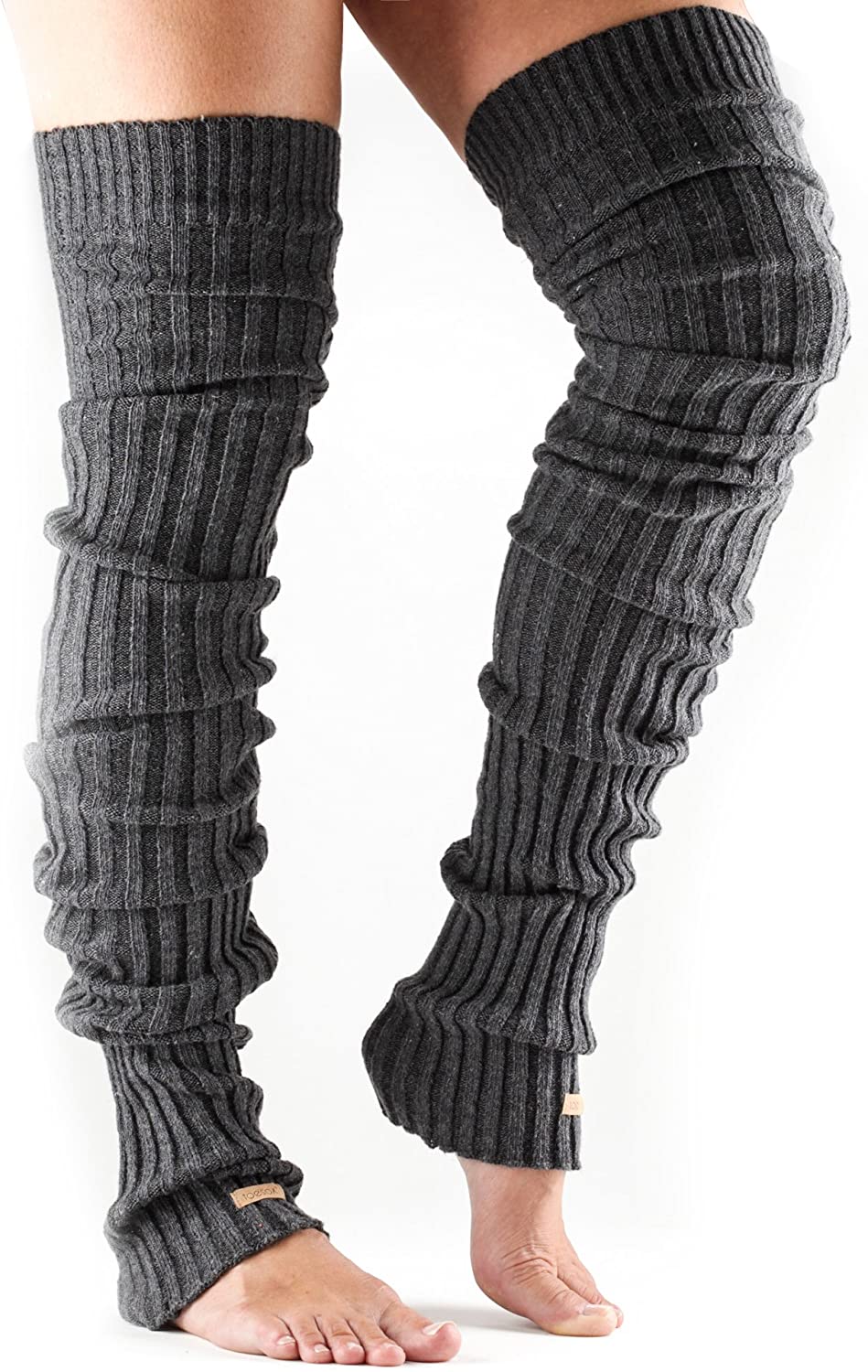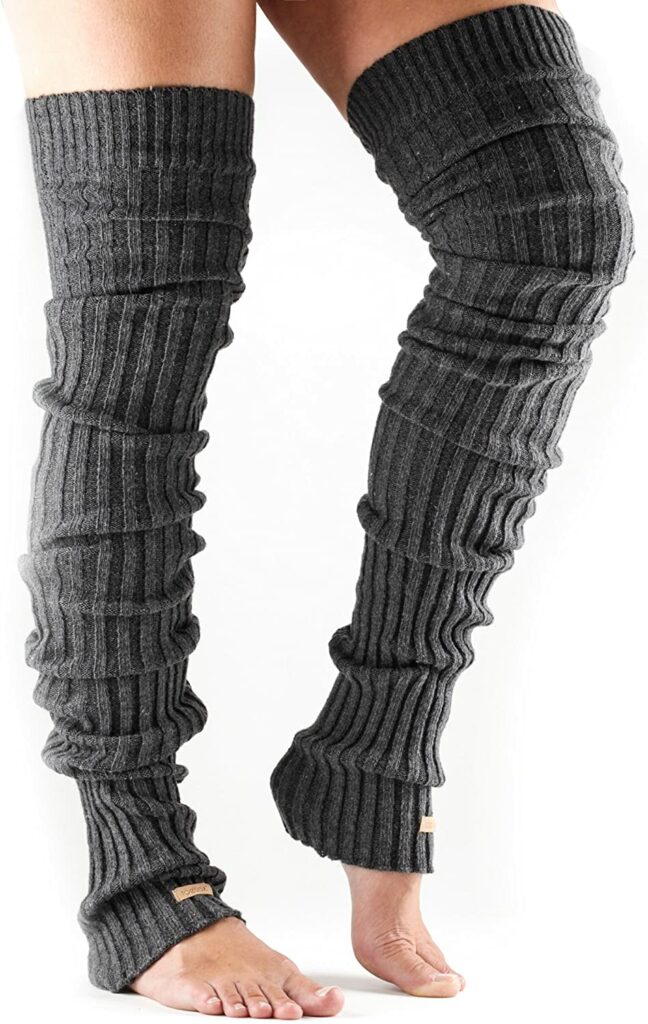 Best Winter Leg Warmers:
ToeSox Women's Thigh High Ribbed Knit Leg Warmers (Charcoal Grey)
See latest price
Perfect for yoga, pilates, barre, or fashion, these soft knit leg warmers have a ribbed texture and come in two colors. They are 40″ tall with an open heel and flattering band that gently grips your thighs. They keep your muscles warm while you flow and look adorable with skirts or dresses. Our favorite thing about the ToeSox is how easy they are to scrunch down or pull up without feeling tight, restrictive, or annoying.
Pros
Acrylic, polyester, and wool blend
Super cozy and warm
40″ long
One size fits most
Open heel and toes
Easy to pull up or scrunch down
Machine washable
Cons
Mid-high price point
Need to be line dried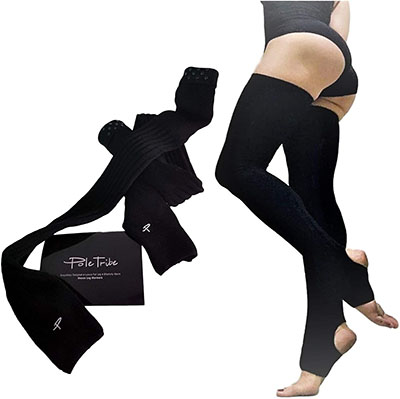 Best Non-Slip Grip:
Pole Tribe High Thigh Leg Warmers for Women - Long, Thick Socks for Women - Ideal for Ballet, High...
See latest price
Ok, so these are technically made for pole dancing, but they're also incredible for yoga, barre, or pilates. This leg warmer has an anti-slip silicon dot design gives you superior traction and cushion. The top section perfectly grips your thigh so the socks never slide down.
We also love that the stirrup foot design is lightly padded and grippy with a heel opening to prevent slipping on the mat. You can scrunch the socks down or up depending on your yoga bottoms. The only downside is that this leg warmer is not actually the warmest. The 90% acrylic and 10% spandex blend is stretchy and soft, but not necessarily insulating.
Pros
Superior grip from anti-slip silicon dots
Stretchy acrylic, elastane, and spandex material
Stirrup design with open heel
Easily fit in your shoes for wearing out
Thigh section is highly elastic so it never rolls down, yet doesn't feel restrictive or dig into your skin
Cons
Designed for pole dancing
Not as warm as other selections
Best Cozy Pick:
Foot Traffic Cable Knit Legwarmers (Super Long, Oatmeal)
See latest price
If you really just love leg warmers for the cozy vibes, this pair is perfect for lounging around or light Yin yoga stretching. They're 39 inches long and super warm. The nylon and polyester blend gives a wool-like feel with plenty of breathability.
Because they are designed more like footless tights, this is a great option for those who don't like the stirrup heel design. We also absolutely love how this cable knit style looks over leggings or tights while running errands.
Pros
Ultra cozy
39″ long and stretchy
Looks stylish and trendy off the mat
Nylon and polyester blend cable knit
Breathable and soft
14 color options
Cons
No stirrup heel
May be too warm for some practices
May roll or fall down in some poses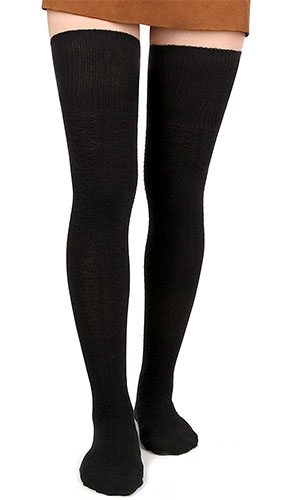 Best for Cold Feet:
Moon Wood Women Thigh High Socks Black Over the Knee Leg Warmer Girls Tall Long Stockings, 1 Pack
See latest price
When your feet are constantly cold in yoga, it can be hard to focus on your practice. These thigh high socks warm your legs and feet simultaneously, while still allowing full range of motion and traction as you flow. Though they're not technically designed for intense yoga sessions, we've found that they're perfect for morning stretches, yin yoga, or Savasana relaxation at the end of a practice. They also look adorable with winter boots.
Pros
Very affordable
Keep feet cozy
Sock/leg warmer crossover
30% stretchy yarn and 80% cotton
Can scrunch down, fold over, or pull up for different thigh heights
Trendy and fashion-forward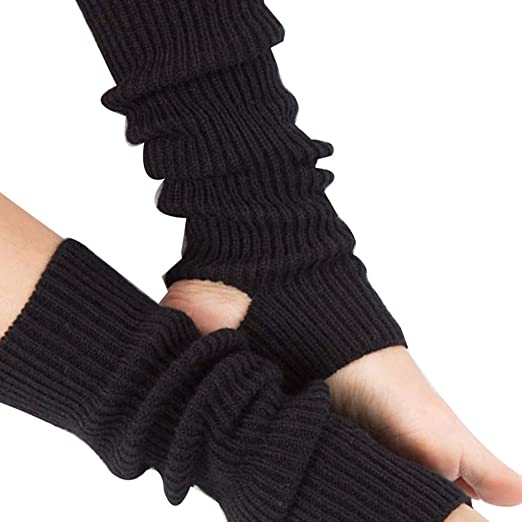 Budget Pick:
Guojanfon 1 Pair Fashion Yoga Socks for Women Girls Workout Socks Toeless Training Dance Leg Warmers...
See latest price
For those of us who prefer to keep leg warmers below the knee, these toeless training leg warmers cover your calves at their max length (pulled all the way up). While they aren't as elastic or great at staying put like our other picks, they do look cute and feel super soft against your legs. We like the ribbed fabric (85% cotton and 15% nylon) and array of color options. And you can't beat the price!
Pros
Budget price
Stay below the knee
Super cozy cotton and nylon blend
Toeless and heel-less
Several color and stripe options
Cons
Not thigh-high
May scrunch down (not the best elastic)
Closing Thoughts
Yoga leg warmers are the perfect seasonal crossover for yoga shorts, capris, or yoga pants. We love how easy they are to get on and off so we can slip them on just for the colder beginning and ending of our practice. Plus, they look so cute with fall and winter outfits.
Whether you prefer to exercise with a barefoot feel or cover up cold feet, leg warmers help heat stiff calf muscles for more flexibility and less soreness.
Namaste!