When I first tried a yoga headstand, I was terrified. Would I fall and hurt my neck? Would my arms give out and I'd break a bone? Would my upper back get messed up?
Headstands are an impressive addition to any yoga practice. The numerous mental and physical benefits of yoga inversions include everything from greater clarity to stress relief and back pain relief. But none of that is any use if you get hurt while trying to learn to do a yoga headstand.
Thankfully, someone invented the yoga stool just for this purpose: to help beginners like you and me enjoy the benefits of inversions without so much fear and risk.
We reviewed the top 6 yoga stools to figure out which are the best for different budgets, skill levels, and body ergonomics.
What is A Yoga Stool?
A yoga headstand bench, sometimes called a yoga stool, is a wooden or metal stand that includes shoulder padding and hand grips to practice a supported headstand without risking crunching on your neck or otherwise hurting yourself.
Think of it as a large supportive yoga block or yoga chair, except there is space for your head and shoulders to rest comfortably while strengthening your core at the same time.
These simple contraptions come in a wide variety of shapes, sizes, and materials, but which one is the best for you?
Quick Picks
Top 6 Best Yoga Stools
Product's name
Materials
Best Feature
More Info

Best Overall


FeetUp - The Original Yoga Headstand Bench, Vegan Handstand Trainer Bench...
Durable eco-friendly wood and vegan leather cushion
Highest quality original headstand bench
See latest price

Most Versatile


Restrial Life Yoga Headstand Bench- Stand Yoga Chair for Family, Gym - Wood...
Durable eco-friendly wood and vegan leather cushion
Slip-proof bottom padding and simple installation
See latest price

Best Budget Option


Yoga Headstand Bench, Yoga Inversion Bench Idea for Workout, Fitness and...
Sturdy wood and high density polyurethane foam padding
Slip-proof bottom padding and simple installation
See latest price

Best for Fitness


Longer+Wider+Bigger SISYAMA Yoga Headstand Bench Chair with Handles Feet up...
Foldable metal base and handles with synthetic foam cushion
Padded handles and foldable construction
See latest price

Best for Petite Yogis or Children


KOKSRY Yoga Headstand Bench, Foldable Headstand Bench Yoga with Handles,...
Triangular alloy metal base with non-slip suction cups and dense foam
High weight capacity (440 lbs) and comfortable handles
See latest price

Most Eco Friendly


Milliard Yoga Headstand Bench with Manual, Inversion Chair Trainer, Gym...
Heavy duty birch laminate base and foam cushion
Aesthetically pleasing design and adjustable for use as seat or yoga chair
See latest price
Top Pick
#1 – The FeetUp Trainer
This is the original yoga inversion bench designed in Germany with ultra high quality materials. It is the safest and most durable headstand bench on the market thanks to thick, dense padding, a well-assembled wood base, and an ergonomic design.
It is made of eco-friendly wood and the company even vows to plant a tree for every headstand bench sold! The package includes an inversion asana poster and manual. The lab-tested weight capacity is up to 250 pounds.
Pros
The original headstand trainer bench
Highest quality materials
Super comfortable padding
Fantastic customer service
Most Versatile
#2- Restrial Life Yoga Headstand Bench- Stand Yoga Chair for Family, Gym - Wood and PU Pads - Relieve...
See latest price
The ergonomic design of this bench is multifunctional, so you can use it for headstand training, pose modifications, a footstool, or pull the detachable T-shaped block to use as a yoga block. It is made of sturdy environmentally-friendly wood and high density polyurethane foam cushioning. Slip-proof padding on the bottom protects your floor while also making sure the bench doesn't shift during use.
Installation is really simple and the tools are included. It also comes with more cushion color options than other brands. The maximum body weight for this bench is 300 pounds.
Pros
Under $100
Environmentally-friendly
Durable material
Thick padding
Non-slip pads
Waterproof and easy to clean
Multifunctional (pull apart as headstand bench or put together to use as a yoga block)
Cons
Cushions are not a natural material
Best Budget Option
#3- Yoga Headstand Bench, Yoga Inversion Bench Idea for Workout, Fitness and Gym
See latest price
If you can't afford to invest in a fancy headstand bench, don't worry! You can still enjoy all the benefits of an inversion headstand trainer for under $60. This bench has a X-structure design with super stable metal bars and dense shoulder-friendly cushions.
The Wonder View also includes non-slip pads and bar reinforcements for extra safety and stability. You can choose between a 330 pound and 440 pound weight capacity.
Pros
Most affordable
Durable metal design
Non-slip padding
Dense cushioning
Versatile construction
Cons
Metal handles are not as comfortable
No directions for installation included
Best for Fitness
#4- Longer+Wider+Bigger SISYAMA Yoga Headstand Bench Chair with Handles Feet up Headstand Handstand...
See latest price
Fitness-savvy or home gym yogis will appreciate the multifunctional workout uses of this yoga headstand chair. The cushion is longer and wider than other sellers and includes a sturdy metal construction.
You can do an even greater range of postures with this equipment thanks to the padded handles and foldable construction. The padding is gentle and supportive, but still easy to clean.
Pros
Great for core exercises, stretch assist, tricep dips, other workouts, and transitions from headstand to handstand
Beginner friendly handles
Handles help with balance
Portable and easy to store
Cons
No eco-friendly materials
More detailed installation required out of the box
Best for Petite Yogis or Children
#5- KOKSRY Yoga Headstand Bench, Foldable Headstand Bench Yoga with Handles, Yoga Inversion Bench for...
See latest price
This bench has a triangular alloy design with non-slip suction cups on the bottom. It holds up to 440 pounds and many people have used it for children's gymnastics as well. Petite yogis find this bench especially comfortable because of the width and density of the foam. It can be folded up and also used as a stool for other shoulder exercises.
Pros
Plenty of padding for shoulders
Non-slip suction cups
Kid-friendly size (with supervision)
Handles for easier headstand entry/exit
Strong metal alloy construction
Cons
Support bar may be uncomfortable for some people's neck
No eco-friendly materials
Most Eco Friendly
#6- Milliard Yoga Headstand Bench with Manual, Inversion Chair Trainer, Gym Workout Stool
See latest price
If you prefer eco-friendly wood, the Milliard yoga chair is made of a heavy duty birch laminate. It is non-slip and well-cushioned. At 24.5″ x 15″ x 15.4″ this bench is the perfect size for the average adult.
The design looks nice in a studio or room. The package includes a pose manual and installation instructions.
Pros
Very affordable
Heavy duty birch wood frame
Comfortable dense shoulder padding
Non-slip
Versatile uses as yoga chair for many asanas
Aesthetically pleasing
Cons
Cushion is synthetic materials
May be challenging to assemble
How to Choose the Best Yoga Stool
The best yoga headstand bench is made of rigid durable materials, a comfortable supportive shoulder cushion, and easy-to-grip handles. Bonus points if it folds up for storage and has suction cups for staying in place on the floor.
Durable Materials
When you're shopping for a yoga stool, the most important first question is: how durable is it? After all, you're trusting this piece of wood or metal with your entire weight while upside down. You definitely don't want it to break or malfunction while you're in a headstand.
Comfort and Padding
The second most important question is, how comfortable is it? The biggest kicker for most yoga stools is that they don't fully support bony shoulders with enough padding. You also want to be sure the dimensions of the yoga stool are not too wide or too narrow for your body type.
Grip
Grip is very important here. Wood tends to be more enjoyable and easier to grip than metal, however some yoga stools include nice rubber or cushioned handles to keep your hands comfortable and supportive while in the pose. It's crucial to have comfortable hand grips you can rely on even with sweaty nervous palms.
Weight Limit
Be sure that your yoga inversion bench can fully support at least twice your body weight. Most yoga benches are rated to at least 300-400 pounds.
It is vital that you fully trust the bench, otherwise your mental blocks will prevent you from even confronting physical blocks.
Remember that yoga is a mind-body-soul connection, if your mind is preventing you from going upside down, your body is going to follow suit.
Why Use a Yoga Stool?
Yoga benches are excellent beginner tools for training in inverted asanas such as headstand (Sirasasana), butterfly headstand, and lotus inversions.
The main drawback in using a yoga stool is potentially becoming dependent on in for your inversion practice. If you truly want to progress to an un-assisted headstand, be sure to continue practicing building core strength and balancing without the stool as well.
A yoga stool takes the pressure off the neck and upper spine by balancing your body above the ground and allowing your head to hang freely between the shoulder supports. This has a number of benefits:
Reduced risk of injuries from falling
Stable base for headstand practice
Strengthened shoulders and core
Neck protection
Safer for beginners
Shoulder rest cushions to allow more freedom of movement
Less mental blocks and fear of hanging upside down
Ability to ease into poses rather than quickly entering an inversion
Improved balance
Benefits of Yoga Inversions
Putting your feet above your head improves blood circulation, decreases stress, calms your nervous system, and helps you feel more peaceful. When you go upside down, you very literally change your perspective and return to the right-side-up world with a new viewpoint of your reality.
I love doing inversions around the midday slump" when I am starting to feel a little tired or discouraged. Inversions change your mind state while simultaneously improving heart health, increasing blood flow, and even helping improve your posture.
Inversions are a great way to build core strength and decrease back pain over time.
FAQs
Are yoga benches good?
Yoga benches are a great addition to beginner and intermediate yoga practices because they add mental and physical support while reducing risk of injury during inversions.
Are inversion trainers good?
Inversion benches are an excellent way to build up core and shoulder strength for holding headstands and other upside-down asanas. The trainers help you overcome mental and physical blocks.
How long should you hold a headstand?
Even with a yoga bench, it is best to learn the fundamentals of yoga inversions with an experienced instructor first. Then, go home and practice holding headstands on your bench for just 30 to 60 seconds. Intermediate yogis can move to 1-2 minute headstands, and advanced practitioners are advised not to hold inversions for more than 5 minutes.
Should you use a wall support with a yoga headstand bench?
You can use the inversion bench while braced up against a wall and using it to support your toes or tailbone at first. Over time, however, it is recommended that you work on engaging your core and lightly pushing off the wall to wean yourself off of the support.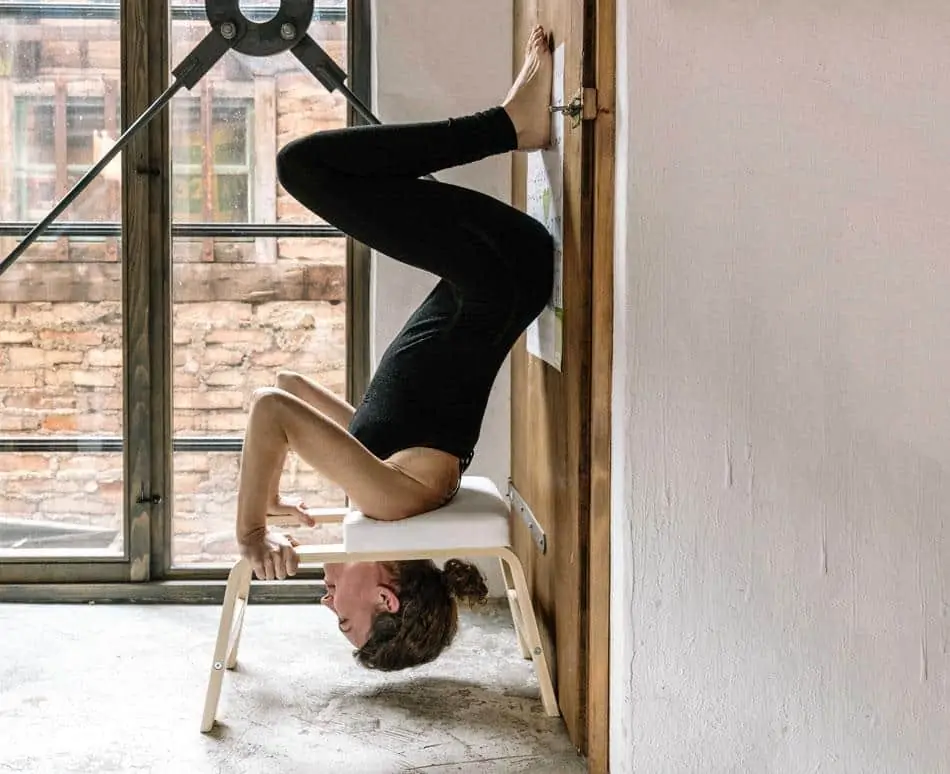 Have you tried any of these yoga benches? I'd love to hear about your experience.
Namaste!