Do you crave that "ahhhh" feeling of releasing the tension in your back? Nearly 65 million Americans report dealing with back pain, yet people are still spending more time sitting down and hunched over than ever before!
This is one of the key reasons why people try out yoga: to improve their posture and spinal comfort. But if you fear overextending or "kinking up" your back during a yoga backbend, a yoga wheel or Chirp wheel could be the answer to stretching out your spine with less risk of injury.
These uniquely designed back stretch wheels allow you to open your heart and arch backwards with the support you need to relax. But they have some key differences that make them better for certain practices.
Let's dig into the details of the Chirp wheel vs yoga wheels to see which is best for you!
Is Chirp Wheel the Same as a Yoga Wheel?
The idea of a back roller wheel is nothing new, but a yoga wheel and Chirp wheel are two different things. The primary difference is whether your your spine sits directly on the roller surface (yoga wheel) or rests in a grooved spinal canal (Chirp wheel). Both roller devices come in several sizes and can be used in a variety of ways.
A traditional yoga wheel is a fairly firm foam-coated plastic or cork wheel with a rigid core. You can use it in a wide variety of yoga poses. You can roll it under your back, hold it between your hands, or even balance on top of it! Here is How to Use a Yoga Wheel: 8 Yoga Wheel Exercises for Relieving Back Pain and Building Strength.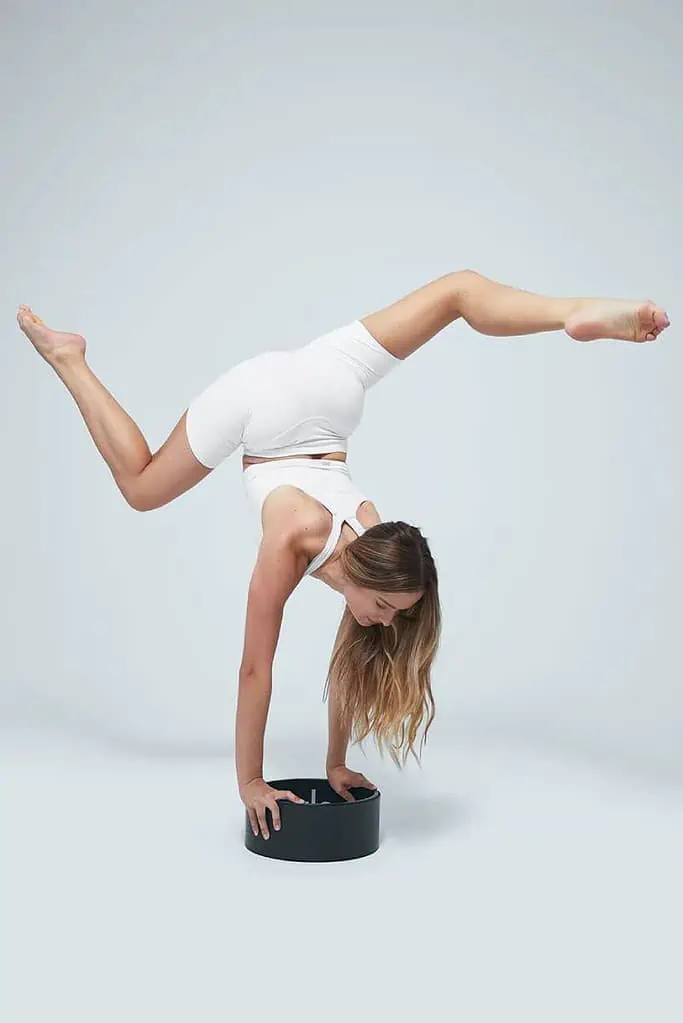 More recently, a similar invention called the Chirp Wheel gained huge popularity after its appearance on Shark Tank. This back roller wheel differs from a yoga wheel because of the patented spinal canal technology. In other words, instead of having the same cylindrical shape all around, the Chirp Wheel has a center groove that massages the muscles alongside the spine.
In general, a yoga wheel is better for people seeking to improve their yoga practice and have a versatile yoga prop. It helps to relieve tension, stretch muscles, and support you in a variety of poses (not just backbends).
A Chirp Wheel is better for people with chronic back pain who want a medically-approved device that helps with pinched nerves, trigger points, and spasming muscles. The Chirp wheel focuses specifically on the back muscles and is used by physical therapists and chiropractors.
Key Takeaway: On a standard yoga wheel, your spine sits directly on the foam or cork surface. On a Chirp Wheel, your spine rests in a spinal groove. Yoga wheels are more versatile for poses and other stretches, while Chirp Wheels are specifically for rolling under your spine.
Top 4 Best Back Back Roller Wheels: Buying Guide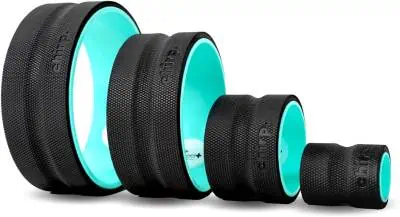 Best for Physical Therapy and Medical Use:
Chirp Wheel Foam Roller Set - Deep Muscle Relief, 4 Padded Foam Rollers: 12", 10", 6" Deep Tissue, &...
See latest price
In the Chirp Wheel vs yoga wheel debate, this set takes the cake for its medically-approved design. It is used by chiropractors, physical therapists, and other professionals to help massage out muscle tightness near the spine. Each size wheel can be used to target the lower back, upper back, shoulder blades, and neck.
Pros
Specifically designed for back pain relief and neck pain relief
Feels like a deep tissue massage
Spinal canal technology protects prevents your spine pressing on the wheel
Multiple pressures available
1/2″ thick sweat resistant padding
4″, 6″, 10″, and 12″ diameters for different parts of the neck and spine
500 lb weight limit
PVC-free and EVA foam
Cons
High price point
Difficult to keep your spine in the center canal as you move
Not as versatile for yoga use
Synthetic materials
Prone to cracking
Alo Yoga used to be known for their stylish athleisure, but their new products for your practice are equally high quality and aesthetically pleasing. This yoga wheel is 40″ in circumference and has the perfect balance of firmness and soft support. It is an amazing stretching tool and very solid for use in balancing poses.
Pros
Can be used in a range of different yoga poses
Large size is great for a deeper stretch
Very comfortable on the spine
Highly stable and durable
Surface never gets slippery
Aesthetically pleasing
Excellent for massaging and releasing tension
Cons
High price point
Synthetic materials (ABS plastic and polyurethane)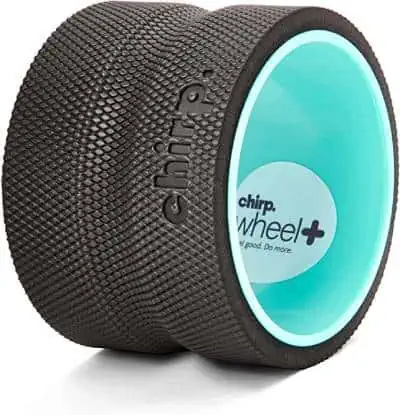 Best for Upper Back Massage:
Chirp Wheel Foam Roller, 6" Deep Tissue Body Roller, Satisfying Roller Wheel, Targeted Muscle &...
See latest price
If you want to feel like you got a deep tissue massage without spending a fortune, this Chirp Wheel is specifically designed to be high pressure and fit between the shoulder blades. The spinal canal is wider than other wheels and gives you a deeper back and neck pain release. Our favorite thing that this Chirp wheel offers is a targeted compression on your upper back muscles.
Pros
Deep tissue pressure (not as soft as other wheels)
Smaller 6″ diameter for easy maneuvering
1/2″ thick moisture-wicking padding on the wheel's exterior
500 lb weight capacity
Portable and versatile
Best for neck pain relief
Cons
Could be too hard for sensitive backs
May not be hard enough for some people due to the spine canal (a yoga wheel puts more pressure directly on the vertebrate)
Prone to cracking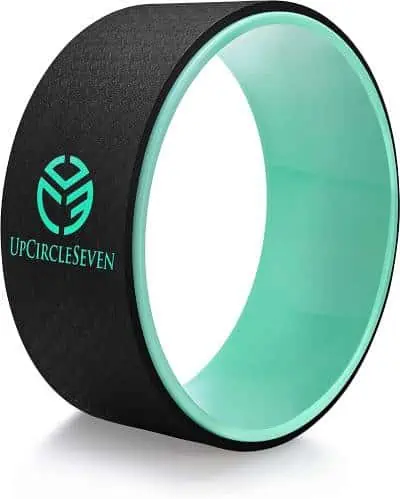 Best for Back Bend Progressions:
UpCircleSeven Back Roller & Yoga Wheel - Relieve Lower & Upper Back Pain and Stiffness -...
See latest price
If you want to progress in heart-opening yoga poses like Wheel Pose, Bridge Pose, Dancer Pose, and other back bends, this yoga wheel is the one for you. Unlike the Chirp Wheel, this wheel is the same foam thickness all the way around which means it can be used in dozens of different poses and exercises. The medium pressure is also excellent for smoothing out muscle tension, removing deep knots, and a refreshing myofascial release.
Pros
More versatile for stretching and yoga
Thickest foam padding
Can be used like a foam roller
Medium firmness
Conforms to your spine
Non-flexing ABS plastic frame
550 pound weight capacity
Multiple color options
Cheaper than the same size Chirp Wheel
Cons
No spinal canal (spine sits directly on the foam)
12″ diameter may feel small for some yogis
Can be too intense for ultra sore or tight muscles
Chirp Wheel vs Yoga Wheel: Full Comparison
If your back is really bothering you, you can't go wrong with either of these products. They are both better than foam rollers because of the density and targeted approach to relieving pain. You can roll over them and feel major relief with very little effort. They also happen to be in a similar price range. Here are the key similarities and differences:
Chirp Wheels Are More Spinal Targeted
As we described above, the Chirp Wheel differs from a conventional yoga wheel because it has a foam rubber center channel that is cut out for your spine.
This means the Chirp Wheel focuses on the muscles and tension along your spine without actually touching your vertebrate. Yoga wheels provide a deep stretch while your spine lays directly on the wheel.
This significant difference means that the Chirp Wheel offers a 4-way stretch that opens up your spine from different directions, which could offer more pain relief than a regular yoga wheel.
Yoga Wheels Are More Versatile and Durable
On the flip side, most yoga wheels are more durable and versatile for a variety of poses and exercises. Chirp Wheel reviews report that it can be prone to cracking, while many conventional yoga wheels are durable enough to support standing and balancing on top of them.
Both Yoga Wheels and Chirp Wheels Offer Different Sizes
From a skeletal point of view, both types of back roller wheels do the same thing.
The Chirp wheel comes in 4 main sizes that you can buy individually or in a pack:
4″- Neck and arms
6″- Deep Tissue
10″- Medium
12″- Gentle
Most yoga wheels come in similar sizes and can also be purchased in a pack for different uses:
6″- Neck, back and legs
10″- Back and buttocks
12″ or 13″- Back and side stretching
14″- Balancing poses
In general, a larger wheel is best for a bigger back arch, whereas a smaller wheel will have more pressure to target the lumbar spine or the neck.
Yoga Wheels Are Sometimes Cheaper
The final note to make is that a yoga wheel tends to be more affordable than the Chirp Wheel. This comes down to brand name selection. An individual Chirp Wheel can cost $50 to $60, while a yoga wheel can be as cheap as $25. However, the $40 price range of standard yoga wheels tends to offer the best combination of affordability and quality materials.
Learn more about the The 7 Most Incredible Yoga Wheels for Back Pain Relief (Reviews + Buying Guide).
FAQs
Do yoga wheels actually work?
Depending on how you use it, a yoga wheel can revolutionize your yoga practice and back pain. They are great for relieving tight muscles, helping with sciatica, and propping you up as you work towards back bends.
Is yoga wheel good for spine?
A yoga wheel improves mobility and flexibility in the spine while reducing the risk of injury in yoga backbends. They can be very beneficial for beginner yogis or people who have previous back injuries.