Yoga straps are such an undervalued resource in the studio. They help decrease tension and improve flexibility over time without risking injury. As a beginner yogi, there was a time when I could hardly touch my toes at all. A yoga strap gave me the hamstring release I'd been craving without overly rounding my back or forcing my body out of alignment.
Yoga straps are the unashamed training wheels of yoga. They help to bridge the gaps in your flexibility and strength. And they're as valuable for beginners as they are for teachers or advanced yogis.
As I advanced in my practice, yoga straps allowed me to work toward King Pigeon and Dancer pose without overextending beyond my flexibility. Nowadays, I can help my students get so much relief from simple asanas just by adding a yoga strap.
In today's article, we'll look at the 7 best yoga straps to help you in your practice.
What Are the Best Yoga Straps? Quick Answer:
Why Would You Need a Yoga Strap?
The function of a yoga strap is to add length. It links where you are with where you want to be in a given yoga pose. A quality yoga strap provides elongation to your muscles and a deeper stretch while keeping your body strong and aligned.
This handy tool is perfect for beginner and advanced yogis alike. It can pull you closer toward touching your toes or it can help you finally get into King Dancer (Natarajasana) without straining your back. Either way, a quality yoga strap strengthens and lengthens your muscles simultaneously. If you're looking for a deeper stretch and better spinal alignment, you definitely need a yoga strap!
Top 7 Best Yoga Straps Comparison Chart
Product's name
Material
Buckle
More Info

Best Overall


Manduka Align Yoga Strap - Lightweight Cotton, Secure, Slip Free Support,...
100% eco-friendly cotton
Lightweight zinc alloy middle bar buckle
See latest price

Extra Long Strap


Hugger Mugger D-Ring Yoga Strap (Navy, 8 ft.)
500 lb rated cotton
Metal D-ring buckle
See latest price

Gripping Loops


sport2people Stretching Strap for Yoga, Flexibility, Rehabilitation - 2...
Heavy duty nylon
None
See latest price

Budget Option


REEHUT Yoga Strap 6ft with Ebook - Durable Polyester Cotton Exercise Straps...
Polyester-cotton blend
Metal D-ring buckle
See latest price

Quick Release Buckle


Hugger Mugger Quick-Release Strap (Navy, 10 ft.)
100% USA-made cotton
Plastic quick release buckle
See latest price

Style Strap


YOGA DESIGN LAB | The Yoga Strap | Luxurious, Extra Long, Super Soft, Eco...
Cotton and eco-friendly dyes
Metal O-ring buckle
See latest price

Versatile Elastic Strap


YOGA EVO Exercise Band with Loops for Physical Therapy Yoga, Exercise and...
Cotton and spandex
None
See latest price
Best Yoga Straps Reviewed
See latest price
Manduka has long been recognized as one of the best yoga brands on the market because of their high-quality products, dedication to environmental sustainability, and widespread use in studios around the world. This yoga strap is no different!
Manduka's proprietary materials are eco-friendy and lightweight while offering a superior no-slip grip (trust me, you definitely don't want your hands to slip while bracing against a strap in a balancing pose). The fabric is soft, comfortable to hold onto and durable enough to use a lot of tension. The buckle on this strap is fully adjustable and secure. These straps last forever and are excellent for tall people, as it is long and wide.
Pros
8' long and 1.75" wide
100% unbleached eco-friendly cotton
Non-slip material for a good grip
Dyes free of lead or heavy metals
Lightweight buckle
Buckle doesn't slide around
Heavy and stiff webbing for extra support
Soft enough to hold comfortably
1.75" width for better traction
Durable and long-lasting
Available in 8' length or extra long 10' length
Cons
May be too long/wide for smaller people
Mid-to-high price point
Only 3 color selections
See latest price
At first, the Hugger Mugger strap fabric may seem pretty stiff, but it softens with use. These straps come in 3 different lengths depending on your height. The 6 or 8' length is ideal for most students, and the 10' length is great for taller students or for those attempting Bound Angle Pose (Baddha Konasana).
This metal D-ring yoga strap is easy to thread and secure for a stable tension (far better than any plastic strap buckles). These straps last forever and include a lifetime warranty through Hugger Mugger.
Pros
Top-grade cotton material
Great for plus-sized or tall yogis
Ultra strong cotton webbing rated to 500 pounds
Lifelong warranty
Thick and durable
Easy to grip (no slipping on sweaty hands)
4 color selections
3 length options
Sturdy metal D-ring buckles
D-rings are easy to adjust and stay in place
Cons
Not organic or natural materials
Fabric may be too rough for some hands
See latest price
This yoga strap is used in yoga, physical therapy, and beyond thanks to its whopping 12-loop construction. You have so many places to grab onto and use as leverage during your stretch!
The Sport2People strap is made of super high quality nylon with sturdy stitching that won't rip or stretch during tension. The fabric is not elastic, so helps you can pull yourself deeper into a stretch and grab the next loop. All of those loops function independently and make it easy to hold deeper stretches for longer periods of time. You also don't have to worry about loops coming undone or a strap tightening uncomfortably around your hands.
This strap is 96" long and 1.5" wide to support students of all heights. It also comes with a nice little carrying bag and how-to eBooks.
Pros
96" long and 1.5" wide
12 gripping loop options
Great for gripping in deep stretches
Machine-washable
Heavy duty nylon material
Nonelastic for leverage
100% money back guarantee
Includes carrying bag and free eBooks
Affordable price point
Cons
Not organic or natural materials
Rough fabric may not be soft enough for some hands
Bulkier than other straps
See latest price
At under $10, the Reehut strap can't be beat. Available in 3 sizes (6', 8', and 10'), this yoga strap includes the coveted D-ring buckle and a soft sturdy polyester-cotton blend material. It is lightweight, portable, and super durable. The material feels soft on your hands but strong enough to resist tension in deep stretches. The D-ring buckle stays tightened and secured when you fold the loose end back on itself and tighten the strap to your desired loop size.
The best thing about this budget yoga strap is that it can really handle tugging and tension. This is great for overhead shoulder opening stretches and wrapping over the feet in forward fold and pulling your upper body down. It is stronger than you would expect and the D ring is larger than other straps, which makes it especially great for male yoga students or people with large hands. Despite all this strength, it is comfortable to grip and won't rug burn your hands.
Pros
6', 8', or 10' long and 1.5" wide
Very affordable
5 color selections
Polyester-cotton blend protects your hands from friction
Dense woven fabric for non-slip grip
Durable, stable D-ring buckle
30 day money back guarantee
Cons
Strap sometimes creases or folds and doesn't stay straight
Thinner than other straps
Synthetic materials
See latest price
If threading through rings or maneuvering grip handles sounds too complicated for you while in "zen" mode, then the Hugger Mugger quick release yoga strap is for you! This simple plastic buckle makes adjusting the strap and securing it in place super simple. It is 10 feet long, but the length can be easily adjusted using the buckle. This strap is 100% cotton rated to 500 pounds. It's also made in the USA!
Pros
10' long great for yogis of all heights
Made in the USA
100% cotton
Webbing rated to 500 pounds
Super easy to adust
Quick-release buckle
Very durable
Cons
Buckle is plastic and may break
See latest price
You'll never lose your yoga strap with these beautifully designed straps from Yoga Design Lab. Their eco-friendly water-based paints are completely non-toxic and come in 5 colors/styles. The strap is 8 feet long, premium cotton, and adjustable with metal rings. The material is nice and thick, so it can withstand plenty of stretching and resistance.
Pros
Premium cotton material
8 feet long
Eco-friendly, non-toxic paints
Colorful patterns
Eyecatching so you don't lose it in gym or studio
Soft and satin-like texture is easy on the hands
Supportive, durable rings
Very high quality and beautiful
Cons
Higher price point
Must be handwashed with cold water
See latest price
This yoga strap is unique because it is like a physical therapy resistance band and a yoga strap in one. The elastic stretchiness differentiates it from other yoga straps. It is made from high quality cotton and spandex to help you stretch and increase range of motion more gradually. The loops are easy to grab onto or fit over your feet.
This strap style is used in a variety of professional physical therapy offices and is excellent for beginners. You can also use it to tone and build strength as a flexible resistant band. This strap is easy to carry and the most versatile for gym or yoga use.
Pros
Cotton and spandex material
Easy-grip loops for hands or feet
10 soft loops (no buckles or knots necessary)
Elastic material helps ease into stretches
Great for pilates and physical therapy, as well as yoga
Latex-free
Free eBook and online exercise library included
Super durable and resilient
Soft and easy to use
Cons
Elasticity makes it harder to do certain asanas with this yoga strap
Higher price point
Benefits of Practing with a Yoga Strap
Maintain Alignment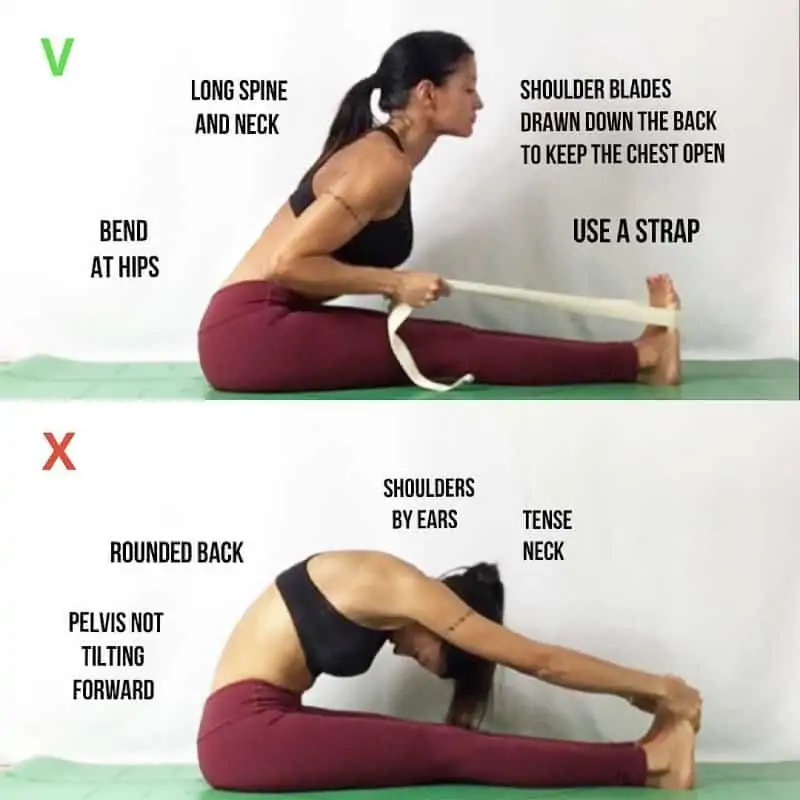 You hear yoga teachers say it over and over again: stack your hips and knees, or keep your spine straight. Alignment is one of the most crucial core principles of yoga because it helps our joints stay in their proper positions and prevent twisting into awkward angles or positions.
Yoga straps help maintain alignment so we can get a better stretch and strengthening workout without hurting ourselves. The easiest example of this alignment benefit is in Forward Fold (Uttanasana). If you cannot reach your toes, you may be tempted to curl your back over your legs. With a yoga strap, you are able to maintain a flat back and still extend a deep hamstring stretch.
Increase Flexibility Without Risk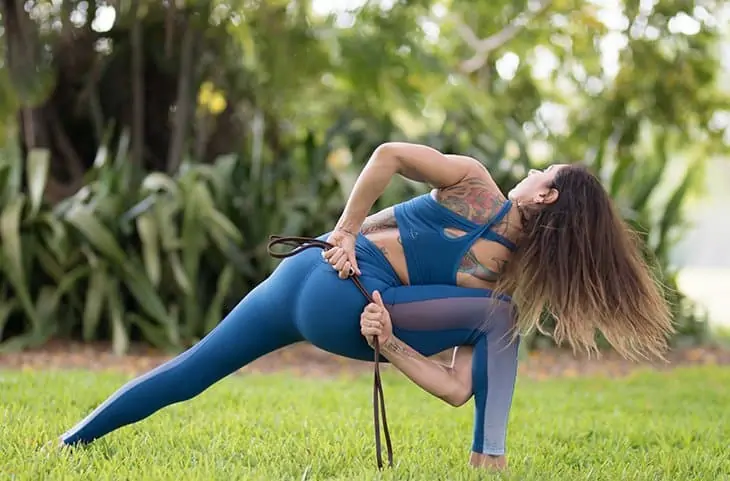 Yoga straps help improve posture and flexibility with less risk of hurting yourself. That's because a strap essentially extends your arms or legs to meet you where you are. You can gently tug on the strap to get a stretch without overextending or forcing your body into a position it isn't ready for.
For example, trying Bound Side Angle pose (Baddha Utthita Parsvakonasana) with limited shoulder mobility could be dangerous and end up hurting the shoulder. With a yoga strap, this risk is removed and you can still work toward the advanced unassisted pose.
Elongate and Strengthen Your Muscles
Yoga straps are incredible for elongating the muscles, increasing your range of motion, and strengthening at the same time. Instead of compressing a muscle while forcing for a stretch, you can lengthen.
For example, in Hand to Big Toe pose (Utthita Hasta Padangusthasana), a yoga strap adds an extension to your arm. You can more easily reach your toe, elongate your back, and prevent rounding in the spine as you stand tall. As you use the resistance of the strap against your foot, you can tone your arm muscles while simultaneously lengthening and stretching.
Get a Full Range of Motion
You don't have to be a flexy-bendy gymnast to practice yoga. In fact, even if you haven't reached a level of flexibility to do most poses, you can still enjoy exercising your full range of motion with a yoga strap.
To increase the range of motion in your shoulders, you can use a yoga strap to open up the back and heart without overextending. The tension between your hands and the strap also gently strengthens your shoulders to prevent injuries.
Advance into Challenging Poses
With a quality yoga strap, you can finally try some of those more challenging asanas without hurting yourself. Under the guide of an experienced yoga teacher, you can use a yoga strap to advance your practice.
My favorite stap-assisted pose is Lord of the Dance (Natarajasana). It is an empowering, exciting, and challenging pose that almost anyone can achieve with the help of a yoga strap.
How to Choose The Best Straps For Yoga
Material
The most important thing to look at when searching for your ideal yoga strap is the material. Most are made of cotton or a polyester blend. But not all cotton is created equal! You want a tight weave that is durable and grippy while still being soft on your hands. You will be holding this strap pretty tightly and you don't want "rug burn" on your palms.
Search for tight-weave non-toxic cotton straps like the Manduka Unisex AligN Yoga Strap 8′, or if you prefer a little bit of elastic, a spandex and cotton blend like Yoga Evo Elastic Stretching Strap With Loops. If yoga straps that you've tried in studios hurt your hands, consider one with built in loops like the Sport2People Yoga Strap for Stretching.
Buckle
The buckle or rings of a yoga strap are what you use to adust the length and make the strap circular rather than just a long ribbon. This is important for looping it around your feet or hands. Some straps like the Hugger Mugger Quick Release Yoga Strap have quick-release plastic buckles, whereas others have D-rings or rounded metal rings that you loop through Hugger Mugger D-Ring Yoga Strap 10′ eachother.
Advanced yogis typically find that the metal rings are more durable and last longer, but tying the strap during a flow can be challenging for beginners. The quick release is a great mindless option, however the buckles are made of plastic and may break over time.
Length
Taller yogis will definitely want an 8' or 10' yoga strap. Shorter yogis may find these lengths too long and opt for a 6'. Regardless of what length you choose, all yoga straps are adjustable and can be folded or looped over itself. Depending on what poses you are attempting, you may want the extra length to grip onto, or you may find dangling fabric to be a distraction. If possible, try out a yoga strap in a studio to determine what length works best for your body.
Eco-Friendly
You would be surprised how much toxic junk like BPA and phthalates can be found in cheap yoga gear at big box stores. Anything that you are regularly using close to your body is going to affect your health. That's why we always opt for eco-friendly and non-toxic products whenever possible. The Manduka Unisex AligN Yoga Strap 8′ and Yoga Design Lab Yoga Strap are our favorite eco-friendly yoga straps.
Stress-Free Stretching
I hope your new yoga strap helps your practice as much as it did mine! There is nothing better than getting a deep stretch without risking pushing your body beyond its limits. Remember to ease into new poses and trust your yoga strap to lengthen, strengthen, and keep you aligned.
Namaste!