As yoga becomes increasingly popular, we're seeing more and more props and accessories become available. One lesser-known accessory is a meditation blanket. These versatile blankets serve many uses, such as providing warmth, improving your posture, and helping you find comfort in your favorite yoga poses.
We tried many popular yoga and meditation blankets and found our seven favorites. Read on to discover the best meditation blankets on the market and learn how to use them.
Best Meditation Blankets – Quick Look
7 Best Meditation Blankets – Reviews
Product's name
Material
Size
Size
More Info

Meditation 


YogaAccessories Traditional Mexican Yoga Blanket ( Gray)
50% acrylic / 40% polyester / 10% cotton
74" x 52"
2.4 lbs
See latest price

Outdoor practice


Folkulture Majestic Blue Round Mandala Tapestry or Hippie Indian Beach...
100% Cotton
72 inches (in diameter)
11.3 ounces
See latest price

Yoga asanas


Halfmoon Cotton Yoga Blanket | 60" x 80" - Handwoven Soft & Large Throw...
100% Cotton
60" x 80"
2.7 lbs
See latest price

Cold Climates, Restorative yoga


Manduka Recycled Wool Blanket, Sediment
75% Recycled wool and 25% Recycled synthetic fibers
82" x 60"
3 lbs
See latest price

Meditation, Restorative yoga 


Open Road Goods Grey Yoga Blanket - Thick Mexican Thunderbird Blanket -...
Acrylic, polyester, cotton
78" x 50" 
1.9 lbs
See latest price

Outdoor practice, Yoga mat topper


Benevolence LA Authentic Handwoven Mexican Blanket, Yoga Blanket - Perfect...
100% Recycled Acrylic + Cotton
45" x 70" 
3 lbs
See latest price

Yoga asanas, Meditation


Manduka Yoga Cotton Blanket - Yoga Prop and Accessory, Roll, Fold, Stack to...
52.5% Recycled Cotton, 35% Recycled Acrylic, 12.5% Polyester
65" x 83"
4 lbs
See latest price
This traditional Mexican yoga blanket by YogaAccessories is the ideal thickness and density for use as a meditation pillow, yoga block, or throw blanket. It is made from a loosely woven acrylic/polyester/cotton blend, measuring 74″ x 52″ and weighing 2.4 lbs.
You can get this Mexican-style blanket in over 12 colors, including some bright shades. Thus, its eye-catching design and vibrancy will add a splash of color to your yoga or meditation space. It's also super easy to keep clean as it is machine washable.
This blanket is suitable for all seasons. As it's loosely woven, it is breathable in the summer, yet it adds a noticeable amount of warmth in the winter. The only thing I would improve is to make it softer by using more cotton than synthetic materials. Still, for the price, you can't go wrong!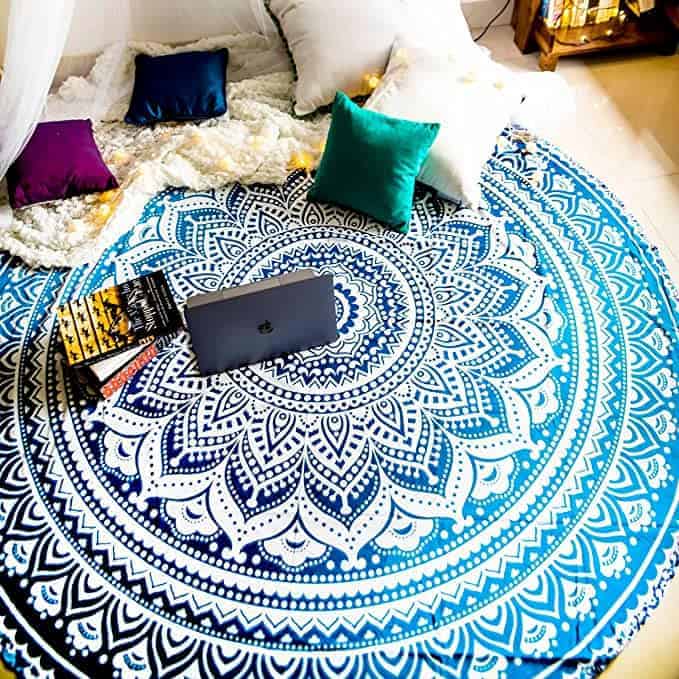 The Folkulture Round Mandala Tapestry Blanket doubles as a yoga and beach blanket. It is ideal for meditating and practicing yoga on the beach or in a park. Alternatively, as it looks stylish when laid flat on the floor, you can use it as a floor decoration to help set the ambiance in your dedicated meditation space.
The mandala design has a significant spiritual meaning. Mandalas promote self-expression and reflection and represent wholeness, totality, infinity, timelessness, and unity.
The large round mat is 72 inches (180 cm) in diameter, folds up really small, and is lightweight. In addition, it is made from 100% cotton, making it breathable and soft to the touch. Unfortunately, it is not the warmest mat, so it does not do a great job keeping you warm during restorative yoga in cold climates. However, it's great to use in the summer or simply as a beautiful meditation accessory.
Each mandala blanket is handmade with love by Indian artisans. Thus, each blanket is a unique and ethnic piece of art made with love and care. There are five colors to choose between: blue, pink, grey, green, and yellow/orange. It's also machine washable and long-lasting.
The 100% cotton Halfmoon blanket is one of the highest-quality meditation blankets I've come across. It has a soft, luxurious feel, and they are hand-woven in India, so each blanket is unique.
The large size of 60″ x 80″ will cover your whole body in Savasana and make a perfect shawl for early morning meditations when it is chilly. However, it also makes a fab yoga prop or meditation pillow when folded.
It has a bohemian, vintage-style look and its neutral shade makes it blend into any decor very well. Moreover, as its lightweight at 2.7 lbs and machine washable (on a cold, gentle cycle), it is an excellent accessory for outdoor practice.
Note that this blanket can be tumble-dried on low heat, but doing so may cause the weave to tighten. Thus, to increase its lifespan, it's best to hang dry. There are 7 neutral colors, including stone, ink, and plum.
This soft, ethically sourced wool blanket by Manduka is excellent for use in the winter months. It can be used as a shawl in meditation or to cover your body in Savasana.
Another use for this blanket is as a yoga mat topper for restorative practices like yin yoga. This is a good idea during the winter or when practicing on a hard surface. Your body temperature can dip during yin yoga; thus, having a layer of warm wool beneath you will help to keep your body warm.
This Manduka blanket is made from 75% recycled wool and 25% recycled synthetic fiber and features overlocked edge stitching to prevent fraying. It is also densely woven to trap heat and resist stretching during washes. Another great thing about this blanket is how it molds into your body shape when folded and used as support.
Do you want a yoga blanket to keep you warm during savasana or seated meditation? If so, you'll need a thicker and cozier blanket like this one from Open Road Goods. This extra-large blanket measures 78″ x 50″ and is made from a cotton/acrylic/polyester blend.
It is made in Mexico and serves as a thicker, more durable alternative to a traditional Mexican blanket without losing that authentic style. There are over 10 color options, all with hand-woven thunderbird detailing. I also noticed that this blanket gets softer after every wash.
The only negative thing is that it does shed a bit, so you may find threads left on your yoga mat after use. But after you wash it a few times, the shedding reduces. Also, it is best to machine wash it in cold water to prevent shrinkage.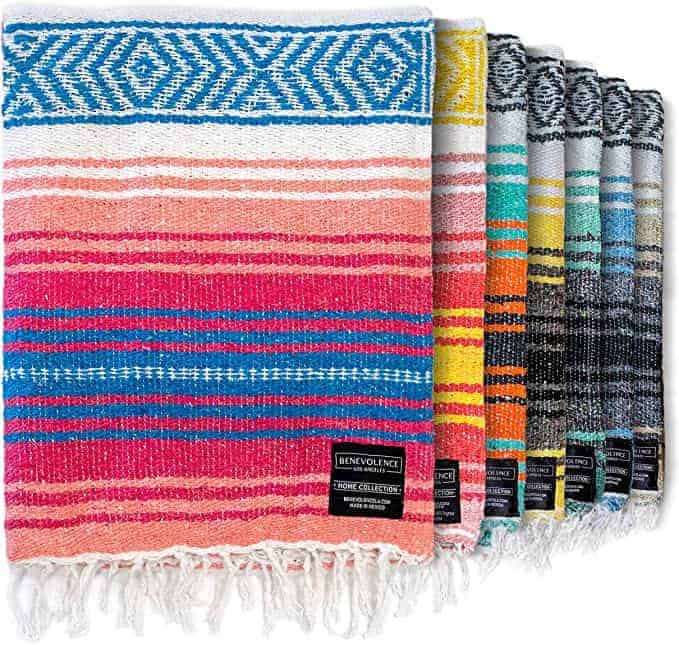 This authentic hand-woven Mexican blanket is stylish, soft, and eco-friendly. It is handmade in Mexico using ethically sourced recycled fibers. It works as a yoga mat topper for outdoor practice or as a shawl in cooler climates.
It measures 45 x 70 inches and is lightweight at 3 pounds. It features the traditional Mexican pattern, but there is a wide choice of vibrant color options, including coral, blue haze, and pink lemonade. According to the care instructions, you should machine or hand wash with cold water and not squeeze any excess water out but let it hang dry.
And if you need another reason to buy one of these high-quality, low-price blankets, here it is. Benevolence LA makes a donation to their charity partner, "Water mission," for each purchase made. Thus, by buying this meditation blanket, you'll be helping to fight poverty and provide equal access to water.
This gorgeous Manduka Peruvian meditation blanket is both super stylish and eco-friendly. It is made from 100% recycled fibers (52.5% Recycled Cotton, 35% Recycled Acrylic, 12.5% Polyester), creating a premium quality Peruvian cotton blend.
Because this mat is thick, you can easily roll it up and use it as a yoga prop. Alternatively, you can fold it a few times to sit on while meditating. It features a lovely subtle patterning and is a multifunctional accessory for your spiritual practice.
This Manduka meditation mat is durable and withstands regular use thanks to its high-quality materials and overlocked edge stitching that prevents fraying and pilling after washing. It measures 65″ x 83″ and is suitable for machine washing (on a gentle, cold) cycle and tumble drying on low.
Meditation & Yoga Blanket Usage & Benefits
As mentioned earlier, a meditation blanket is super versatile. Here are five different ways you can use one.
To improve posture in meditation practice
Most meditators meditate with something under their sitting bones to support their spine and ensure correct posture. Meditation pillows, cushions, and bolsters are all suitable for this. However, a meditation blanket is perfect as it allows you to choose how much padding you want.
For example, if you have tight hips, you can fold the blanket multiple times to gain some height, easing any tension. Or, if you already use a meditation pillow, you can lay flat the blanket to protect the boney parts of your feet from a hard surface.
As a prop in yoga practice
If you have a yoga blanket, there is no need to buy a bunch of other props. As you can fold and roll a yoga blanket in various ways, you can use it like a block or a bolster. Here are some different ways you can use a blanket as a yoga prop:
Under the knees in cat/cow and camel pose to protect sensitive knees.
Under the shoulders in the shoulder stand to protect the shoulder joints.
Under the sitting bone in the pigeon pose to fill the gap and keep the kips square.
Between the hips and heels in the hero's pose.
Under the spine in a supine butterfly, acting as a bolster to create a gentle backbend.
Under the knees in the corpse pose for an extra restorative Savasana.
To provide warmth
A thick meditation blanket is a must if you live in a cold country. You can wrap it around your shoulders to keep you warm while meditating or lay it over your body during Savasana and other reclined yoga postures. If you're buying a yoga blanket to keep you warm, look for thick wool that is soft, cozy, and large enough to cover your entire body.
For outdoor practice
For warm climates, a meditation blanket will serve a different purpose. Because most are machine washable and, thus, easy to clean, you can use them when practicing outdoors, such as at the beach or the park. On a soft outdoor surface, a yoga blanket may be enough support, but for rougher terrains, you can use it as a topper for your travel yoga mat.
If buying a yoga blanket for outdoor practice, travel, or camping, look for one that is light, quick-drying, and folds up small.
As a thoughtful gift for your yogi friends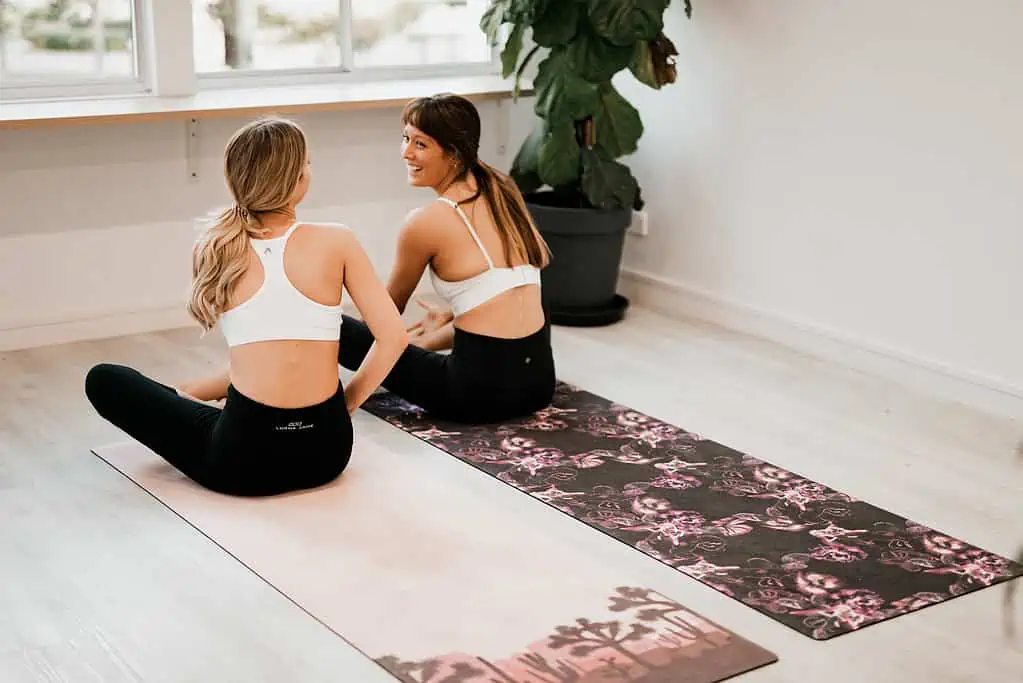 Of course, a meditation blanket is not just an excellent purchase for yourself; it also makes super thoughtful gifts that any yogi friends will greatly appreciate. Thus, if you're wondering what to buy a loved one who shares your passion for yoga or meditation, why not get you and them matching meditation blankets? Be sure to explain all the different benefits to them so they can get the most out of their new yoga blanket.
Final Thoughts: What Is The Best Meditation Blanket?
Meditation blankets are practical, versatile, and functional accessories for all yoga and meditation styles. However, the best one for you will depend on what you plan to use it for the most.
For example, suppose you do lots of restorative yoga or live in a cold country. In that case, a thick wool meditation blanket is best. Alternatively, if you love to practice outside, you might prefer a thinner mandala-style yoga blanket.