There's nothing better than curling up under a warm cozy blanket by a winter fire and sipping a mug of tea. But it turns out that blankets can be amazingly useful props to add to your yoga practice as well.
A yoga blanket is a soft support in poses like Seated Forward Fold (Paschiomottanasana) and an extra cushion for your bones and joints in poses like Cat/Cow. It also helps yogis stay warm in prolonged meditation or yin yoga poses.
As a yoga teacher, I've found that utilizing yoga blankets in my class makes newbies more comfortable and relaxed. Blankets just generally carry that cozy aura with them no matter where they go.
Let's dive into what makes a blanket truly a "yoga blanket", how to use them to enhance your yoga practice, and the best yoga blankets you can buy.
What is a Yoga Blanket, Anyways?
A yoga blanket is a single-layered piece of fabric that's not too thick nor too thin. They tend to be slightly thicker than standard blankets and are able to be folded or rolled for added support in yoga asanas.
Yoga blankets have been around for thousands of years. BKS Iyengar wrote in The Illustrated Light on Yoga that a folded yoga blanket laid on a level floor is the best base for a yoga practice.
The Main Benefits of a Yoga Blanket include:
Adding warmth in relaxed poses
Cushioning joints and bones
Adding height to seated poses (support the back)
Assistance in flexibility and range of motion
Replacing common yoga props
Top 5 Best Yoga Blankets
Product's name
Material
Size
More Info

Organic cotton blanket


DEMMEX Certified 100% Organic Turkish Cotton Beach and Bath Towel,...
100% GOTS certified organic cotton
71 x 36"
See latest price

Mexican blanket


Benevolence LA Authentic Handwoven Mexican Blanket, Yoga Blanket - Perfect...
100% recycled acrylic and cotton
50 x 75" (twin bed size)
See latest price

Large Indian blanket


Halfmoon Yoga Blanket, 100% Cotton, 60" x 80" - Handwoven Blankets &...
100% cotton
60" x 80"
See latest price

Meditation blanket


Lotuscrafts Yoga Blanket Cotton Savasana - 100% Organic Cotton - Mexican...
100% organic cotton
60" x 60"
See latest price

Machine-washable


Open Road Goods Handmade Orange Yoga Blanket - Thick Mexican Blanket or...
Cotton-acrylic-polyester blend
80" x 50"
See latest price
Nobody wants to worry about nasty synthetic dyes or toxins in a blanket they plan to lay their face on or relax with during yoga. This gorgeous yoga blanket is made with 100% GOTS (Global Organic Textile Standard) certified organic Turkish cotton and organic plant dyes. It is soft enough to use as a towel and beautiful enough to wear as a shawl.
Pros
Completely organic and toxin-free
Super soft and beautiful Turkish material
Double knotted tassels to ensure it doesn't unravel
Dense weave for extra support
Multipurpose use as towel, beach blanket, shawl, and more
Quick-drying and absorbent
Cons
May have piling or shedding due to natural fibers (washing with a cup of white vinegar helps)
This take on the classic Mexican serape blanket is vibrantly colorful, soft, and even made of recycled eco-friendly materials! For yoga, this blanket is high-quality, breathable, and easily portable. It provides mid-level support when folded and plenty of warmth for early morning or outdoor meditation sessions.
Pros
Recycled acrylic and cotton material are eco-friendly
Lightweight (about 3 lbs)
Dense and made-to-last
Socially conscious company mission to fight for equal water access in poverty stricken areas
Cons
Acrylic is still a synthetic (non-biodegradable) material
Twin size may be too small for some people
If you're looking for a classic Indian yoga blanket, this Halfmoon Yoga Blanket is incredibly soft, beautiful, and functional. It is cushioning and supportive in poses and stylish when being stored. These blankets are thicker than they look and especially high-quality. Their durability lends itself well to many uses, from yoga to camping to a beach blanket.
Pros
Soft and ultra comfortable
Handwoven in India
Aesthetically pleasing as a throw or accent blanket
Versatile for outdoor use at beaches or parks
Selvage edges make easy to fold or roll flat
Lightweight (about 2.7 lbs)
Cons
Not organic cotton
Mid-range price point
Requires gentle wash cycle and hanging to dry
If you've never tried Savasana beneath a super soft meditation blanket, you're missing out. The Lotuscrafts yoga blanket can be a rug to lay on, a cushion for your knees, or a soft overlay at the end of a long practice. This blanket is as eco-friendly, skin-friendly and comfy as it gets.
Pros
100% organic cotton and non-toxic dyes
Eco-friendly and made under fair working conditions
Super soft and skin-friendly for those with allergies
Large size fits most individuals
Beautiful simplistic design
Cons
Thinner than other brands
May not be as much cushion for joints
The minimalist laundry-doers (like me) probably don't want any more complicated washing requirements added to their yoga laundry. This blanket can be thrown in any wash cycle and even gets softer after each wash. It is thick, beautiful, XL in size, and very comfy on the knees.
Pros
Traditional Mexican style blanket
Soft, thick, and supportive
XL size (80" x 50")
Handwoven in Mexico
Easily machine washable- nothing complicated and nothing to worry about!
Cons
Synthetic materials are not as eco-friendly
How to Use A Yoga Blanket
Cushion Your Knees, Elbows and Wrists
If you've ever wondered how yogis hold poses like Low Lunge, Bird Dog, or Camel Pose for an extended period without their knees screaming at them- you're not alone! Most of the time, just a yoga mat isn't enough for bony joints.
Simply folding a yoga blanket under your knees or elbows takes the pressure off your fragile joints so you can enjoy the strength and stretch where it's meant to be (in the back, core, arms, etc.)
Even in a pose as simple as Cat/Cow pose, a blanket works wonders. Over time, joints inevitably will become stronger and more resistant. However, yoga blankets make these poses more accessible to beginners as well as children or elderly students.
As a yoga teacher, I always keep a yoga blanket on hand to demonstrate simple modifications to poses that are hard on knees, elbows, or wrists.
How to do Cat/Cow with a Yoga Blanket:
Fold the blanket and find the ideal thickness for your body. Feel free to experiment with a few different folds to get it right.
Move into all-fours, placing your knees on top of the blanket about hip-width apart and at a right-angle beneath your hips.
Hands should be shoulder-width apart and stacked in line with the wrists, elbows, and shoulders. Head is neutral.
For Bitilasana (cow pose), inhale and arch the spine, pushing the belly toward the ground and looking up. Press the knees into the blanket for stability.
For Marjaryasana (cat pose), exhale and curl your spine upward to the ceiling like a cat, pulling the head and sit bones down toward the floor.
Return to a neutral table-top spine and release.
Support Developing Flexibility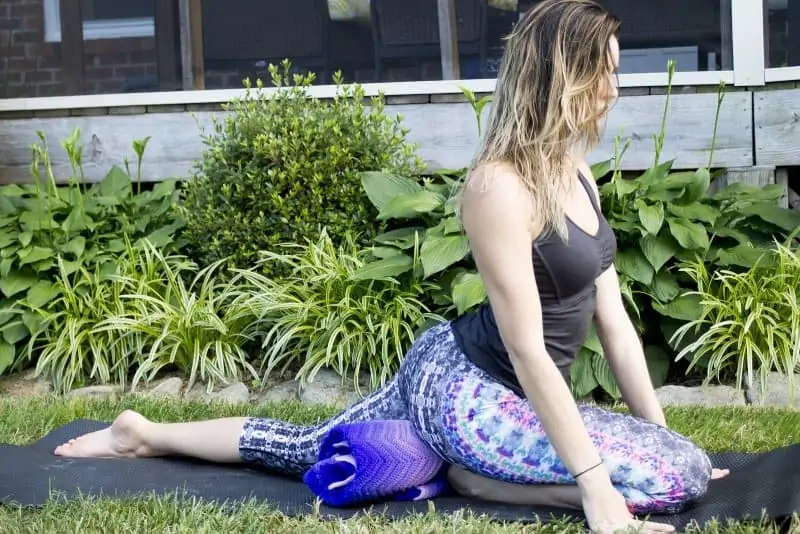 It's always a bit intimidating when advanced yogis just slip into Pigeon Pose or a full split. "Will my hips ever be that open?" you might find yourself thinking.
In comes the yoga blanket! By tucking a blanket beneath your butt, you can enjoy hip-opening poses for more time and with more comfort. Think of the yoga blanket as your training wheels on the ride toward hip-opening.
How to Use a Yoga Blanket to Loosen Hips:
Tightly roll up your yoga blanket.
Place directly under hips or butt while in a hip-opening pose.
Use a block or another yoga blanket to elevate the forehead or forearms.
Relax into the opening.
Warm Comfort in Savasana and Meditation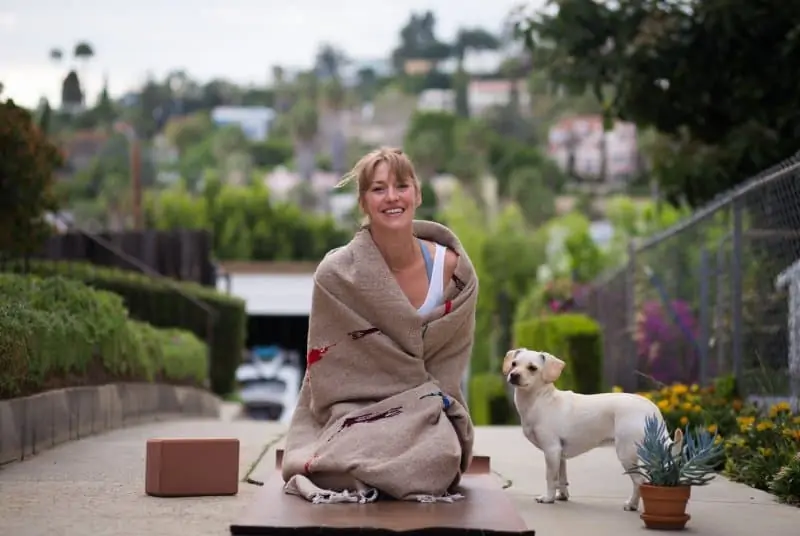 Aside from hot yoga, many yoga studios (or just your bedroom) can get a little cold once you stop moving around in your asana flows.
When you plan to stay in a meditative pose for an extended period of time, it helps to keep the muscles warm and cozy so you can focus on your breath and mental stillness. The slight bit of pressure from a blanket on top of your body is extra relaxing, inciting a primal comfort similar to being swaddled at birth.
The hardest part is not falling asleep!
Add Height and Pelvic Tilt in Seated Poses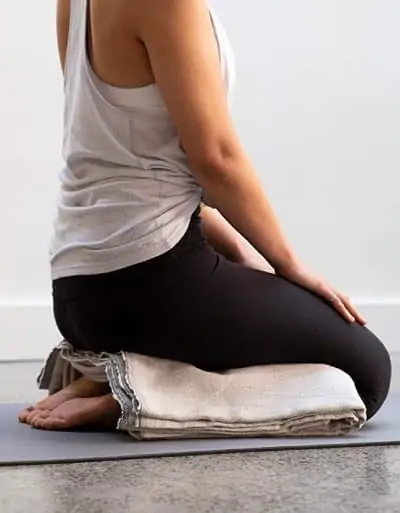 Many students find it difficult to keep their spine perfectly straight in a seated position. We probably have technology and modern sedentary lifestyles to thank! Since those two can't be immediately fixed, a yoga blanket is the perfect solution at the moment.
A folded yoga blanket beneath your hips actually slightly shifts your pelvic tilt and adds height to the back of the body. This makes the spine lengthen and straighten without any extra effort.
Alignment is so crucial for preventing injuries and building strength, so I recommend lifting the hips to beginner and advanced yoga students alike. Again, you will need to experiment with different folds and heights that are best for your body.
Try a folded yoga blanket beneath the hips in Seated Forward Fold (Paschiomottanasana), Staff Pose (Dandasana), Easy Pose (Sukhasana), Half Lotus (Ardha Padmasana), or any seated asana in need of a little pelvic tilt for a straighter spine.
Substitute for Common Yoga Props
A yoga blanket is naturally a more portable (and often cheaper) alternative to common yoga props like blocks and bolsters. It brings the floor closer like a yoga block and provides softer support than a bolster. You can even use it as a yoga mat when in a pinch!
Yoga blankets are so versatile. Roll it, fold it, or put it under your back, neck, or joints for padding and opening.
Bonus: Extra Padding for Pregnant Yogis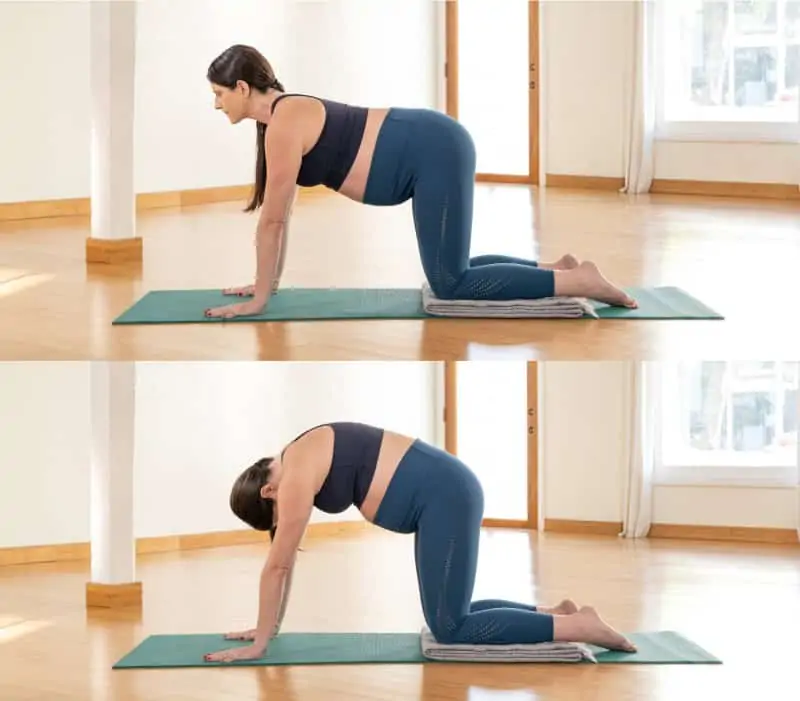 Yogis with a growing baby belly may find certain poses like Child's Pose (Garbhasana) or Pigeon Pose (Eka Rada Rajakapotasana) to be challenging or uncomfortable.
A folded or rolled yoga blanket adds height when placed under the forehead, giving more space for that tender pregnant belly. A blanket can also just act as a soft cushion directly below the stomach.
How To Choose A Quality Yoga Blanket
We all know how flimsy, toxic, unsustainable, and itchy a cheap blanket can be. A quality yoga blanket should be durable, soft, well-woven, and made of quality non-toxic materials that are good for the environment as well as the people who made the blanket and the people who will use it.
Here are our top tips for choosing a quality yoga blanket and our time-tested favorites for Yoga Nomads:
Material
Most yoga blankets are made of wool, cotton, synthetic fibers, or a blend of these fabrics. Consider your climate, desired cushion, washing frequency, and texture preferences to choose the best yoga blanket material.
Wool
Wool is the most dense, durable, and cozy of all blanket materials. It is also the most sustainable because cotton requires so much land and water, whereas sheep can be repeatedly sheared throughout the season.
Wool blankets may have piling (pulling out of the fibers) over time or with washing. But they are very sweat and moisture resistant.
Cotton
Cotton yoga blankets are the most common and are also very durable. Organic cotton is best, if you can find it.
Cotton is very soft on the body, but not quite as dense and supportive as a wool blanket. Cotton yoga blankets may shrink when washed, so it is best to hand wash or use cold water.
Blended Fabrics
Fabric blends such as polyester and acrylic are the most affordable yoga blankets. They have brighter colors and are sometimes made with recycled materials.
The downside to blended synthetic fabrics is the possibility of microplastics or a chemical smell at the time of purchase.
Style
There are about as many yoga blanket styles as there are yoga mats or yoga leggings. A yoga blanket is a great way to show off your signature yoga vibe in a functional way.
Mexican Baja Blankets
Mexican or "Baja" blankets are what typically come to mind when someone says "yoga blanket". Once again, the famous BKS Iyengar is said to have brought Mexican yoga blankets to the United States and they have since become common in just about every yoga studio.
Handmade Mexican blankets are comfortable, beautiful, bohemian, and come in a wide range of colors. They are also thick and dense for lots of cushion on the mat. They usually include fringe, which may fray or get in the way over time.
Indian Yoga Blankets
Indian blankets are typically hand-loomed cotton from India. They are more tightly knit than Mexican blankets and don't usually have fringe.
Felt Yoga Blankets
Wool felted yoga blankets have the most "give" of all the yoga blanket styles, meaning they will deflate a bit under pressure. However, they are warm and thick and work excellently when folded multiple times.
Size
Just like a towel, too big is always better than too small. Try to search for a yoga blanket that is large enough to cover your body in Savasana. Most people will find a standard twin size yoga blanket to be suitable for their needs, but there are many larger ones available. Just remember you want to be able to fold, roll, and cover with the same fabric.
Enjoy a More Supported and Cozy Yoga Practice!
Have you tried adding a yoga blanket to your practice or your yoga classes? It's surprising how a simple piece of fabric can make things so much more comfortable and cozy.
Namaste!