You pull on your cute new yoga pants and relish the way the tight fabric hugs your curves and emphasizes your yogi physique. You're feeling fit and hot as ever.
But then, after walking to class or doing a few asanas, you catch your reflection in the mirror and feel your stomach drop: you've got a huge yoga pants camel toe!
It feels like you've been completely revealed. And nothing is more awkward than trying to adjust a cameltoe in public or during a yoga class.
So read on for the best ways to avoid camel-toeing.
What is Camel Toe?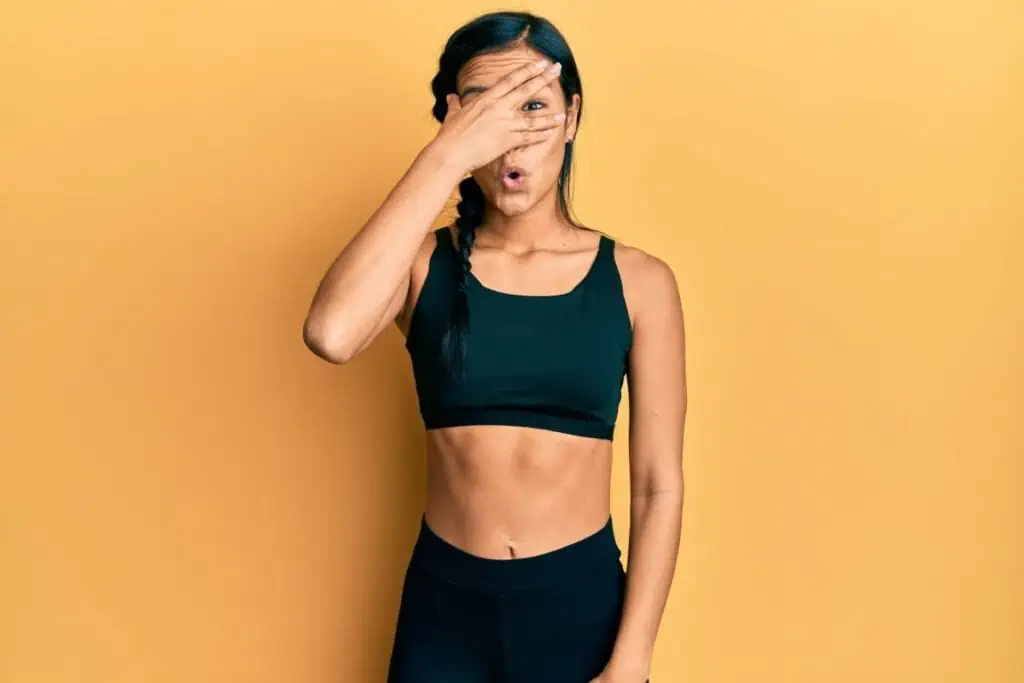 "Camel toe" is the slang word for when a woman's labia majora is outlined in tight-fitting clothes. Fitness wear, swimwear, spandex shorts, leggings, and yoga pants are the usual culprits. Camel toes are obviously unsightly and embarrassing, but also pretty uncomfortable.
While society should obviously stop shaming women's bodies, camel toes are a nuisance we all want to avoid. Here are a few tips for keeping yoga leggings fitting nicely over your curves without squeezing around your crotch.
How to Prevent Camel Toe
If you're trying to prevent a dreaded camel toe from ruining your favorite athleisure or yoga outfit, you've come to the right place. You don't necessarily need to replace all the yoga pants in your closet. Here are simple strategies to keep your leggings from wedging up:
1- The "Bra-pad Cushion" Tip
Sophia Edmund came up with a simple yet efficient hack to hide camel toes. In her own words:
"What you're going to do is take any old bra pad and cut this little triangle shape. It will fit into the insert of your thong or your underwear. So, you'll stick it in, you can work out, go about your day, take a walk — whatever. And then, once you're finished with it, I throw mine in the washer. And I've had mine for years. It's reusable, you're not putting a panty liner in there".

Sophia Edmund
Here's a demonstration video on how to do it:
2- Wear Leggings Made with Flat Front Panels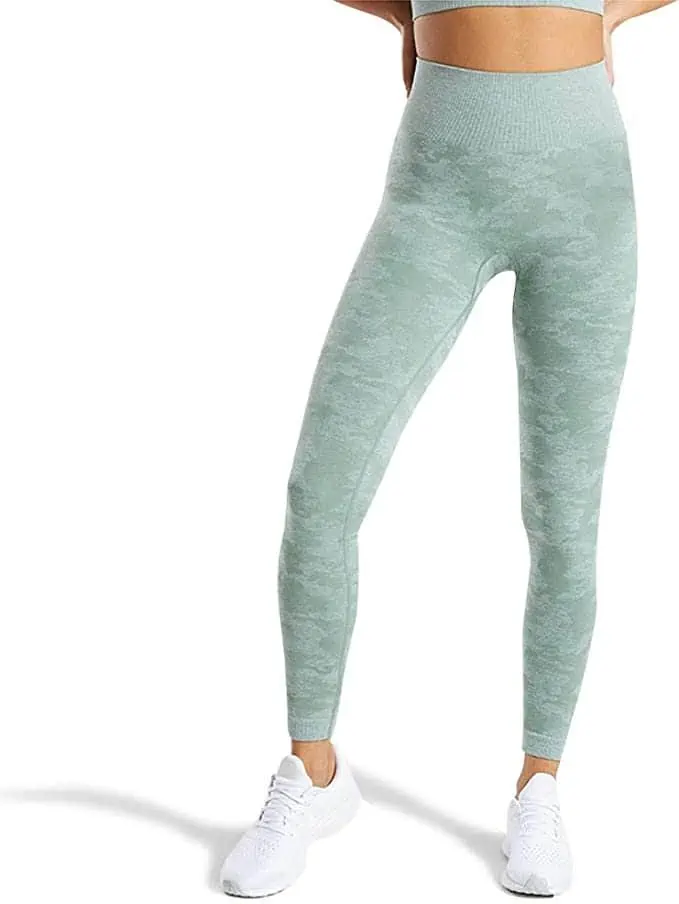 There are different methods of patterning and sewing yoga garments. Oftentimes, mass-scale produced leggings are made in sweatshops with cheap fabrics and poorly paid workers. These types of yoga pants are typically lower quality, more likely to misshape after washing, and, yes- more likely to cause camel toes.
It's best to search for flat front-panel leggings. Popular brands with flat front panel yoga leggings include:
Keep in mind that these brands also have many styles with a front seam. Look carefully at the design of different products to avoid any stitching that may lead to a camel toe or front wedgie.
Here are our Top 4 "No Camel Toe" Leggings
Product's name
Main Features
More info

Best Overall


lululemon Align™ High-Rise Crop
- Patterned, no camel toe design
- Designed for yoga
- Best Fabric (Nulu)
See Latest Price

Most affordable


WodoWei Women's Scrunch Butt Lifting Workout Leggings for Women Seamless...
- Flat-front
- Squat-proof
- Opaque
See latest price

Premium option


SUUKSESS Scrunch Butt Lifting Seamless Leggings for Women Booty High...
- Squat-proof
- No-camel-toe legging
- Booty lift scrunch
- Seamless fit
See latest price

Patterned design


Ultracor Knockout Star Print Legging Womens Active Workout Athletic...
Leggings with a liner and shapewear built into the design.
See latest price
3- Use a Cuchini Camel Toe Concealer
If the idea of wearing panty liners every day irks the environmentalist in you, you'll be glad to hear that there is now a reusable pad called the Cuchini. This lightweight pad adheres to panties or leggings and prevents frontal wedgies. It works best with their fabric tape (sold separately). The Cuchini was even featured on Keeping Up with the Kardashians as their main camel toe solution in bikinis, leggings, and more.
4- Wear Camel Toe Proof Underwear
The Alessandra B High Rise Camel Toe Proof Thong is a must-have for any woman who wants to avoid the dreaded camel toe. These panties are not only stylish but also discreetly prevent this embarrassing problem.
With their hidden rubber layer, they offer comfort and confidence during workouts or yoga sessions, making them an essential addition to your wardrobe.
5- Size Up in Activewear Bottoms
I don't know about you, but I've tried many times to squeeze myself into pants that were too small. They're so cute, can't they just fit? I'd try to stretch the spandex fabric to its maximum width. But it's just not worth it.
Sometimes, it's best to return, exchange, or replace existing leggings with a size up to ensure that they aren't digging into your lady parts. Athletic wear often runs super small anyway! Leggings made of cotton or polyester are also likely to shrink in super-hot laundry cycles.
It is also far more comfortable when you wear activewear bottoms a size up. This will ensure that they are "squat proof" (not see-through when you bend over) and "cameltoe-resistant".
6- Wear Leggings with Built-In Liner
Many high-end legging brands now have underwear built into the leggings. This is amazing for anyone who prefers going commando but hates camel toes or visible panty lines.
These leggings tend to be more expensive due to the thicker fabric and complex pattern sewing during production. Ultracor leggings are the cream of the crop when it comes to leggings with a liner and shapewear built into the design.
7- Wear Leggings with a Gusset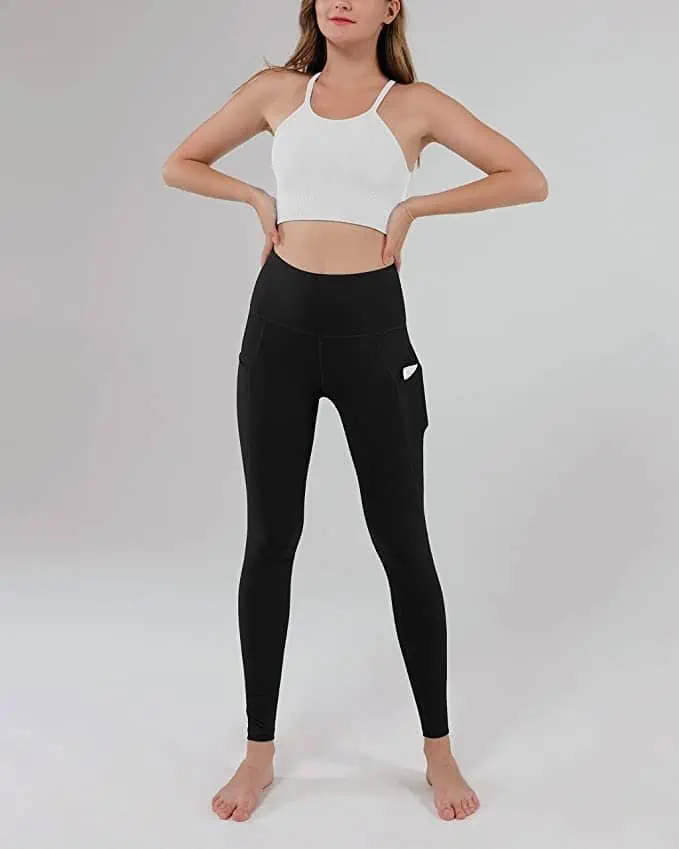 A gusset is basically an extra piece of fabric to reinforce certain parts of a garment. Gusseted crotches are becoming more and more common in the activewear space because of annoying things like camel toe. A gusset crotch legging also allows for more free movement and less chafing.
Our favorite brands include:
8- Avoid Camel Toe Prone Fabrics
Certain fabrics are much more likely to ride up than others. Cotton, linen, and polyester are typically the most common culprits of causing camel toe. Also, anything super thin and overly stretchy is probably going to go up the crease at some point. Choosing fabric blends like spandex, lycra, rayon, bamboo, or nylon is better to cover up camel toe.
9- Wearing a Panty Liner in Your Underwear
If you wear underwear with leggings, a panty liner is a great way to conceal a camel toe. There are special liners made for thongs as well as regular panties, and even organic cotton panty liners for the eco-minded yogis.
Wearing a panty liner will prolong the lifespan of your underwear as well as your leggings by preventing leakage and fabric pilling. However, the disposable nature of panty liners isn't always eco-friendly and liners could get expensive if you wear leggings all the time.
10- Wear Thick Fabrics
It's common knowledge that thicker fabric will be less revealing, but did you know that thick fabric can also be better at sweat-wicking?
We always avoid thin yoga pants due to their lack of durability and coverage. Not to mention, cheap thin leggings are the worst for camel toe. Just avoid them altogether and opt for a brand like Alo Yoga, lululemon, Gymshark, Athleta, or Girlfriend Collective.
11- Choose Darker Shades of Leggings
Light colored yoga pants are not always downward dog or squat-proof. They reveal all the creases and curves, but not always in a good way. When in doubt, go for darker opaque legging colors to keep camel toe at bay.
12- Wear Patterned Leggings
Distract the eyes with patterned leggings. Any sort of pattern, including animal print or camo, will help camouflage your camel toe (no pun intended). CRZ YOGA Women's Naked Feeling Yoga Pants has lovely textures and patterns to choose from as well as a gusseted crotch to prevent camel toe.
13- Wear a Long Tank Top or Sweater Over Your Leggings
Tunics and long tank tops are still super stylish and a modest alternative to cropped or regular-length yoga tops. Longer tops mean more coverage and fewer worries about camel toes.
We love the CRZ YOGA Seamless Long Length Workout Tank because it's seamless, sweat-wicking, and long enough to cover the crotch and booty on most body types.
14- Cycling Underwear
Cyclists- especially mountain bikers- naturally need extra padding on the crotch and bum area during heavy-duty biking. Most cycling underwear is camel-toe-proof and ultra-comfortable for wear under most leggings.
What Causes Camel Toe?
Going Commando
Not wearing panties under yoga leggings is one of the main reasons women get camel toe. It's simply one less layer of fabric between your body and the outside world. The fabric tightens in different positions and may get wedged in place. The easiest fix for camel toe is wearing panties underneath activewear.
Improper Fit
There are different types of leggings for different body shapes. Oftentimes, it's just the fit of certain yoga pants that causes camel toe on some women.
Overstretched fabric tends to do some funky things. It can dig into crevices like hips, upper glutes, behind the knees, and the crotch. The same thing applies to yoga leggings that are too loose and may ride up in the front or back.
Try on a few different brands of leggings and practice squatting, downward dog, etc. to make sure they don't squeeze you in the wrong places.
Wearing Leggings with a Front Seam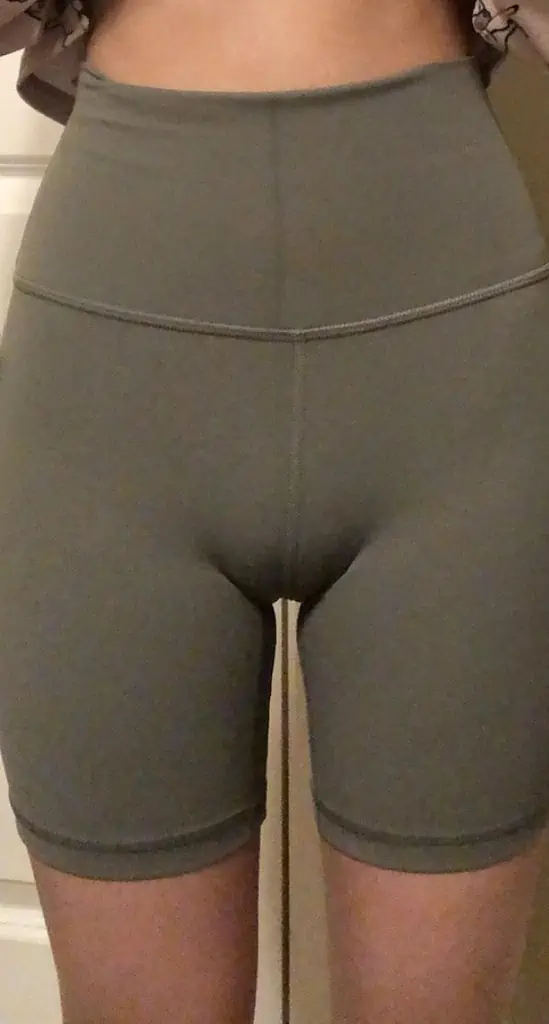 Seamless yoga wear has become especially popular lately. Perhaps that's because stitching (especially poorly-placed seams) tend to cause issues on tightly fitting pants. Yoga pants with a front seam are a major culprit of emphasizing your crotch cleavage.
It is worth it to spend a bit more for high-quality yoga wear that is seamless or well-made without stitching along the front crease.
Wearing Leggings with a Brazilian Wax
Shaving and Brazilian waxing are popular hair removal techniques that many women prefer to the natural bush. However, even a small amount of hair is a buffer between yoga pants that lowers the risk of camel toes. Some women find that going hairless may also lead to more fabric friction or riding up in the wrong places.
How to prevent camel toe in high-waisted pants?
Preventing camel toe in high-waisted pants requires the perfect fit and fabric – stretchy enough to contour your body, plus seamless or thin underwear for extra coverage without a trace. Pantyliners are great too as they provide an extra layer of smoothness.
How to prevent camel toe in shorts?
If you're looking to get rid of camel toe in shorts, try selecting a size and fit that isn't too snug around the crotch. Use thicker, sturdier fabrics that won't bunch up as much. Additionally, wearing seamless or thin underwear with ample coverage can help reduce camel toe. Lastly, adjust your shorts slightly to disperse the fabric better.
How to prevent camel toe in leggings
To ensure your leggings maintain a flattering shape and don't succumb to the dreaded camel toe, select a size that is snug yet stretchy for comfort. Look for leggings with thicker fabric or a reinforced gusset to enhance coverage. Additionally, wearing full-coverage undergarments like seamless panties or pantyliners can help create a smoother overall look.
Final Thoughts
At the end of the day, there is no need to waste time stressing about camel toe. Any of these strategies can be used in combination to keep you comfortable and carefree during yoga class. If you have any other tips or tricks you've discovered specifically for yoga leggings, we'd love to hear them!
Namaste!