If you've been wondering where the heck to store your yoga mat when you're not using it, you're probably in need of a yoga mat rack. Nobody wants mats and yoga accessories carelessly thrown in closets or on the floor.
Give your yoga studio a sleek, organized look with a wall-mounted yoga mat rack, floor yoga mat holder, and yoga accessory storage. We've reviewed the best storage options available to help you take your yoga space from cluttered to zen.
Benefits of Organized Yoga Mat Storage
Let's be real, most of us yogis spend a lot of time and money on our yoga practice. The mat is where we go to unwind, relieve stress, and ground ourselves outside of the chaos of our daily lives.
Cluttered Space = Cluttered Mind
Achieving complete relaxation can be pretty hard to do if your yoga space feels as cluttered as your mind. Plus, nobody wants to drop $50-$100 on a super nice yoga mat only to have it get dirty and start wearing out after awhile because of improper care or storage.
Storing yoga mats off the floor has a number of benefits:
Make yoga mats last longer
Keep your yoga mat(s) clean and away from dust, dirt, or pet hair
Add aesthetically pleasing organization for your yoga space
Easy access for classes or home practice
Always know where your mat is if you're in a rush
Studios can point students where to return clean mats
Hanging or shelving space for yoga mat cleaners, blocks, straps, and other accessories
How to Pick the Best Yoga Mat Storage for You
Product's name
Materials and Features
Number of Mats
More Info

Single Mat


Stratton Home Decor Yoga Mat Holder Wall Shelf, Large, Brown
Lotus flower painted wood shelf and mat hooks with easy to-hang frame back
1
See latest price

Yoga Mat Towel Rack


Wallniture Moduwine Bathroom Towel Rack Wall Mounted Set of 2, 3 Sectional...
Minimalist black wire wall-mount racks; each holds 3 mats
6
See latest price

Wall-Mounted Rustic Style Rack


J JACKCUBE DESIGN Wall Mount Rustic Wood and Metal Towel Rack 6 Tier Shelf...
Wall-mounted farmhouse rustic wood base and sleek black wire rack
6
See latest price

Yoga Mat Basket


LA JOLIE MUSE Woven Basket Rope Storage Baskets - Large Cotton Organizer 16...
Woven cotton washable basket for cute no-installation mat storage
02-Jan
See latest price

Floor Yoga Mat Holder


MyGift Wall Mounted Vintage Gray Solid Wood Yoga Mat Holder Fitness Gym...
A three compartment wooden mat cubby for floor storage
3
See latest price

Yoga Accessory Storage


Wallniture Guru Wall Mount Yoga Mat Home Gym Equipment Resistance Bands and...
A sleek wall-mounted white wire rack for foam rollers, mats, and hooks for hanging yoga straps
1-3, plus accessories
See latest price

Studio Exercise Mat Storage


YSML Yoga Mat Storage Cart with Wheels, Space Saver Foam Rollers & Mobility...
Super durable wire rolling rack for clean, easy storage of mats or foam rollers in a gym setting
12
See latest price

Yoga Block, Strap Holder


Wall35 Siena Wall Mount Yoga Block and Yoga Mat Bag Holder, Hanging Wire...
A small basket and hooks for holding blocks, straps, bags, and other yoga accessories
0
See latest price
Minimalism is everything when it comes to storing yoga mats.
When things look as organized as they do on one of these yoga mat racks, it just makes you feel like you have your life together! It's difficult to feel focused or at ease when a space is messy.
Orderly organization it just feels like a breath of fresh air. The visual cues of a relaxed, well-arranged space has profound impacts on our internal mental state.
When deciding on your yoga mat storage, consider the following:
How Many Mats?
If you only have 1 or 2 mats for your home yoga room, a simple rack will fit the bill. However, gyms and yoga studios will need more robust and durable hanging options for all their mats. Consider the wire and rolling brands reviewed below.
Accessory Storage
What kind of yoga accessories do you need to store? Blocks, yoga blankets, straps, bolsters, weights, yoga wheels, and rollers all have different storage needs. Look for accessory storage that includes hooks and baskets.
Aesthetics
It's best to match your yoga mat rack to the overall ambiance of the room. Choose a mat storage option that fits the colors and vibe you enjoy.
Wall-Mounted Yoga Mat Racks
Wall-mounted yoga mat racks are the perfect solution for commercial yoga studios or home yoga rooms with multiple mats. These racks are stylish, compact, and easily mounted on any wall.
A wall rack makes choosing a mat a breeze and ensures that your equipment always have a place to "live" when your practice is over. After all, everything needs its place! This is one of the major secrets of organization in general.
Single Yoga Mat Rack
See latest price
If you only have one yoga mat and are looking for a simple yoga mat holder, this cute lotus flower shelf is made just for you! It is designed with a sawtooth (similar to a frame) for easy hanging installation without tools. This shelf is perfect if you live in an apartment or need a minimalist mat rack. It is hand-painted and minimalist to fit most any interior design scheme.
Towel Holders
Get creative! A towel holder rack also works great as a yoga mat holder.
See latest price
This simple set of wire towel holders will store 6 yoga mats or foam rollers. The sleek and stylish design has black minimalist wire mounts and a neat, visually appealing look that resembles wrought iron.
No assembly is required; it arrives ready to attach to the wall. The hanging hardware, anchors, screws, level, and instructions are all included with your purchase.
See latest price
This 6 tier wall mount rack has the perfect farmhouse rustic design for more earthy yoga studios to use as a yoga mat holder. It includes a rustic wooden base with a nice deep brown color. The sturdy black wire racks are slightly angled upward to hold up to 6 yoga mats in a sleek upward design. The unit is durable and rust-proof for any setting, especially small spaces.
All hardware is included and it's a fairly simple installation even without carpentry experience.
Floor Yoga Mat Holders
If you aren't wanting to mess with a drill and mounting hardware, or you are in a temporary space, a standing yoga mat holder may be best for you. They don't require any installation and or hassle! Whether a basket, a wooden organizer, or a wire holder, floor yoga organization is simple and clean without looking cluttered.
See latest price
A cute basket is the perfect affordable and simple option for home yoga mat storage. Keep it on display next to your yoga posters, air purifying plants, or Himalayan salt lamp. This basket will fit 1-2 yoga mats, a yoga blanket, a foam roller, and other accessories. Plus it's super durable and easy to wash.
See latest price
Rustic modern interiors are all the rage these days, and this trendy wooden yoga mat storage fits perfectly with farmhouse decor. You can store 3 yoga mats in a simple upright position. It also includes bottom foot pads so it doesn't damage your flooring, plus the option to mount it on the wall.
Yoga Accessory Storage
How to Store Foam Rollers
Because of their shape, rollers are best kept in a basket or on a towel rack holder. If you only have one foam roller, one mat, and a handful of other accessories, the Wallniture Guru rack is the way to go.
See latest price
This sleek white wire rack is perfect for a home gym or studio. It simply displays your equipment in an organized way with 3 shelf options and bottom hooks. It includes all the hardware needed for installation.
Storing Exercise Mats
Since most exercise mats have built-in holes, they can be hung on wall holders or pegs. For studio or gym use, consider a rolling mat rack like this one:
See latest price
The perfect addition to any studio or gym, this rolling mat rack is an ultra durable space saver that holds 12 standard yoga mats, even if they are extra wide or thick. Installation is simple and the package includes all necessary hardware.
Other Accessory Items
Simple or cute accented coat hooks are creative options for hanging yoga straps or bags. Store your yoga blocks in a square woven basket or on a simple shelf like this one:
See latest price
Save space and display your yoga gear in style with this multi-functional yoga mat holder that includes lots of hooks and a basket for accessories. The installation is super simple and customers have found many versatile uses for it in yoga rooms, kitchens, and entryways.
DIY Storage Rack Ideas
You can also build your own yoga storage with a few handy tools and some creativity. I love this idea of using chains or straps of leather to hang yoga mats from the wall.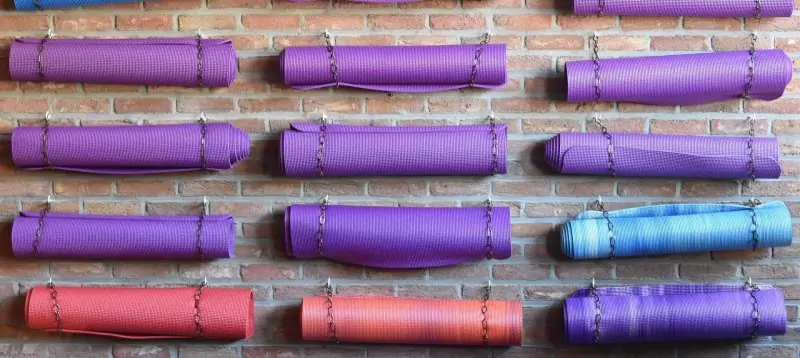 You can also buy strap-style mat hangers readymade from a creator on Etsy!
If you some carpentry skills, you can make wooden racks using this guide and building plans.
Yoga Mat Storage FAQs
How do you store yoga mats in the classroom?
The best yoga mat storage for studio classrooms are wall-mounted mat racks, towel racks, or innovative shelving units. Be sure mats are easily accessible and at the proper height for students of different age groups.
Why are yoga mats toxic?
Some yoga mats are made with PVC, vinyl, or toxic synthetic materials. Search for all natural rubber latex yoga mats, an eco-friendly yoga rug, or a certified non toxic PVC mat to prevent yourself from being exposed to harmful chemicals while getting your zen on.
Conclusion
There are so many ways to store your yoga mats that are both functional and stylish. I hope your yoga room or studio is feeling much more organized.
Namaste!