So you're looking for a new yoga mat but cannot decide between the Manduka PRO vs PROlite?
You're not alone. Many people ask themselves this very question every day. In fact, we receive several emails each week asking us what yoga mats we recommend.
The goal of this article is to provide you with all the necessary information to determine which yoga mat is right for you!
Manduka PRO vs PROlite
Manduka makes the best yoga mats
Manduka is a top tier yoga brand. They make world class products that come with a lifetime guarantee. Their products are definitely not the cheapest yoga mats you can find, but they perform great and last forever, which makes them a great value.
Benefits of Manduka
Lifetime Guarantee
Super dense – more comfortable, more support, and longer lasting
Very sticky
Never smells – material designed to repel moisture
Long standing company with a great reputation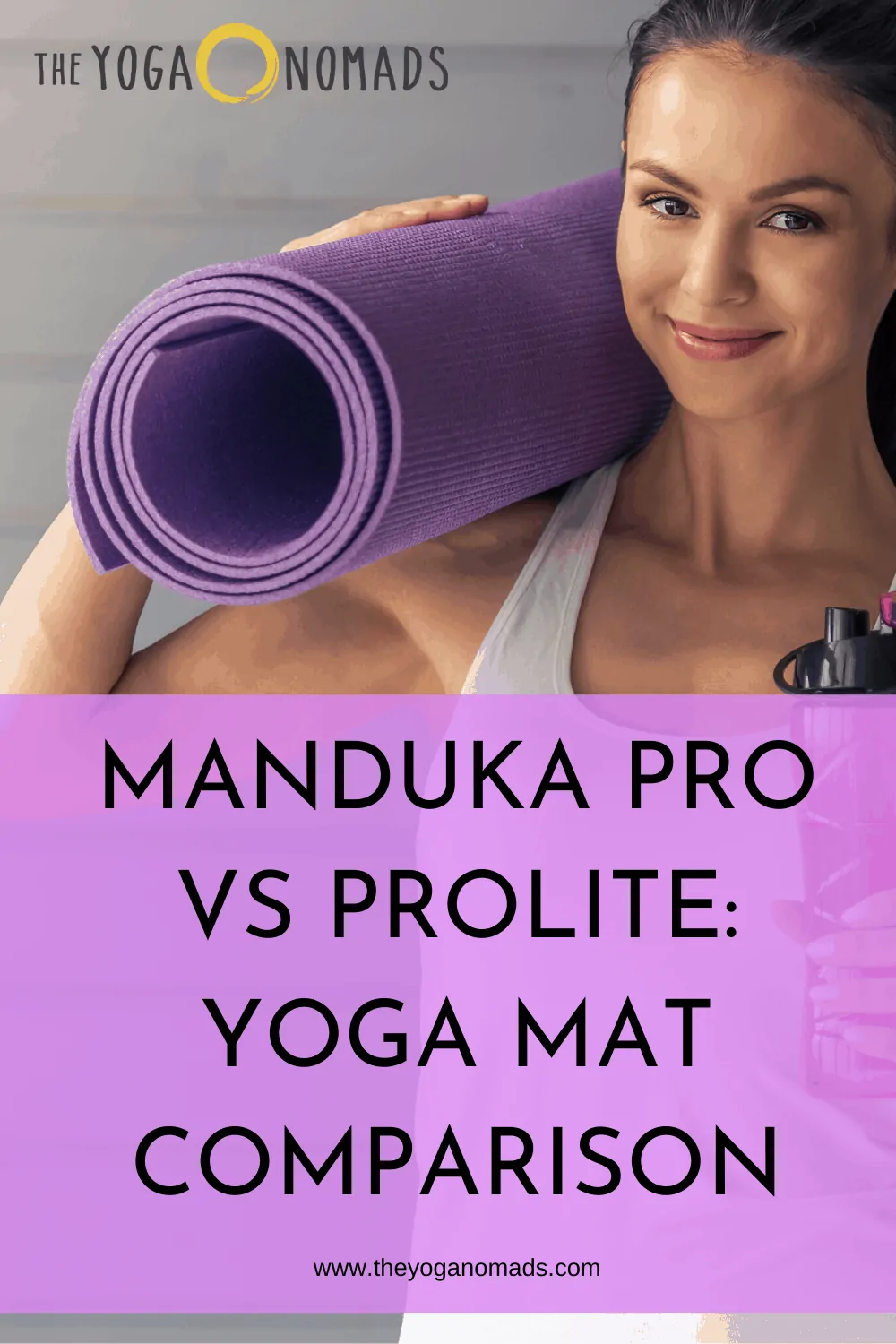 Pin now. Then keep reading 🙂
Prices of Manduka yoga mats
The Manduka PROlite yoga mat ($75) is quite a bit cheaper than the Manduka PRO yoga mat ($101).
Both mats are premium products (with premium prices) and come with a lifetime guarantee. I've owned my PROlite and PRO for 6+ years and they are still in great condition.
Manduka Yoga Mat Sale?
Manduka doesn't offer many sales but you can (sometimes) find their obscure colors at a discount on Amazon.
How much do the Manduka PRO & PROlite weigh?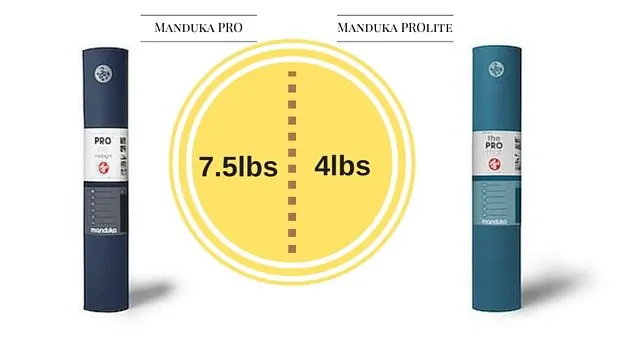 Think about how and when you will be using your new mat. Is it for home practice mainly? Or do you only practice yoga at your local studio? Or is it a combination of home and studio practice?
Mainly practice at your local studio: Manduka PROlite 71" weight: 4lbs.
If you're going to hit the studio multiple times per week you should pick a lightweight yoga mat that will be easy to transport such as the Manduka PRO lite.
Split between studio and home practice: Manduka PRO 71" (7.5lbs)
If you enjoy home practices but sometimes head out to the studio then the Manduka PRO 71" is your top pick. Offers the comfort of the PRO line but isn't quite as heavy as the PRO 85".
Mainly practice at home: Manduka PRO 85" (9.5lbs)
If you're planning to use your new mat at home, then spoil yourself with a big comfortable mat such as the Manduka PRO 85". I love working out the kinks in the comfort of my home. Typically my hips, low back, and shoulders.
*If you're looking for a yoga mat for traveling, here are my top 5.
Manduka Yoga Mat Lengths
Average height (up to 6' or 183cm)
For most people, a 71" yoga mat is plenty. Both the PROlite and PRO come in 71" sizes.
Above average height (Between 6' and 6' 5'')
If you're over 6ft tall (183cm) or if you want a little extra space I recommend a mat longer than 71″. I'm 6'3'' and my feet hang off 71" mats. The PROlite comes in 79" and is a great option.
Very tall (over 6' 6'' or 195cm)
You will hang way off standard sized yoga mats. In this case, the PRO 85" is your best option. I love how comfortable this mat is.
Are Manduka Yoga Mats Comfortable?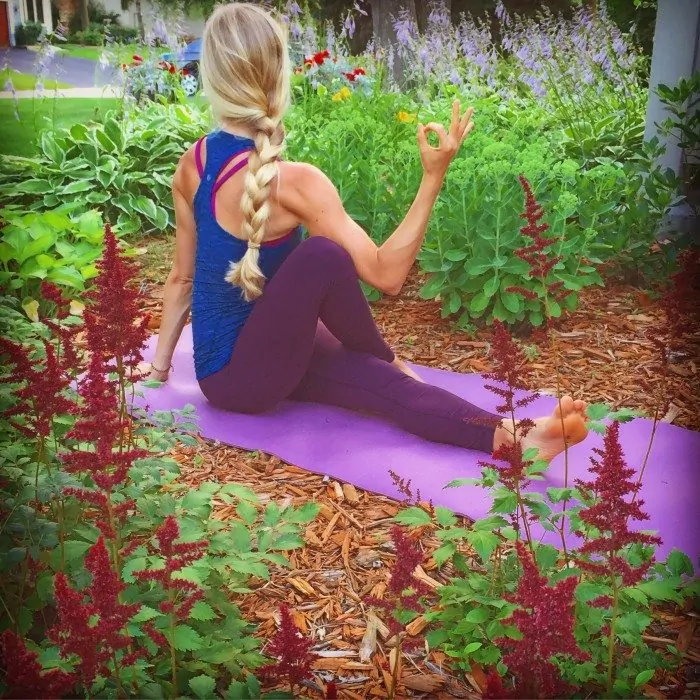 Manduka PRO mat is slightly more comfortable than the PROlite. However, Manduka makes the two most comfortable mats on the market so you really can't go wrong with either 🙂
*If comfort is your most important thing, the Manduka PRO 85 is for you.
How many colors can you choose from?
The PROlite comes in 18 different colors compared to the PRO which only as 13. Let's be honest though, 13 colors is MORE than sufficient.
What about the Manduka PRO Limited Edition?
Yes, it's true. Manduka released a limited edition line of 2-tone yoga mats. I'm not personally a big fan of the color schemes but and it looks like they are out of stock. Feel free to take a look for yourself.
Manduka Lifetime Warranty?
Both Manduka mats come with a lifetime guarantee. A very nice touch setting Manduka a part from it's competition.
Example: Jade makes very good yoga mats. One downside is they don't last as long as Manduka and they only come with a 30-day warranty.
Brandon's Manduka Yoga Mat Review
I'm sure you want me to share the best Manduka yoga mat. However, it's not that simple 🙂
We have owned both the PRO and the PROlite since around 2012. Shockingly they are still as good as day one. In that same time period I've also burned through a Gaia mat and a Jade mat.
The PROlite is perfect for daily use. The 85″ Manduka Pro Yoga and Pilates mat is good for larger people, pilates, home workouts, and anyone who wants extra comfort. That being said the PRO is bulky and heavy.
You can check out our Manduka Prolite review here. We haven't created a dedicated Manduka Pro review yet, maybe someday?
Jade Harmony vs Manduka PROlite is the ultimate showdown. These are the two most popular yoga mats on the market. Both companies have a dedicated following who believe their mat is best. That being said…
The Manduka PROlite is the best yoga mat on the market. Following closely behind is of course the Jade Harmony. The Jade Harmony is very sticky, very comfortable, and comes in great colors!
Manduka PROlite is better than the Jade Harmony for 2 reasons…
The Jade Harmony doesn't last nearly as long as the Manduka PROlite
Manduka has a Lifetime Guarantee, Jade only has a 30-day warranty
Manduka Pro vs eKO
They're both great mats. The main difference is the the eKO series is supposed to be more environmentally friendly, made of n0n-amazon tree rubber and doesn't include glues or foaming agents. Another difference is the PRO (and PRO lite) are backed by a Lifetime Guarantee indicating that they're more durable.
From Manduka's site:

What do The Yoga Nomads use?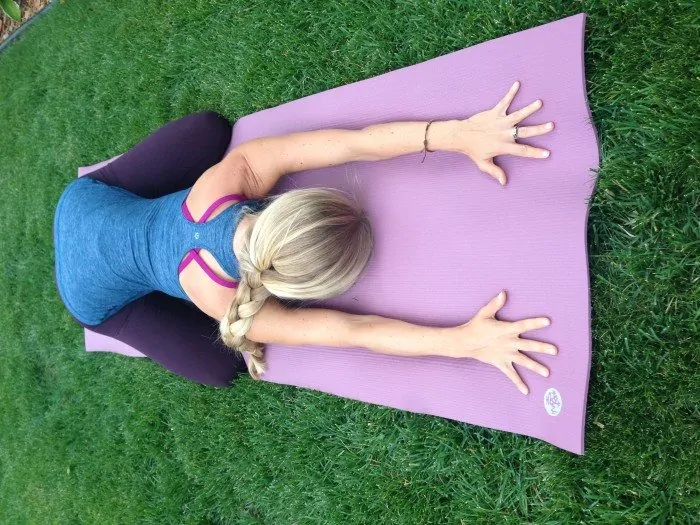 We own 3 Manduka yoga mats (PRO 85, PROlite, and eKO SuperLite) and 3 Manduka towels (eQua, eQua hand towel, and Yogitoes). Manduka acquired Yogitoes in 2013. Which is the best Manduka mat?
My go to combo is the Manduka PROlite mat with a Manduka eQua towel on top.
However if I'm doing a home practice I always pull out the Manduka yoga mat PRO.
*Looking for a yoga towel? Here are my top 5 towels for hot yoga.
What about the other Manduka Mats?
eKO line

has a great travel mat (eKO SuperLite – which is one of our favorite mats for travel)
Live on Series – new line of recycled yoga mats. I have not tried these, have you?
PRO Squared – giant square yoga mat made out of the same stuff as the PRO. Dimensions are 78″ x 78″ which would be a dream come true practicing at home solo or with a partner. Any Acro Yoga lovers out there!?
Final thoughts: Manduka PROlite vs PRO for the average yogi
For most people, I think the PROlite makes sense. It's cheaper, lighter, and still has plenty of padding.
Are you a yoga teacher?
Download our FREE beginners guide to creating a yoga website you love

This guide shows our proven step-by-step system for creating a yoga website you love. If you're a yoga teacher, be sure to snag this free guide.
Until next time,
Brandon
PS: Do you use Pinterest? Pin me 🙂