As we all know, Yoga is an incredible ever-growing phenomenon. From ancient times to the modern era, this beautiful practice has gathered a surprisingly growing number of practitioners from the entire globe. Even the most sceptical ones eventually gave in to the mystic allure and to the endless list of benefits that this practice has to offer.
We've seen all sorts of styles for all sorts of necessities: from "chair yoga" for the elderly to "anti-gravity yoga" for the most audacious ones, this discipline never stops proving its multi-faced and inclusive nature. Because yoga is actually meant for every-body. Regardless of age, mobility, or injury.
Why do kids need their own mat?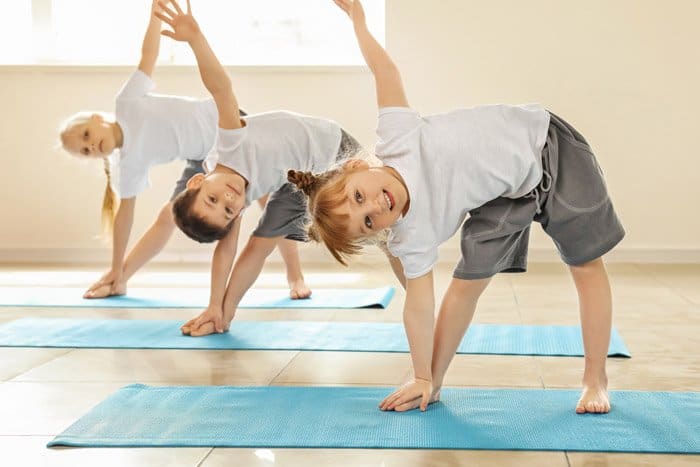 In recent years, yoga has extended also to younger crowds: and surprisingly, kids seem to be naturally gifted for this practice. Not only do they perform asanas easily because of the hypermobility typical of their age, but at the same time yoga appears to be incredibly beneficial for them too for many reasons, because:
it improves focus
Helps them gain a good posture
reduces stress and as hyperactivity
It can help with strength and coordination
it is a great way to introduce them to mindfulness and body awareness.
As a yoga teacher myself, I've often seen many moms coming to classes with their sweet toddler, who's shyly trying to perform some poses on a pretty make-shift mat. So, a question naturally came to my mind: "don't they make good yoga mats for kids too?" And if so, why is it so rare to see a proper yoga mat for kids? Most of the products available on the market were incredibly thick, slippery and to be honest, their design wasn't really appealing to a kid's eye either.
The Top 5 Kids Yoga Mats Reviewed
Product's name
Size
Material
Best for
More Info

Best overall


Gaiam Kids Yoga Mat Exercise Mat, Yoga for Kids with Fun Prints - Playtime...
24"x0.1"x 60"
Non-toxic Polyvinyl Chloride
Best overall
See latest price

Best eco-friendly


Eco Friendly Kids Yoga Mat, Soft Microfiber Suede And Organic Rubber, Non...
60"x24" x0.12"
Suede, Jute
Best eco-friendly
See latest price

Best grip


Bean Products Kids Size Sticky Yoga Mat | 3mm Thick (⅛") x 60" L x...
60" x 24" x 3.5"
Rubber
Best grip
See latest price

Best for beginners


Really Good Stuff Kids Yoga Mat with 24 Illustrated Poses – Safe,...
25.75" x 25.5" x 3"
PVC
Best for beginners
See latest price

Best budget option


MERRITHEW Kids Yoga and Exercise Mat, Triple Sundog (Purple) 0.15 inch / 4...
24"x3"x 3"
Non-toxic Poly Environmental Resin(PER)
Best budget option
See latest price
Find the right yoga mat for your little yogi:
See latest price
This lovely mat is probably the kids' most loved one because the first thing that meets the eye is its catchy look: you can choose among 12 different designs, so there's plenty of choice for anyone!
Also, it provides a strong grip, as it's a textured non-slip surface, which makes it safe and secure even for beginners. As for the material: it's PVC so it's not really the best you can get but it's completely non-toxic, so it's a green light from us.
Something I also loved about this mat is that it comes with a downloadable "intro to yoga" class so that your little one knows how to get started. The mat appears to be also quite durable and easy to clean, because it's made with a material that allows it not to absorb moisture.
So, let's recap some of its overall pros and cons:
Pros
Safe mat with great grip on both surfaces.
It's pretty durable.
Comes with a  free downloadable kids' yoga class.
Cons
Some people complained a strong plastic smell when first unwrapped, so my advice is to wash it before use.
See latest price
When I was looking for the best kids' yoga mat available on the market, I was quite shaky on whether I should pick this one or the one I've just reviewed…Because this mat is really something amazing.
What completely won me over was its material: it's eco-friendly and non-toxic, as it's made of pure tree rubber on one surface and suede on the other, which ensure perfect grip on both sides.
Plus, given its organic materials, it's completely free of any chemical smells even when first unwrapped.
Another perk of this mat is that it comes with a carrying strap, so your little yogi will have the chance to practice anytime, anywhere!
As if it wasn't enough, its quality makes it super durable, tear-resistant and easy to clean: it's machine washable but works out just as fine even if you simply wash it by hand.
Perhaps the only reason why this yoga mat couldn't be on the top of our chart is because it doesn't come with a wide range of designs and colours… So, if your kid's kind of picky you might have a hard time finding what he/she truly likes because this brand only offers two different designs.
Pros
100% natural materials, which make it safe for your kiddo and the environment
great grip
no chemical smell
Cons
only two designs are available
See latest price
This is by far the grippiest mat for our kids: it's safe and super thin, so you can rest easy knowing that your kid's not running the risk of getting injured on a slippery surface.
However, some users complain that it's even a little too thin for kids (3mm) and found it was rather uncomfortable in some poses (e.g. kneeling asanas). In any case, I personally think that given its fairly low price, all in all, it's still a worthwhile option, so I'd suggest to double-fold your mat or try to make sure you have a blanket/pillow handy.
Either way, for what concerns its material, it's made of "clean PVC", which is a mix of organic rubber and synthetic blend, so it's totally free of toxic phthalates and other nasties.
What I really loved about this mat it's also its cute design: you can pick among eleven designs, from a sweet yogic-panda to plain colours and so on and so forth. I also found great the fact that this product is easily machine washable, so no more fuss whenever it gets stained!
Let's sum up its pros and cons:
Pros
Great grip
Eco-friendly materials
Cute designs
Easy to wash
Cons
 It's way thinner than other mats
See latest price
If your kid is a total yoga newbie, then this mat is a good option. However, more seasoned little practitioners might find it pretty basic. It's made of PVC, so that's a thumbs down for the material because some sweaty kids might easily slip on this one.
On the other hand, I believe its soft and foamy texture makes it pretty comfy for toddlers, as it can be used also as a cosy mat where they can play.
On top of that, its material appears to easily attract dust and dirt, but at the same time, any mark can be washed away quite effortlessly. The thing is that you might have to clean it quite often, so this could be a bit of a bummer sometimes…
Still, I really love its design and I also found it quite handy, because it has 24 different yoga poses printed on its surface, so your child can take some inspo while practising. What I also pointed out, is that it's a great deal bigger than other mats for kids, so there's plenty of room even for taller kids.
Pros
Cute design
Soft texture makes it a great surface for toddlers to play on.
It's a great size
Cons
It's not sticky
It's made with synthetic materials
See latest price
If there's one thing I know for sure, is that this brand makes great yoga mats. This one, in particular, has a cushioned surface made of resin so it's comfortable but at the same time, it's also pretty grippy. So, it's ideal for your little ones… And its price is very convenient too!
Moreover, it comes with a useful built-in handle so this mat will be easy to carry anywhere you go. Another extra point is won by its cute design: there are not plenty of choices but the ones available are super cute (I loved the honeycomb design!).
On the other hand, it has a crucial downside, because apparently, some users say it has a strong chemical smell when purchased, which doesn't seem to fade away with time.
Pros
Great price-quality ratio
Comes with a useful built-in handle
Nice design
Non-slip surface
Cons
Strong chemical smell when purchased
What to look for when searching for a kids' yoga mat?
After long research, I figured that some of us might need some guidance on choosing a yoga mat for our little yogis because apparently, finding a great product that can be suitable to them isn't exactly like eating a piece of cake…
So, the ones listed above were carefully handpicked respecting some evaluating criteria based on their features, such as:
it needs to have a cushioned surface: it doesn't have to be too thick, but just enough so that kids can do yoga comfortably and can hold poses for longer without hurting themselves.
it has to be strictly non-slippery. And I can't stress this one enough, as it's very easy for kids to get injured on a slippery mat, and it's also quite likely that they'll end up losing confidence if they don't feel safe while doing yoga.
it has to be eye-catching. If there's one crucial aspect to kids' yoga is that we always need to keep alive a playful spirit. Otherwise, he/she will think of yoga as a boring "adult-only" activity.
So, if you're on the hunt for a kids' yoga mat, try to always keep in mind that this's going to be our kids' trustworthy companion, so try to go for something that has a vivid, playful design. Or better still, let him/her pick their own mat!
From your side though, make sure that what you're buying is also grippy, safe and made with eco-friendly materials.
Taking care of your kids' yoga mat:
The kids' yoga mats need exactly (if not even more) the same care as the ones for adults. Yes, I know that each of the mats listed above is made with different materials but I'd recommend a few cleaning tricks that work on any yoga mat:
Try to place it and store it away from direct sunlight and/or heat
Avoid using aggressive cleaning products
If the mat is washable in a washing machine go ahead and do so, otherwise try to fill a spray bottle with water and a few drops of essential oil, spray on the whole surface and then wipe it with a clean cloth. Let it air dry unrolled.
So that being said, I hope this guide was somewhat useful for you, and if you tried any of these mats let us know what you and your little yogi think about it!
Namaste!