Aren't you supposed to be barefoot while doing yoga? While most yogis practice without shoes, some people find that it's actually much easier to grip the mat and support your balance.
Yoga socks and yoga shoes have similar functions, except that yoga shoes are often more supportive and have a thicker sole.
If you often practice yoga outdoors or you've found yourself slipping around a lot during yoga class, yoga shoes could be the secret to making your yoga practice more comfortable. We've reviewed the top 10 best yoga shoes on the market to help you figure out what will work best for your yogi toes.
What are Yoga Shoes?
Yoga shoes can be sort of like a cross between barefoot running shoes, grippy socks, and flexible water shoes. They should still allow you to connect with the earth, but provide added support for your toes and arches that can help prevent injuries.
Yoga shoes come in all shapes and sizes: there are slip-ons, sandals, ballet flats, and even flexible tennis shoes. Some are better for outdoor practice, others for vinyasa, and others are designed specifically for aerial yoga. Some yoga shoes will even dual-function as fashion-forward accessories for running errands or cross training workouts.
If you don't like touching your feet on cold floors or you find yourself often slipping on your mat, yoga shoes could be a game changer for your practice. They also may be your go-to yoga footwear for going to and from yoga classes and walking around lounge or locker room areas.
Yoga Shoes Quick Picks
Top 10 Best Yoga Shoes, Compared
Product's name
Style
Features
More Info

Best for Yoga and Cross-Training


Ahnu Women's Yoga Flex Dragon Fruit Ankle-High Cross Trainers - 5M
Cross-Trainer/Running Shoe
Versatile and flexible rubber sole with memory foam footbed
See latest price

Best Grip


Vibram Women's Five Fingers, V-Soul Indoor Training Shoe Lavender 43 M
Fivefinger Ballet Fla
Breathable upper, sweat-wicking, non-slip, and very flexible
See latest price

Best for Yogi Toes


DM Merchandising Inc. FitKicks Women's Active Footwear, Turquoise / Green,...
Slip-On Foldable Bootie
Multifunctional and breathable barefoot water or yoga shoes with full mobility
See latest price

Best Budget Option


NBERA by 2econdskin Durable Outsole Barefoot Water Skin Shoes for Beach...
Slip-On Bootie
Barefoot, second-skin feel with polyurethane sole and removable cushion insole
See latest price

Best Yoga and Barre Shoes


Bloch Women's Contour Suede Front-Sole Pilates/Yoga/Barre Studio Athletic...
Ballet Flat
Multifunctional soft suede with strong grip and toe support
See latest price

Best Yoga Socks


Ozaiic Yoga Socks for Women Non-Slip Grips & Straps, Ideal for Pilates,...
Yoga Sock
Non-slip strappy well-gripped sock for pilates, yoga, and barre
See latest price

Best Yoga Sandals


Sanuk Yoga Sling 2 Black 8 B (M)
Sling Sandal
Stylish soft, stretchy knit upper on a flexible yoga mat-material sole
See latest price

Best for Walking to/from the Yoga Studio


Skechers Cali Women's Meditation Slingback Yoga Flip-Flop,Grey,5 M US
Sling Sandal
Platform flip-flop with supportive rubber sole and jersey knit upper
See latest price

Most Breathable Option


Vibram Women's Vi-S-W Fitness/Yoga Shoe, Dark Pink, 37 EU/6.5 M US
Fivefinger Ballet Flat
Form-fitting open sandal with stretchy adjustable closure an
See latest price

Best Slip On Yoga Shoes


VIFUUR Water Sports Unisex Shoes Black - 9-10 W US / 7.5-8.5 M US (40-41)
Yoga Sock
Rubber sole and breathable, smooth fabric that dries quickly
See latest price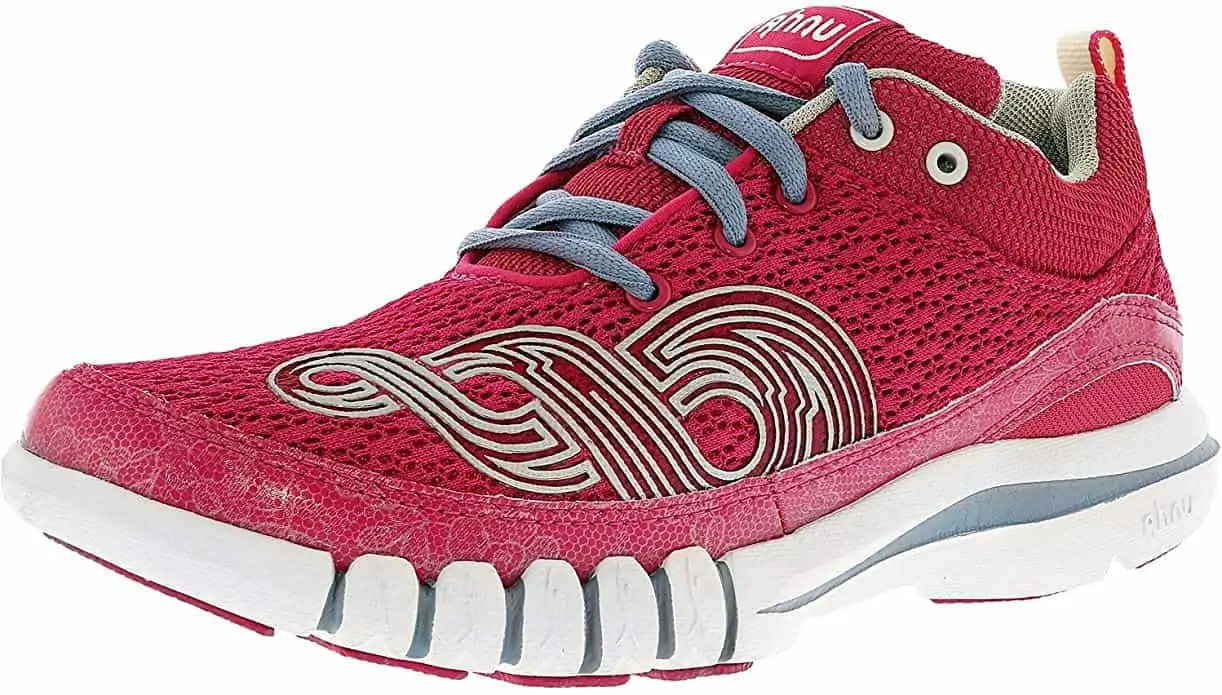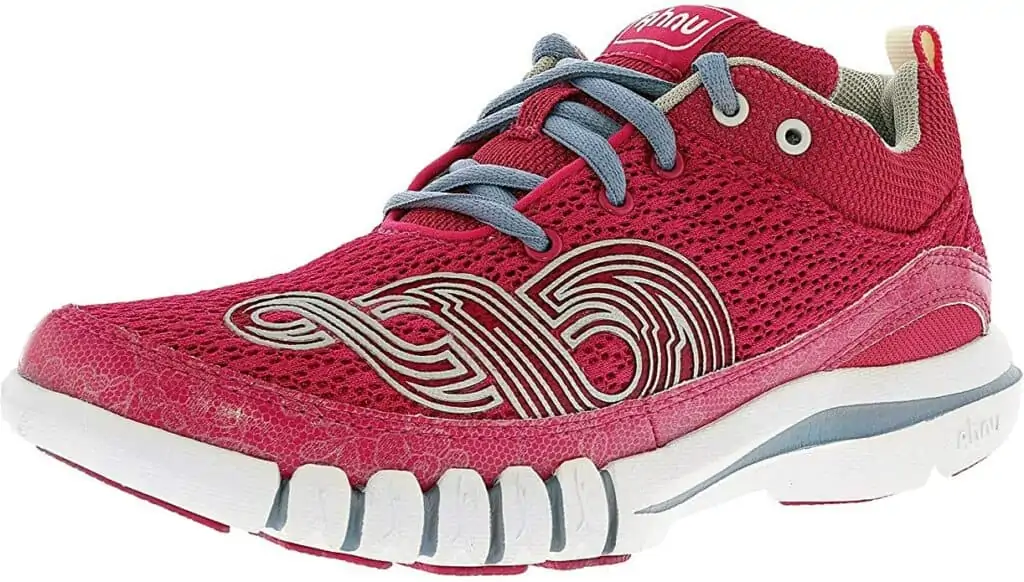 This running shoe-style yoga shoe has a rubber sole and cross-training functionality. The memory foam footbed and flexible top make it perfect for higher intensity yoga workouts.
They are easy to slip on and off, and have short laces that don't get in the way. Best of all, Ahnu's Yoga Flex shoes are super versatile in the gym, studio, or while running errands.
Pros
Ultra-grip, non-slip rubber sole
Lightweight
Super breathable
Arch support
Very comfortable
Support balance
Available in 4 colors
Cons
May be too chunky for yoga
Tight on some foot sizes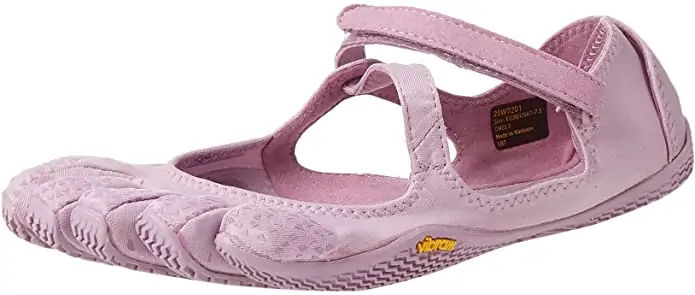 Somewhere between a yoga sock and barefoot running shoes, these scrappy loop sandals are 100% polyamide with a synthetic grippy outer sole. The mesh upper part provides plenty of breathability, and the foam-cushioned soles are flexible enough for any asana.
The shoe outlines each toe and provides lightweight support on the mat. They are pretty dang close to being barefoot except with a non-slip bottom surface. In certain positions that put pressure on your foot, the shoe may rub up against your toes and cause discomfort, so they are best for lower intensity yoga flows.
Pros
Ultra flexible
Excellent non-slip grip
Lightweight and breathable
Easy slip-on strap style with adjustable loop strap
Grip each toe
3 color options
Cons
May rub between toes during certain poses
Run large on some people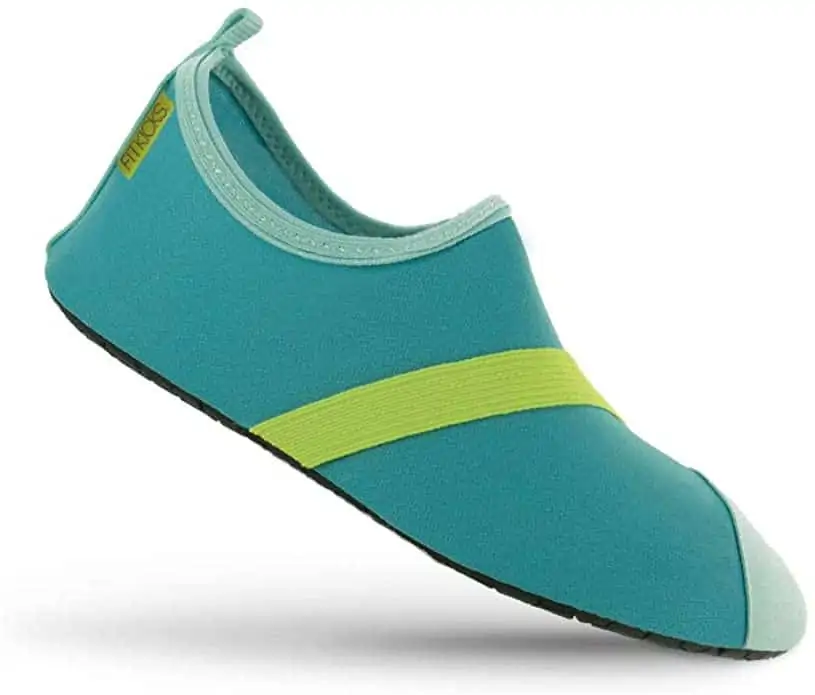 These foldable bootie-style yoga shoes are extremely versatile for everything from water sports to low-impact workouts to dancing. On the mat, their spandex-upper and flexible sole make it easy to bend your feet in any asana. Your yogi toes can fully splay out and you maintain a full range of motion with the added grip of a shoe.
The slip-on style and convenient pull tabs make it super easy to throw these breathable shoes on before your practice. I really like that the foldable design is super portable with your mat. They fit almost like spandex socks and don't have much arch support or cushioning, which is great for yoga poses but not so great for other activities.
FitKicks have a toe guard that makes it easy to adjust your foot alignment and distribute the weight of the pose off your big toe and across the top of the shoe. The bottom is also extremely grippy for vigorous flows.
Pros
Extremely multi-functional
Full toe splay and mobility
Breathable and soft
Protective toe guard
Slip-on style with pull straps
11 vibrant colors
Cons
Look like water shoes
Probably not suitable for rugged outdoor use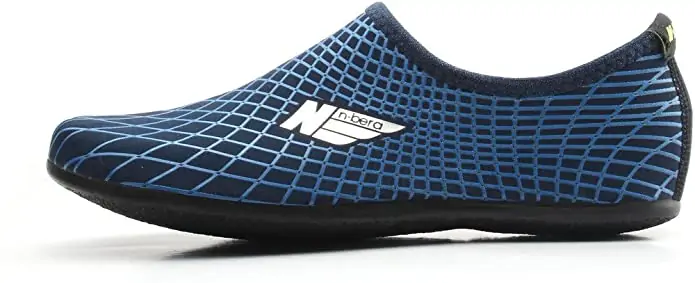 Another sock and water shoe cross, these yoga shoes are cushioned enough to use on a hard ground yet flexible enough to forget they're there. They are extremely lightweight and dry quickly.
The gripping polyurethane sole and foam molding makes these shoes super versatile on and off the mat. Plus, a zipper bag for transport is included.
Pros
Very affordable
Waterproof and versatile for many activities
Ultra-lightweight
Includes zipper bag
Quick-dry material
8 bright color options
Best for indoor use or light outdoor use
Cons
Run small
Very thin sole
Not as supportive as other options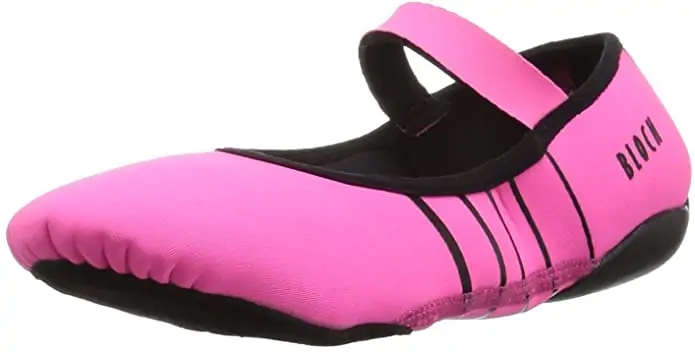 If you couple your yoga practice with pilates or barre, these ballerina-style flats are the shoes for you! The suede sole comes in black or pink and is very soft and durable. They are slip-on with an innovative fabric that sticks to your foot (not in an adhesive way) and stays in place.
The reinforced closed toe offers major stability and a slip-free practice. At the same time, the ballet-style design is super flexible for pointing, flexing, tip-toes, or any other poses requiring foot mobility.
Pros
Extremely flexible
Stable soles for balance and support
Slip-on style
Durable, long-lasting suede fabric
Hugs the foot
Reinforced heel cup
Very soft and stretchy
Sock-style for maximum comfort
Great grip
Cons
It May be too hot for some yogis
Very little cushion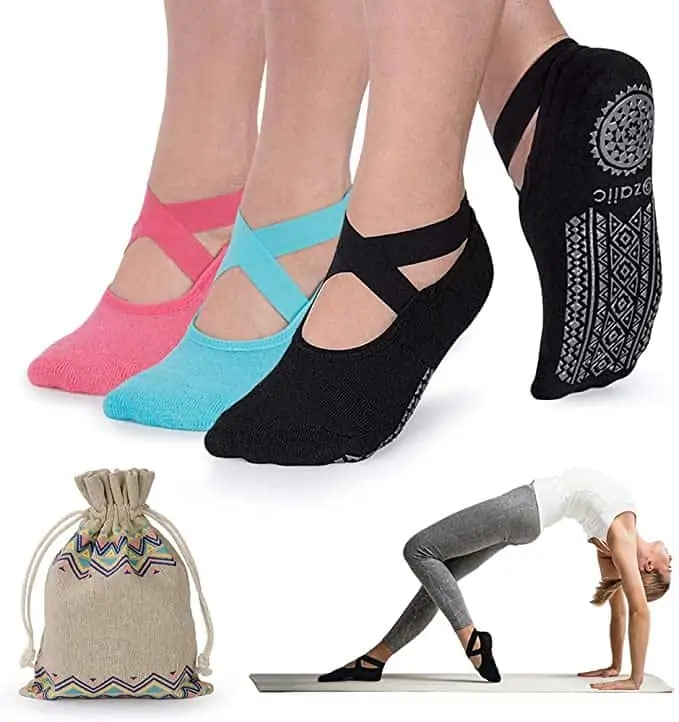 As you're starting to see, the line between yoga socks and yoga shoes can be blurry. This pair airs more on the sock side because its "sole" is really just silicone gel grips on the bottom. This style is by far the closest you can get to a barefoot feeling on the mat.
The patented design is ballet-inspired with combed cotton fabric and stretchy top straps. They work great for slippery surfaces like tile, wood, gym floors, or sweaty yoga mats. Your yogi toes can fully expand, point, and move with you without any limitations on the range of motion.
Each affordable pack comes with 3 pairs in your choice of an ethnic patterned design, plus a carrying pouch. Whether you're doing yoga, barre, or pilates, these socks are comfy, supportive, and breathable.
Pros
Affordable 3 pack
Ballet-inspired sock design
Very close to barefoot, but with added grip
Stretchy and flexible for full range of motion
No confinement on your toes
Low-profile design is not super noticeable
Non-slip hold on the floor or mat
Money back guarantee
Cons
Less support than a full yoga shoe
"One size fits all" may not work for smaller feet
Finally, a sandal that is as flexible as you! If you're the type to travel around, spontaneously do yoga on the go, or practice outdoors, these sandals are a must. The Sanuk Yoga Sling sandals are as stylish as they are functional. Unlike some other yoga shoe options, these can really past for regular fashion sandals. Some people even wear them out to dinner! They're that cute.
The sling-style knit upper is super comfy and stretchy. The fabric is a soft knit that hugs your foot without making it sweaty. While I may not wear these in an indoor class, they would be perfect for a summer of outdoor flows and travel yoga photos. The sole is cushiony yet firm enough to walk on concrete, rocks, or hard floors.
Best of all, the footbed is made from yoga mats! It is so comfortable without needing to be broken in. You literally feel like you've got twice the mat support with extra grip and style. Of all the yoga footwear out there, these are definitely those most functional and cute.
Pros
Ultra stretchy knit fabric
Stylish sling-style hugs the heel
No sweating or restriction on the foot
Amazingly comfortable yoga mat soles
Flexible enough for most asanas
Versatile enough to wear as a regular sandal with cute outfits
"Like waking on air"
Cons
Not much arch support
May rub between front toes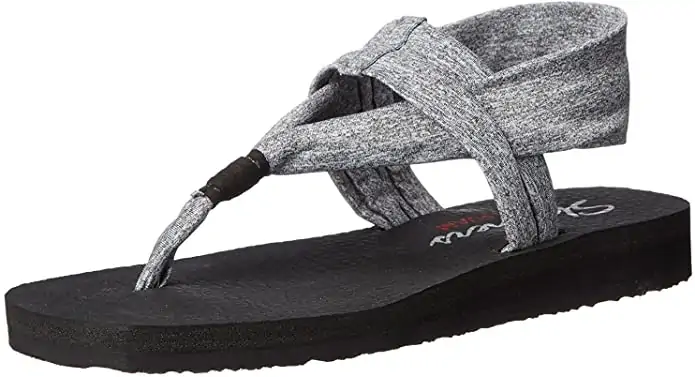 Perfect for heading to/from the yoga studio or practicing outside, Skechers really knocked it out of the park with these trendy yoga sandals. The soft weathered jersey knit is stretchy and super comfortable. Some people have even walked 10+ miles a day in these sandals and reported absolutely zero foot soreness!
When it comes to your yoga practice, this pair of yoga shoes is best for outdoor yoga or fun yoga photoshoots while traveling. They may not be as great for yoga sessions on the mat just because the platform flip-flop style has a fairly thick rubber sole that is not as flexible as other yoga shoes. Overall, the Skechers Meditation Studio Kicks are the best choice for slipping on and walking to yoga classes.
Pros
Extremely comfortable for walking long distances to/from the yoga studio
Great for outdoor yoga and photoshoots
Stretchy jersey fabric
Fast-drying
Stylish sling-style sandal
Platform flip-flop with rubber sole
Padded toe post to prevent rubbing
Very non-slip and grippy
5 fashionable colors
Cons
Not as flexible as other yoga shoes
May be too thick for indoor use in yoga classes
When you're wearing yoga shoes, there's nothing worse than them coming loose during a difficult pose. Vibram designed a form fitting open sandal with stretchy adjustable closure for a super secure fit on these yoga shoes. The ballet-flat style is ventilated and very comfortable. They are minimalist and close to being barefoot, which makes for excellent slip-free yoga sessions.
The fivefinger toe style is stylish and comfortable without squeezing your toes into place. These yoga shoes really flex and bend with your foot, allowing a full yogi toe spread, as well as a solid foundation for balancing poses and even weightlifting.
Pros
Breathable, well-ventilated design
Fivefinger toes give a barefoot feel
Stretchy closure system to keep them in place
Non-slip grip
Sweat-wicking moisture management
Very flexible and never restrictive
3 color selections
Cons
Higher price point
Sizing may be difficult for those with large toes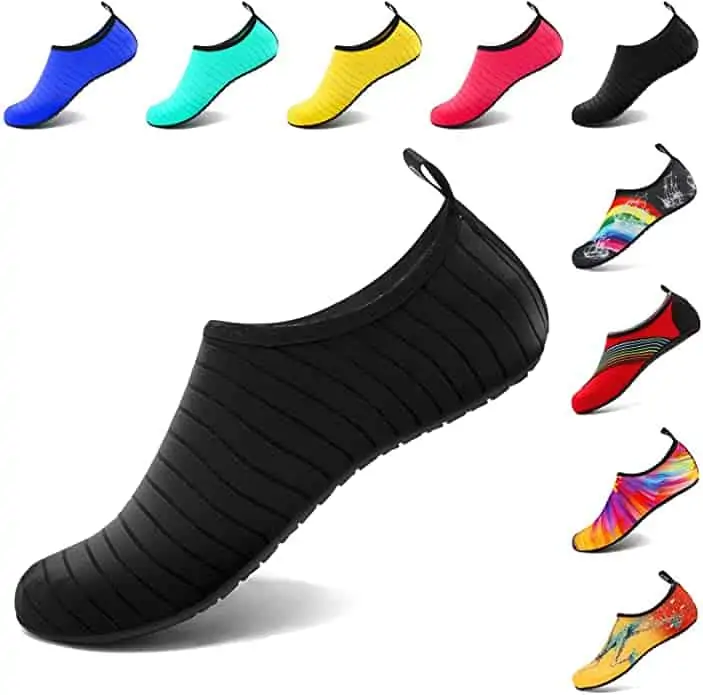 Vifuur Yoga Shoes are another super popular yoga sock/water shoe hybrid that hugs the foot, grips the mat, and is flexible enough for any asana. They have the widest range of colors available and are made of a smooth, breathable fabric that moves with your feet.
When it comes to outdoor yoga or yoga classes on the beach, these yoga socks have a rubber sole thick enough to protect your feet from sharp rocks, while still thin enough to ensure a full range of motion. They are easy to slip on or off whenever needed and have a smooth neck design that prevents chaffing.
In hot yoga, they work great adding traction to your yoga mat without making your feet sweat a bunch. Since they were initially designed for aquatic use, they dry surprisingly quickly and won't harbor sweat.
Pros
Very flexible
Durable rubber sole
Quick-dry fabric
Convenient slip-on style
Very breathable
Durable and longlasting
Abundance of color selections
Cons
Look like water shoes
May run small
Why Wear Yoga Shoes?
Yoga shoes are that extra support you need to prevent your toes from twisting and over-bending in yoga poses. Many yoga shoes also add traction and grip to your mat so you don't have to worry about slipping.
A pair of yoga shoes really transformed my practice, especially during hot yoga and outdoor classes. They keep your feet cool while preventing injuries to your toes, feet, and ankles. They also make you feel more solid and stable during balancing poses.
Best of all, yoga footwear is usually multi-functional: wear yoga shoes to the beach, to/from the studio, in barre or pilates classes, and even on a run!
Depending on your needs, yoga shoes should be comfortable, flexible, lightweight, and functional both on and off the mat.
How to Choose the Best Yoga Shoes
Material
If you practice Bikram yoga or tend to have sweaty feet, you will definitely want yoga shoes made of a breathable material that helps your feet stay cool. In general, a slip on design tends to have a soft upper, more flexibility, and the best stretch fabric.
The most breathable pair of yoga shoes that we found were the Vibram Women's V-Soul Yoga Shoes. Any of the water-crossover options also provide plenty of aeration while hugging the foot perfectly during motion.
Flexibility
The best yoga shoes should allow your feet to naturally move in their full range of motion. We all know how important "yogi toes", or toe splay, can be for maintaining balance and building a solid foundation of strength. If your yoga shoes aren't flexible, you could wind up injuring your hamstrings or ankles.
On the other hand, training shoes and yoga sandals purchased for heading to/from the studio may have a rubber outside that protects your feet from the ground more effectively than flexible soles.
Footbed
Most yoga shoes have rubber soles of different thicknesses. The density and rigidity of the sole will ultimately determine how supportive it is. Ideally, you'll find a yoga shoe that meets your needs (more arch support for flat feet or closer to barefoot for more arch-strengthening?) while still having a footbed that is flexible enough for most yoga poses.
Traction
Arguably the main reason people seek out yoga shoes in the first place is for better traction. Sometimes a mat or yoga towel just don't cut it. Yoga shoes vary in their "grippiness", but most yoga footwear will enhance your stability and grip without compromising on freedom of movement.
The Sanuk Yoga Sling sandals have the best grip I've found thanks to the yoga mat sole and mega-traction. If you're looking for more of a barefoot yoga sock vibe, the Ozaiic Yoga Socks hold strong even during the sweatiest, hottest yoga sessions.
FAQs
What shoes should I wear for outdoor yoga?
Outdoor yoga shoes alleviate the pain of rough surfaces on the soles of your feet. While many yogis traditionally practice barefoot, yoga socks or yoga shoes make outdoor yoga more enjoyable thanks to protective rubber soles and toe-gripping support. Our favorite pairs are the Sanuk Yoga Sling 2 Shimmer and Vifuur Yoga Shoes.
What do you wear on your feet for yoga?
Though yoga is traditionally practice barefoot, yoga shoes and yoga socks are rising in popularity thanks to the added support, stability, and non-slip grip. Yoga shoes come in a wide range of shapes and styles that stabilize your feet and prevent injuries without hindering your range of motion.