Overwhelmed by the thousands of options of yoga leggings and yoga pants available online? We have narrowed it down for you.
The top styles such as lululemon, Zyia, Yogalicious or Alo yoga are great, but they are expensive choices. This list includes top-quality brands for half of the price so that you can afford a new pair of yoga pants for your next class!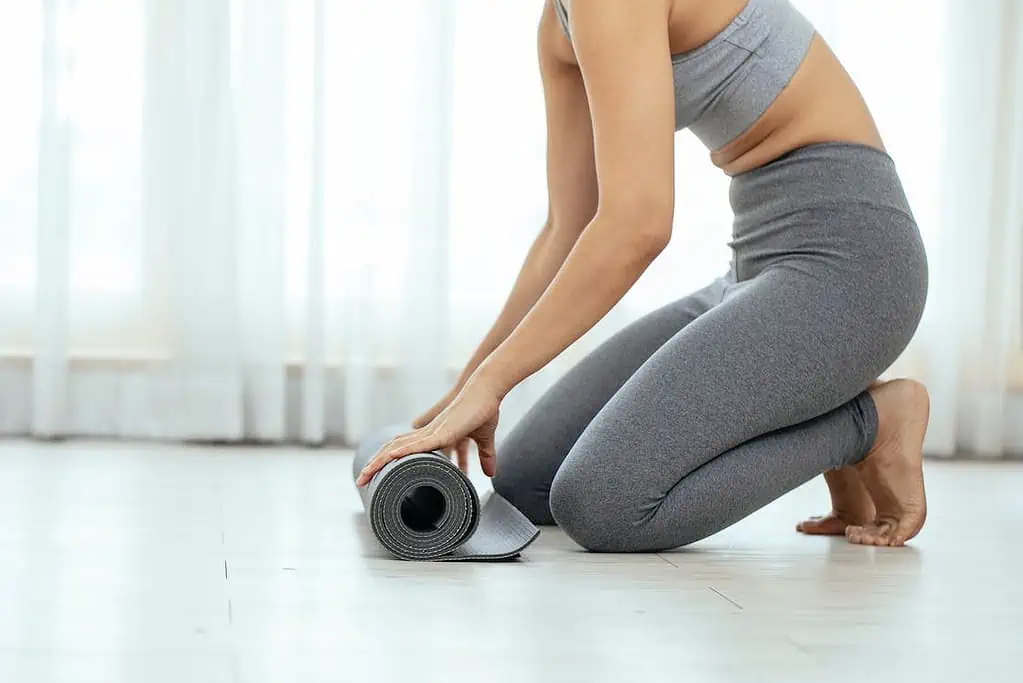 Quick overview: Here is our pick of the top 8 yoga leggings and pants
Best yoga leggings for the ultimate sweaty vinyasa yoga practice
The Oalka Women's Yoga Leggings provide moisture wicking properties, long full-length legs and are the perfect pair of high waist yoga pants for the challenging poses you will meet in a vinyasa class.
Why are they good for vinyasa yoga? Vinyasa yoga involves a fast-paced class led by a yoga instructor. With sun salutations, a grippy yoga mat and high rise leggings, you will be able to follow the flow of the class, stretch your legs in all directions and not worry about your yoga pants ripping or becoming see-through!
As performance leggings, this pair of yoga pants can be worn for sweaty vinyasa, a session with a personal trainer or running practice. As a alternative to the common lululemon align or the alo yoga pants, your wallet will stay happy with this budget but high-quality choice.
Pros
High rise waistband
Snug fit, without the waistband rolling down during poses
Moisture wicking is great for sweaty workouts
Full length legging for full coverage
Affordable, under $20
Great color range with 15 varieties
Cons
Small pockets, doesn't quite fit a large mobile phone
Tight, hip hugging fit is great for yoga but maybe not for everyday wear.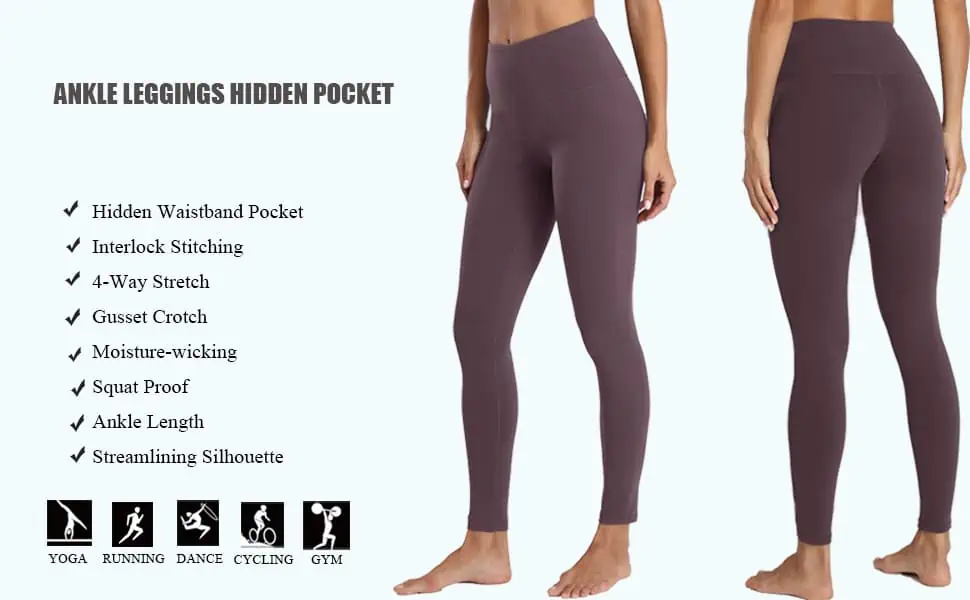 Best yoga leggings for hot yoga classes
There are a lot of leggings made for hot yoga classes, for example, here is seven of the best with the lululemon align pants topping the charts in position number 1. But if you are looking for a budget friendly option, you need to try the AFITNE Women's High Waist Mesh Yoga Leggings. With side pockets and tummy control these squat-proof yoga leggings are a great choice for a sweaty hot yoga session.
Similar to the best choice of yoga pants for vinyasa, these high waist leggings make a difference with their added bonus mesh slice down the sides of the legs. This venting mesh on the AFITNE pair of yoga pants allows you to stay cooler during your sweaty workouts. They are a great alternative to yoga shorts as they provide more tummy support with the high waist. Move beyond yoga and into your unique flow.
Pros
Mesh element on the sides of the legs keep you cool
Breathable material, moisture wicking and non-friction
Budget friendly
Contouring design
Machine washable
Sweat-absorbing and drying
Non-see through fabric
2 big side pockets
Attractive high waist fit
The sales team offers 24-hour friendly customer service
Refund or free replacement for wrong size, or dislike of the leggings
Cons
Material feels cheaper than other brands
The mesh section is more prone to tears or damage than the high rise pant material
Best yoga pants for a yin yoga class
These boho pants are the ultimate choice for a yin yoga class. Forget about the tight leggings fit and swap your yoga pants for a bohemian style of pants, where comfort is the priority. With breathable fabric, a wide waistband, and lots of excess flowy material to keep the boho vibe, these pants will bring color and flare to your next studio visit.
Perfect for yin yoga or any other gentle yoga style where movement is minimal, the extra fabric allows for a large range of motion and will keep good coverage over your legs for any yin yoga pose. More relaxed than any other alo yoga pants and more comfortable than the hip hugging high rise pants, these boho pants are the best alternative to leggings.
Pros
Great choice of 15 colors and patterns
Flowy design is different to the usual yoga wear
Great for comfort on the yoga mat
High waist with stretchy elastic band
Cons
Short fit on longer legs
Thin material, may need an extra layer for warmth in cold studios
Crotch can wear quickly with lots of wide-legged poses
Not super practical for fast or sweaty yoga sessions
Best yoga pants for running errands
Running from a yoga class to a coffee date and searching for a pair of pants that can suit both occasions? The IUGA Bootcut Yoga Pants with Pockets are the way to go. They can be purchased as either full length leggings or yoga capris (3/4 length) with an easy to cut fabric and instructions on how to trim them to suit your length.
These high waist yoga pants feel buttery soft and like a second skin with a flattering fit. They can be worn beyond yoga and into the streets, making these yoga pants your new favorite pair for all occasions. The high rise waist provides stomach support and lies flat across the belly, perfect for pairing with your favorite crop top. If you want leggings for all day wear, these high rise leggings are the best choice!
Pros
Can wear these pants from yoga or Pilates classes straight to a lunch date
Super soft feel compared to most yoga apparel
Suitable for all day wear
High rise pant waist for belly support
Durable and lasting material if cared for correctly
Cons
Must air dry for longer lasting quality
Front pockets and back pockets rather than sides, may not be everyone's style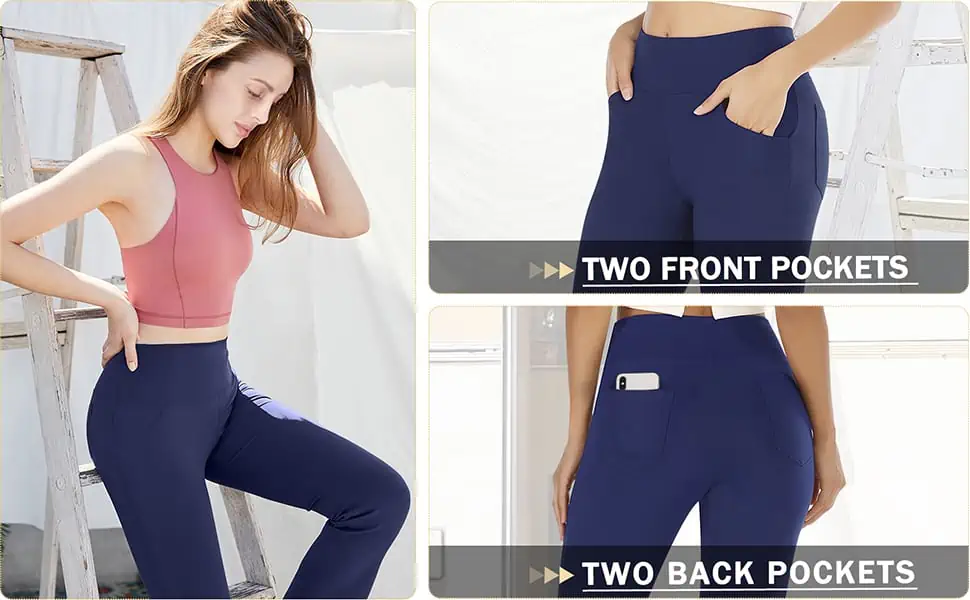 Best yoga leggings for a yoga instructor
These women's printed yoga leggings are the best choice for a yoga instructor who wants to stand out in the class. With daily yoga wear and block colors becoming mainstream, you can afford topping up your wardrobe with a few new patterned pairs for less than $15 per pair! These high rise, moisture wicking tights are made responsibly by creating fabric from upcycled polyester blended with spandex.
The recycled polyester makes them eco-friendly and cost-effective. With funky patterns, it will feel like yoga caught a glimpse of the future! Say goodbye to alo yoga or lululemon align high rise leggings, and instead, say hello to cosmic cats, jungle prints, bold mandalas, yoga space-dye feelings and giant plants! The high waist design will encourage your students to remember you beyond yoga as they talk about your teaching style and your colorful high-rise tights!
These eye-catching designs are like using your outdoor voices inside, making a statement without words.
Pros
Bright, bold and beautiful patterns
High waist leggings with tummy support
Eco-friendly with upcycled polyester
Moisture wicking
Very affordable, pricing under $20
Cons
Hard to choose sizing without a sizing chart
Very thin fabric
Colors may look a little different to what's picture on the website

Best compression leggings
Amazon's essential compression yoga tights are a colorful and funky way to hold in your tummy and feel the compressive fabric wrapping around your legs. These full length leggings have a wide waistband and high waist cut. Compared to the lululemon align pants these have way more compression to keep everything in place!
With the leopard print pattern (similar to the bold patterns above) it's using your outdoor voices while inside the yoga class. You will feel more comfortable in your skin with the extra compression, and be more outstanding than the 'beyond yoga spacedye' brand.
If you want to sprinkle a little extra pattern and extra support on your yoga mat, these are the yoga leggings for you! Be bold enough to wear them proudly!
Pros
Comes with easy to understand sizing chart
High waist for tummy support
Extra compression feeling to hold the belly and thighs in
Cool pattern for an outgoing yogi
Sweat wicking fabric
Can be worn for multiple occassions
Cons
Sometimes compressive fabric can be restrictive
Only three bold patterns to choose from
Extra fabric in the crotch area can be annoying
Best eco-friendly yoga leggings made from recycled materials
If you like being kind to the planet, you must try the Women's Workout Leggings made with Eco-Friendly Recycled Nylon. Their fabric is sustainable, eco-friendly, butter soft, flat, smooth, skin-friendly, breathable, 4-way stretch, opaque, non-see-through, naked feeling, moisture-wicking, lightweight, and non-pilling. What more could you ask for?
These high-waisted yoga pants have a silky soft feel with a light compression, tempting you to buy multiple pairs. They are great for intensive workouts and casual wear alike. With an everyday feel, you will love wearing this environmentally friendly choice of leggings to the yoga studio!
Pros
Eco-friendly made from recycled nylon
High waist for ultimate comfort
Four way stretch material
Also doubles as workout leggings
Recycled nylon usually wont wrinkle or shrink
Cons
Pockets are on the front rather than the side
Material is quite thin
Waistband can roll down during sit-ups
Best overall yoga pants
The ColorfulKoala yoga pants are the best yoga pants overall as they combine colorful fashion with comfort for a cheap but high-quality pair of tights. These high waist leggings are comfy leggings for both a gentle yoga class or a more intense yoga practice. You will feel great doing all yoga poses with the four way stretch material and the V-contour seam on the back with a form-fitting design that sculpts your silhouette perfectly and flatters your figure.
Not sure what leggings to start with? Try the ColorfulKoala brand and you won't be disappointed.
Pros
Naked feeling, sweat-wicking fabric
Super affordable hot yoga pants!
Cute enough for everyday wear
Hold their shape after washing
75% polyester and 25% spandex for ultra stretchy feel
Seamless waistband with a style that won't dig in
2 big stretchy pockets
Amazing color selection
Cons
If you have long legs, the 25″ inseam may hit too high above the ankle
Not specifically designed for sweaty sessions
So soft that they sometimes fall down and ride low
How to care for your yoga leggings
After you've purchased your favorite pair of high waist leggings or a new pair of yoga pants, you will want to care for them properly to ensure a long life span.
Here are some general care tips:
Only use a cold wash (hot wash can cause color leakage).
Air dry (never machine dry as it can cause shrinkage – you don't want them to turn into yoga shorts!).
Wash with other similar fabrics and colors
These simple washing rules will make your high rise leggings extremely durable. The high-waisted yoga leggings with extra support will stay elastic and stretchy for a long time!
Frequently Asked Questions:
What is the trending yoga pants style of 2023?
Yoga pants in 2023 are all about that buttery soft feel like you are wearing a second skin. Yoga caught onto the lululemon align pants trend last year and now this is a high standard than many other brands are living up to. Think bold colors, high waist leggings and thick fabric so that your pants are not see-through. This is what you can expect to see more of in 2023!
What is the best pair of yoga leggings that combines comfort with style?
As we outlined above, the ColorfulKoala yoga pants are the best yoga pants overall as they combine colorful fashion with comfort for a cheap but high-quality pair of tights. Choose from a range of their 15 color varieties to keep your yoga wardrobe fresh and up to date, while you also get to enjoy their buttery soft feel wrapped around your waist and legs.