This article was originally published in April of 2016. We updated it in 2018 after using it for almost 4 years. Happy to say the bag is still one of our favorite carry on bags!
—
It's pretty funny how attached I've become to my Osprey Farpoint 40L. I guess that's what happens when you're living out of a backpack. I'm basically wearing my home on my shoulders!
Using the wrong pack can seriously ruin a trip…
A lot of thought goes into choosing the right one. Ideally, it will be designed to meet your specific needs, fit your body well, and last 10+ years.
My requirements before buying the Osprey 40 Farpoint:
Carry-on size – but not too small
Comfortable – and still looks great walking around the city
Durable – yet functional
Good value – some bags are just too expensive
After trying out several bags, I decided on the Osprey Farpoint 40 carry on.
It's a stellar bag and it's the top choice for female travelers and digital nomads alike.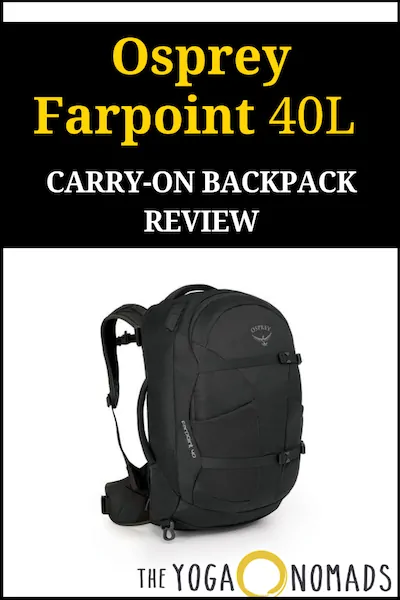 Pin me for later 🙂
Practical info about the Osprey 40
Osprey Farpoint 40 size:

40L (like the name suggests)

Osprey Farpoint 40 Dimensions:

19H X 14W X 15D (inches)
Osprey Farpoint 40 weight: 3lbs (empty)

Carry-on Compliant:

Yes

Laptop Compartment:

Yes

Hip Pads:

Yes

Lifetime Guarantee:

Yes

Price:

Check on Amazon
My Osprey Farpoint 40 Review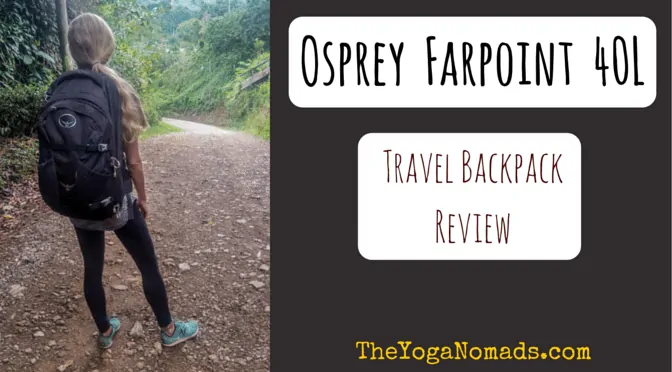 Since 2014, I've traveled through 14 countries and even spent 2 weeks trekking in the Himalayan Mountains with my Farpoint. It has saved me tons of money on baggage fees because I always carry-on instead of check my luggage.
Here's my full packing list.
Below I cover all the details of this amazing backpack!
Is the Osprey Backpack 40L Durable?
The second you touch and feel the Farpoint, you know it's going to be very durable. Osprey makes the best backpacks in the world and the Farpoint is no exception. This one has traveled all over the world with me. Even though I often stuff it to the absolute MAX, this pack has held up incredibly well.
The majority of the bag is made from a tough nylon blend, with mesh on the back panel for ventilation. The nylon is strong and relatively easy to clean. I do have a few small holes on the top due to my own negligence.
Even with a few careless decisions, the bag still looks nearly brand new!
Osprey Farpoint 40 Test for Comfortability
I give it a solid A for comfort. The pack has well padded shoulder and hip straps. Even with my petite frame (5'2") bag fits me perfect.
Brandon teases me about my turtle shell, but all I care about is that it's functional and comfortable.
2018 update: Even after 4 years of regular use this bag is still the most comfortable carry on sized bag I own!
Is the Osprey Farpoint 40 Womens Only?
Short answer: The Osprey Farpoint 40 travel backpack is gender neutral. However, for some reason this bag seems to be more popular with the ladies. I'm not sure they though, I know plenty of guys who use and love this pack. It easy very comfortable and works well on smaller framed people though.
*I prefer the Osprey Farpoint 40 backpack, however if you need a bigger bag, the Osprey Farpoint 55 is a great choice.
Also, according to the REI website. The S/M is 2 inches shorter and provides 2 liters less gear capacity. 40L for the M/L and 38L for the S/M.
If you absolutely MUST get a larger backpack, Osprey makes a larger version of the Farpoint 40 l. I've played around with the Farpoint 55 in a store but haven't traveled with it.
Although the extra space might sound great – remember extra space means extra weight on your back.
*The Osprey Farpoint 55 is NOT carry-on compliant.
Features of the Osprey Farpoint 40 L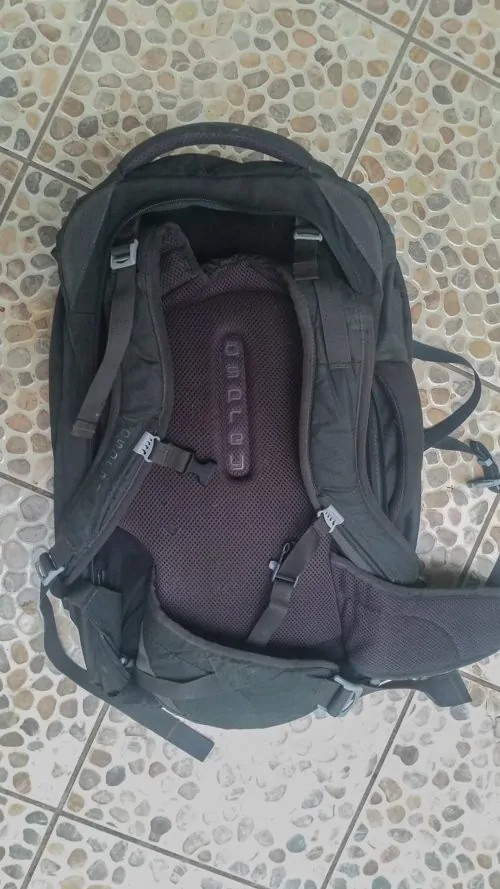 I've used it for all of our long term travels including trekking in the Himalayas, road trips, and a few weekend get-a-ways.
Although it's a very versatile bag, the Osprey 40l rucksack was definitely designed for carry-on travel (not trekking).
Note: If you're looking for a backpack to use exclusively for hiking/camping I recommend Osprey's wilderness backpacking bags. Brandon has been using his Osprey Aether 70L for wilderness backpacking since 2010 and loves it.
Carry-on Complaint
A must have. Its dimensions are 19H X 14W X 15D (inches). My bag usually weighs around 25lbs when fully packed, but it's made to handle up to 40 pounds.
Back Panel Flap
Allows you to stow away the big straps creating a more sleek and slim profile. This feature is convenient when traveling so my straps don't get caught on anything, and also a benefit in the odd chance that I check my bag.
Front Compression Straps
Compression straps helps your stuff from moving around while in transit. Two adjustable straps go across the front of the bag, compressing my gear and making it more stable.
Front Loading Style
Front-loading style allows for much easier access when I need something quickly. I stayed away from a top loading pack – imagine trying to get something from the bottom of a giant Santa Claus sack.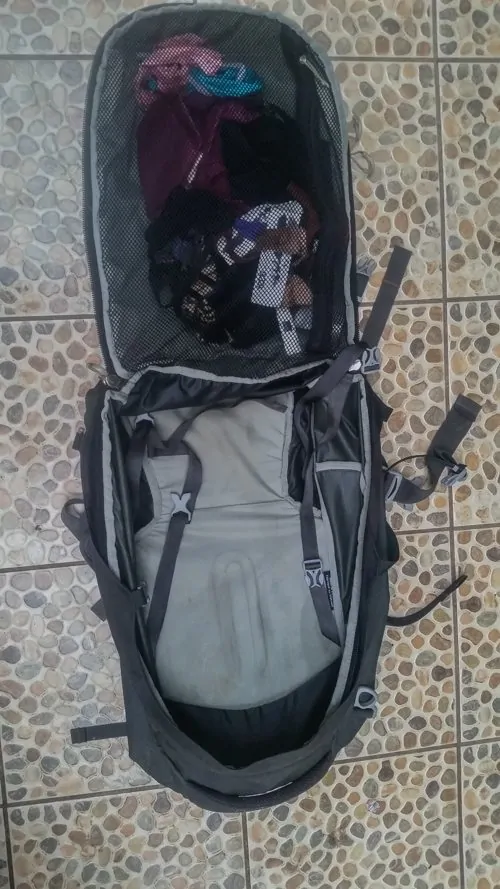 Padded Handles
It comes with two padded handles – one is on the top and one on the side. It's nice to have the side handle for plane travel. I really appreciate good sturdy handles, especially when I stuff the bag completely full. 🙂
Holds Up To 40L
It's magic. Somehow 30 pounds of stuff fits perfectly inside. I use packing cubes to save on space. Unpacked, it only weighs just a bit more than 3 pounds.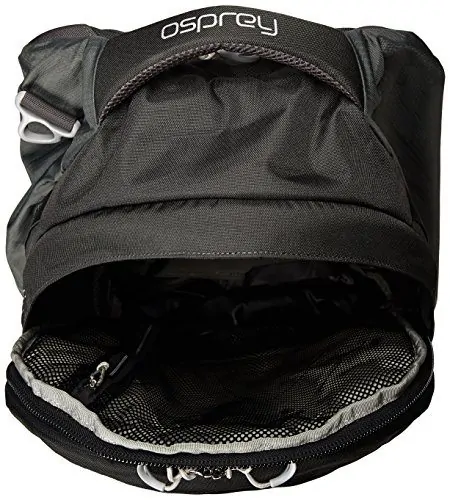 OspreyFarpoint 40 Laptop Compartment Built In
The Farpoint has a compartment made specifically for laptops. I travel with a Macbook Air 11″ but the compartment fits laptops up to 15″.
Lockable Dual Zipper
Locking the main compartment ensures my stuff is safe on travel days.
Additional Attachment Points
Perfect for hooking carabiners to latch on extra stuff (dirty shoes, wet towel, etc.). Since the mesh side pockets (that I assume are made for water bottles) get compromised if your bag has too much stuff inside, the attachment points are great to add what you need.
Downsides of my Osprey 40L Farpoint
I love this pack and recommend it often, but it's not quite perfect. Here are a few things of my criticisms…
No water bottle pocket

– I think the external mesh pockets were designed to hold a water bottle. However, if you fill the backpack full, there isn't room to squeeze one in.

No pockets in the hip pads

– would be nice, but not mandatory

Not great for multi-day trekking

– works fine on day hikes though
If this backpack doesn't do everything you need, here are some North Face Backpacks that might fit your needs.

"The All Mighty Guarantee"
Osprey is famous for their All Mighty Guarantee which says they'll fix or replace any of their products whether you bought them in 1974 or yesterday. Pretty awesome to see a company standing behind their products like this.
Made to last, all of our Osprey products have stood the test of time. I feel the price point is extremely fair and priced accordingly in the competitive market. Even after using it for over 2 years, I still don't want to replace it. And when I do, I'll probably just get another Osprey 40L backpack. 🙂
Final Thoughts about the Osprey 40L
I'm very happy with this backpack and recommend it to anyone looking for a new carry-on sized bag. Whether you're taking an around the world trip or shorter vacations this backpack has you covered.
Hope you found my Osprey Farpoint review helpful. It's a great product backed by a great company.
The Osprey Farpoint 40 Charcoal has essentially carried my "home" for over 2 years now. I couldn't have asked for a better pack to compliment my lifestyle as a digital nomad!
Did you enjoy this article? Pin me 🙂