As active yogis, our festival experiences wouldn't be complete without daily yoga classes to recover from all the standing and dancing. Thankfully, the Sonic Bloom yoga lineup was stacked. Yoga classes and workshops were offered from sunrise to sunset so there was always an opportunity to practice between listening to music.
We're here to share a few of the most memorable moments of yoga at the festival.
*Need a festival mat? We travel exclusively with the Yogo Travel Mat. Fantastically compact and super sticky.
Atha Vinyasa with Rob Loud
Learning about Rob (and recalling his hair…) in an issue of Yoga Journal, I was excited to see that he was teaching at the festival. Celebrity yogi? Yes please. It was the first yoga class we took that weekend, and it did not disappoint. His down to earth teaching style helped us recover after our first night of music and camping. He was even cracking jokes about staying out too late the night before his 8am class, and it quickly put us all at ease. Lucky us, we came to realize quickly after spotting his blue hair near our campsite, that he was camping right next to us the entire weekend! We got to know Rob on a different level, which was completely unexpected and so awesome.
You can catch Rob's classes all around the Denver area. | RobLoudYoga.com
Kim Doyle's Main Stage Class with DJ Soohan
We were introduced to Kim by a Colorado native and friend we met through our website. He encouraged us to attend her Sunday noon class which was scheduled to be held in the glaring sun on the grass in front of the main stage. Practicing yoga in 100 degree heat without shade sounded like a bad idea… but plans changed and we ended up practicing on the actual stage where it was shaded. It was such a cool experience being on the stage where many of our favorite acts performed, practicing yoga with Kim! DJ Soohan was feet away from us, doin' his thing as he played an entire set specifically for class. Kim, dressed in her tutu, guided us through one of our most memorable classes yet! Well balanced and beautifully sequenced.
Kim teaches yoga and spin all over the Denver area. | LifeInPerfectBalance.com
Yin in the Technicolor Tipi Tent with Aislinn
Aislinn Walton has been on my radar for a while now. Through her social media and blog is where I first heard about yoni eggs…(google it). Little did I know these would be talked about (and used!) during my teacher training in Costa Rica just prior to the festival. Although we didn't participate in her class due to heat exhaustion, we were able to peer in from the outside as she led a beautiful yin class accompanied by some delicious beats in the background.
Aislinn is available for private yoga sessions in the Vail, CO area | details here AislinnWalton.com
Acro Yoga with Jes and Jacob
is one of our favorite new yoga practices. It invokes confidence, effective communication, nurtures partnership while building relationships. Our campsite friends were ecstatic after their intro to acro with Jes at the festival. It further validated to us that this practice needs to be more regular in our routine.
Learn more about Jes Schultz on her website and check out the Fort Collins Acro Yoga group
Cosmic Yoga with Cassandra Davis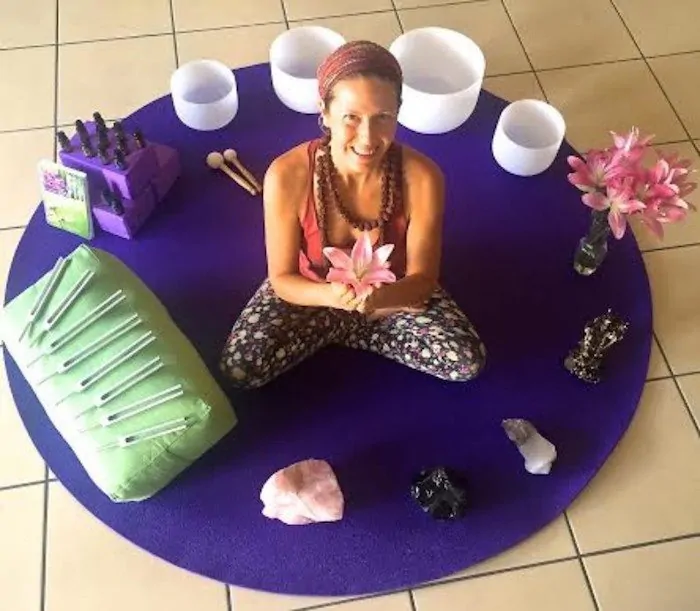 As if the name didn't intrigue us enough, Cassandra's extensive training in many different yoga styles was an added bonus. She guided us through a cosmic journey on our mats and into our hearts. Her nurturing voice and gentle flow was just what we needed after two long nights of music and dancing. Based just outside of Joshua Tree National Park, we look forward to the next time we can take a class from her.
Cassandra owns a yoga studio outside of Joshua Tree, CA | TwentyNinePalmsYoga.com
What a fun weekend! Can't wait for next year!
Early bird 2017 tickets are on sale here. At the time of publishing this, 4-day passes are only $144!