Boquete is blessed with natural beauty, a mild climate, and a great community of locals and expats. Most people come to Boquete for outdoor adventure activities like rock climbing, hiking, and white water rafting. Roughly 20,000 people live in Boquete and almost half of them are expats. The large number of expats means you'll find more comforts from home (brewery, nice restaurants, etc.) but also an increased cost of living.
Boquete is very close to the Costa Rican border which made for a perfect visa run location for us. We rented an Airbnb for a week in Boquete and fell in love with the charming town.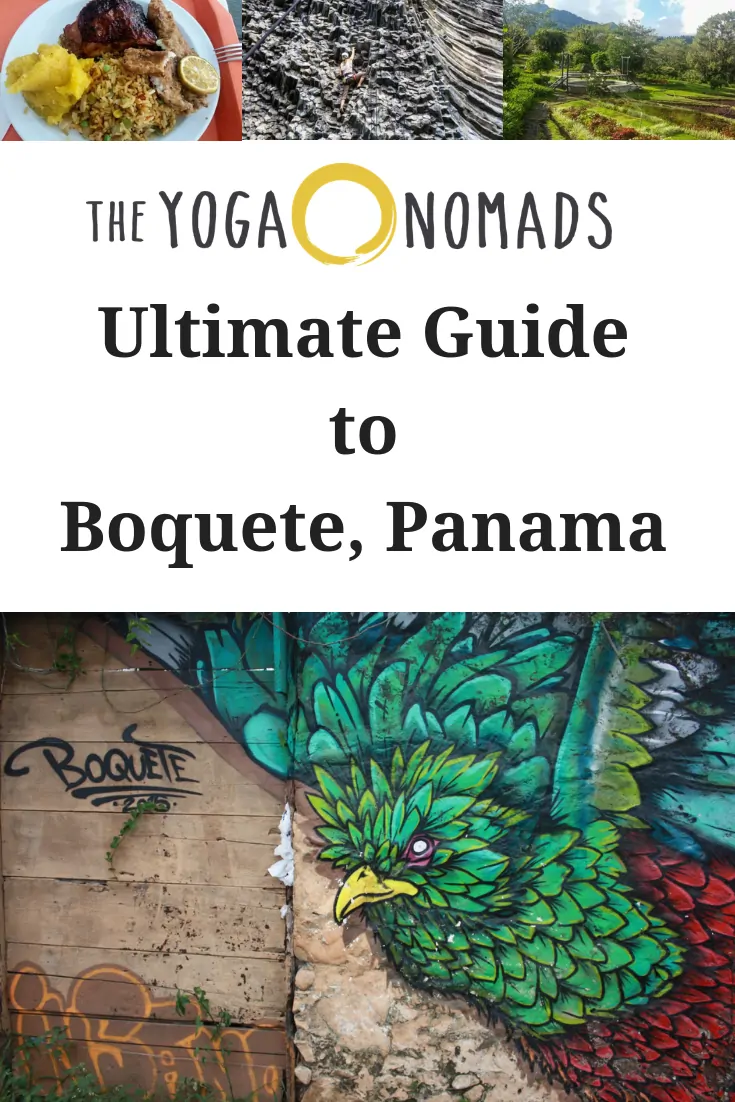 Pin me first? Then keep reading!
Cost of Living in Boquete, Panama
Due to the explosion of expats who call Boquete their home, the prices in town have started to rise. Local produce and local meals are still cheap but accommodation is much higher than you'd expect.
• Local meals – $2-4
• Western / midrange meals – $6-12
• Guided activities – $30-50
• Hostel dorms – $10-15
• Hostel private $- 25-$40
• Airbnb / midrange hotel – $80-120
Things to do in Boquete Panama
Known for it's natural beauty and access to adventure sports, it's no surprise that most activities revolve around nature.
Climb the Volcano "Volcan Baru"
The most talked about activity in Boquete is definitely climbing the volcano. On a clear day you can see the peak from anywhere in town.
In order to summit, you either pay someone hundreds of dollars to reach the summit in a jeep or you walk all night on a road to reach summit by sunrise. We've done treks like this is the past (Mt. Batur and Mt. Rinjani)– and although we cherish those experiences, we were not in the mood for that this time.
Instead, we decided to do a full day hike in the National Park. (More sleep and more nature)
Hike in Volcan Baru National Park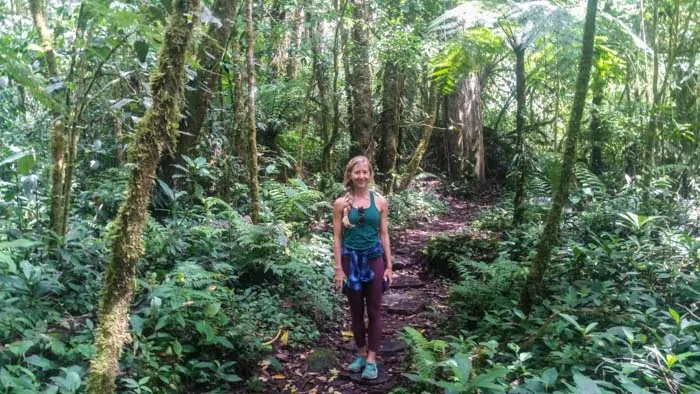 This was one of our favorites part of Boquete. We met a nice German couple at the brewery and they invited us on a hike the following morning.
The National Park has many miles of trails that you can access. We heard howler monkeys, saw countless butterflies, amazing flora, heard tons of beautiful birds, and saw stunning views. It was so lush, it reminded us of the Hoh Rainforest in Washington State.
Depending on the time of year, you might experience some rainstorms. Consider bringing waterproof hiking shoes or rain boots to keep your feet dry.
We spent about 8 hours hiking in the park. Hiked to the "mirador de las rocas" and back. Easy to moderate difficulty. If it's raining, the steep parts could get slippery.
We spend $3 each for a minibus ride to the park entrance. Then paid our $5 entrance fee. We didn't pay for a guide, nor did we feel the need for one. From what I understand you have a better chance to spot animals with a trained guide on your team.
Rock climbing with Panama Rock Climbing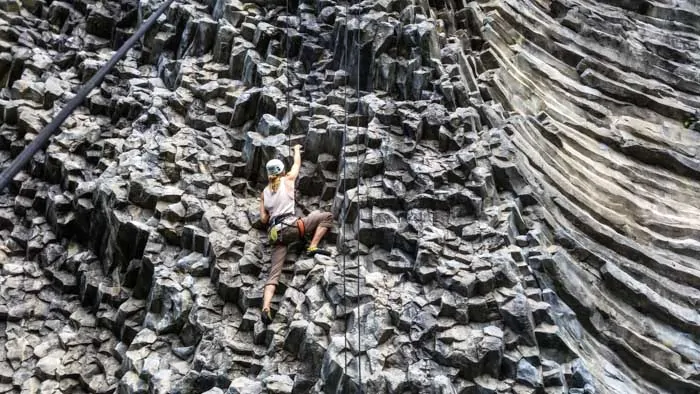 Boquete is blessed by the rock gods. There are 9 walls to tackle ranging from 5.6 to 5.13a. They have a rare type of rock called Basalt which is harder than granite and forms very unique structures.
Even if you brought your own gear, you're still required to hire a guide in Boquete. I went with an awesome outfitter that I highly recommend, Panama Rock Climbing.
The company is owned by the #1 professional Rock Climber in Panama, Cesar Melendez. He's a very nice guy and extremely good climber.
I spent a day climbing the Ginko wall with Cesar's partner Ruben. We had an awesome time alternating between climbing and slack-lining. Ruben is a beast at both and an excellent teacher.
This was my first time rock climbing outdoors and Ruben coached me through a route that was at my absolute skill limit. I felt great after completing the route; thanks Ruben! The route was "El Camino Del Los Locos" which means "the path of the fools" and is rated at 5.10c.
I paid $45 for 3 hours of "all you can climb." This included gear, a guide (Ruben or Cesar), and transportation. I got lucky and was the only climber that day, so it was all 1:1 time with Ruben!
Taking a stroll through the local garden park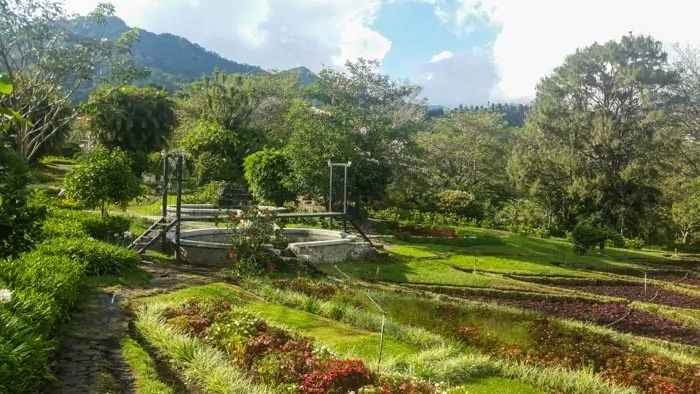 As soon as you arrive, you're greeted with a sign "Mi Jardin es Su Jarin" which means "my garden is your garden."
It's a free garden park where locals bring their dogs, socialize, and enjoy some time in nature. There are beautiful flowers, trees, and rivers onsite. Walkable from the town center. Great way to spend a couple of hours.
Beer tasting at the Boquete Brewery Company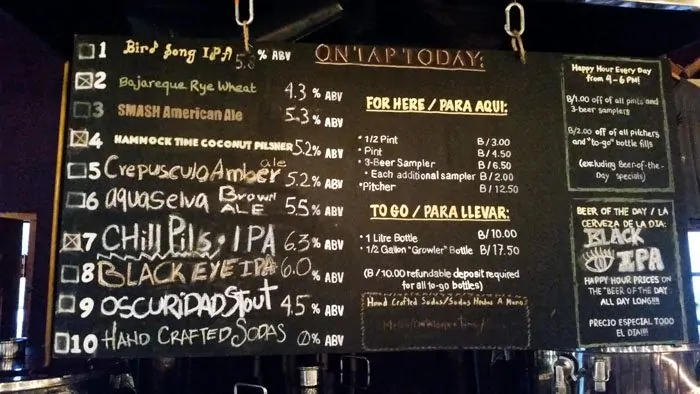 It's no secret that I'm a beer snob. Drinking so many lame lagers in Asia and Central America really takes it toll on my poor taste buds.
Boquete is one of the few Central American towns, I've come across, that actually makes decent beer. I preferred their hop forward beers more than the malty side of things.
Don't miss happy hour 4-6PM for some discounts and free popcorn!
Eat and shop (but mostly eat) at the Tuesday farmers market
We love strolling through markets of all kinds. Mostly because we love eating. Thankfully the Tuesday market in Boquete is full of tasty treats.
Don't come expecting a farmers market. This is an expat dominated function focused on home made edibles and some handicrafts. Come with an empty stomach and taste your way around.
Spot a Quetzal (bird watching)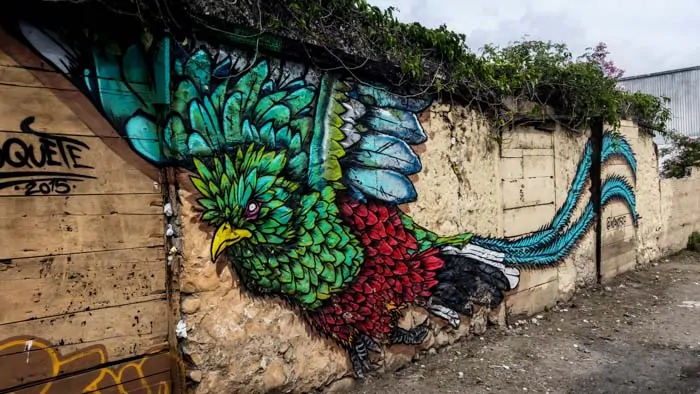 Apparently Boquete is the #1 place in the entire world to spot the infamous bird, the Quetzal. We only saw this one in town. If this is your jam, there are tons of outfitters who will help you find the birds you desire.
Other activities in Boquete
We only spent a week in Boquete and couldn't possible do everything the town offers. Here are a few popular activities that we missed this time around:
White water rafting, waterfall rappelling, deep water free solo rock climbing, coffee plantation tours, bird watching, waterfall hike, horseback riding, food tours, and much, much more.
Where to stay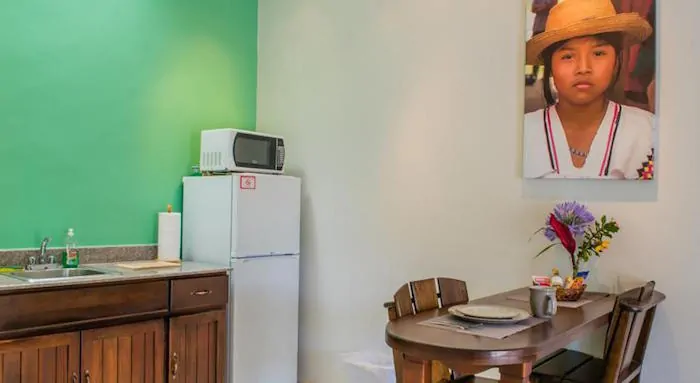 Whenever possible, we opt for an Airbnb apartment. They give us the comfort of living in a "home-y place," the freedom to cook our own meals, and the prices are usually fair!
After searching the accommodation options in Boquete, it was very clear that Airbnb was the way to go.
[If you're a solo backpacker on a shoestring budget – then of course find
a cheap room
]
We opted for this private Airbnb apartment which is part of a complex called "Downtown Suites." It's owned by an American guy named Jason and he runs a tight ship. Great staff and great service. It really worked out PERFECT for us. It came with our own kitchen, full sized fridge, a nice modern bathroom, extremely comfortable bed, flat screen with Netflix, beautiful garden backyard with a hammock, and was walking distance to everything in town.
Airbnb is offering a $20 credit for first time users!
(make sure you're ready to book as the credit only lasts 30 days)
Yoga studios in Boquete
There is one dedicated studio in Boquete, called Yia Yoga. Anne took a gentle vinyasa class and really enjoyed it. They offer 2-4 classes per day of various types. Drop in rates are $12.
The Haven also offers yoga. The Haven is a super nice eco resort walking distance from the city center.
Where to eat in Boquete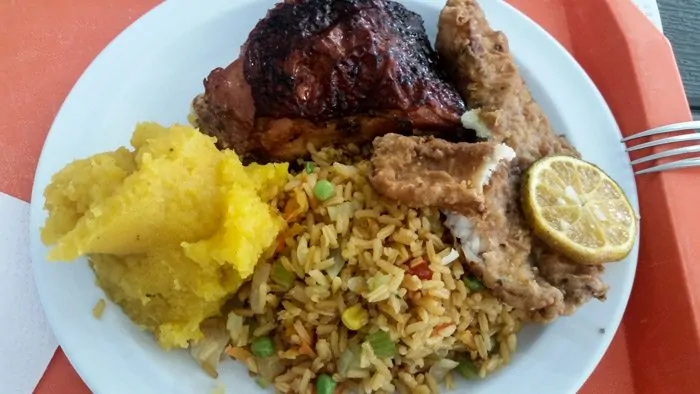 Due to the large expat community, Boquete is full of great restaurants of all types. We rotated between exploring the local cuisine and treating ourselves to nice meals at the many restaurants.
Our dinner spot was Mike's Global Grill
An American chef who has a diverse menu, lots of Asian inspired fusion dishes. We loved the chicken pad thai. They have live music, trivia night, and lots of craft beer.
Favorite dessert was Gelato from Gelateria la Ghiotta
Impressive Gelato. We ate here about 3x in a week… whoops! They have a wide range of flavors ranging from the classics like chocolate chip and a few local favorites such as Guanabana fruit.
Best place to grab a drink Boquete Brewing Company
Great beer, cool atmosphere, and free popcorn. Open 7 days a week starting at 4PM.
Boquete Panama Map

Other Travelers in Boquete
Expect to see tons of gringos in Boquete as they have just under 9,000 expats in town. There are two very distinct groups of travelers you'll come across: The retirees and the adventure travelers.
The biggest group is the retiree crowd – many of which own business in town or organize events. If I was retired right now, I would definitely consider Boquete! However as a backpacker, it can feel like you're living in a retired person community in Arizona at times. Sugar and Spice café is a popular hangout.
The other group is the adventure tourists – mostly backpacking through Central America or taking their 2- week vacation in Panama. They're here to take advantage of all the outdoor activities Boquete has to offer.
Grocery Stores
I don't think I've ever seen a city so small with so many places to buy groceries. I'm not exaggerating there are more then 20 place to buy groceries within 10 minutes walking distance.
Here are my recommendations:
Romeros – big modern grocery store, has everything but it's pretty expensive. Go here if you need something specific or would like to finish your shopping in one go.
Mini produce shops near the central square – there are 10-15 locally run mini produce shops all connected in a "strip mall" fashion. Great prices and every shop sells nearly the same produce.
Boquete, Panama Climate
Boquete sits at 3,000 feet (1,000m) above sea level which offers a really pleasant climate. It's warm during the day and cool enough for long sleeves at night. Coming from the Costa Rica heat this was a nice treat.
There are two seasons: Wet and Dry
• Dry season: December-March
• Wet season: April-December
How to get to Boquete, Panama
We went from the Pacific Side of Costa Rica, here's the route:
• Get a bus to the Costa Rican / Panama border (Pasos Canoas)
• Get your exit stamp from CR (pay $8), go through customs, then get your entrance stamp to Panama
• From Panama side, take a minibus transfer from the border to David bus terminal – 40 minutes ($2.50)
• School bus from David-Boquete – 1hr by bus ($3)
You can also get to Boquete from Puerto Viejo, Costa Rica (Caribbean side) or from Panama City but I don't know the route in detail.

Don't forget Travel Insurance
You already got your travel insurance right? If not here is your warning…
While traveling is generally quite safe, accidents do happen. For a nominal price, travel insurance covers you in case something happens.
I didn't think I would ever need travel insurance but I decided to get some to please my mom and to have a little extra peace of mind. Fast forward a few months and I wind up in a Vietnamese hospital getting surgery to repair a tendon in my hand! Thankfully I had travel insurance – they covered all my hospital bills.
We have used World Nomads travel insurance for years. We've had to file two claims and were fully reimbursed for both, totaling over $3,800 USD.
Cover photo credit: CircleOfBlue.org
PS: Did you enjoy this article? Pin me!