November 2018 update: Along with carry-on backpacks for traveling we also added our top 5 yoga mat backpacks for commuting to the studio. If you're here for a backpack with yoga mat holder… Click here to skip to the yoga backpacks section.
Let's start with the carry-on sized backpacks for traveling…
—
So you're looking for a new backpack, eh?
But you're not looking for any old bag; you're looking for the backpack? I'm with you – and it's not an easy task. With 100's of options out there – where do you even start?!
After spending the past few months thinking obsessing about which backpack to choose, I narrowed it down to the top 5 backpacks.
What I was looking for:
Carry on sized
45L or less
Lie flat packing (Clam shell design)
While we're on the subject, stop reading and quickly write down the top 3-5 backpack features that fit your needs………… are you done? Good, this list will prevent you from getting overwhelmed later.
This guide was designed to make choosing the right backpack a breeze! (or at least give you a starting point)
I will share which pack Anne and I chose at the end, however you couldn't go wrong with any of these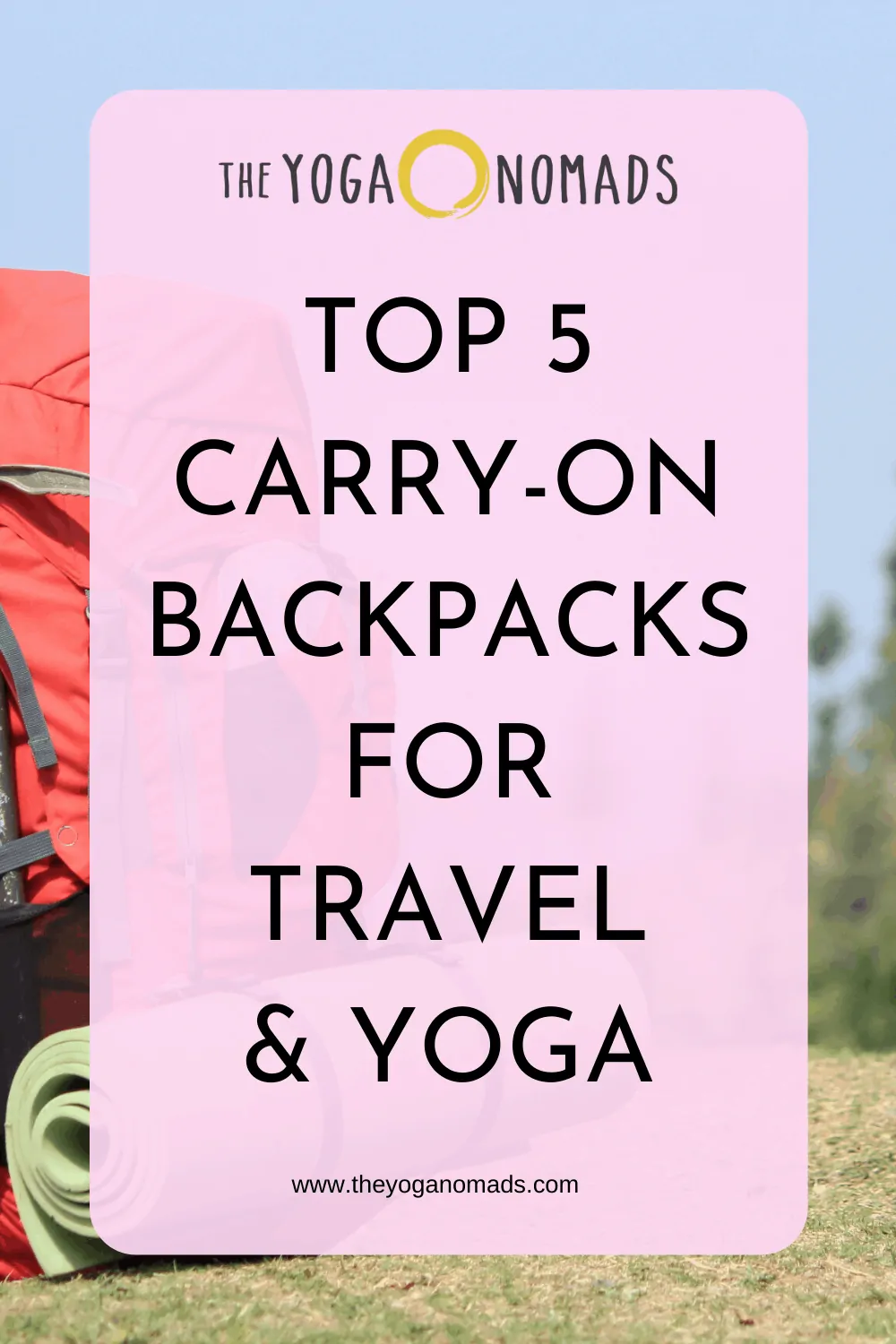 Pin me for later 🙂
Let's start the high level overview…
Carry on Backpack Comparison
| | BANGE Travel Backpack | Osprey Farpoint | GORUCK GR2 | Tortuga v2 | Osprey Porter |
| --- | --- | --- | --- | --- | --- |
| Size | 32L | 40L | 40L | 44L | 46L |
| Price (USD) | $54 | $149 | $405 | $199 | $99 |
| Weight (lbs) | 2.2lbs | 2.15lbs | 5.30lbs | 3.65lbs | 2.44lbs |
| Carry On Sized | √ | √ | √ | √ | √ |
| Hip Belt | √ | √ | no | √ | √ |
| Yoga Mat Ready | √ | no | √ | √ | no |
| Rain Cover | no | no | no | no | no |
| Laptop Compartment | √ | √ | √ | √ | no |
| Zip Away Straps | √ | √ | no | √ | √ |
| | Buy here | Buy here | Buy here | Buy here | Buy here |
Alright let's move on to the individual reviews…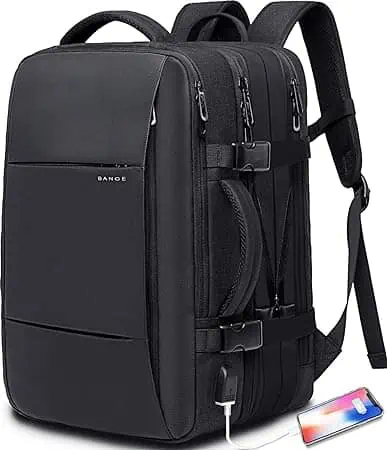 The smallest backpack on the list (32L) but don't let that fool you – you can fit a lot in this pack.
The BANGE 32L travel backpack is the ultimate companion for globetrotters and adventurers!
This flight-approved travel backpack is designed to meet all your travel needs, ensuring hassle-free travel at all times.
Made from water-resistant and durable materials, this backpack ensures the safety of your belongings in any weather conditions.
With a spacious main compartment, it easily accommodates a 17-inch laptop, making it ideal for business travelers or digital nomads. The large backpack design provides ample space for all your essentials, whether you're embarking on a weekend getaway or a week-long business trip.
Invest now in this backpack and experience the perfect blend of practicality and style. Say goodbye to travel woes with our travel backpack: the ultimate companion for your next adventure!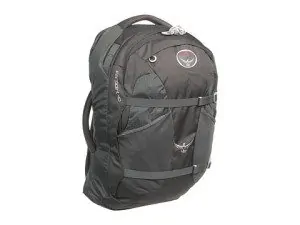 The Farpoint is sleek and the lightest pack on the list. Not a huge deal, but every ounce counts. The Farpoint 40 comes in two sizes: M/L for the guys (and girls over 5' 8") and S/M for everyone else. Osprey is my favorite brand on the list because time and time again they create awesome gear (been using their Aether 70L for back-country camping excursions for years). Note: If you're less than 5'3" – look no further, this IS your pack. Get the S/M size and you'll never look back.
Potential downside: Without a side holster spot for a yoga mat, you'll have to get creative with your yoga mat if that's important to you.
2018 update: Anne has been using this pack since 2014 and still loves it.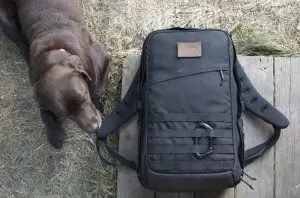 This is one bad-ass backpack. Originally designed for military use – anticipate a rugged designed build to last a lifetime (you can even get it in camo color). It looks great and is practically indestructible, but a few things held me back from purchasing. The GR2 is by far the most expensive backpack on the list and also the only one without hip pads or the option to zip away the back straps. Although an awesome backpack; probably not my first choice for digital nomads.
Potential downside: Price tag ($395) and lack of hip pads could make long walks to find your hostel miserable.
Fred and Jeremy were frustrated with the backpack market so they decided to create their own bag. If you ask me, they did a mighty fine job designing the Tortuga V2. In terms of size, it's the second largest on the list (44L) yet maintains its carry-on friendly status for most airlines. The Tortuga's hip belt has the best padding I've seen in this class of backpacks. The internal compression straps were a nice touch and will help you maximize space.
Potential downside: it only comes in one size, while it fit me great (6'3'') it was uncomfortable on Anne's smaller frame (5'2'')
2018 update: I've been using this pack regularly for several years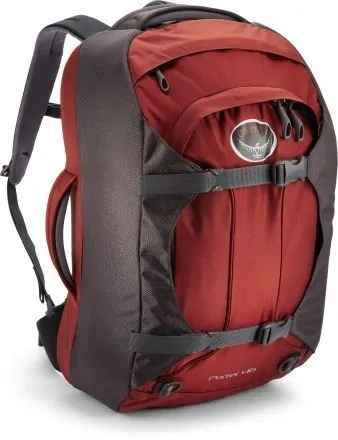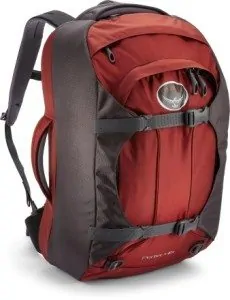 You already know I love Osprey. The Porter is the largest pack on the list (46L), extremely light and also the cheapest. I personally do not like this design, but many people use it. If you want to save a few dollars, don't need an easy access laptop compartment or a padded hip belt, you found a bag that will do the job!
Potential downside: Hip belt has no padding and there isn't a laptop compartment which to me is unacceptable for long term travel
2018 update: they've come out with an updated design and I haven't had a chance to test it out. It looks way better, feature set improved, and increased the price to $139 which seems fair. If you have experience with this pack please share in the comments below!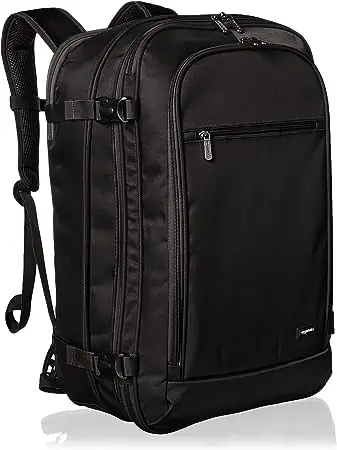 This versatile backpack is perfect for yogis and travelers alike, offering convenience, comfort, and ample storage space.
Made from durable polyester, this backpack is ultra-flexible and lightweight, making it a breeze to carry.
The main compartment features a zippered mesh space, an optional midway shelf, and internal/external compression straps to keep your belongings secure and organized.
With a front pocket and front-top pocket, accessing documents and travel liquids is quick and easy.
The main upper packing compartment includes an organizer and expandable storage space, allowing you to pack efficiently.
Comfort is key with this backpack. The padded shoulder straps can be easily disconnected and stored away in the zippered back pocket when not in use. It also comes with a removable sternum strap, waist belt, and shoulder strap for added support. Well-placed exterior handles provide additional carrying options.
With its excellent design, large storage capacity, and comfortable features, the Amazon Basics Carry-On Travel Backpack is the ideal companion for your next adventure. Pack smart, travel light, and explore with ease!
After much consideration, here is what The Yoga Nomads selected…
2018 update: Brandon still uses the Tortuga most of the time but rotates in the Minaal for shorter trips. Anne still loves her Farpoint. We've been traveling with the Tortuga, Minaal, and Farpoint since 2014/2015.
Is There a Yoga Mat Backpack Attachment for the Tortuga?
Readers asked about how we traveled with a yoga mat attached to the Tortuga V2. In my opinion, carrying a yoga mat attached to the Tortuga V2 was a breeze. Click here for our recommendations for traveling yoga mats.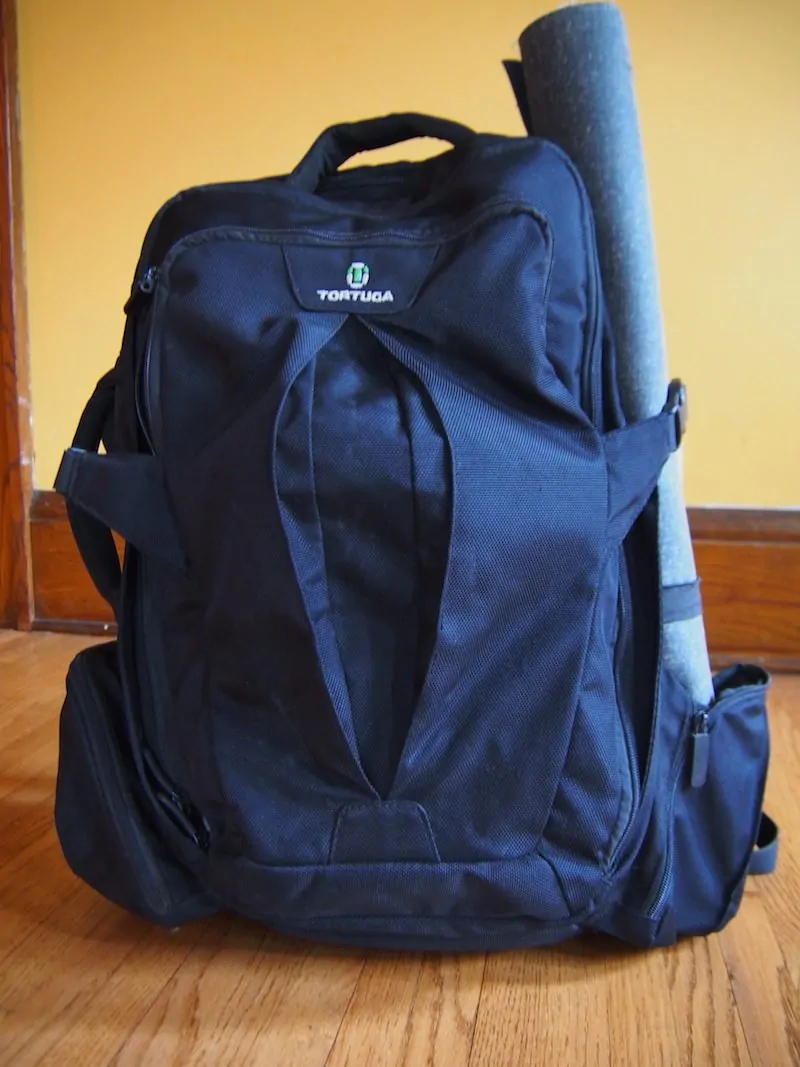 2018 Update: Readers keep asking for recommendations for yogi backpacks to commute with. We added our top picks below….
Top 5 Yoga Bat Backpack Reviews
(for commuting to the studio)
There are many ways to carry your yoga gear to and from the studio. We've got backpacks with yoga mat holders, yoga mat totes, simple yoga carrying straps, and the list goes on.
If you're wondering how to strap a yoga mat to a backpack, there is no easy answer. Each bag has their own method and it just comes down to personal preference.
Before we jump into the individual reviews, just wanted to mention that I'd love to hear from you in the comments… what is the best yoga backpack from your experience?

Yoga Sak is designed as a yoga travel bag with a central strap to secure your yoga mat. This makes commuting by bike very comfortable. There is plenty of space to carry the necessities but don't plan on fitting your entire home studio into the backpack. Nice looking design. Steel Grey and Navy are my favorite color options.
Yet again, our friends at Manduka nailed it with a backpack for yoga mat transporting. Great design, breathable fabric, multiple pockets to keep you organized, and padded strap. Can choose from two sizes, Small will work for most yoga mats and the large fits anything, including their Manduka Go Play 3.0 Yoga Mat Bag. It only comes in one color, Black. Good thing that's my favorite color.
This would also be a great yoga mat backpack for biking in case that's your thing.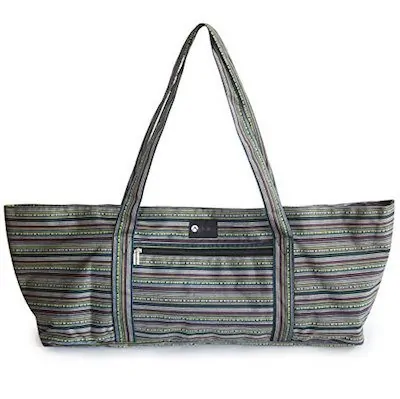 Hey ladies, I know you like tote bags! Aurorae makes the best yoga mat tote around. Looks great and has several little pockets to keep all your stuff organized. They use magnets to keep the bag shut. 4.8 stars on Amazon (top rated yoga bag we've seen). Chose your favorite color!
This is one of our favorite womens yoga backpacks on the market.
Another backpack with yoga strap, except this time the yoga mat is attached vertically on the side of the backpack. Fits a ton of stuff while still maintaining a slim profile. The most purchased yoga backpack on Amazon with over 1,142 reviews and a 4.5 stars rating.

Our final bag with yoga mat holder, the MatPak. Yoga Rat has been making great yoga products at a very affordable price for quite awhile. Just like the beloved Yoga Rat Towel, the yoga rucksack MatPak gets it done. Hybrid design so you can carry with one strap like a sling, or use two straps like a backpack. Plenty of space for your gear. Similar to the Manduka Yoga Sak but the MatPak has more room to pack your stuff.
Let's wrap up
Hopefully this helped you narrow down the right carry on backpack or yoga mat travel bag for you! I know it can be a daunting task, however you can't go wrong with any bag mentioned in this article 🙂
Until next time,
Brandon
PS: Looking for more gear? Check out our recommended daypacks.
Did you enjoy this article? Pin me 🙂