The last time we went to Envision Festival, it was in 2020. Here's our multiple recap of this amazing festival. Also, you can first find our survival guide, to help you through your first time experience:
—
Get ready for a transformational experience at Envision Festival. Not only are you in the Costa Rican jungle, you're also on a beautiful beach, surrounded by ~6,000 souls seeking to make the world a better place.
Envision's roots lie somewhere between a Steam Punk Burner & a Hippie Permaculturalist who surfs. Envision hangs out with a tight group of friends such as Lightning in a bottle, Sonic Bloom, Burning Man, Symbiosis, and Desert Hearts.
Speaking of Burning Man. Anne and I got engaged at Burning man! And if you're considering going, we found this packing list really helpful!
This is be our 4th year in a row at Envision. We consider it our favorite festival on the planet. Envision always seems to out do themselves and 2020 is shaping up nicely.
You're going to Envision this year right?
If not, watch this and then get your ticket before they sell out.
How's the sound quality at Envision?

Well shit. Funktion-One Evo 7 sound system rigged up in the natural jungle amphitheater. Sign me up.
If you know what this is, this will excite you. If you've never heard of F1, just know the sound quality is world class.
I've personally seen at least 30+ shows with Funktion Ones and the sound quality at the Luna stage at Envision 2016 in in my top 2. Along with Dave Tipper's Uptempo night at Thalia Hall.
Where is Envision festival?
Envision will return to Rancho La Merced in Uvita, Costa Rica for the 4th year in a row. Nestled in the jungle with some shady trees and only a 2 minute walk to Hermosa beach.
*Envision confirmed that in 2017 the beach will be open for sunsets again!*
Uvita is on the Pacific coast, about 4 hrs by car from the capital, San Jose. Located about 10 km south of the popular surf town, Dominical.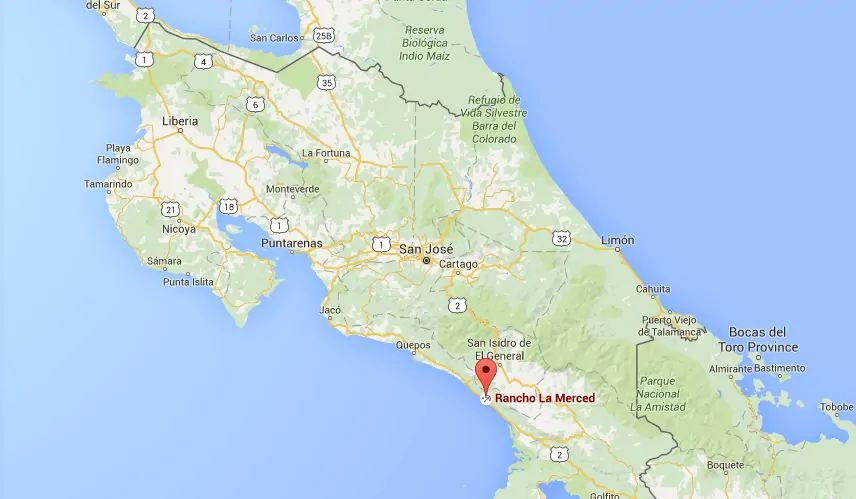 Getting to Envision
By Air
Flying into San Jose will typically be the best route. Read on to learn how to get from the Airport to the festival.
From there you can head to Envision by bus ($15), taxi ($$$), or an official Envision shuttle to the festival ($60).
By Land
From San Jose, you can either take the easy route – the official Envision shuttle, rent a car, or book your own transport.
Official Envision shuttle ($60 one way)
By far the easiest way to get to/from Envision. If you want no hassles, this is your option. View the shuttle schedule and book here.

Organizing your own bus (~$15 one way)
Take a Tracopa bus from San José to Paso Canoas and get off in Uvita. The bus will stop briefly in Uvita so make sure the bus driver knows you need to get off there. This ride takes ~4 hours. Buses leave San Jose at 7:30AM, 10:15AM, 11AM, 12PM, and 4:30PM. Get there early to secure your seat.
The bus goes through mountains and some people got mildly car sick. Prepare as needed.

Rent you own car ($$$)
Make sure to get a 4×4 as the roads in Costa Rica can get pretty hairy! Envision allows you to park your car at Envision for an additional fee. Be sure to do your homework before making a decision here. Cars are not convenient nor cheap. Envision worked out a deal with Toyota which might be your best option.
Getting to the Envision Festival ground from Dominical
On Thursday morning (day 1), there will many taxis waiting in Dominical to drop people off at the festival grounds. They will charge more than they normally do, but it shouldn't break the bank. Some people walk (10 km) and others hitchhike.
Protip: Many Envisionaries gather in Dominical for a few days leading up to the festival. Expect a lively atmosphere, dozens of tents on the beach, nightly drum circles, people selling their handmade jewelry, etc. A convenient place to stock up on last minute supplies. Book rooms ahead of time, they will sell out.
*For more travel related questions, head to Envision's website.
Leaving Envision
Let's face it. After 5 days in the jungle with very little sleep, Monday morning is going to suck. Everyone must vacate the Envision ground by 12PM on Monday, February 27th. Unless you're attending one of the post-envision retreats.
After packing up, and HELPING TO CLEAN the festival grounds, you can sort out your ride. If you bought the official shuttle, your escape should be pretty simple. If you didn't organize transportation ahead of time, head to the road and catch a taxi (likely just some dude with a car giving rides for cash). Most people head to Dominical and get a bus ticket elsewhere.
Protip: Buy your bus ticket out of Dominical BEFORE heading to Envision on Thursday. Last year many people go stuck in Dominical because the buses were full.
Packing list for Envision
Sunglasses

Reusable water bottle – water is free at Envision

Swimsuit – the beach is a 5 minute walk from the festival

Sunscreen – the Costa Rican sun is no joke

Shade devices – tarp, blanket, tapestry, etc (not enough tree shade for everyone)

Travel Insurance by World Nomads – covers any accidents or stolen property.
NO TRASH – try not to bring any paper or plastic (including food wrappers, within reason)

Hand sanitizer

Outdoor blanket – someone in your group should bring one
Towel
Yoga mat – Envision does not provide them

Baby powder – 5 days in a hot and humid jungle? Yep.

Headlamp – dark jungle walks? better bring a torch

Something to share with your neighbors – food, face paint, bust out some slightly chilled watermelon at 3AM on Saturday, you get the point.

Ear plugs – music usually goes until 7AM, bring ear plugs to sleep
*To see Anne's packing list for a carry-on backpacks click here.
Where to sleep during Envision?
Three options: #1 Camp onsite (free), #2 book VIP accommodation through Envision, or #3 rent your own place nearby on Airbnb, or otherwise. Please note, there are no outside accommodations within walking distance from the festival grounds.
*Free $35 credit for Airbnb
Most people will tell you that camping at Envision is the best way to experience the festival, and I agree. That being said, the conditions are harsh. Last year there were times when I wished I had a cold dark room to hibernate in – but glad I stayed onsite the whole time.
Camping at Envision
Camping is included with your festival ticket. You can either bring your own tent/sleeping bag/sleeping pad or you can rent the set onsite from Envision.
Renting camping gear at Envision
When you arrive, pick up a tent, sleeping bag, sleeping pad, etc. Anne and I did this the first 2 times we went to Envision. However, we moved to Uvita and we'll be sleeping in our own beds this year. That being said, camping onsite is the way to go, especially if it's your first time. Gear rental makes this easy for travelers.
Single:

$75 for a tent, sleeping bag, and sleeping pad

Double:

$95 for a tent, 2 sleeping bags, and 2 sleeping pads
Renting a room near Envision
If you really can't handle the heat you can rent a room in Dominical or rent an Airbnb. There aren't any places to stay that are walking distance from the festival. You will probably get better sleep than most campers, however… You will miss out on part of the experience and will have to pay for inflated taxi rides back and forth every day.
Kube City is a great option near the festival. They have a pool and the owners are awesome!
Co-working spaces in Uvita, Costa Rica near Envision
Thankfully, there is a new co-working space in Uvita called Kube City! This is a great option in case you have work responsibilities during the festival. They also have a hostel next door in case you don't want to camp during Envision.
We met the owners of Kube City, have worked out of their space many times, and are big fans!
Restaurants near Envision Festival
There are lots of restaurants near Envision in nearby cities of Uvita and Dominical. We've spent about 18 months in the area and have tried almost all the food spots in the area. Here are a few of our favorites:
Music at Envision
There are so many good artists playing at Envision 2017. A nice blend of the Envision veterans and newcomers alike. Ranging from Reggae to Psychedelic Electronica, House, world music, and beyond.
Here are my top 10 most anticipated live shows for Envision 2017!
At Envision 2015, I experienced one of my favorite festival memories to date. It was Saturday night at the Luna stage, Ott just finished a killer set on the best sound system money can buy (Funktion One) and Random Rab is up next. Halfway through his euphoric set, the sun rises.
Everywhere I look are beautiful people smiling and dancing. What's that in the tree? To my surprise, there are 100s of howler monkeys in the trees surrounding the stage! Our primate brethren were just checking us out, contemplating the music and wondering why all these humans were gathered in their jungle.
There are 3 main stages for music
There are 3 main music stages, and tons of smaller stages for yoga, workshops, etc.
Luna (Main stage)

– Funktion One sound, top electronic acts usually play here. Music until the sun comes up.

Sol (Live bands)

– roughly the same size as the Luna but caters to live bands, reggae, Beats Antique etc.

Lapa (house music)

– For the 2nd year in a row Envision is dedicating the Lapa stage to house music. This is the smallest stage and is usually rocking during the daytime. In 2016 it had Funktion One sound.
Protip: Envision is a marathon, not a sprint. Because it's so hot, Envision schedules the "big acts" when it's the temperature is the coolest (11PM-5AM). Relax during the day so you can go hard for the best music at night. Luckily there is SO much to do during the day – attending workshops, ceremonies, yoga, surfing, beach time, etc.
Yoga at Envision
All Yoga and Movement is included with your festival ticket. There are 2 dedicated yoga and movement temples that run pretty much the entire weekend. There are so many different options to explore: belly dancing, massage, hip hop dance, tai chi, hooping, pilates, acro yoga, etc.
*Protip: Envision does not provide yoga mats, don't forget to bring your own. Here are a few lightweight yoga mats for travel we recommend.
Surfing at Envision
There is a beach break onsite called "Playa Hermosa at Dominical." There are always a few people in the lineup. The waves in 2015 were small and playful but they can hold up over head and become quite hollow. Check MagicSeaweed.com for the swell report.
Food at Envision
Fitting the Envision vibe, the food is mostly healthy, organic, superfood based. Yes, you can get pizza but wouldn't you rather try the local superfood specialty? Most meals range between $6-10 which is a fair price considering the quality.
Our favorite food stall at Envision is Food as Medicine which is run by a lovely Gringo Family that now calls Costa Rica home. They make awesome smoothies and raw food dishes. Our favorite was the Chaga Bliss! Learn more about how to use Food as medicine on their website.
Disposable dishes are not aloud at Envision (Awesome)
This means you can either bring your own bowl/fork or pay a fee to rent dishes while you're there. This reduces the ecological footprint of the event by a great deal.

If you're looking to save money
Pack some food – fruit, avocado, tortilla, tuna, beans, etc

Taxi to Uvita town (2km) to stock up on food from grocery store

Sometimes vendors sit outside the grounds selling food slightly cheaper

Eat more coconuts – cheap, delicious, nutritious & sold onsite!
Vendors at Envision
There will be tons of vendors selling all kinds of cool stuff. Jewelry, clothes, art, etc.
Where can I store my valuables during Envision?
Please do not keep valuables in your tent. Although you'd probably be fine, it's not worth the risk.
There is a secure bag check to stash your valuables. In 2016, you could either pay $5 to leave your stuff stored for the weekend (I did this last year). Or $25 to have access to take out and put back your stuff all weekend, i.e.: a camera. Access from 9AM-3AM. Bag check is locked and guarded all weekend long.
Art at Envision
Live painting, glass blowing, performance art, full on art exhibit, you name it! Art is a very important element to the Envision experience. In pasted years we've seen Amanda Sage create a painting live and Android Jones created a piece of digital art during Otts set.
Envision is all about participation. This picture above is a giant canvas that's available for anyone to paint at any time during the weekend. Pretty fun watching it evolve.
Day trips during the festival
If you're only going to be in Costa rica for the festival (bummer), you may feel the desire to advantage of Costa Rica outside Envision. You can take a shuttle to the waterfalls and cliff jump, swim, nap, etc. I've heard it's a fun time, although I'm planning to skip it for the third year in a row.
If you have a few days after the festival before going home, I would recommend saving the waterfalls/zipline for after the festival. Then you can take full advantage of everything Envision has to offer.
Cover yourself with Travel Insurance?
No one likes to pay for things they don't need, myself included. However, I am a firm believer in travel insurance. Hopefully you never need to use it, but when you do you'll be so happy you got it. Travel insurance covers things like hospital bills, ruined travel plans, stolen personal items, etc.
Both Anne and I are very healthy people who almost never visit the doctor at home. We used World Nomads for years.
Anne got hit by a motorbike and the total hospital bill was over $1,300. Thankfully World Nomads covered the entire bill.
I cut myself on glass, which tore ligaments in my hand, which led to emergency surgery in HCMC, Vietnam. Thankfully World Nomads covered my entire $2,500 bill.
Needless to say, we view travel insurance as a MUST-have. If you're considering it, you can get a quote here.
Official retreats before & after Envision
4 days not enough? There are tons of options to extend your Envision experience. Check the official retreats page for full details.
10 tips to survive Envision Festival
Envision is both magical and potentially grueling. There is SO much to do and see – where do you find time to sleep? Here are some tips to make the most of your experience.
Bring a hammock

– perfect for daytime naps in the shade. Your tent will be too hot.

Stop at the ATM before entering the festival

– there are NO ATMS onsite, plan accordingly. Worst case scenario, you take a cab to Uvita/Dominical to stock up from the ATM.

Bring Dr Bronners soap

– Organic soap is the thing allowed for showers

Print out your festival ticket and a copy of your passport

– bonus points for having an electronic copy of both on your phone.

Drink a ton of water

– Especially coming from colder climates – your body will thank you!

Bring a couple garbage bags for your campsite

– one for trash, one for recycling

Bring earplugs

– required to get good sleep!

Do your shopping in San Jose

– food, sunscreen, etc will be WAY cheaper.

Learn some Spanish before arriving

– I recommend Duolingo.com both fun and free.

Consider Early Arrival ($75)

– better chance for shade and a shorter lin
2020
We're excited to be heading back to Costa Rica for a few weeks this winter. Part of time will be spent at our favorite festival on the planet: Envision!
It's the 10 year anniversary and they just released their lineup. This will be our 4th time at Envision and this is hands down the best lineup they've ever produced!
Personally, I'm most excited about the following artists: Tipper, Clozee, Random Rab, Govinda, Duffrey, Goldcap, Dirtwire, and my favorite mycologist Paul Stamets!
The 2020 Envision Festival Lineup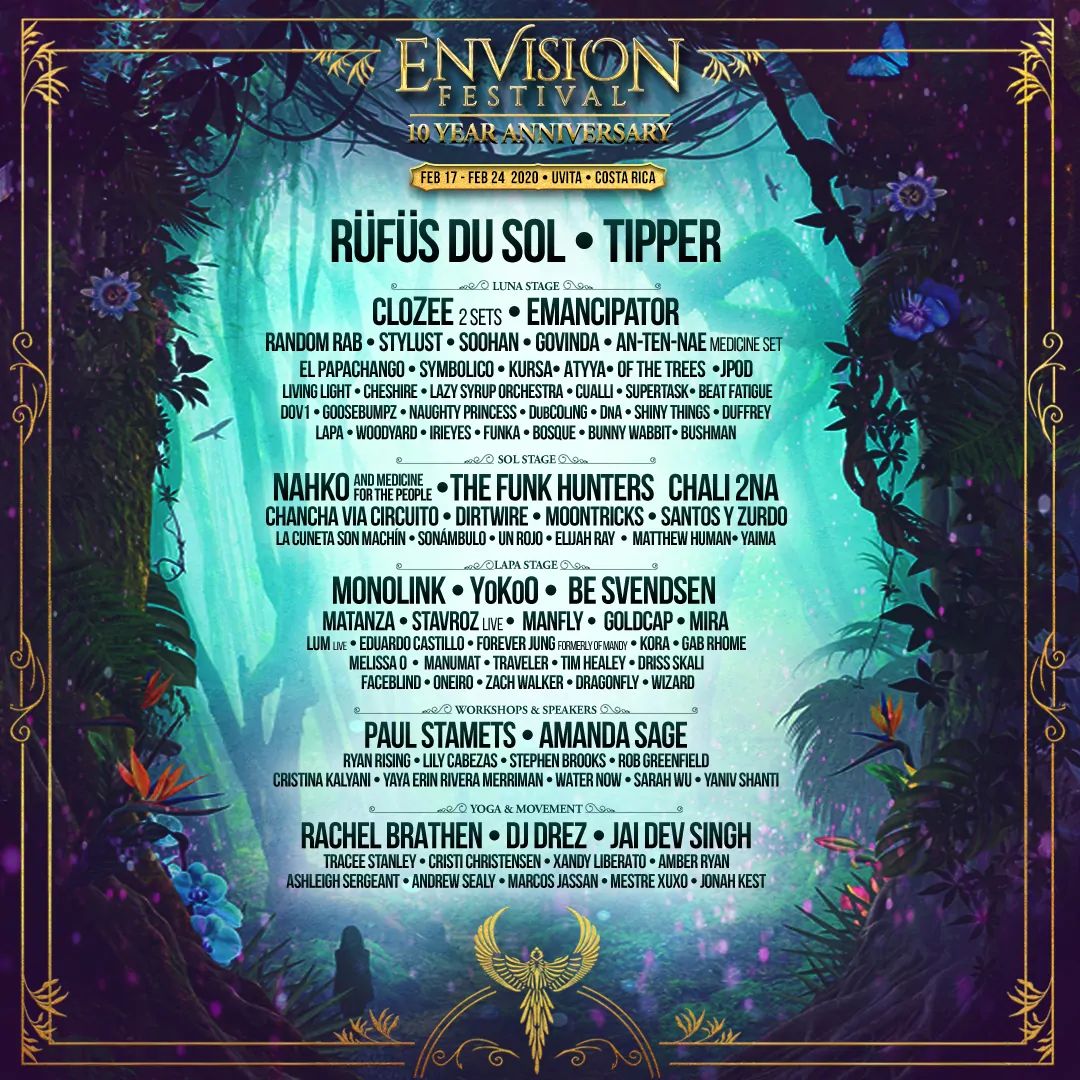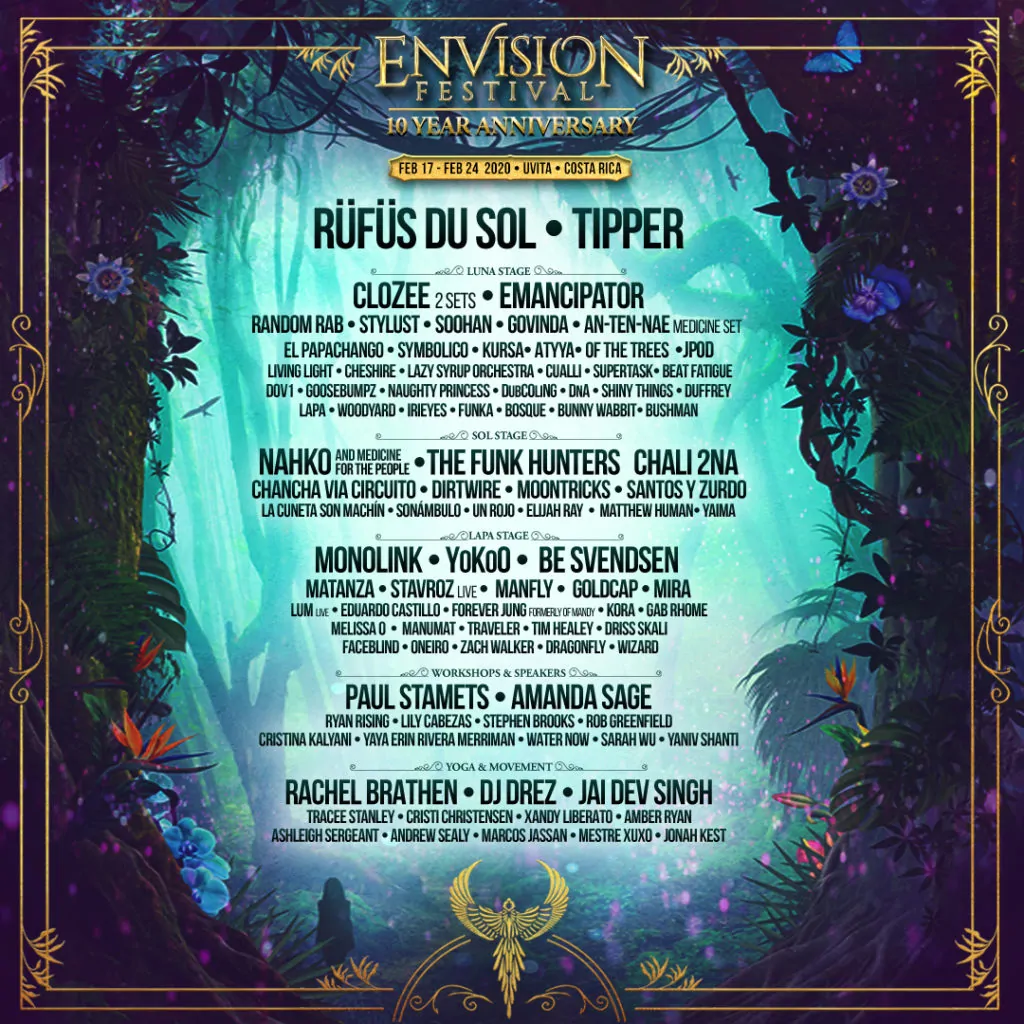 Quick details:
Where: Uvita, Costa Rica
When: February 17th – 24th
Why: To connect with like minded people and celebrate life
Tickets: Start at $349 + fees
Where can I find more details? Envisionfestival.com
Who are you most excited for? See you in the jungle!
2017
Coming off my 3rd consecutive Envision Festival, I'm happy to report it was my favorite one yet!
Hats off to the Envision crew for pulling another rabbit out of the hat.
It's interesting to observe the contrast between the artists I was anticipating and the artists who truly impacted me live on stage this year.
3 of my most anticipated shows of Envision 2017 made this coveted "top 5 live performances" list. And fortunately, there were 2 artists I knew nothing about that rocked my world and made this list.
Before we get into it, I wanted to make 3 quick observations about Envision 2017:
The Luna stage was one of the coolest productions I've ever seen. Big ups to The Reliquarium for creating it.

From my subjective experience… the Funktion One sound system on the Luna was not quite as good as 2016. That being said, it was still world class audio. (If you want to learn more about the specific F1 rig at the Luna, check the comments below).

The village stage was made out of living plants and whoever curated that stage experience was on point all weekend. A MASSIVE upgrade from past years.
After you finish reading my top 5… I would LOVE to hear your top 5 live sets in the comments section below. I know I missed a ton of music and would love to be schooled!
Alright let's get to it!
1) Clozee (Luna Stage)
Video shot and edited by our friend Remington W.
After experiencing Clozee's emotionally charged Saturday night set, there is no question in my mind: the future is female. The late-night Luna stage crowd was taken on a emotional jungle-journey that can only be described as "tribal." Full of new and unreleased music and endless pyrotechnics.
I appreciate how Clozee lets her music do the talking. On the rare occasion that she did grab the mic, she humbly thanked the performers, Pyrodanza, and introduced Random Rab. (in her painfully cute french accent).
Although the weekend was full of incredible performances… As far as I'm concerned the weekend goes to Clozee.
2) Goopsteppa (Luna Stage)
Those fortunate enough to make it until 4AM Friday night were rewarded with some super tasty goop soup. Been listening to Goopsteppa for 3+ years and my first Goopsteppa set blew all expectations out of the water. His signature style does something weird deep inside my body.
There is no denying that Alex "da Goopsteppa" is not only extremely talented in the beat lab but also performing live… Seamlessly mixing and transitioning his luscious downtempo delights.
PSA for anyone who "saved up for Saturday" – you made a serious mistake.
*Alex was also scheduled to perform at the SoundShip after party with AtYyA, Brian Hartman, Cello Joe, and friends… however he got sick and had to cancel. The event was excellent but I couldn't help feeling sad to miss a Goopsteppa show in our backyard (Dominical).
3) Zach Deputy (Village Stage)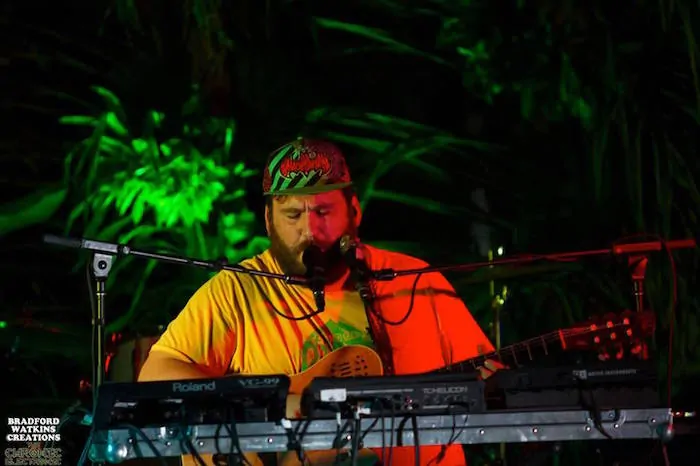 One of my favorites parts of Envision is how everything seems to just "work out." Almost as if giving up control (hard for me personally) and surrendering to the experience is a shortcut to the perfect moment.
Around midnight on Saturday, our group of merry pranksters decided to check out the village stage aka the "living stage." We didn't know who was playing, but HEY the crowd was super into it.
"Some guy" was live recording/looping all kinds of instruments, vocals, and even the sounds a chicken makes (weird, right?!). He was going all in. Erupting with emotion at every turn. His infectious attitude compelled us to join the frenzy.
There wasn't a single person who wasn't dancing like a fork in a blender. After his show we asked a sweaty soul near us who was on stage… dumbfounded that we didn't know, she emphatically replied "Zach Deputy."
Shout out to the greatest song ever: Chicken Pot Pie.
*Zach Deputy also played a main stage show on Sunday, however I missed it.
4) CharlestheFirst (Luna Stage)
We had the chance to chat with Charles a few times while he was in Costa Rica. Not only is he a super mello homie, but both his shows were super bueno.
[Charles played: 2:30AM Sunday night at the Luna & the official afterparty @ Fuego Brewing in Dominical]
If you haven't heard his stuff, his 30-minute "Through the Mist" mix is a great place to start. Bass music with a chilled out vibe. At times his original productions remind me of Goopsteppa, AtYyA, and Clozee.
Watch out weirdos, Charles is coming for you. Catch him this summer as he rampages through the festival circuit.
*Shoutout to Fuego, Envision after party team, and the Soundship team for producing one of the best parties I've seen in Dominical.
5) EarthCry (Village Stage)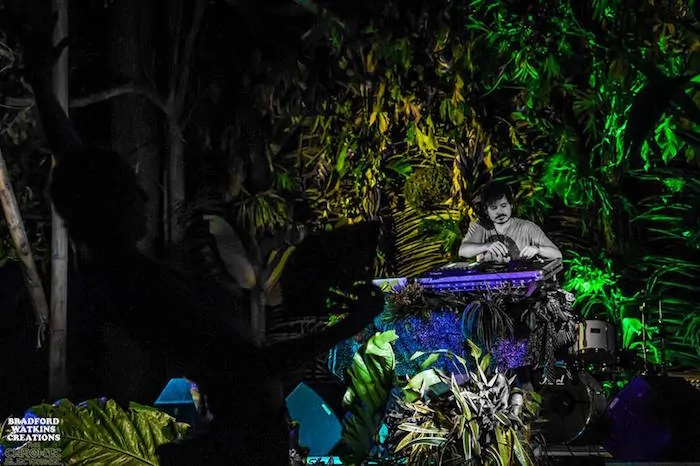 Earthcry is the side project of Anthony (from Papadosio). It's his opportunity to explore new sounds and new styles while heavily leaning electronic. Although I was hoping to catch EarthCry at Envision, I didn't have high hopes due to the jam packed Saturday night lineup. Luckily, our group was seeking some chill time before Clozee took over the Luna stage.
After snagging a round of Guanabana popsicles we joined the mellow mob at the Village stage. (If you didn't try these creamy delights, you seriously missed out).
EarthCry played a very live and intelligently sequenced set. He was creating mesmerizing compositions by combining live instrumentation and nature inspired electronic productions. Each song started mellow and slowly built into a mini freak out.
Honorable mentions: Rising Appalachia, Dragonfly, Nicola Cruz, Govinda, Quixotic, Random Rab, and Of Porcelain… among so many others!
Our 2017 Envision Festival Experience
Thousands of people from all over the world gathered for the 7th year of Envision Festival in Costa Rica. Attracted to the lush jungles and exotic beaches, Envisionaries come to discover their true human potential while co-existing in an environment conducive to that awakening.
We were ecstatic to return for our 3rd Envision. It's beautiful to observe how the festival continues to grow and evolve.
One thing we absolutely love about Envision is that there truly is something for everyone. You'll find travelers, entrepreneurs, hippie vagabonds, families, permaculturists, healers, and electronic music scenesters all enjoying the gathering for different reasons.
Below you'll find 9 of our favorite festival moments.
Check back soon for Envision 2018 tickets!
1) Embodiment of the 8 Pillars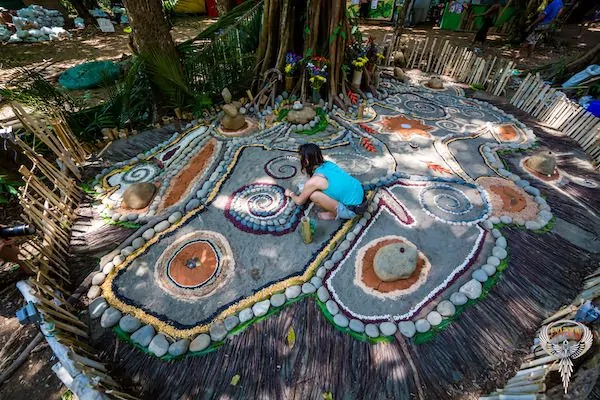 What most festival attendees don't realize, is that Envision is built upon 8 pillars: Permaculture, Spirituality, Movement, Art, Music, Community, Health, & EcoBuilding. These 8 pillars drive every decision made on the grounds from the build, to the food and the well-being of everyone.
With the rise in popularity of festivals all over the globe, deciding which to attend is often related to the lineup. But with Envision, it goes beyond just the artists. When you're not enjoying live music or practicing yoga with internationally renowned instructors, there is so much more to tickle your fancy and expand your mind! While we are initially drawn to the music and movement, we leave with a richer understanding of the interconnectedness of all the elements that lay the foundation for the festival.
Workshops on permaculture or herbal elixirs, discussions on spirituality and plant medicine, learning how to get involved in the local community by donating time or otherwise to plant trees, etc. are all available!
2) Quixotic's Sol Stage Performance
Quixotic is an artistic movement group that never ceases to amaze. It's a tantalizing full-on sensory experience that makes you feel as though you're right on stage with them. Live music, projection mapping, dance and acrobatics, and quite honestly, other things I can't even explain…! This was my 4th time seeing Quixotic perform – they blow my mind every time.
For most of the 60 minute performance, the crowd was standing still as we all stared in complete awe and amazement of what was in front of us. It's a journey to watch it all come together – and they make it seem effortless!
3) Random Rab Sunrise Set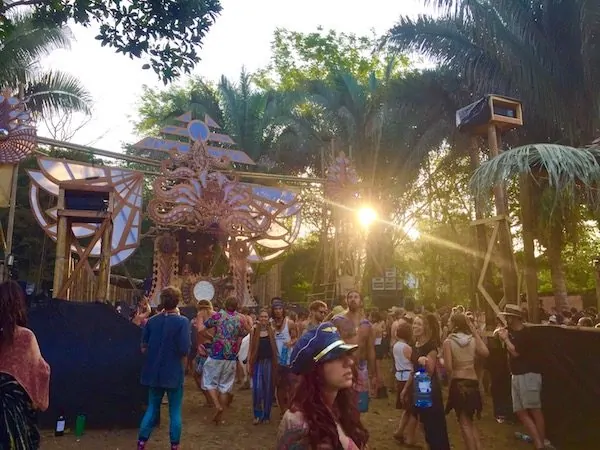 I couldn't think of a more beautiful way to begin the day than to be serenaded by Random Rab during sunrise in the jungle. He certainly knows what he's doing as he mindfully selects songs to match the flowing energy of the festival.
Fun fact: Random Rab has played every single Envision since it's inception on the beaches of Dominical.
4) Herbal Clinic
Situated right next to the medical tent, the herbal clinic provides healing in a natural way. Herbal remedies are given to help provide solace and care for most ailments.
I attended the herbal clinic both last year and this year. The genuine concern and attention that each herbalist gave me when I needed help, was incredible.
Interesting to observe how busy the herbal clinic was and yet the "normal" clinic was empty all weekend. 🙂
They work long hours to keep all of us healthy and able to enjoy our experience. They made me feel as if I was the only one in the (crowded!) room! I even ran into one of the herbalists later at night enjoying a show, and she remembered and asked how I was feeling. 🙂 That's love.
5) Pranassage with Yali
After very little sleep and endless dancing our bodies start to break down. Luckily, Pranassage is the missing piece to the grueling festival gauntlet. Think Thai body work + rejuvenating self care delivered in a 1×1 partner format.
Everyone takes turns as both the "giver" and the "receiver." The receivers only job is to relax fully, similar to an extended savasana. The giver systematically provides a full body massage to their partner. No experience was necessary as Yali demonstrated every step of the way.
We left the class feeling physically rejuvenated and with increased intimacy from the physical contact. We spent the rest of the weekend practicing what we learned on each other. What an incredible gift. As far as I'm concerned this should be offered at every festival!
6) Guanabana Popsicles
The jungle is hot and staying hydrated is imperative to a successful festival experience. Beyond water and cold coconuts, lie the ever-lasting and refreshing frozen popsicles. Yes, a popsicle. We channeled our inner child, and mustered up the $3 to satisfy our bodies desire for a cooling substance in the heat of the day…
At first, we opted for the popsicles made with coconut water. Delicious and nutritious indeed, but by Saturday night we found a "hidden spot" selling popsicles made with coconut milk! They were incredible. Especially the guanabana ones. 🙂
7) Clozee
Video shot and edited by our friend Remington W.
Clozee stole my heart at the festival. I was lucky enough to catch her last year as well and couldn't believe the sounds that she created during her set.
(Brandon added Clozee's set to the Top 5 Best Sets at Envision 2017)
Seeing a powerful woman up there completely in her element was empowering in many ways! Her set gracefully transitioned into Random Rab's sunrise set Sunday morning. I don't think I've danced that hard in my life. Can't wait to see what's in store for her in the coming years.
8) Acro-Yoga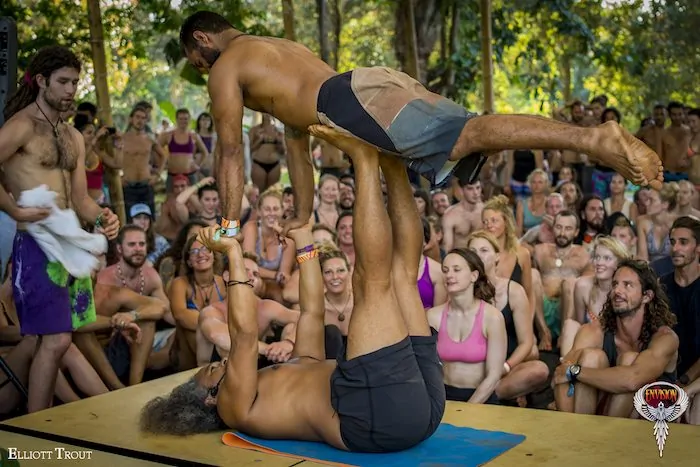 We were first introduced to Acro-Yoga last year in Costa Rica at Danyasa in Dominical. We fell in love with it immediately. Learning how to communicate, trust and be in a relationship are just 3 of the myriad of benefits that come from this challenging but fun practice.
Learning with Whaka at the festival confirmed our love for Acro! His energy is infectious and his presence is awesome. (And… THAT HAIR!). At the beginning of the workshop, we gathered in a massive circle and yelled out our name and where we are from in the world. That moment will forever be engrained in my memory. So many happy people from all over the world coming to practice and play together. Bliss!
9) Living Stage (Village Stage)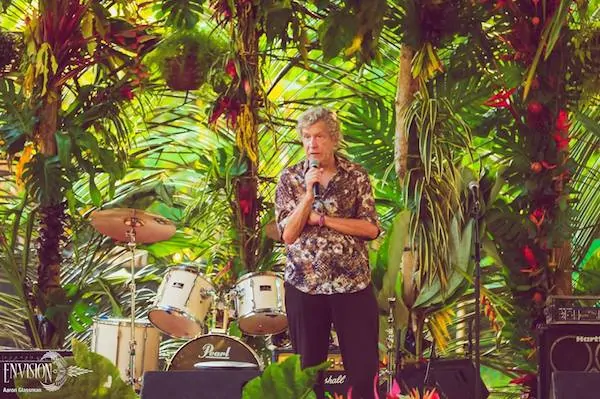 *Pictured here is John Perkins: Chief Economist, Activist, and Author
When I first set eyes on this stage I knew I was home. I've never seen such a beautifully adorned stage in my life. The Village Stage has now become a "living" stage as it's made up of lush jungle flowers and thick plants covering every inch around the artist. Envision plans to leave the structure in place year over year and continue to let it flourish and grow.
Bonus: they light up the stage at night making it come alive in a whole new way!
Honorable mention:
Thanks to Tentsile Tents for making our festival experience that much more COMFORTABLE! Their set up in The Village was just the solace we needed after hours of dancing and walking around the festival.