Cover photo credit: Jacob Avanzato onsite at Oregon Eclipse
—
The Global Eclipse Gathering in Eastern Oregon will go down as one of the most magical weeks of my life. 30,000+ wayward souls made the pilgrimage to Big Summit Prairie and yet it often felt like an intimate family event… somehow.
I'd like to pause for moment to thank all the amazing people who invested endless time and energy to pull this thing off. You did it. And we're all thankful. Hope to see you next time!
Yes, it was hot during the day and cold at night. There were tons of people, the line took forever to get in, ice was (justifiably) expensive, and the dust was harsh at times. However, looking back on our experience, none of these things really matter. Let's cherish the memories and make positive changes in our lives.
A couple quick notes about the Oregon Eclipse 2017 event…
Best sanitation of any event I've been a part of (spent over $1M+ on porta potties)
Beautiful stage design + amazing HI-FI audio on all stages
Endless little chill zones to be discovered (shoutout to Furtherrr)
Smiling people from all over the world everywhere you look.
No cell phones, no firechat app, just people being present
I wanted to share a few special moments I observed during the week. This event had SO much going on, it would be impossible to take it all in.
Taken with a grain of salt, here are my top 7 experiences at Oregon Eclipse. Hopefully you can relate to some of these… and if not, how cool is it that we can have equally amazing (although radically different) experiences at the same event?
In no particular order…
1) Chilling at the Furtherrr stage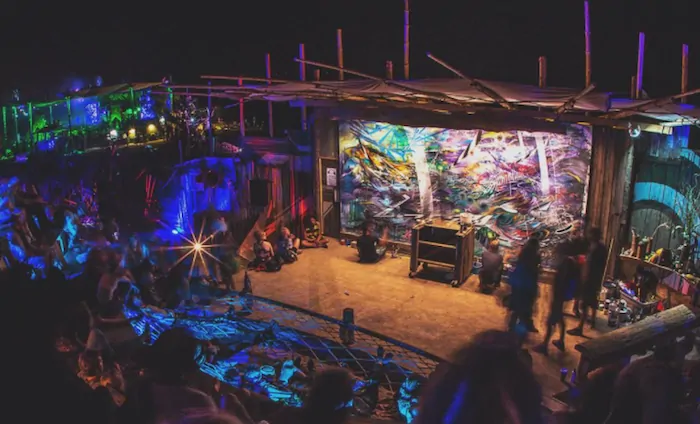 One of the coolest things for me was discovering all the little spots to hang out. From tree houses, to interactive art structures, teahouses, greenhouses, floating structures, and so much more. When your legs need a break, Furtherrr welcomes you in. 🙂
Hands down my favorite chill zone was the Futherrr stage. The main attraction was a massive mural created by a team of artists all week long. Surrounding the mural was a mini amphitheater with wooden tree house structures to lounge in. Not to mention a fully immersive sound system built into the structures boasting some of the best tunes of the week (seriously).
"It felt like a bunch of gypsy kids ran away and built a ramshackle village in the trees."
*Anyone know who was playing around 1:30AM late night Tuesday (Technically Wednesday morning)?! Mind bending tunes and I'm keen to find out who was driving that ship. I remember one AtTyA track but that's all I can piece together.
2) "West Coast Lo Fi" on the Moon Stage (Bassnectar Secret Set)
Turns out Lorin (Bassnectar) decided to sneak out on the Moon stage for a secret set under the pseudonym "West Coast Lo Fi." Lorin didn't say a single word during his hour long during the second half of El Papachango's scheduled set.
While I loved his Main stage set, this was a truly special moment. Much love to Lorin and the Moon Stage crew for pulling this off.
Relive the moment (or hear what you missed) here:

There was SO much great music all week. Although I had big hopes and dreams, it was impossible to catch every artists I was interested in. I spent most of my time at the Envision Festival curated Earth Stage. You can read our pasted Envision coverage here.
My favorite set of the weekend was hands down Bwoy De Bhajan on the Earth Stage. He played at 2:30PM on Monday (a couple hours after totality).
The sun was hot, the people were getting down, music was beautiful and engaging, and the Funktion One system was getting flexed proper. True sound system music. Very fresh basslines, cinematic transitions, and full of strange/fascinating sounds to keep you on your toes. We heard some unreleased tunes and some high-brow Tipper masterfully mixed. Spotted Clozee and Charlesthefirst in the crowd for this one 🙂
Bravo. Keep an eye on this producer. A true master of his craft.
4) Sunday's Mushroom Programming (Paul Stamets, Zachary Mazi, etc)
I'm an overly obsessed amateur mycologist, experienced fungi forager, and budding mushroom chef. I was on the fence about attending until I saw the godfather of the fungi kingdom, Paul Stamets was scheduled at Eclipse. If you're new to the mushroom kingdom, watch this mind blowing Ted Talk: 6 ways Mushrooms can save the world.
There aren't many "mycophiliacs" (people who love mushrooms) so I was eager to connect with other like minded people in Oregon. Thankfully the event organizers stacked all their fungi focused content on Sunday. So I put on my mushroom socks and mushroom shirt, ate some mushroom supplements and had my favorite day I can remember.
Paul Stamets packed "The Hub" full of amazing people most of which were already dedicated mushroom heads. I've heard every recorded piece of content Paul Stamets has released and read some of his books – but seeing it live was very special. Paul is fighting the good fight – saving our planet by partnering with our closest allies, the fungi kingdom. Massive cheers swept over the crowd as he unveiled promising new research and "wins" for the green team.
After Paul's talk, I headed over to my favorite daytime spot (The Nourishment Lab) to hear Zachary Mazi talk about "Foraged Mushroom Magic." While Paul approaches mushrooms like a scientist, Zach is more of a multifaceted alchemical fungi wizard. I felt a very strong connection to Zach. We both share a similar set of interests (food, cooking, ecology, mycology, foraging, wellness), an endless supply of curiosity, and of course a deep love for fungi.
Zach is a classically trained french chef among many other things. He served some Morel-Pecan Pate, various mushroom infused marinara sauces, and sautéed some black trumpet and porcini mushrooms on site for us to try. All while blowing our minds with mushroom facts and lore. If you're in Santa Cruz, CA – check out his forays and try to get your hands on some of his food.
5) Clozee's replacement on the Earth Stage (Devin Kroes)
First off, I love Clozee. She curates an amazing live experience, she's a top notch producer, and a genuinely nice human being. Time for a story…
We grab our gang and head to the Earth stage for the most anticipated show of the week to date (Clozee). The place is packed, biggest crowd of the week so far.
Everyone's eagerly awaiting the boss lady. She's 5 minutes late, shit is something wrong? Where is she? 10 minutes pass, still no sign of Clozee. The stage crew starts messing around with gear… a dull chatter fills the crowd.
Some people whine, some remain optimistic, others just walk out sad. Then all of a sudden some dreaded fella that looks kinda like Psymbionic (recently toured with Clozee) takes the stage and says "Clozee won't be making it to her set, my name is Devin Kroes and I'll be filling in. Stick around, I have a bunch of music to play for you guys." Uh oh.
I can't pretend I wasn't disappointed… yet a few short minutes later I find myself taken over by the music. Turns out "this Devin guy" throws down and filled the Clozee void and more 🙂
Let's be honest, Devin had big shoes to fill and a HUGE responsibility to keep the party going. I firmly believe Devin stepped up to the plate, keep the vibe going, and earned a ton of new fans (myself included). After the event, Devin mentioned via social media that this was his biggest audience to date.
Happy to be part of such as special moment. Hopefully he releases his set soon, but if not, hopefully mix will tide you over:
*First off, here's a shoutout to Christina Sasser and the gang for curating a world class experience at the Nourishment Lab all week. We felt at home here every day during the event.
Ok, so I still can't believe we got to enjoy some Durian at a festival in the middle of a desert in eastern Oregon. If you're not familiar already, Durian is the king of fruits and often known as a "stinky fruit."
While sometimes you might get a hint of rotten garbage, stinky blue cheese, or fermented cat urine… most durians taste more like creme brûlée, honey vanilla custard, or butter creamy floral goodness with a slight funky flavor. Extremely complex and truly unique on our planet.
For some people (including myself) Durian becomes an ongoing love affair. After my first bite, I ended up eating 100 durians in 100 days. It's impossible to satisfy my durian craving and something I enjoy sharing with other adventurous souls.
Alexander Sharone (Chef Zander) is the founder of Golden Nectar Foods. During his talk at the Nourishment lab, Zander created a world class durian smoothie while dropping durian knowledge (and humor) on a crowd of 50% durian freaks and 50% newbies.
Although I prefer to sit down and eat the whole durian out of the shell with my hands, his smoothie was pretty epic. If your mouth isn't watering yet, here's Zander's recipe for the best durian smoothie of my life.
Chef Zander's Durian Smoothie Recipe:
1 Durian fruit
Full coconut fat
Lucuma
Maca (gelatinized)
Mesquite powder (adds sweetness)
Pine pollen (natural source of testosterone)
Reishi mushroom pore powder (adaptogen)
Chai spices (cardamom is key, nutmeg, ceylon cinnamon, etc)
Vanilla bean powder
Curcumin extract powder (chemical in turmeric)
Sunflower lecithin – emulsifies the fats (more health than soy)
Ginger root power
Shazandra berry extract (popular Chinese herb)
Macurna extract (dopamine precursor)
Chaga Mushroom tincture (adaptogen with melatonin pigment inside)
Maple syrup (tiny amt for complex sweetness)
Raw cacao paste (add last and only buzz up for 5 seconds to keep the cacao chips chunkier)
7) Experiencing a total solar eclipse (Totality) for the first time.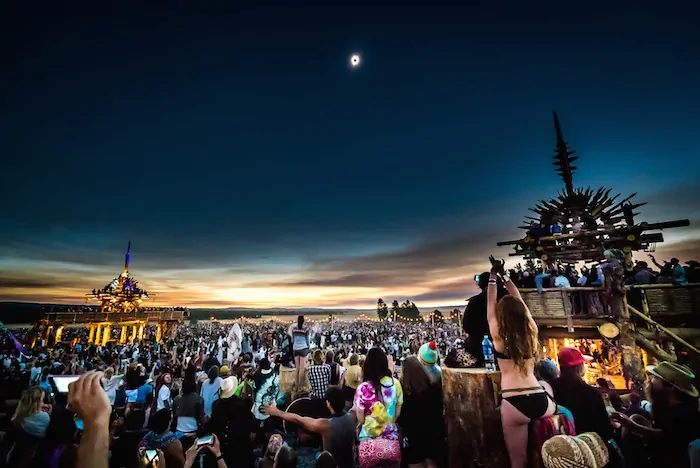 Mother nature puts on the best show, nothing compares to her beauty and grace.
Before witnessing full totality, we heard lots of people saying "most beautiful thing you'll ever see." To be honest, I didn't believe it and wrote it off as pure hyperbole. "This waterfall is literally the most beautiful thing ever." "Oh my god, the stars tonight are the most beautiful thing I've ever seen." Hopefully you get my point…
The reality is… nothing can prepare you for totality. It truly was the most beautiful thing I've ever witnessed. Magnificent blue shimmering ring of light peeking around our black moon. On the path of totality, humans experience 1 / 1,000,000th of the solar energy we normally experience.
Around 10:22AM, the sky suddenly went nearly pitch black, the temperature dropped 20+ degrees, the energy palpable, sunset colors on the horizon surrounded us in a 360 degree view. Bugs started chirping and massive schools of bats left their cave to feed as if it was night time.
We were surrounded by 30,000 people which gave us a unique perspective to observe how others reacted before, during, and after the event. Turns out humans experience a very wide range of emotions after experiencing totality. Many people cried uncontrollably, others were speechless for hours, some people were ecstatic, lots of hugging and jaws on the floor, and a few even got butt naked and frolicked around with unicorn horns on their heads.
Most of us were first time totality chasers. No one was prepared. No one know how to act, what to think, how to behave. Seemed as though an event of this cosmic magnitude ends up shocking our humanoid hardware.
A final reflection & some honorable mentions
For those who attended, I hope you enjoyed this walk down memory lane. Please share your favorite memory/experience in the comments below! We'd all like to live through your memories.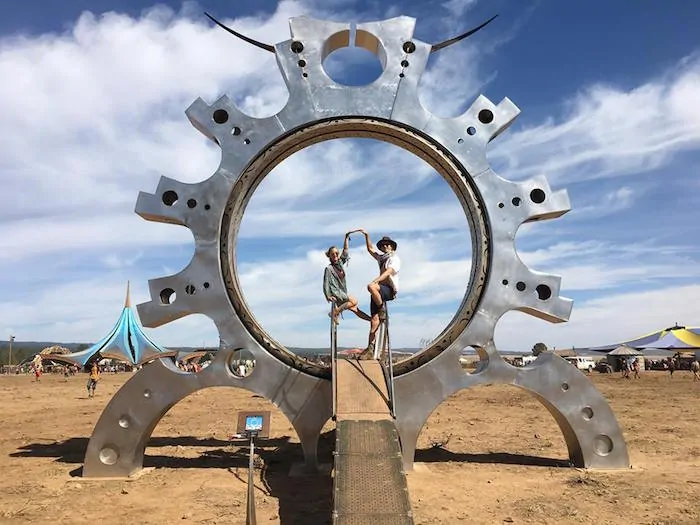 If we met in Oregon and you would like to connect, please leave a comment below or send me an email at [email protected]!
If you missed the event, I'm sorry and hopefully you had a good excuse. 😉
Special Moment Honorable Mentions:
After spending a few days back home, I'm starting to reflect back on this experience…
What did it all mean? Did we just enjoy a week of hedonism or will this lead to a better world? Where is the line between "making money" and providing a service? Does it matter? Did the knowledge transfer just make us feel good or will we actually take action? Is the inspiration temporary? Do the individual transformations and connections made overshadow the egregious consumption?
The only thing I know for sure is I'm committed to chasing total solar eclipses for the rest of my life. See you in Chile in 2020 for the Patagoa event!
Lots of love,
Brandon
PS: Please share your favorite memory from Eclipse in the comments below!