Ubud is a yogi's dream come true. It has beautiful yoga studios and countless healthy (and inexpensive) restaurants. A more moderate climate due to the slight elevation. Home of the arts and culture on Bali. Don't expect a nightlife, most of Ubud is sleeping by 10PM. You can drive an hour to the beach if that suits you.
Although central Ubud is VERY touristy, you'll quickly find that most of the tourist sticks to the main sights (Temple road near the market and Monkey forest). As soon as you start exploring you'll find tons of Ubud to call your own. I think it's fair to say Ubud is a great place to do your yoga teacher training.
Ubud is one of my favorite places to stay in Asia. It has a nice mix of interesting people, co-working spaces, activities, yoga, healthy food, and it's budget friendly. If I had to pick a second favorite spot to stay at a yoga nomad, I would definitely choose Koh Phangan, Thailand.
We spent a month there in 2014 and then another 5 months in 2018. Both Anne and I agreed we WILL be back to Ubud!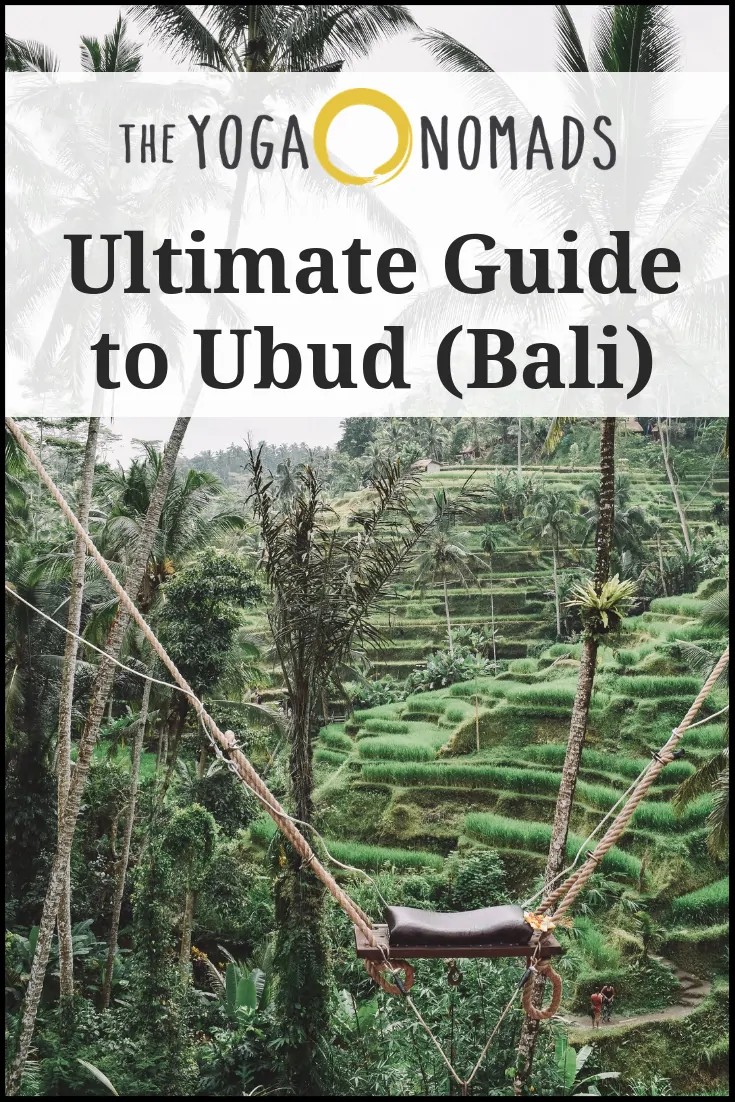 Pin now 🙂 then keep reading!
Without further ado, here is our Yogi's guide to yoga in Ubud, Bali!
How much does Ubud cost? ($30/day or $800/month)
If you're just visiting, you'll notice Ubud is a little more expensive than the rest of Indonesia – expect to pay around $30/day. If you plan to stay a month or more, expect to pay around $600-$900 per month. This depends greatly on a few things… How frequent you eat at the AMAZING restaurants, if you need fast WIFI for a business, and how much you spend on accommodation.
In 2014: we spent around $750/person during the month we were there. Our accommodation cost $9/person per night, and we ate at "expensive" healthy restaurants for 2 meals per day, bought tons of fruit, got a few massages, and tons of smoothies!
in 2018: we wanted better accommodation to ensure we're both comfortable and highly productive with our work. We ended up renting our own villa with a pool, housekeeping, motorbike rental, etc. The villa cost around $700/month which we thought was a fair price.
Things to do in and around Ubud
Monkey Forest – probably the #1 tourist attraction in Ubud but it's really not that great. However, if you've never seen or interacted with monkeys before, here's your chance. If you're "monkey'd out" I probably wouldn't go. It is in a beautiful area with old ruins and temples but the monkeys are not nice, often stealing things and biting tourists for no reason.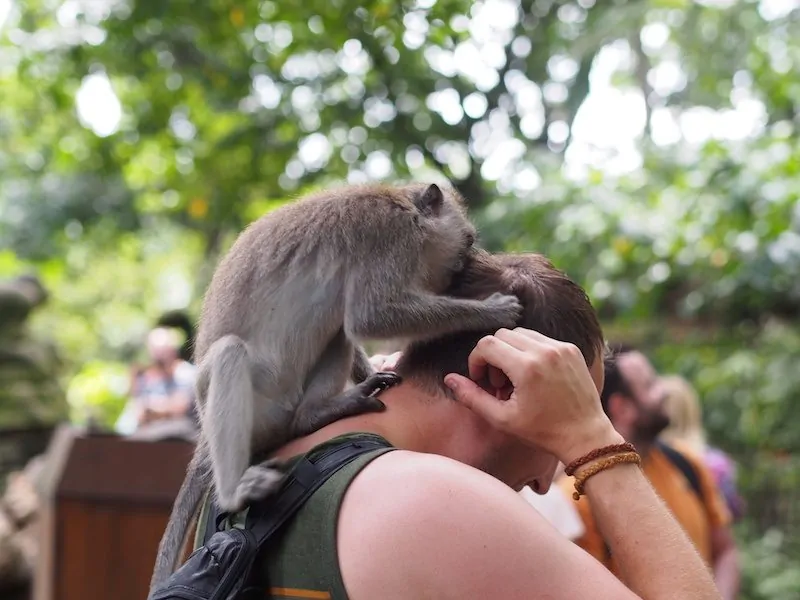 Ecstatic Dance – Ubud has a very active dance community. Pretty much every day you can find some sort of dance event. Yoga barn hosts Ecstatic dance on Friday night and Sunday Morning which was were we went most. Dance is a great way to get out of your head and into your body. You won't see the Ubudian community in full force unless you head to Ecstatic Dance at The Yoga Barn!
Treat yourself to a spa day – Ubud is all about healing and there are endless options for pampering. Massages, herbal saunas, hot tubs, cold tubs, sound healing, float tanks… it's all there.
Experience weightlessness at Ubud Float Garden in other words jump in a float tank! The guys who own Ubud Float Garden have created a truly special space just outside of town. Try a float tank, acro yoga, cacao ceremonies, full moon parties, and more.
Our favorite spa is Hotel Tjampuhan Spa which is ornate "grotto" like spa built into a sleep valley that leads into a rushing river. No you can just get day pass and take advantage of all the amenities.
We also like Bali Dasha which is a hidden gem about 20min scooter ride out of town. It feels like the lost boys build a tree house oasis in the middle of no where. Multiple saunas, live music, food, cold tubs, salt water pool, endlessly fascinating people. An otherworldly experience and is not to be missed in Ubud! Make sure you do your research, it's hard to find and little information about it online.
Take a walk on Campuhan Ridge – Perfect way to get a little exercise and see a different side of Ubud. You walk along a ridge surrounded by rice terraces and river valleys. Eventually you reach a little area with lots of local art galleries and a café with a great view for sunset. Popular place to live among expats.
Spend a night at Akasha – if you're looking to see "peak yoga ubud culture" make your way to Akasha for one of their many events. They host full moon cacao ceremonies, sound healings, dance parties, and much more. Absolutely incredible design and I wouldn't mind getting married here some day 😉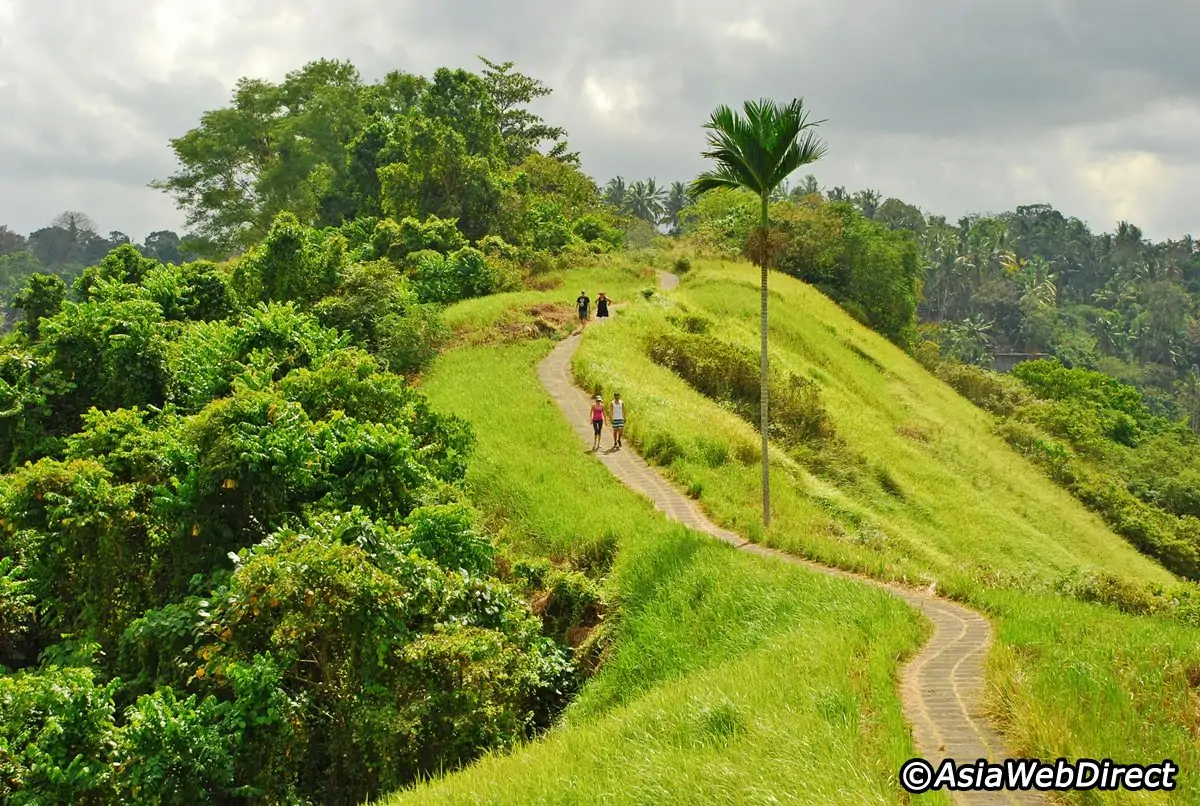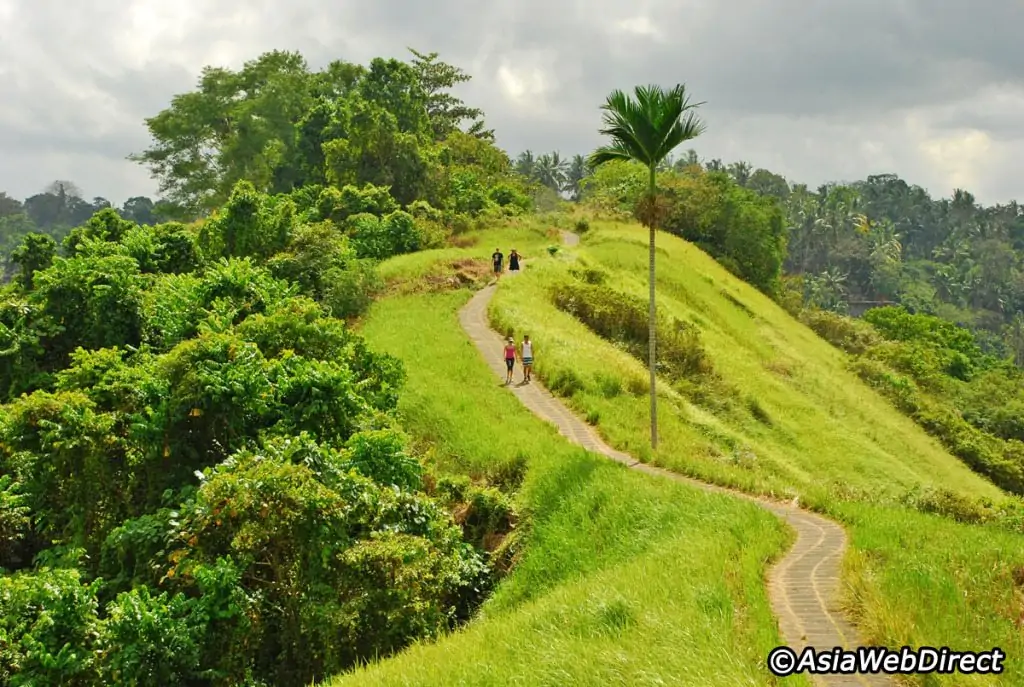 Hubud Events / Entrepreneurship events – Hubud is a coworking space and the digital nomad / lifestyle entrepreneur nucleus of Ubud. They have events every day, many of which are free. We attended a full day free workshop on entrepreneurship, learned a lot, and met some other great lifestyle entrepreneurs. Also has the best WIFI in Ubud so if you need to get some work done, Hubud has you covered.
Yoga – of course! (See below for details)
Check out some live music – Every night in Ubud has live music. From jazz, to rock, downtempo electronica, acoustic singer songwriters, to trashy bar cover bands… Ubud has you covered.
Learn a new skill – silver working, batik painting, raw food cooking, acupuncture, yoga teacher training, massage therapy, etc – there are endless opportunities!
Get a massage / visit a healer – there are spas and healers on every corner of Ubud. You can't walk down the street without getting solicited for a massage. De-stress for as little as $5 for an hour long massage.
Dragonfly Village – Wednesday, Saturday, and Sunday they host a gathering where you can swim in their saltwater pool, relax in an herbal sauna, and drink tea around a bonfire. Very cool place to hang out and unwind. We met some great people here. Located in the rice terraces on the way to Sari Organik. Herbal sauna is open every Wednesday, Saturday, and Sunday from 6-9PM. Come hungry as they have a delicious cafe with healthy food and yummy smoothies! Dragonfly Village is also a retreat center with their own organic garden and antique wooden bungalows. If you're on foot, it makes sense to call a motorbike taxi to/from as cars cannot go through the rice terraces.
Book a stay at Dragonfly Village via Booking.com

Climb Mount Batur – Although not technically in Ubud, it's worth the 2 hour cab ride. Starting at 3AM, it takes 2-3 hours to reach the summit. Great sunrise overlooking the lake. You can even see Mt Rinjani, Agung, and Gili islands in the distance. Cost around $20-30 per person. Make sure you do the "mid tier" tour so you can walk around the crater rim, it's a much more interesting tour and it's not as crowded as the sunrise point.
Visit an Art Gallery
Ubud is FULL of artists. The Blanco Renaissance Museum is the most well known museum in the area. However, you can wander the streets and find amazing art all over the city. It would take you weeks to see everything.
Although we didn't get the chance to do this, it gets rave reviews and I'm sure it's a blast. You get driven up North in Bali and ride a bike all the way back. It's downhill the whole time and you stop along the way at various sites.
Where to stay in Ubud
There are tons of options for short term and long term stays in any budget range. We've been to Ubud twice, one time for month in 2014 and then for another 5 months in 2018.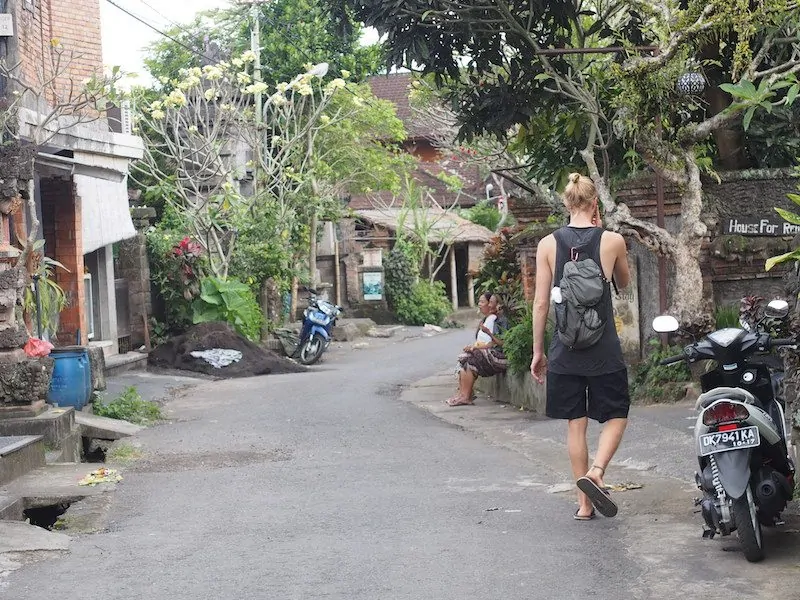 If you're staying a month or less I would recommend staying in the main area of the city. You can walk everywhere, and you'll be closer to the restaurants and yoga studios. If you're staying longer than a month, I suggest finding a place outside of the town center. You get much more house for the money and it's more relaxing. Definitely would need a motorbike though. Be careful – the streets in Ubud are insane!
Budget Accommodation in Ubud ($10-15/night)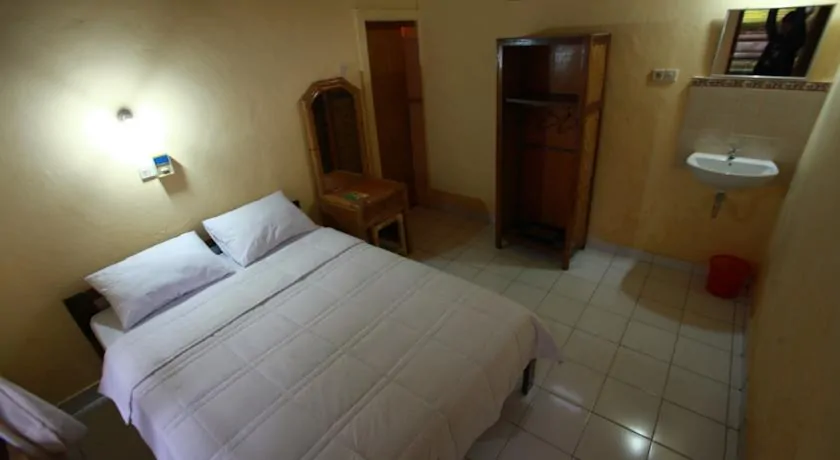 Perfect for long term shoestring travelers planning to explore Ubud for less than a week. Most places have WIFI and breakfast included, although neither are usually that great. For better value, check out places a couple blocks away from the main roads (ex: Amel's or Tude's Homestay)
Amel's Homestay [$200k IDR/night] – Our go to place for short term stays. Basic rooms, WIFI, western bathroom, excellent location, breakfast included, super friendly owners!
Tude's Homestay [$200k IDR/night] – Right next to Amel's, also a nice place to stay, nearly identical to Amel's. Ask for the upstairs rooms if you can as they are brand new and have a nice view!
Mid Range Accommodations in Ubud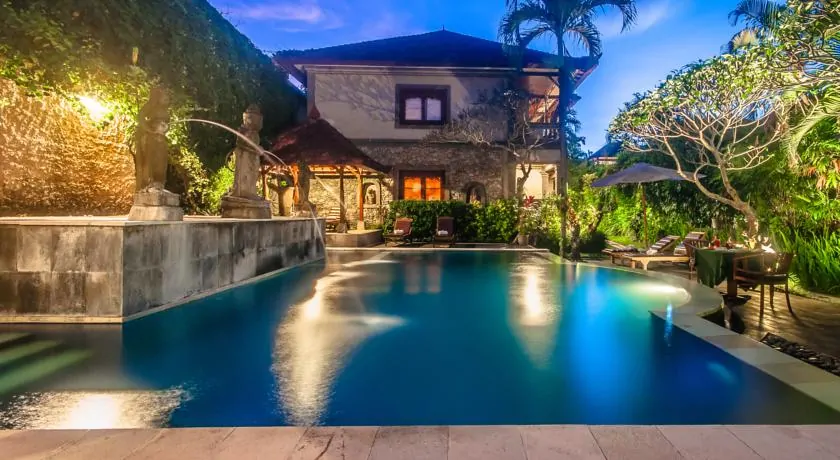 Ubud has quite a few mid range spots that offer a much more comfortable stay while still not breaking the bank. They come with free breakfast, free WIFI, and Air Conditioning which is really nice during hot season. If you're on a 2-3 week trip and would rather pay a little extra for comfort and convenience – these midrange spots are ideal.
Sahadewa Resort & Spa [$60 USD/night] – Located in the center of town, walking distance to Monkey Forest. Restaurant onsite. Very "typical Ubud" meaning a beautiful garden, outdoor pool, and Balinese architecture.
Ubud Wana Resort [$80 USD/night] – 3 pools onsite, very nice rooms, restaurant onsite serving both Western and Indonesian food. Only a 15 minute walk to central Ubud.
Cocoa Ubud Private Villa [$90 USD/night] – Can rent a 1, 2, or 3 bedroom villa. Perfect place to relax as the villas are very secluded. 10 minute drive from Central Ubud.
Luxury Accommodations in Ubud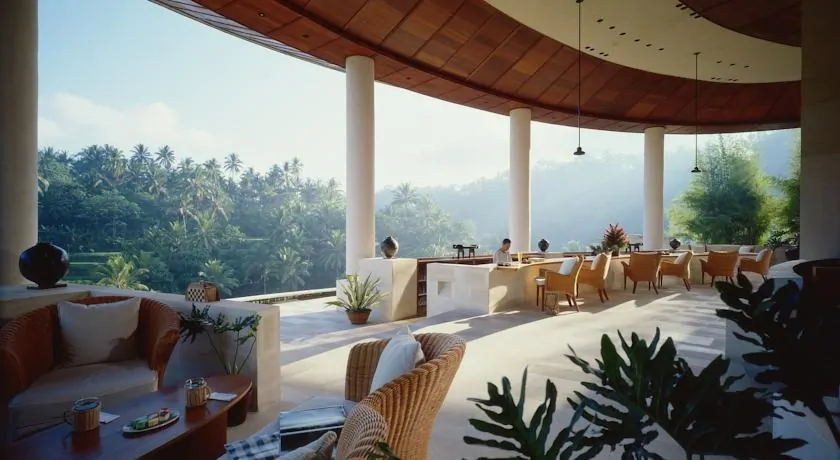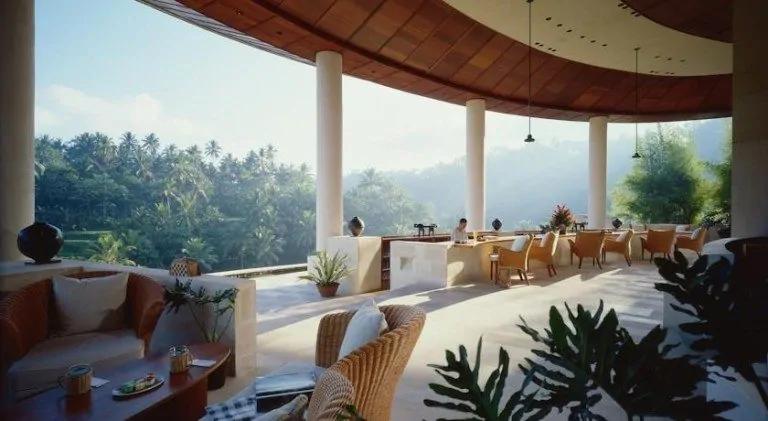 If you wanna ball out in Bali, here are some top choices! You can get your own villa starting around $300 USD per night. Private villas often have their own pool and offer use of a luxury spa nearby.
Looking for Accommodation near Yoga Barn?
Many yoga nomads want to stay close to Yoga Barn in Ubud. Presumably because their main reason for visiting Ubud is to visit Yoga Barn 🙂 I get it. If you want a nice place to stay that't not too expensive, we recommend Tegal Sari which is super close to Yoga Barn.
Longer Term Apartments/Condos/Cottages
If you're planning to stay longer term you can find a really awesome place for a good deal. Some people want to splurge on their own massive villa with a pool, we opted for a nice modern apartment with a kitchen in a good location. Generally speaking, the best value cottages are outside of town a bit which is OK as most people hire scooters in Ubud.
The cheapest and best way to find long term accommodation is to browse the facebook groups or just drive around looking for signs. We found our last place from this Ubud housing group on FB. Be sure to test your wifi before committing. If you want to book something before you arrive, we always stay at Adi Jaya (details below).
Adi Jaya Cottages [$250k IDR/night] – Amazing midrange property, your backyard is the jungle, very quiet (except for the birds). Set off the main road (5 minute walk). Near Warung Sopa, 7min walk to Yoga Barn, 5min walk to Coco grocery store. If you only planned to stay a couple nights it would be more like 300k IDR / night. Price includes free wifi, kitchen, large patio, huge bedroom with high ceilings, free toiletries/towels, and free cleanings whenever you want.
Note: this is the price for long-term stays in high season (July, August) in 2014.
Yoga in Ubud, Bali
There are several yoga studios in Ubud. We spent our time at the two biggest and most popular studios, Yoga Barn and Radiantly Alive. If you're looking for the "best yoga in ubud" those are probably the right place to start. Most of yoga classes are priced at western levels and we never found any cheap or free yoga options in Ubud.
We also heard good things and planned on visiting Intuitive Flow, Taksu, and Ubud Yoga House but didn't get the chance to experience it for ourselves.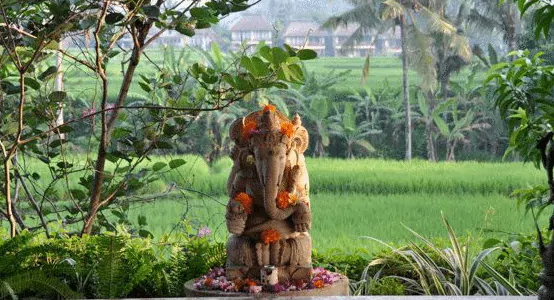 The biggest and most picture perfect studio in Ubud. Offers tons of different classes at various times. Not only yoga asana, but also pranayama, meditation, sound therapy, movie night, ecstatic dance, etc. Located near Coco super market on the south side of Central Ubud. They offer retreats, workshops, and have accommodation onsite. The also have a café onsite which makes for a convenient stop before/after class. Drop in classes cost $9 USD and they offer great deals on packages (which can be shared with friends). 20 class pack drops it down to a little over $5 USD/class.
If you're looking for accommodation near Yoga Barn Ubud but don't want to stay onsite, I suggest booking somewhere within walking distance. Lots of options on Booking.com and it's a very walkable city 🙂
Favorite instructors: Les, Bex, and Emily
*We published Yoga Barn Studio Review after our time there in 2014.
The second biggest studio in Ubud. Also has many class types and a convenient schedule. Located across the street from Bali Buddha towards the North end of Central Ubud. Also have salsa dancing classes.
We also published a Radiantly Alive Studio Review after our time there in 2014.
Other yoga studios:
Fitness Centers / Gyms near Ubud
There are 3 fitness centers I found in Ubud. I lifted weights at Ubud Fitness Center 2-3 times per week and recommend it.
Ubud fitness center – Fitness center with the free weights, weight training machines, cardio machines, and fitness classes. Café with great wifi onsite to grab your protein shake. Decent locker room and showers. No pool or sauna. 70k for a drop in which includes a towel/locker and access to the fitness classes. 2-week, 4-week membership also available. Located just North of Central Ubud.
Restaurants and Vegetarian food
Alright it's no secret we LOVE to eat and Ubud is the best place in the world for healthy eating. I don't know of anywhere else with as many healthy restaurants packed into a 2 mile radius. We ate out twice per day for 30 days. Here are our favorites!
Popular Healthy Restaurants (Vegetarian/Vegan/GF/Paleo/Raw friendly)
Zest – my new favorite hangout in Ubud. In 2018 when it opened, it was definitely the "see and be seen" spot to hangout during the day. We often worked there during the day while drinking juices, smoothies, etc. Their amazing "Cacao Ceremony" smoothie is world class. We also loved all their "flaming wok salads," the "awakened cowboy" jackfruit steak, the miso crusted pumpkin wedge, and sweet potato terrine… you really can't go wrong.
Moksa – the best (mostly raw) food in Bali in a beautiful setting. Mindblowing flavors, clean food, full creativity. Moksa is locally owned which is very uncommon for the "hip healthy" restaurants in Ubud. The menu always changes but our favorites at the time were: sesame tempeh, eggplant marengo, jerky mignon, and the enchiladas. Not my favorite deserts however.
Sayori – Zest, Sayori, and Moksa were my favorite 3 healthy restaurants in Ubud as of 2018. Very popular with the ecstatic dance crowd coming from nearby Yoga Barn. Most raw but has some cooked food as well. Our favorites were: big boy brekkie, Gravlax, and the full power Khichdi with mushroom supplements. Fantastic deserts as well.
Clear Cafe– Super cool restaurant and hangout spot. Awesome vibe and always packed for meal times. Michael Franti (musician) loves Clear and always hangs out there when he's in town. Smoothies are amazing. Try the dragon bowl with fish. Mint water is super tasty. Nice place to hangout and work (in-between meal times). Free Wifi.
Kafe/Garden Kafe – Yoga Barn owns both Garden Kafe (onsite at Yoga Barn) and Kafe (on Hanuman). Typical hangout for the yogi community in Ubud. Free Wifi. We wrote a review of our Experience at Garden Kafe here.
Soma – Higher end restaurant, little more expensive compared to the others in Ubud. Great place to hang out, often people playing music. Funky shop upstairs. I recommend the Ojas Builder – it's an amazing drink!
Bali Buddha Café – right across the street from Radiantly Alive yoga studio which makes for a convenient combo. Homemade kombucha for less than $1USD per glass. Just around the corner they have a health foods store so you can stock up on your chia seeds, spirulina, and maca powder. No WIFI.
Seeds of Life – Raw Vegan/Vegetarian place, offers yoga, raw chef classes, and sells some awesome health foods (yogurt, probiotic, puerh tea, etc). You cannot leave Ubud without eating both the Italian or Mexican raw lasagna. Also have excellent smoothies and desserts. Free Wifi. Also has daily Mysore style Ashtanga classes above the restaurant.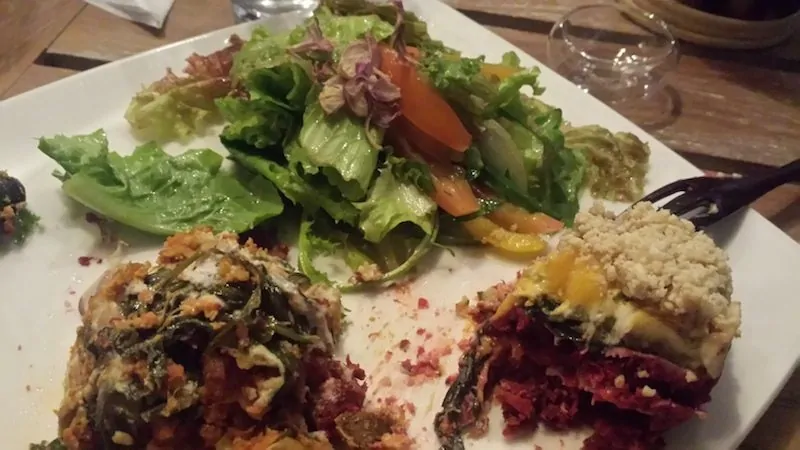 Atman Kafe – Wide variety of healthy food on the menu, great breakfast, tasty kombucha, and excellent WIFI.
Down to Earth – Yet another healthy food option. A great health foods store is located just below the restaurant. Anne loved this spot for the soup, salads, and dessert.
Alchemy – Although we never made it , everyone always talks about the breakfast buffet. Raw food is their specialty.
Lesser known, but really awesome healthy restaurants:
Dayu's Warung – turned into our go-to restaurant during our month in Ubud. Laid back vibe, tasty healthy food, reasonable prices, huge portions, and near Adi Jaya Cottages. Great vegetarian menu. We loved the fish Lasana and quinoa/fish tacos. For dessert get the carrot cake – out of this world! Free WIFI.
Warung Sopa – another excellent vegetarian restaurant! Their main appeal is the vegetarian Nasi Campur, a delicious take on Indonesia's national dish. You get organic red rice with your choice of various gourmet Indonesian sides. We loved the Lentil curry, Tofu-lafel, eggplant curry, Sayur Jepang in coconut sauce. Free WIFI. It's a really relaxed place to hang out and get some work done, and where I wrote the majority of this guide J
Not healthy (but still delicious)
Warung Gitari BBQ – I stopped here one random day because I smelled real BBQ sauce for the first time in 7 months. A carnivores dream come true, they specialize in BBQ chicken ($1.5 USD), pork ribs ($2 USD), and fried chicken wings. The BBQ sauce is amazing, even by US standards. Since I was lifting weights and trying to gain muscle mass, I ate here frequently for some extra protein. And the owners/staff are amazing, if you go here please tell them HI for me!
Taco Casa – Not authentic by any means but worth your time if you're craving Mexican food. Burrito and Tacos were solid.
Mama Mia Pizza – multiple locations, nice thin crust pizza. I would have preferred more sauce, but I'm an extra-sauce kinda guy.
Café Havana – Fun place to for dinner and live salsa music. Serve Cuban fusion food; do not miss the vegetarian taco! If you like salsa dancing or want to learn, this is your place.
Other Travelers in Ubud
Start with this video… OK…. Now you're ready for Ubud 😉
Short Answer: Ubud draws several different types of people. You got short-term holiday folks, guided tours, crazy spiritual seekers, lifestyle entrepreneurs/digital nomads, and retired old hippies.
Long Answer: Although there is a fair share of tour groups and people spending 2-3 days during a quick holiday, Ubud is much more than that. There are tons of spiritual seekers which range from the average yogi to the super far out there sun eaters. It's not uncommon in Ubud to see a Vegan, Vegetarian, Raw foodie, and a person who eats Paleo sitting at the same table for dinner. Luckily the restaurants are prepared. There is a great lifestyle entrepreneurship/digital nomad community in Ubud. Lastly there is a group of retired old hippies who bought property in Ubud "when it used to be cool" who complain (rightfully so) about the massive development and noise pollution. Good thing Mitch from OneTwoStudios is there working his sonic soundscape magic.
How's the Digital Nomad Ubud Life?
Both Ubud and Canggu are hotspots for Digital Nomads in Bali. It's hard to say which one is "better" because they appeal to very different crowds. Canggu is more surfer party people and Ubud is more yoga-hippie-spirituality-kombucha people. That being said we liked both but prefer the easy life in Ubud.
There are many coworking spaces and a fair amount of entrepreneurship meetups going on every week. Not nearly as dense as Chiang Mai but way more than we needed to network, feel motivated, learn, etc.
Wifi is NOT great in Ubud and varies from place to place tremendously. The underlying infrastructure is just not very good so expect fluctuations in speeds at 90% of places in Ubud. You can avoid this by getting a membership at Hubud or another coworking space in Ubud. Some people use cell phone data planes and tether for internet in case their wifi is down – we found moderate success doing this.
Grocery Stores in Ubud
Organic Markets – there are 3-4 small organic market that popup around town each week. We usually got or produce at the Pizza Bagus market on Saturday morning. Great people, farmers who really care, and high quality organic food.
Coco – typical super market, has all the essentials, plenty of produce, good beer/wine selection. South Central Ubud at the junction of Hanuman and Monkey Forest rd. 2 minute walk from Yoga Barn. However, we avoided this place as it was overpriced, always busy, taxi drivers bothering you outside, etc.
Delta Dewata Ubud– My favorite super market in Ubud, incredible selection in all categories. Not as convenient as Coco for most people, located NE of central Ubud on JL Gunung Sari street. Near the Ubud Fitness Center, so I would stop here after lifting for certain things that Coco didn't have (like Durian and popcorn kernels).
Bali Buddha Market – health foods store and bakery. Small and overpriced but super cool, wildly popular, and has hard to find items such as raw cacao, macca, bee pollen, etc.
Local shops – All over Ubud you will find tiny little local shops. We frequently shopped at these for local vegetables, water, and any last minute items.
Don't forget your travel insurance!
This may be a no brainer for most people, but if not here is your warning…
While traveling is generally quite safe, accidents do happen. Wouldn't you rather be covered in case something happens?
I didn't think I would ever need travel insurance and even though it's not very expensive I still didn't want to buy it. I decided to get travel insurance to please my mom and to have a little extra peace of mind. Fast forward a few months and in surgery at a hospital in Vietnam after tearing a tendon in my hand! Thank god I had travel insurance – they covered all my hospital bills (totaling over $2,500 USD). We use and recommend World Nomads – they are the most popular, have the best coverage, and reimburse you in a timely manor. No brainer!
We have used World Nomads travel insurance for years. We've had to file two claims and were fully reimbursed for both, totaling over $3,800 USD.
Indonesia Visa Requirements
Most countries are required to purchase a Visa to enter Indonesia. Luckily you can buy a 30-day visa on arrival for $35 USD. If you want a 60-day visa (recommended), you need to book online. We recommend Visa HQ for your Indonesian Visa.
Visa Extensions:
While you can do this on your own at the immigration office (found on most islands), it's not a fun process and can require you to visit the office 3 days consecutively. I'd recommend paying a tiny bit extra and have a tourist agency or your guesthouse do it for you while you're out surfing.
The 30-day visa is only extendable for an additional 30 days while in Indonesia, although I've heard of people getting more than 1 extension.
If you get the 60-day visa in advance you can extend up to an additional 120 days in 30 day increments.
Hospitals and Clinics in Ubud
Ubud Clinic – North side of Central Ubud, near the Ubud Palace. Small general doctor practice, spoke decent English, seemed like mostly tourists went for treatment. Pharmacy onsite. Can refer you to a specialist or xray but cannot do those things onsite.
RSU Famili Husada – If you need something more serious like an x-ray or a specialist this is a good bet. Anne got an Xray here after she was hit by a motorbike. Located on Jalan Astina Timur in Gianyar. About 5km outside Ubud.
Festivals in Ubud
Ubud Readers and Writers Festival (Oct) – "The mission of Ubud Writers & Readers Festival is to create a world class festival that celebrates extraordinary stories and amplifies brave voices; tackles global issues and big ideas." I would LOVE to be in Ubud for this one as well! The artsy vibe is there normally, I cannot image how much fun it is during these event!
Bali Spirit Fest (March/April) – Annual Celebration of Yoga, Dance, and Music. We went in 2018, had a good time, and wrote about our experience here. Heading to Ubud around BSF is a great idea as the community seems to all come back to Bali around this time.
Need a personal driver for Bali?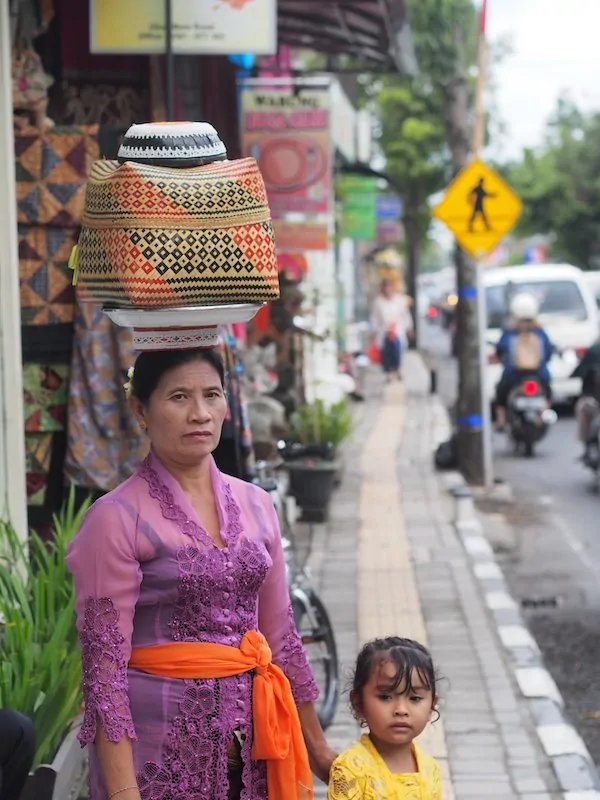 As of 2014, we \ recommend our guy Gusti, a local driver who will treat you right, speaks great English, and always gives a fair price. He is based in Ubud but can cover all of Bali. If you call Gusti, please say HI to him from Brandon and Anne! Phone number: 081558528376.
Getting to Ubud
Nearest Airport is Denpasar (DPS) on Bali. About 1.5 hours away from Ubud by Taxi. You can also fly into Jakarta or any other airport in Indonesia and book a quick flight over to Denpasar. Taxi from Denpasar/Kuta area to Ubud should cost around 200k-250k IDR.
Getting out of Ubud
If you're looking for beach time – Take a shuttle or taxi to one of the port cities and then take a boat to the GIli Islands. We preferred the more chilled out GIli Air instead of the packed party centric Gili T.
If you're looking to be active – Go climb Mt. Batur or Mt. Agung in Northern Bali. We recommend the relatively easy 3 hour trek to the summit of Batur. Beautiful views of Lake Batur, Mt. Agung, and Lombok's Mt. Rinjani.
*Guide to climbing Mt Rinjani (Lombok, Indonesia)
Workspaces in Bali
WIFI in Bali is not the greatest, here are the best spots in town!
Hubud – The central hub for entrepreneurs, creatives, and dreamers in the Ubud Area. They throw free events all the time, check their website for the schedule. You can purchase various packages starting from a 25 working hours membership ($55/month) up to unlimited ($250/month). Otherwise, they offer a single drop-in rate of $25/day. Also has organic café connected which you can work at even if you're not a Hubud Member. Located near Monkey Forest.
Warung Sopa – chilled out little café with great vegetarian food, solid wifi and friendly staff. I spent many days here. Super close to our place, Adi Jaya Cottages.
Atman Kafe – Another healthy foods hangout. Excellent breakfast and WIFI was good enough for my Fantasy Football draft!
Clear Café – amazing restaurant and usually busy. If you show up in-between meals, the WIFI is pretty good and you can't beat their vegan chocolate shake! Located in the Northern part of Ubud center.
 
Money and ATMs
Indonesia used the Indonesian Rupiah, roughly 14,500 IDR per $1 USD. There are tons of ATMS in Ubud and in most areas in Bali.
Do you use Pinterest? Pin me 🙂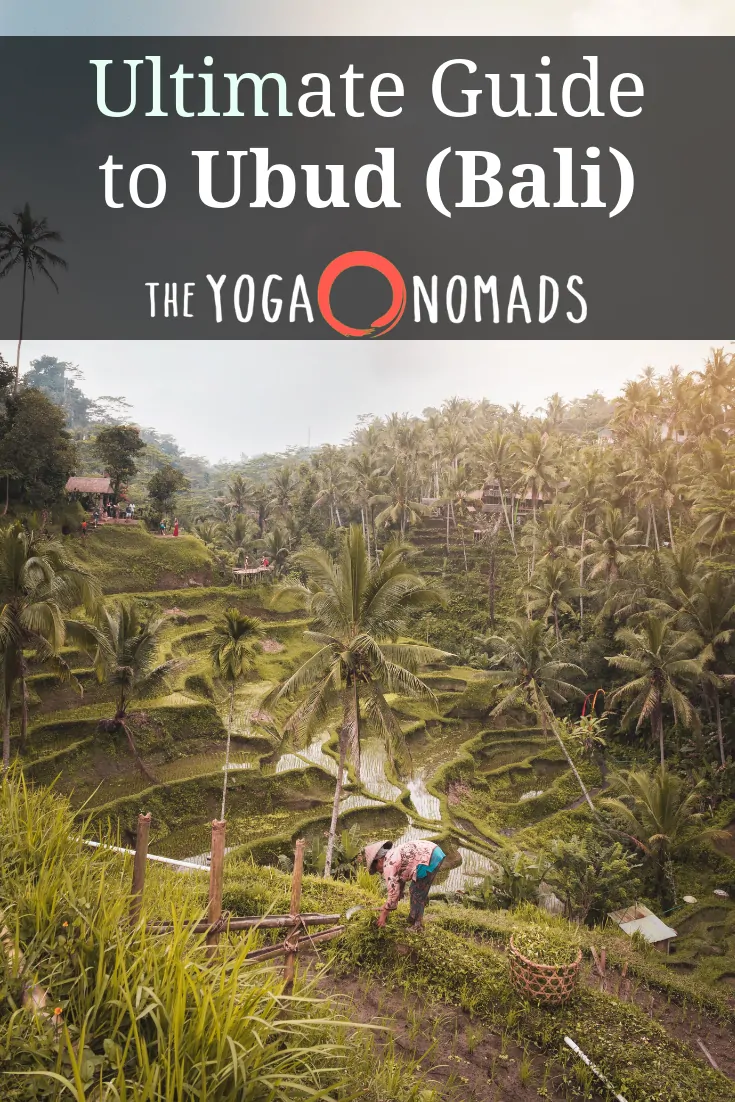 Are you a yoga teacher?
Download our FREE Beginners guide to Creating a Yoga Website you Love!
This guide shows our proven step-by-step system for creating a yoga website you love. No tech skills required and no need to hire an expensive designer. If you're a yoga teacher, snag this guide for FREE.
Until next time,
Brandon