We've all heard the old adage: build your life (and your yoga studio) on a solid foundation. Yoga studio flooring is a vital consideration for the ambiance and functionality of a yoga business or home yoga room.
The flooring beneath our feet (or back or butt or hands) is the literal force of grounding during our asana practice. Here's how to find the best yoga flooring option for your studio.
Yoga Flooring for Your Context
A home yoga room is obviously going to have far different needs from a high-end urban vinyasa studio. The same applies to a yoga-barre combo studio versus a yin yoga and meditation room. Hot yoga is an entirely different beast with the complexities of humidity, heat, and loads of sweat. It's important to clarify the type of yoga you plan to focus on to determine the best flooring option for you.
Regardless of your circumstances, most yoga studio owners want flooring that is…
Easy to clean and maintain
Aesthetically pleasing
Sound-absorbing
Durable
Comfortable for yoga practice
Safety and traction (non-slip)
How to Choose the Best Yoga Flooring
First, define your context. If you plan to offer multiple types of yoga classes, choose the most versatile and resilient flooring recommendations for hot yoga. These options will perform well for any other style as well. Next, clarify your top priorities, including:
Budget: For professional floors, expect to spend between $2,000 and $7,000+ depending on the size of the space and existing subfloor. Flooring can be done much cheaper (even under $1,000) if you choose a DIY option.
Area: Measure the exact area of space that needs to be covered. Typically, this will just be your main teaching room, however you may wish to upgrade lobby flooring as well.
Subfloor: Assess the existing floor and the subfloor (material underneath the floor). Many buildings will have a plywood, OSB, or softwood plank subfloor. This is the structure of the entire floor, so be sure it is not damaged, molding, or in bad condition. You may have to remove the existing floors to thoroughly examine and prepare the subfloor.
Installation: Will you be installing the floors yourself, or hiring a friend or contractor? This will significantly affect your budget and time constraints. Keep in mind that DIY installations may void warranties or returns, so weigh your options carefully.
Functionality: What type of yoga will you be teaching? As mentioned above, if you want to keep your options open, hardwood or yoga tiles designed for hot yoga will be the most versatile option.
Aesthetics and Ambiance: Match your yoga flooring to the theme of your studio. Read our Ultimate Guide to Designing a Stunning Yoga Studio to clarify your goals, ambiance, and aesthetic needs for flooring. There are so many colors, patterns, and finishes to choose from in a floor, so be sure it matches the decor and mood of your studio.
Sustainability: Patanjali's ancient Yoga Sutras guide us to make the most non-harming choices possible as part of living a yogic lifestyle. Earth-friendly flooring options are widely available, including reclaimed wood, bamboo, and cork flooring. Also be sure to check the VOC (volatile organic compound) content of your flooring. There are some nasty toxic chemicals in flooring, varnishes, and paints these days; you definitely don't want them off-gassing in your studio.
Maintenance: Cleaning and maintenance will be ongoing costs for everything in your studio, from paint and HVAC systems to equipment and flooring. Consider the lifetime cost of your flooring option and how easy it will be to maintain. Even the most durable materials get damaged by heavy objects, scuffs, spills, and temperature swings. Factor studio flooring maintenance costs into your monthly expenses.
Longevity: How long do you plan to operate your yoga studio in this space? Make a clear plan for the longevity of your ownership or rental and use this timeframe to determine how much money you want to invest in flooring upgrades. On one hand, quality flooring can significantly improve property values. On the other hand, an expensive flooring investment may be unrealistic for a 1-3 year rental space.
Yoga Flooring for Rentals
If your space is not permanent or you cannot make major changes to the studio design, there are still some great options for your studio flooring. Carefully assess the existing floor and check for warping, cracking, and changes in the level surface. If it is not perfectly level or the structure is compromised, you may need to consult a professional flooring installer.
Otherwise, a simple DIY installation could be a perfect fit for your scenario. Choose one of these options for a quick and functional flooring upgrade that won't upset your landlord or your wallet.
Vinyl Yoga and Fitness Tiles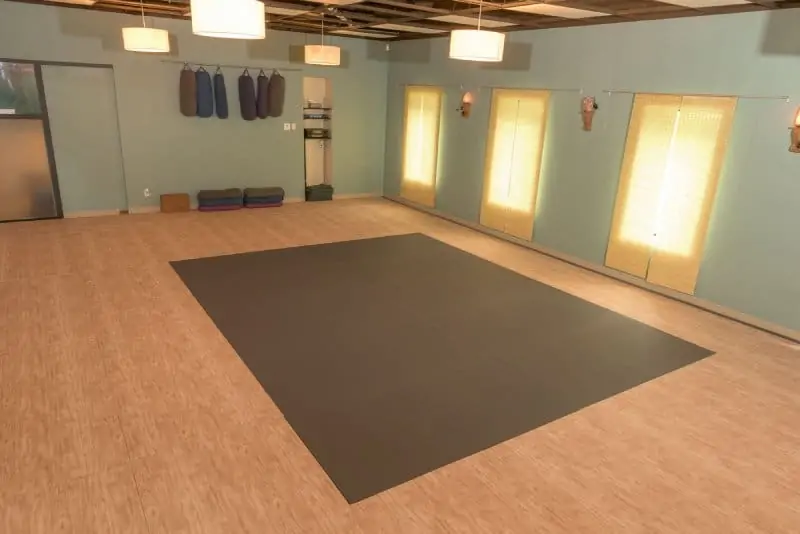 Vinyl yoga tiles are dense foam tiles with an anti-skid backing that allows them to be used on top of any existing flooring. They are easy to install and climate stable, so they don't expand or contract with changes in humidity or temperature. They insulate the floor and won't thud or echo if a student stomps or falls during class.
These tiles were initially designed for martial arts and fitness studios, however their applications for yoga are now widely known. They are very safe, yet still firm. This is a great DIY option that can still have a luxury aesthetic and long life expectancy (10-year warranty).
Vinyl yoga tiles are a perfect balance of firmness and cushioning to keep students comfortable. They are also anti-slip, easy to clean, and easy to replace if an area is damaged. Plus, the company Zebra mat offers 100% recycled foam tiles for a super sustainable option.
Should you Install a Floating Yoga Floor?
A "floating" yoga floor is type of flooring installation that simply interlocks together above the underlayment or existing floor, without using any adhesives or nails. You can create a floating floor with laminates, engineered wood, vinyl flooring, and click-and-lock tiles.
This is a great option for rentals because it will not damage the existing floor. Floating floors are typically an easy DIY installation that is inexpensive and easy to replace.
Yoga Flooring Mat System
The Max Tile Raised Floor system is one of the best floating yoga studio floor options on the market. These tiles are used for everything from yoga to home gyms to dance floors. The tiles are interlocking, waterproof, portable, and scratch resistant. They come in upscale wood designs in a variety of colors and can be combined with a finished border system to complete the look.
Interlocking modular floors are shock absorbing, moisture resistant, and comfortable to practice yoga on. They are great for budget studio flooring installations and typically come with a 5-7 year warranty.
Highest Quality Studio Flooring
Hardwood
Hardwood is the most desirable yoga studio flooring because of its timeless beauty and extreme durability. It's been used for decades and is aesthetically associated with upscale buildings.
Hardwood is easy to clean and maintain over the years. The texture is stable for firm grounding in any pose. The anti-skid properties of wood won't cause any friction or burns if someone falls. Hardwood is also an ideal foundation for non-slip yoga mats.
However, these many benefits do come with a cost; hardwood is the most expensive of all yoga studio flooring. You will need a professional to install it. Use this calculator to get an idea of how much hardwood flooring will cost to install in your studio space.
On the maintenance side, hardwood is also a bit finicky. You need to monitor humidity levels in your studio to prevent warping and swelling of the wood, which means it is not ideal for hot yoga studios. Refinishing costs every few years should also be factored in to counteract inevitable scuffs and surface damage.
Reclaimed Wood
Rustic-modern yoga studio design is a trendy, earthy option that fits well with the aesthetic of reclaimed wood. Reclaimed wood flooring is absolutely stunning and perfectly functional for a yoga studio. Many reclaimed wood floors also have a historic story behind them that adds a unique local flare to your studio's brand image.
Reclaimed wood is ultra-sustainable because it repurposes hardwoods from things like antique buildings and barns in your area. Installation is more complicated and requires a professional to source and engineer the materials. Like hardwood flooring, reclaimed wood will need some TLC over the years to keep it in shape.
Bamboo
Bamboo is an increasingly popular option for yoga studio flooring thanks to its sustainability and functionality. It is aesthetically pleasing and moderately flexible, durable, and long-lasting. For hot yoga studios, bamboo withstands moisture, humidity, and high temperatures better than hardwood. It's also softer to the body during asanas.
Search for click-and-lock bamboo flooring for easy installation. Also be sure to get low-VOC or VOC-free bamboo to maintain a healthy toxin-free air quality inside your studio.
Calibamboo offers an ultra-durable, low-VOC bamboo flooring that is twice the density of hardwood floors. It is backed by a 50 year warranty and comes in a variety of gorgeous colors. This bamboo flooring comes in easy to install click-and-lock planks that snap into place for DIY applications as well as floating yoga studio floors.
Hot Yoga Studio Flooring
Hot, humid, sweaty, and slippery is a difficult combo for flooring, especially hardwood or carpet. Safety and traction is a big concern during intense hot yoga styles like Bikram. Mold and mildew can also be a major problem. That's why hot yoga studios have to think a bit differently when it comes to their yoga flooring.
Cleanliness and odor-control are of the utmost importance for an enjoyable class experience. Students at hot yoga studios are very aware of the cleanliness of the room because they know everyone is sweating buckets during each class.
You should avoid carpet, concrete, tile, and hardwood at all costs. The bamboo products discussed above can be a great option because they don't expand and contract with humidity changes. Fortunately, with the ever growing popularity of hot yoga, there are lots of other specialty flooring products to check all the boxes for this unique application.
Pavigym Flooring
Rubber flooring may not sound the most beautiful, but it is certainly the most hygienic and moisture-resistant option available.
Pavigym flooring has been used for gyms, aerobic classes, martial arts, and of course, hot yoga. The virgin rubber tiles interlock together very tightly so moisture cannot penetrate the seams. The top is solid and stable, while the bottom is foam for plenty of shock absorption and cushion. Tiles are great for DIY installations because they can be glued in place or installed as a floating floor by tightly butting them against walls. Pavigym is the best option for hot yoga studios concerned about anti-microbial hygiene and cleanliness in the post-COVID era.
PEM Yoga Flooring
PEM Yoga Flooring is a slip-resistant, cushioned, odor-free flooring surface designed specifically for Bikram and hot yoga studios. It is made from super durable thermoplastic and shock-absorbing cushions that reduce stress on the body during intense asana flows. Best of all, it is porous and will not hold water. These flooring mats can be easily trimmed and custom fitted wall-to-wall, and it does not need to be attached to the subfloor with an adhesive. Even the DFW International Airport chose PEM matting for their traveler's yoga studio.
Cork Flooring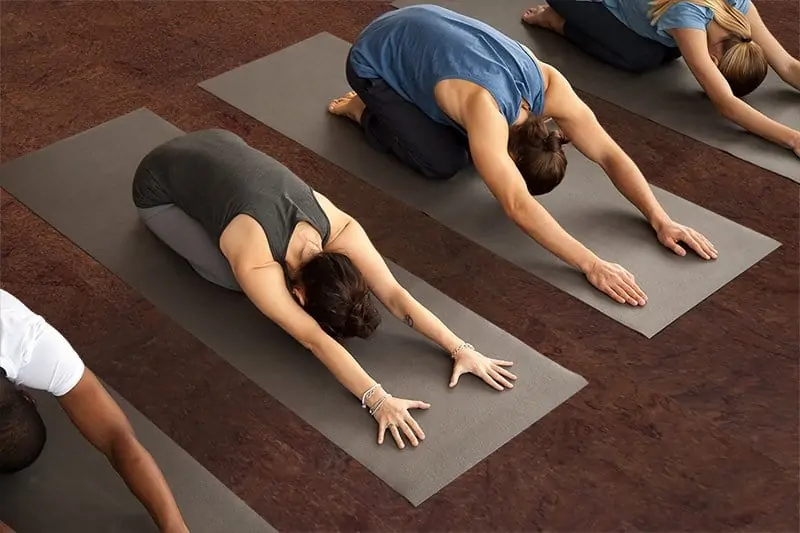 Cork flooring has become a super popular option for hot yoga studios thanks to its impact resistance, ease on the joints, sound absorption, humidity resistance, and antimicrobial properties.
Cork is made from the bark of cork oak trees and offers one of the most sustainable options for studios. It is a biodegradable and renewable resource.There are glue-down tiles, floating cork floors, and even chevron patterns available. It costs $2 to $12 per square foot depending on quality and installation, which is similar to the cost of bamboo and cheaper than hardwood.
The downside to cork is that it requires thorough water sealing on the surface. Like hardwood, you will need to refinish the surface regularly, so this needs to be factored into maintenance costs.
Qualities of the Best Yoga Studio Flooring
Not Too Hard, Not Too Soft
Yoga studio flooring should offer firm, solid footing that is not too harsh like concrete or too soft like carpet. The best flooring materials are wood, cork, bamboo, or fitness mats because of their shock absorption and moderate cushioning.
Easy to Clean and Sanitize
Yoga studio clients are especially aware of cleanliness and smell. Your floors need to be easily swept, vacuumed, mopped, and sanitized between classes. Cleaning hardwood is a little more intensive because of the moisture issues, while bamboo and vinyl or rubber flooring are waterproof and simple to wipe down.
Safety and Traction
Nobody wants to slip and fall on a spilled water bottle during yoga class. Safe flooring helps you avoid injuries and lawsuits. Depending on your teaching styles, fitness and gym flooring are typically the best for non-slip traction in yoga studios.
Impact Resistance
Sometimes you fall out of an inversion pose harder than you'd like, and that thud of weight could wreck havoc on a floor without impact resistance. Thoroughly assess your subfloor for structural stability. It is also important to test the impact resistance of interlocking floor solutions like bamboo and engineered wood. Some products will crack beneath heavy falling weight.
Try to Avoid
Carpet gets dirty quickly and holds odors, making it especially unacceptable for hot yoga. If possible, avoid carpet or you may face extensive cleaning costs and client complaints.
Tile, laminate, vinyl, and concrete are all very hard and cold. They could also be potentially dangerous for inversion poses. If you absolutely must use these materials, consider fitness mats or a floating floor described above.
Conclusion
Yoga studio flooring is one of the most important decisions you'll make for your studio or home yoga room. It is a long-term investment that you don't want to mess up. Weigh your options and consult flooring professionals for the best advice in your particular scenario. Remember, build your yoga studio on a solid foundation so your classes will be grounded in comfort and bliss!
Namaste!