No two women are the same – either are their boobs! It can be a real challenge finding a sports bra to fit your every curve – or lack there of!
And the busier life gets for us, the less time we want to spend sifting through bras to find the right one. (But somehow I always find time to carve out to peruse lululemon racks…).
We have to pack smart since we travel with carry-on sized backpacks and they don't provide much extra space!
Without further ado… here is my review of the lululemon Flow Y Bra IV – the best sports bra for yoga!
Criteria: 1-5 Rating Scale
Support (4/5)
This bra was designed to provide light support, but I've found after wearing it to a variety of activities, it offers more of a medium support for my "medium" sized girls. I also wear this as an everyday bra under wide neck tees and tanks. I wear this to yoga, biking, spin class or light jogging.
*May not be the best choice for high intensity cardio activities.
Style (5/5)
Lululemon brand keeps style at the forefront of their minds when designing their clothing. This means even your undergarments can be cute! The thin straps and racerback fit make this bra a timeless piece for your workout attire. This bra comes in a variety of colors and patterns, which change every so often as the seasons change. Not to worry though! Staple colors like black and white will most always be available online or in store.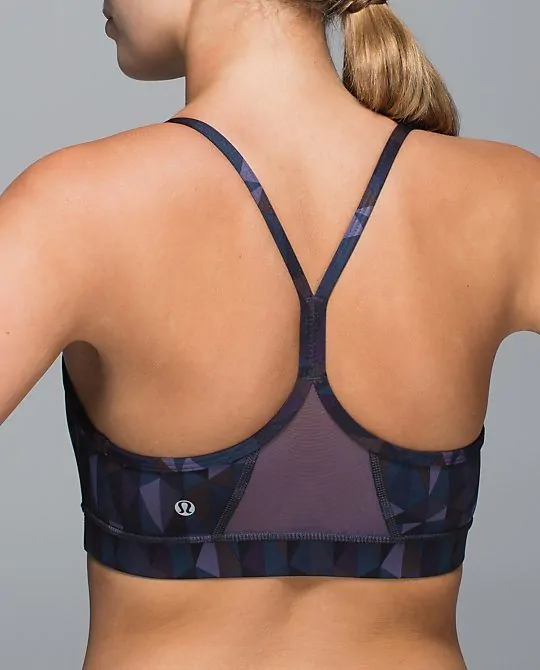 Coverage (4/5)
This bra offers just the right amount of coverage so I'm not concerned my girls will be popping out in downdog, but chestier girls – look out! Depending on your cup size, it will show a modest amount of cleavage as well but I've found it's never too much. The removable cups inside also help mask your nips on those cold mornings. 😉
Comfort (5/5)
I haven't found a more comfortable bra yet. I wear this almost daily whether I'm practicing yoga, biking, or running errands. Sometimes, I even forget it's on! The unique chafe-resistant elastic is so comfortable. The girls are always in place and supported. Even boosted a bit!
What you need to know:
Price: $42
This bra can seem a bit pricey to those who don't typically shop at lululemon. I believe it's priced fairly, especially if working out is part of your daily regimen. I can almost guarantee this bra will outlast your other cheaper ones. The luon fabric is made to last for up to 5 years! It's 4-way stretch never loses it's shape even after plenty of washes. If you're unsatisfied in any way with your item, bring it into the store and they'll usually meet in the middle to come up with a reasonable and satisfying solution for you.
*buy online from lululemon.com
Sizing:
I'm a huge advocate for going to the store to try on in person. As you may know, lululemon clothing tends to run a bit small. The educators in store will be able to help you find the right fit for you, but as a general rule, I tend to size up in this particular bra. Thankfully, heading into the store doesn't feel as much like a chore as it would be finding a regular bra! So much to check out.
Material/Fabric: Luon and cottony Luon
Unique Features:
Mesh panel in the back to help keep you cool where you get extra sweaty. Chafe resistant elastic—removable cups for more or less of a boost, and extra coverage.
Fit & Functionality:
Lulu says this bra was designed specifically for yogis and provides light support. In my experience wearing this almost daily for the past 7 months, it provides more sturdy support than you think (as long as you're in the appropriate size) and I have pleasantly worn it during other activities with more "bouncing around."
Criticism:
If I have to chose something that I don't like about this bra, I guess it would be that the thin straps are often twisted during my workout. Thankfully, it doesn't compromise the comfort in any way.
Perfect for: yoga, light jogging, walking, running errands, everyday wear
Final Thoughts
This is my favorite and most comfortable sports bra! It's one of the only sports bras I packed on our year long trip through Asia. I regularly wear it while practicing in hotel rooms on my Manduka eKO Superlight travel mat.
*Check out our top 5 yoga mats for travel
Do you agree? What is the best sports bra for yoga, and why?
cover photo credit: gopixpic