Say goodbye to stuffy pant suits and uncomfortable skirts! The latest invention in the world of athleisure actually transitions seamlessly to business attire. Dress yoga pants are like the dream pant child of comfy yoga pants and business dress pants.
They're stretchy, sweat-wicking, and ridiculously comfortable. Even when you're literally wearing yoga pants to work, nobody will ever know. Here are the top 7 yoga dress pants for any style or wardrobe.
Top 7 Best Yoga Dress Pants:
Best Overall:
Yogipace,Belt Loops,Women's Straight Leg Yoga Dress Pant Work Pants Commute Office...
See latest price
These dress yoga pants have been deemed the best Betabrand alternative for a fraction of the price. At under $40, they're an amazing deal and feel surprisingly high quality. They are super flattering for both curvy and slim body types and they have all the flexibility you need throughout the work day. We love the versatility, straight leg fit, and wrinkle-resistant stretch fabric. They offer extended sizes and several inseam options for any height.
Pros
Buttery smooth, high stretch, yet thick enough to be professional
Non-see-through
Straight leg silhouette
Soft enough to lounge in
Pull-on elastic waistband with faux button
Extremely versatile
Petite and extended sizes
9+ color options
Cons
May have a slight sheen to them that looks less professional in the office
Lint-attracting material
May cause a muffin top
Casual, stylish, and effortlessly cool, these work pants are reminiscent of professional work jeans, but they're made with Lulu's signature Warpstreme fabric. They are breathable, quick-drying, sweat-wicking and naturally wrinkle resistant (thank goodness, no ironing!) We love the way the fabric feels smooth and falls softly away from your body as you move. The wide leg and high rise are markedly trendy, yet professional enough to dress up at work. These pants feature five pockets and a zippered front.
Pros
Professional and busienss casual
Extremely comfortable
Like jeans, but stretchy and soft
No sweat stains
Naturally wrinkle resistant
Don't bunch at the knees or ride up
Include pockets and a fly zipper
Thin, breathable material
Cons
Lighter colors may be slightly see through (reviewers say dark colors are best for business casual)
If you get sweaty during commutes or long meetings, Athleta's Brooklyn Heights Pants are next-level cooling, yet look as professional as regular dress slacks. They're made with a featherweight recycled polyester and spandex material. The packable fabric is perfect for work travel because it easily airs out wrinkles.
These straight leg pants are semi-fitted and skim easily over your body. They have a stylish split bottom at the ankle. You can dress them up for business meetings or dress down for travel. We love the four-way stretch and polished look.
Pros
Super lightweight
Crazy comfortable for any work environment
Packable and wrinkle-free for work travel
Stylish straight leg with split hem
Natural waist (not high rise)
Great for office wear or fashion-forward outfits
Look like classic work pants
Cons
Only three colors
Material is very thin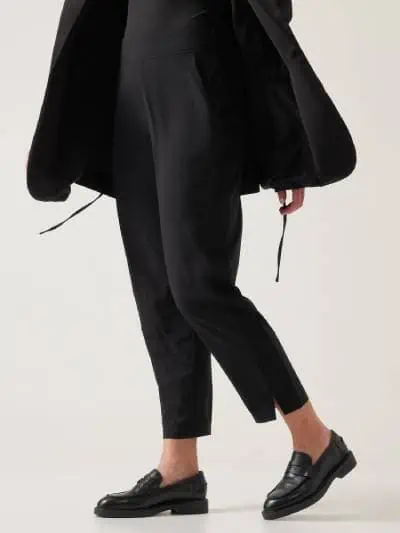 Best Ankle Pant:
Athleta Brooklyn Ankle Pant
These yoga dress pants scream business casual and have all the benefits of Athleta's Brooklyn Heights collection, plus a flattering ankle cut. There is enough spandex that they feel like stretchy yoga pants around the waistband. The semi-fitted style is post-lunch friendly and never feels restricted. We love how these pants look with heels or dress shoes.
Pros
Stretchy and lightweight
Silky sleek feel
Rib knit waistband with side panels for mobility
Flattering ankle cut
Very versatile addition to your work outfits
Cons
Thin fabric
May need to size up
No belt loops
Best Skinny Fit:
Marycrafts Women's Pull On Stretch Yoga Dress Business Work Pants 16 Black
See latest price
You could literally do yoga in these pants and then throw on a blazer and head straight to a meeting. This budget-friendly yoga dress pants option is durable, ultra-flexible, and deceivingly comfy. With belt loops and faux back pockets, they look super professional. Yet you can easily pull them on and off and feel stress-free with the elastic waistband.
Pros
Super cheap option
Pull-on comfortable fit
Belt loops
Thick and breathable material
Large front pockets and back faux pockets
Dress up or down with different tops
Great office pants for short women
Professional look
Cons
Thinner and tighter than other options
Need special washing (cool temperature and hang dry)
Mid-rise could fit awkwardly on some body types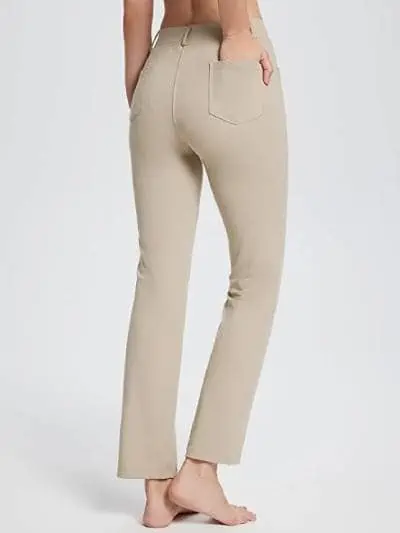 Stretchiest Fit:
BALEAF Women's Yoga Dress Pants Black Stretchy Work Slacks Business Casual Pull on Trousers with...
See latest price
For slacks that feel like the stretchiest closest cousins to yoga pants, look no further than this Amazon pick with over 3,000 positive reviews. These yoga dress pants are pull-on with belt loops and a faux zipper and button. They don't dig in or show sweat stains, plus they have real front and back pockets to store your phone or wallet. We love the straight leg fit that compliments your curves and looks great with flats, pumps, or even athletic shoes. Pair with your favorite casual tee or a professional blouse.
Pros
Under $50
Belt loops
Big useable pockets
No button digging in
87% nylon and 13% spandex
Machine washable
Available in 29″, 31″, and 33″ inseams
10+ professional colors
Cons
May be too tight for workwear on some body types
Cheap looking
Best Straight Leg:
Willit 31" Women's Dress Yoga Pants Straight Leg Work Slacks Pants Office Belt Loops with 4 Pockets...
See latest price
For dress yoga pants that look almost identical to dress slacks, Willit doesn't disappoint. These straight leg work pants are made of a rayon, nylon, and spandex blend that feels thicker than other options but still flexible and buttery soft like yoga pants. The faux button and faux fly give you a business pant look without feeling restrictive. We love nice the waistband looks with your shirt tucked in.
Pros
Budget option under $40
Faux button and faux fly
Office-style slash pockets and 2 rear pockets
Buttery soft material
High rise tummy control
Four way stretch
Feel like leggings
Formal look
66% rayon, 29% nylon, 5% spandex blend
Cons
Run small and might shrink in wash
May fit bulky in the crotch area
Not as tight as other options
How to Style Yoga Dress Pants
The best thing about dress yoga pants is you can dress them up or down. Styling is a breeze for meetings, business casual, or regular commutes. You can even do a lunch break yoga session, then toss on a top and head back to the office.
For a classic professional suit look, style dress yoga pants with a structured blazer: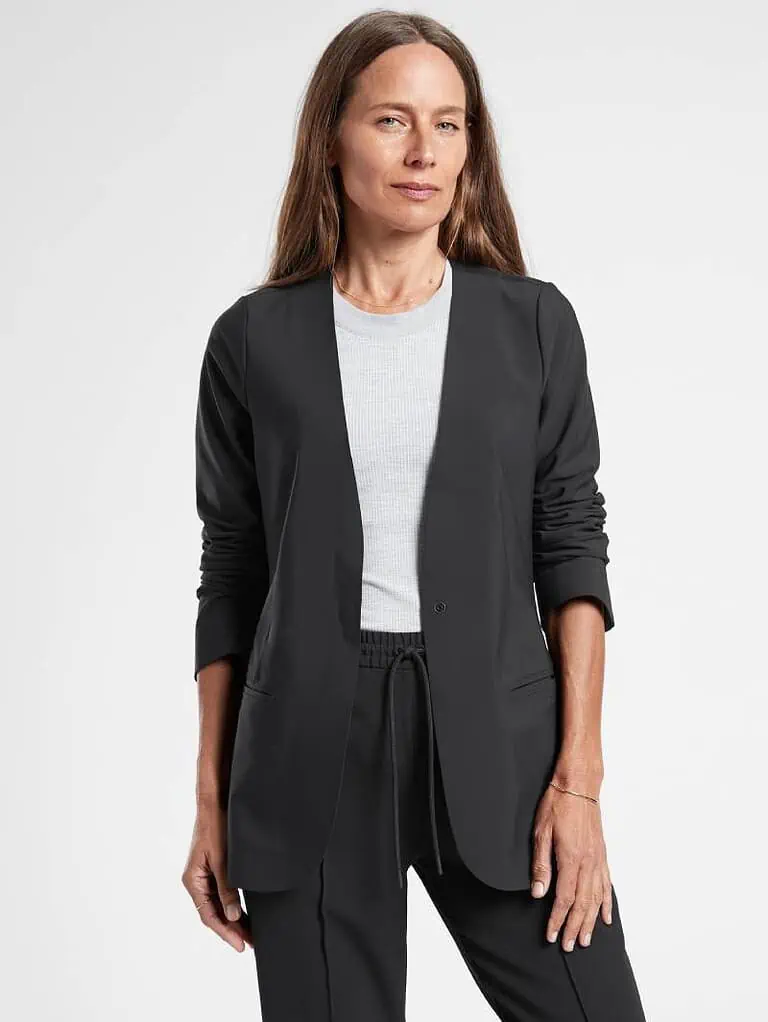 The Avenue Blazer from Athleta is made with a structured Euroluxe fabric that protects you from the sun and never needs to be ironed. It is flowy and smooth like a wrap, yet has a sleek style that screams "boss lady".
For an oversized blazer look, style your dress yoga pants with a longer blazer:
If you feel like dress yoga pants are a little too tight to be worn on their own, The Drop Women's Blake Long Blazer has enough length to cover you booty and still look chic. Pair with some pumps or flats for an effortless modern take on the classic female suit.
For business casual, try this top: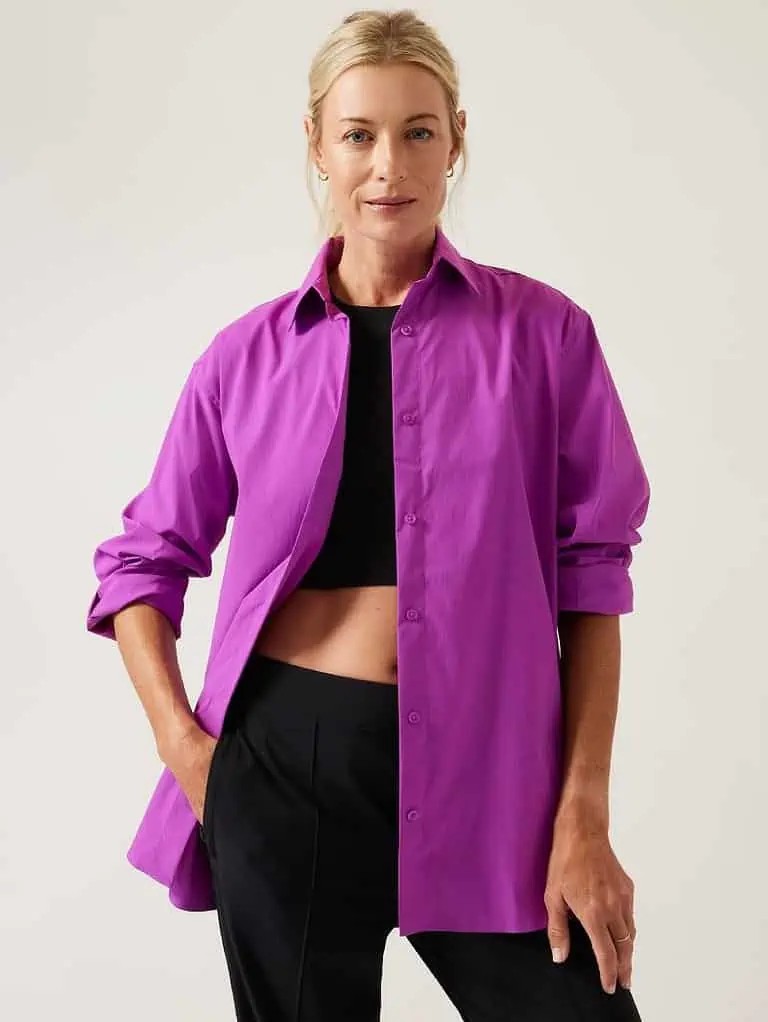 If your dress yoga pants are thick enough to tuck in a shirt (the Willit Women's Yoga Dress Pants are our favorite for just that reason), toss on an oversized collared shirt like the Oversized Poplin Top from Athleta. We love how breathable and flowy it feels.
FAQs
Can you wear yoga pants as dress pants?
Most classic yoga pants are too tight or revealing to pass as dress pants. However, there are many new styles of dress yoga pants from lululemon, Athleta, and Betabrand that feel like yoga pants, yet look dressy enough to wear to work. They have sleek styles that look like slacks but feel stretchy and breathable like yoga pants.
Can yoga pants be business casual?
The general consensus about yoga pants for the workplace says, "as long as your butt isn't showing, you can dress them up." Pairing with a tunic or oversized blazer can quickly take your yoga leggings from workout spandex to dressy athleisure. But an even better option is dress yoga pants that feel like leggings yet have the professional slack style.
Are yoga pants professional?
As long as your yoga pants aren't see-through, excessively tight or baggy, you can dress them up for the workplace. However, dress yoga pants are truly the best option because they are made specifically to look like work pants but feel as comfortable as classic yoga pants.