Athleta has been around since 1998 and yet, not many people know about the brand. Sure, lululemon, Alo Yoga, and Vuori have taken the leggings market by a storm, but it's time to expand your horizons and take a look at Athleta leggings too!
You may be surprised by the extensive athleisure categories that they cover in their online shop, as well as the extra large pockets for phone storage.
If you are unsure where to start, this review runs through all seven styles of Athleta leggings that are currently on the market, so that you can move through high-impact workouts or everyday activities while looking and feeling good! They also have two great pairs of yoga leggings in their range, and leggings suitable for outdoor winter wear.
All about Athleta – everything you need to know before you buy
Athleta is a subsidiary of Gap, Inc. that was created for female athletes. It is a women's athleisure brand committed to community, ethics, and giving back. They offer high-quality yoga and casual loungewear that is comfortable but ready for performance. The endearing quality of Athleta is the body-positive focus with inclusive sizing and luxurious signature fabrics. Plus, if you are savvy, you can also find a few ways to save some cash on your next purchase with one of their discount codes!
The great thing about Athleta is that they offer a few signature styles made from their very own trademarked material. This material has a buttery soft feel, as well as the ability to keep you warm in the winter. With a variety of colors and patterns, you won't forget Athleta after your first use. From summer yoga wear to an outdoor winter hike, Athleta has got you covered! Just one look at their shop and you will see that they know a few things about clothing categories and color ranges.
The inclusive sizing range from Athleta means that most of their shop includes sizes XXS to 3XL, making workouts accessible to everyone. They also are suitable for both tall people and short, due to most styles coming in a full length and a 7/8th length variation.
Shop their online categories to view their full range, and be impressed by the thousands of positive customer reviews. It will encourage you to finally buy your very own pair of Athleta tights with the famous salutation stash pocket II. Shop in-store at one of their 200 locations across America, or shop online for instant access and shipping!
Athleta leggings – A quick overview
There are seven styles of Athleta leggings, each with its own signature elements. From the salutation stash to the ultimate leggings, this article will help you to find the leggings ideal for your very own use and purpose. You can filter the online shop by categories and color to find your perfect pair.
Let's take a look at the range:
Salutation Stash with the famous Stash Pocket
The Salutation Stash is a 7/8 length leggings made with Athleta's very own Powervita Fabric. This buttery soft fabric feels like a second skin. It is moisture-wicking, quick-drying, and breathable, making these leggings a great choice for a hot yoga class, or a sweaty vinyasa session. They are the perfect length for casual wear and feature a compressive fabric that makes you feel secure. Shop these leggings if you are seeking a top choice for a workout or yoga class!
Pros
The buttery soft fabric feels amazing!
Includes the signature Salutation Stash pocket II – a design that will fit your mobile phone and more.
Rated UPF 50+ for sun protection and outdoor summer wear.
Easy care with machine wash and dry.
12 color choices.
Cons
Extra-long waistbands need to be rolled down on some shorter-length bodies.
Rainier Leggings for everyday wear in colder months
The Rainier leggings are the choice for those who like to move from the sea to the summit and enjoy outdoor winter activities. With thick, compressive fabric, these tights will keep your legs warm all day, no matter if you are skiing or jogging in the fresh blanket of snow that just fell around you.
Compared to other brands winter categories, these Rainier leggings have received many positive reviews about actually keeping the body warm when it's cold outside.
Pros
The number #1 winter tights from Athleta.
Warm in winter weather.
Quick drying, great for working up a sweat.
Easy care with machine wash and dry.
6 color choices, plus sometimes a certain color may be on sale for half price!
Cons
A little too warm for summer wear (can't be worn all year).
Have had quality control issues in the past, with varying fabric thickness.
The fabric wears quickly and holes are common.
Elation tights with buttery soft fabric
The Ultra High-rise Elation Tights are THE choice for yoga! The Elation style also comes in pants and 7/8 leggings so that you can choose your favorite style of yoga pants. The added bonus with the full-length leggings is the ultra-high waistband that hugs the tummy in and keeps it in during a yoga practice. Compared to other yoga legging categories, these tights are affordable for their quality.
These leggings are also made with Athleta's customer-favorite, second-skin Powervita™ fabric. The yoga leggings are designed for an ultimate distraction-free practice. But unfortunately, there is a limited choice as they only come in one color.
Pros
Made for yoga!
Comfortable, high waistband for extra tummy support.
Super soft fabric for maximum comfort.
Rated UPF 50+ for sun protection.
Cons
The full length is quite long on shorter people (but they also have a 7/8 length available).
Pilling occurs after a few months.
Only one color choice.
Altitude tights for snow activities
The Altitude leggings come with Polartec® Power Stretch® fabric great for cold adventures! Designed for those who love training in cold weather climates, these leggings are made from Athleta's signature fabric that is sleek on the outside and soft and cozy on the inside. With the favorite side stash pockets and a back zip pocket, you will be able to take your essentials, such as your phone and keys, with you on your next outdoor adventure.
The Altitude leggings also feature a comfortable wide waistband with an adjustable internal drawcord. This makes them great for running, as well as leaving the house on a cold winter's day. If you love an outdoor winter hike, you will love the Altitude leggings!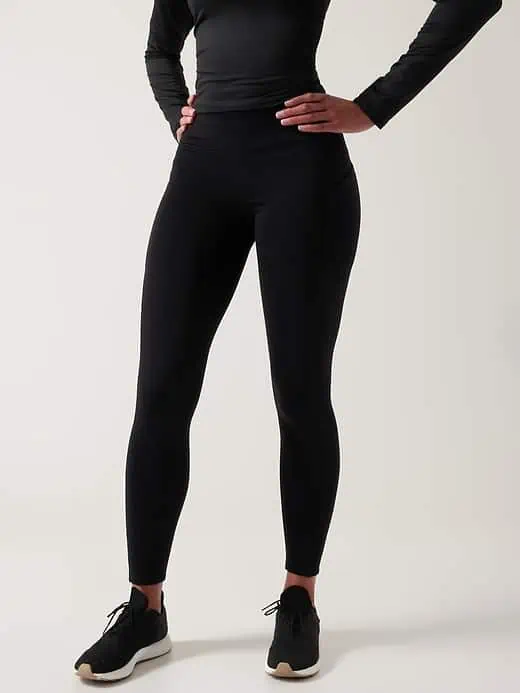 Pros
Super warm with a cozy inner layer, perfect for winter.
Unique Athleta material designed for warmth.
Sweat-wicking ability, perfect for staying warm and dry during sweaty workouts.
Also suitable for everyday wear in winter.
Is also available in a cropped length.
Cons
Runs smaller than other styles due to the different materials used.
Some reviews say that the material quality has decreased over time.
Delancey tights for wearing out and about
The Delancey Gleam Tights are your leggings with a style that double as lounging pants and are suitable for a surprise outing with friends. These are not so suitable for yoga, but more so a good choice for commuting, work, and travel. The Sculptek Light fabric gives you full coverage and works as an all-way stretch material. The pockets on the back hold your essentials and the gleam-coated material provides subtle shine.
Pros
Breathable material.
Super comfortable for work and travel.
Beautiful gleam shine material.
Cons
Not suitable for yoga.
May have a cheap 'jeggings' look if worn out.
Could have fewer seams for a more athletic look.
Transcend leggings for your best yoga practice
Moving back to yoga leggings now, the Transcend Stash Tights are another great choice for yoga or studio practice. The Vita Free material with enhanced LYCRA® fiber is Athleta's lightest-feel yoga fabric for a barely there, yet fully covered sensation. They contain an easy-access stash pocket to hold your essentials and come in three colors that range from bright pink to grey to black.
The Vita Free material is an innovation for a second-skin fabric that stretches to your body and maintains its shape with an ultra-lightweight waistband for freedom of movement. These leggings can be worn for a workout without chafing, or to catch your eye in the yoga room.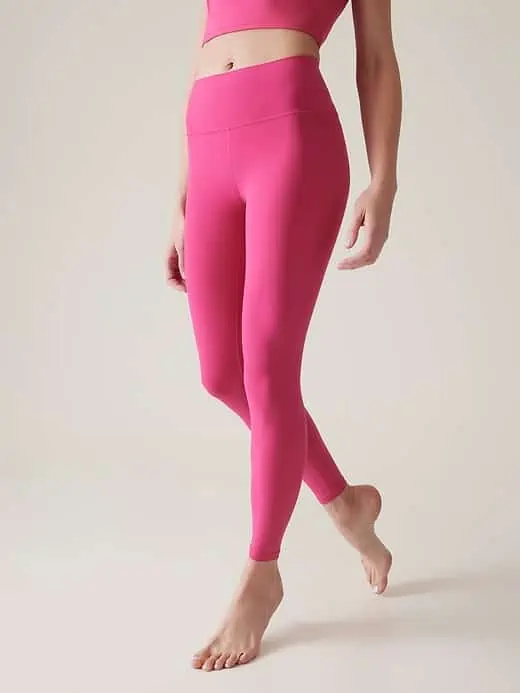 Pros
Bright color choice if you like pink!
Breathable and compressive material.
Suitable for running too.
A stash pocket for storing essentials.
Cons
Pocket seams look unusual on the legs.
Limited color choices in the online shop.
Ultimate tights with the option of cropped length style
The final pair of tights in the Athleta range is the Ultimate leggings! They come in full-length styles, as well as a short variation that has stood the test of time. With an eco-friendly approach by Athleta, these tights have been designed with Recycled SuperSonic fabric, a material sourced from post-consumer plastic bottles that helps lessen our impact on the world.
They also feature supportive compression that won't budge once they are on. If you prefer to be hugged tightly around the belly site, these are the tights for you!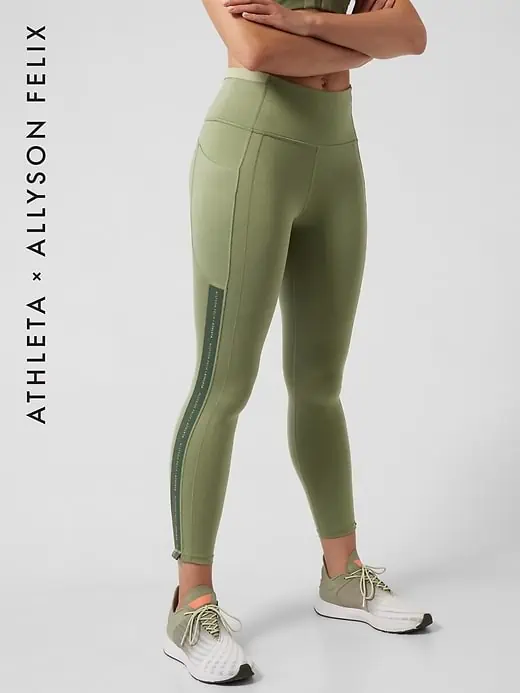 Pros
Beautiful choice of colors.
A great pair of tights for yoga, running, and everyday wear.
Comes with the famous Salutation stash pocket II for everyday essentials.
Cons
Although the colors are nice, the color range is limited.
Can only shop these tights between sizes XXS and XL (the rest of the Athleta range is usually available in larger sizes).
Frequently Asked Questions
Are Athleta and lululemon the same company?
No. Athleta is under the Gap Inc. company, which also owns Old Navy and Banana Republic. lululemon is officially known as lululemon Athletica, but it has no ties to Athleta.
How does Athleta compare to other major brands?
Athleta is in the same price range as brands such as Alo, lululemon, and Vuori, but they often have great and affordable sales in their online shop! If you can find a discounted pair of tights in-store, it would be a great choice compared to paying full price for a similar pair of leggings elsewhere.
Some people do say the quality of the Athleta brand is more prone to pilling than other major brands. But, the thing people love about Athleta is the large pockets, suitable for keeping your essentials steady while running.