There was a time when we avoided skin-color bottoms at all costs (because who wants to accidentally look naked from a distance?) But these days, neutral bottoms are chic and easy to pair with anything.
Cream-colored nudes, and warm neutrals are some of the leading color trends for spring and summer. Celebrities like Kylie Jenner, Selena Gomez, and Bella Hadid have been spotted wearing nude leggings.
Whether you're hitting the yoga studio or running errands, these are the best nude leggings that fit the trend without revealing anything underneath.
Quick Picks: Our Fav Neutral Yoga Pants
Best Luxury Option: lululemon Align High-Rise Pant
Best Nude Set: High-Waist Airlift Legging from Alo Yoga
Best Beige Colour: Sunzel Workout Leggings for Women
Best Brushed Legging: HeyNuts Essential 7/8 Buttery Soft Yoga Pants
Best Shiny Option: Fabletics Ultra High Waisted Iridescent Luxe
Best Butt Lifting Nude Leggings: Mooslover Seamless Butt Lifting Workout Leggings
Best Neutral Shapewear: Maidenform Women's Cover Your Bases Smoothing Slip
Best Spacedye Option: Caught in the Midi High Waisted Legging
Best Budget Option: Conceited Buttery Soft High Waisted Leggings
Top 9 Best Nude Leggings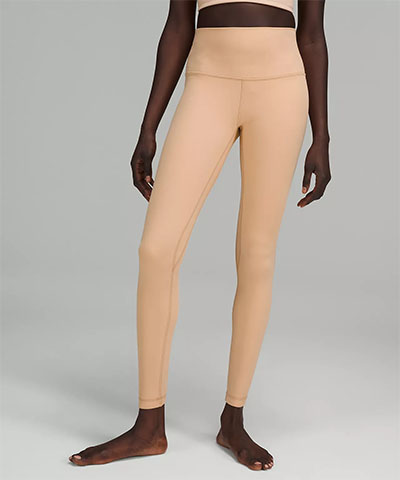 Best Luxury Option:
lululemon Align High-Rise Pant
Lulu is always leading the way with new legging trends and this great neutral version of their classic Align is no different. These warm nude hues are perfect for spring and are so comfy that you really do feel almost naked. But Aligns are never see-through and always squat-proof. They come in cropped, 28″ or 31″ lengths.
Whether you choose 'Gravel', 'Gravelstone', or 'Dusty Pink', Alo's nude colorways add a mysterious vibe to your athleisure sets. These second-skin leggings are next-level soft and uniquely flattering for any body type. We love that they are 100% squat proof and ready for downward dog without risking any actual nude exposure. If you want to continue shopping for neutrals, make this a set with one of Alo's adorable matching nude-toned tops.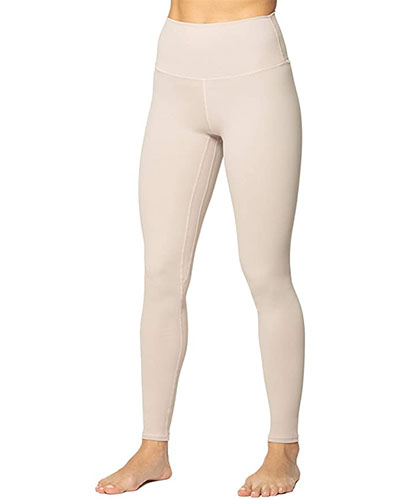 Best Beige Colour:
Sunzel Workout Leggings for Women, Squat Proof High Waisted Yoga Pants 4 Way Stretch, Buttery Soft,...
See latest price
If you don't care about brand name clothing, these Amazon leggings are the perfect Lulu-alternative. The fabric is thick, completely squat proof, and feels surprisingly high quality for the affordable price point. And the beige colorway is perfect for staying cool in the hot sun while still rocking leggings all summer long.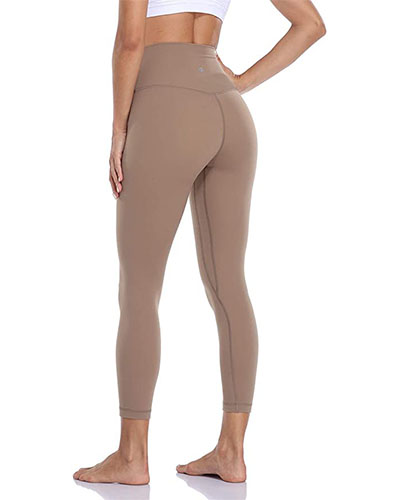 Best Brushed Legging:
HeyNuts Essential 7/8 Leggings High Waisted Yoga Pants for Women, High Waisted Workout Pants...
See latest price
The brushed matte-finish on these leggings is elegant and shockingly soft against your skin. They are high-rise, seamless, compressive, and even include a hidden pocket.
The 'Carbon Dust' color has become one of our favorite nude leggings because it enhances the curves without revealing anything more. Wear them with a pearly white top for the perfect neutral outfit.
If you want to wear nude-colored leggings but still have a little bit of shimmer, this pair from Fabletics checks all the boxes. Their classic flattering fit, big pockets, and perfect color hue screams relaxed sandy desert vibes with a subtle shine.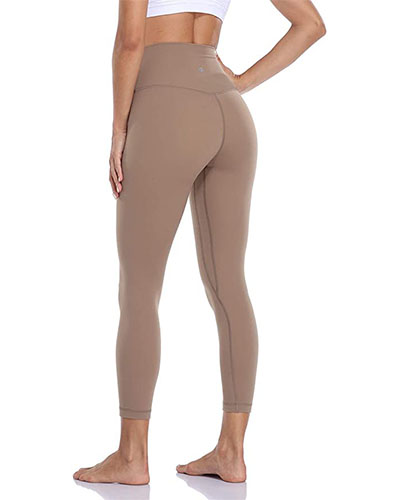 Best Butt Lifting Nude Leggings:
MOOSLOVER Seamless Butt Lifting Workout Leggings for Women High Waist Yoga Pants Compression Contour...
See latest price
No shame in jumping on the butt-lifting contour trend! These khaki-colored leggings have women raving about how good their booty looks. Plus, the seamless fabric can even hide cellulite in the gym or on the go.
More than just a pretty color, these leggings actually excel in performance too. They're sweat-wicking, 4-way stretch, and squat proof.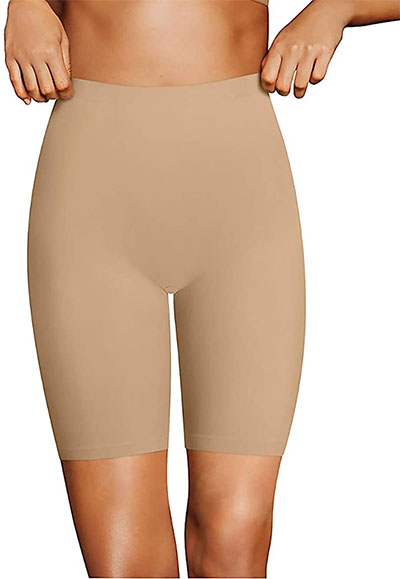 Best Nude Shapewear:
Maidenform SmoothTec Slip Short (DM0035) Nude 1 Transparent, XL
See latest price
Sometimes neutral leggings are meant to be invisible. If you're looking for skin-toned leggings that you can layer under light-colored outfits, Maidenform shapewear is the go-to.
These tummy-tucking and hip-smoothing bottoms flatter the body shapes and skin colors of most all women. The fabric is super soft, cooling, and hides perfectly beneath any outfit.
Beyond Yoga is known for their decadently soft spacedye leggings. The seamless details and adorable 'chai' colour have made these a staple piece in so many closets.
In our search for the softest possible leggings, we've found that Beyond Yoga never disappoints with quality, style, fit, or comfort.
Best Budget Option:
Mocha Premium Ultra Soft High Waisted Leggings for Women - 3" Wide Band - Workout Leggings for Women...
See latest price
When you're shopping online for nude leggings, it's hard to know if the cheaper option is going to end up revealing all your lady parts. But we're convinced that these mocha tan leggings are among the best pairs of yoga pants in our closet. Why? They're super cheap, totally opaque, and hold up in the wash. We also love the wide high-rise waist band and stretchy fit.
Closing Thoughts
Needless to say, neutral does not have to be boring. Spice up your yoga and athleisure wardrobe this summer with light colored items that show off your gorgeous skin and figure without exposing anything more.
Namaste!