lululemon is known for its cult-like following of yoga moms and trendy athletes. But anyone who hasn't tried on their luxurious leggings or ultra supportive sports bras is probably wondering: what's all the hype about?
In alignment with their hefty price tag, Lulu produces some of the highest quality yoga gear in the world. Their special attention to performance-driven details, proprietary technical fabrics, and durable fashion-forward designs sets them apart from the rest.
Thankfully, not all of their products are skin-tight leggings. In fact, they offer some outrageously comfy yet chic athleisure wear as well.
With the recent jogger craze, we're wondering if the lululemon Align Joggers live up to all the hype. They may seem like glorified sweatpants, but there's a lot more to the story.
Here's everything you need to know about lululemon joggers: a product overview, honest reviews, and cheap alternatives to help you answer the pressing question of "are they worth almost $100?"
What are lululemon Align Joggers?
When it comes to yoga pants, workout gear or lounging, leggings aren't always the best option. Sometimes you want to feel more free to move. The lululemon Align Jogger pants are loose comfy pants that feel outrageously soft on your skin. They're breathable, moisture-wicking, and relaxed enough to fall asleep in.
They are fairly similar to the wildly popular Align leggings, except they are more comfortable, loose, and weightless. Both products are made with Lulu's luxurious Nulu fabric. It is a blend of 81% nylon, and 19% Lycra elastane for a buttery soft feel that is stretchy in every direction.
But unlike Align leggings, this high rise jogger has a relaxed body-skimming slim fit that feels like sweatpants yet looks like chic yoga pants. You get the best of both worlds: comfortable pants to lounge and flow in, yet quality material and elegant design that is nice enough for running errands in town.
lululemon Align Joggers come with a shape retention comfortable waistband that hits just above the belly button in a flattering high rise. The waistband lies flat for a polished silhouette. We love the large front pockets with an interior card sleeve and hidden back drop-in pocket for stashing small items. These pockets are larger than the Align leggings and more convenient for holding your phone while you run errands.
The lululemon Align Jogger comes in cropped or full length inseams. The full length slightly cinches right at the ankle for a relaxed fit that isn't too baggy. The crop hits about mid-calf for a leg-slimming appearance.
This collection is designed with comfort in mind, but are also perfect for low impact workouts like yin or Hatha yoga.
Align Joggers Review
At $98, the lululemon Align Joggers aren't exactly a budget pick. Before you drop a hefty Benjamin on a pair of yoga pants, you probably want to know if it's really worth it. We decided to try out the lululemon Joggers for ourselves and compare our experiences with other real-world reviewers.
Next-Level Luxury Comfort
When you first put on the lululemon Joggers, they feel ridiculously cozy- somewhere between a warm (but not sweaty) hug and a buttery soft lotion. It's the perfect balance between a "barely there" naked feel, yet still feeling covered enough to bend over in the grocery store.
The drawstring waist and flat-lying waistband don't dig in or restrict you in anyway. In fact, they allow for free adjustment so you don't have a muffin top or any awkward sagging around the tummy and crotch.
Align Joggers are Super Flattering
At first glance in the mirror, it's amazing how truly flattering these pants are. Your brain may take a moment to process the feeling of wearing crazy comfortable pants that still look so damn nice. The slim cut hugs the thighs and loosens on the lower legs. The inseam hits just at the ankles for a put-together look.
The top feels like slightly loose leggings (which really compliments the booty), while the bottom has a bit more flow. The high rise and tummy-coverage make any build look slimmer and smoothed out. Plus, the slight amount of stretch from elastane hugs curves perfectly.
Building an Outfit with lululemon Joggers
When it comes time to pair a top with these pants, it's easy to create a fashion-forward outfit perfect for going shopping or running errands. You can add an Align crop top, chic sports bra, or flowy tank to seamlessly transition from studio to town. I can toss them on any time with a pair of Birkenstock sandals, Converse high-tops, or Nike Air Force Ones and just go without worrying that I look sloppy. They even look great with a cropped hoodie or cut-off tee. Add a denim jacket or winter coat for cooler weather.
We love how fashion blogger Cute & Little dresses up her joggers:
The Most Versatile Lounge Pants in My Closet
Compared to other brands, we love how versatile the lululemon Align Jogger really is. It has become one of the essentials to my year-round wardrobe primarily for its trendy style, lightweight feel, and quality material. Somehow they just feel like $100 pants, rather than cheap clothes stamped with a lululemon logo to up the price tag.
Most of all, I love that I can go to the grocery store in these pants without looking like I just came from the gym or woke up from a nap (even though I probably did).
What We Don't Like About the lululemon Align Jogger
But there are definitely still some downsides to the Align joggers. For one, they have a tendency to start pilling if washed improperly. They aren't all that great for an intense workout or hot yoga class because they are a little too loose and don't hug your body like leggings or shorts do.
Many reviewers have also found that the high waist fit isn't great for extra short women, while the ankle inseam isn't long enough for taller yogis. So be sure to take your measurements before ordering!
Pros of Align Joggers
Buttery soft, luxuriously smoothing fabric
Ultra flattering fit that can be dressed up or down
High waistband that lays flat for a streamlined fit
Big side pockets and hidden back pocket
Comfortable enough to wear all day long
Weightless and breezy for year-round wearing
Ankle-skimming inseam
Great option for low impact yoga flows and athleisure wear
Cons of Align Joggers
Improper washing can lead to "pilling" and small tufts of fabric coming off of the pants. Avoid the wear-and-tear with our ultimate guide on How to Wash lululemon Leggings.
May be too short for tall people
May be too high waisted for short people
lululemon Align Jogger alternatives: 3 Cheap lululemon Alternatives
If you really love the idea of the lululemon Align Jogger but not the price tag, we totally get it. These cheap Amazon alternatives are as close as you can get to the real thing without spending over $50.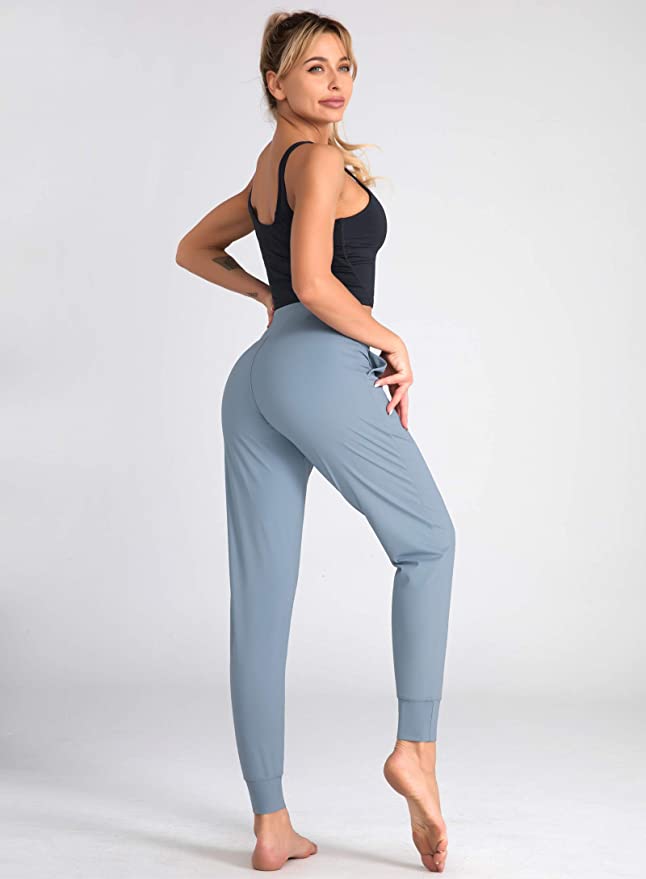 The Dragon Fit joggers are as closest to Lulu Aligns that we've found. These 80% polyamide and 20% spandex construction feels strikingly similar to the real thing (though it's admittedly not as high quality as the signature Nulu fabric). These joggers have a slim fit that compliments your curves without restricting movement or digging into your stomach.
The flat waistband and high rise fit are almost identical to the Align jogger, just without the recognizable logo, long-lasting durability or lifetime guarantee. We also love that the Dragon Fit joggers have a longer inseam for tall yogis or those who want to keep their ankles warm.
Best Drawstring Align Jogger alternative: YYV Women's Joggers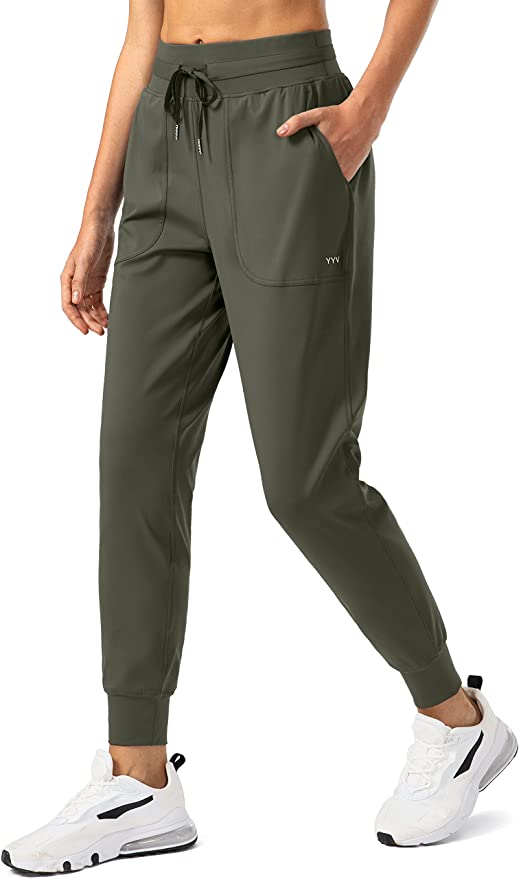 If you prefer a more classic sweatpant look on top with the sleek legs of the Align jogger, this alternative gives you the best of both worlds. You can easily adjust the tightness of the waist to prevent rolling or folding down.
The YYV high rise jogger fits a little roomier than Lulu and isn't as spandex-feeling on the butt. The fabric is super smooth and comfy. We love that the pockets are extra large and the leg is more tapered.
With a bargain under-$30 price range and 6 trendy colors, these are the perfect new pair of lounge sweats.
With a crazy cheap price point and abundance of colours, the TOKY jogger almost seems too good to be true. While it doesn't have the luxuriously smooth feel of Lulu, the soft mid-thickness material is still surprisingly high quality. These are made from 80% polyester and 20% spandex for a lot of stretch and a charming slightly slouched fit. You can wear these sweats for everything from yoga to lounging to cycling, and they aren't too loose or too tight.
The tapered leg and ankle inseam is as close as you can get to Lulu's fit. If you want them to be looser, select size up. For a fit more like leggings, order your normal size.
FAQs
Are the Align joggers worth it?
Thousands of positive reviews and years of durable wear seem to say that lululemon's Align Joggers are 100% worth the price. While they may seem like glorified sweatpants, the exquisite buttery soft feel, flattering sleek fit, and special attention to details sets these joggers apart from the rest. They last forever and feel comfortable enough to never take off (yet they still look nice enough to wear out of the house).
Do Align joggers fit like Align leggings?
Align joggers fit somewhat like Align leggings on the top because they hug the booty and compliment your curves. They are made from the same buttery soft Nulu fabric, however the fit tapers more towards the leg for a relaxed, lounge feel.
Can you wear lululemon Align for running?
The lululemon Align Jogger is perfect for lounging, yoga, running, and other low impact workouts. They have plenty of roomy 4-way stretch and sweat wicking properties, however they aren't all that great for more intense workouts or hot yoga.