We find that experiences cultures through food is one of the most impactful things we can do while traveling. We go nuts researching the best bowl of soup in a city and then walk for 45 mins just to try it. Besides checking our favorite food blogs we also seek out dinning experiences with Withlocals.com which is a service that allows you to eat home cooked meals in almost every country in Asia.
Sri Lanka is a food lovers dream. Tons of spice and flavors, diverse assortment of fresh fruits and vegetables, and heavy usage of the coconut. There seemed to be many parallels to South Indian food, especially from the Indian State of Kerala.
I was really excited to try Sri Lankan food after reading Sri Lankan Food: 40 of the Island's Best Dishes by Mark Wiens from Migrationology.
After eating our way around the country, here is a list of our top 25 Sri Lankan foods!
Although it may seem like all we did was eat in Sri Lanka… we also learned to surf and volunteered at an elephant orphanage.
1) Sri Lankan Rice and Curry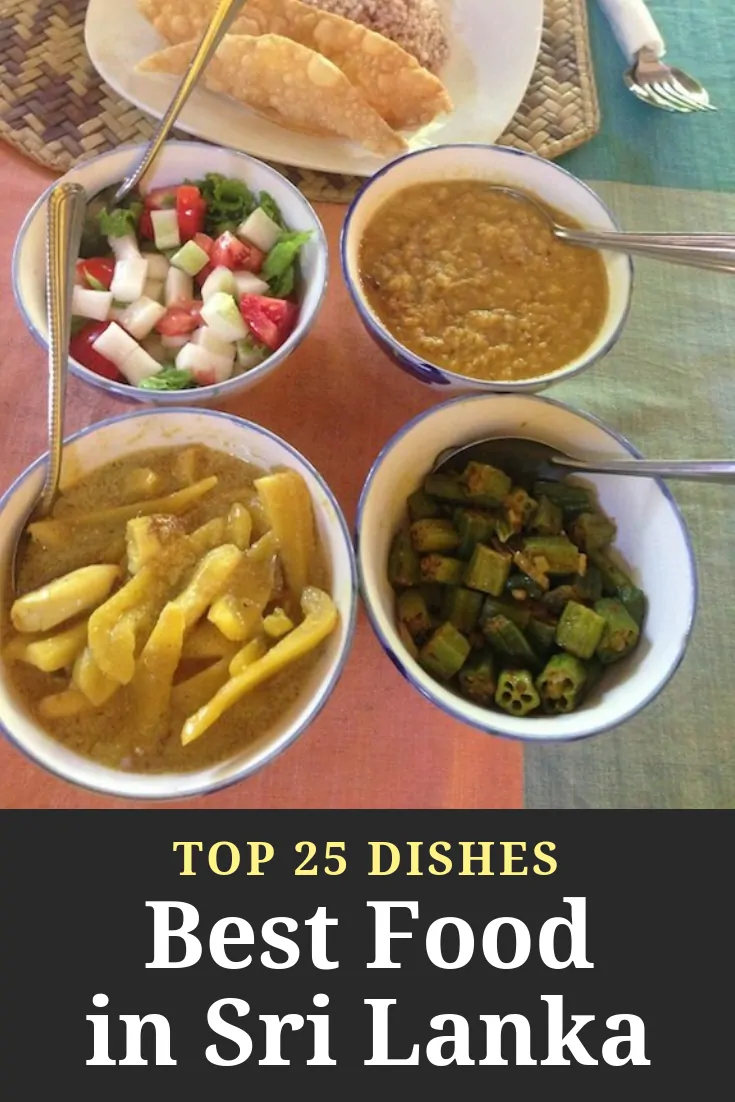 Pin me! Then keep reading 🙂
This typical lunch/dinner comes with 3-5 different curries, rice, and a fried chip called papad. This is Sri Lanka's answer to the Indian Thali or the Nepalese Dal Baht. You can find them everywhere and each time they are unique!
2) Hopper (appa) and Egg Hopper
These tasty breakfast morsels are found all over Sri Lanka. You start with a light pancake batter then add coconut milk and palm wine (toddy). You can eat them plain but I prefer tossing a fried egg in the middle while it cooks on the mini wok. The mini wok makes the edges of the hopper crispy and the middle soft. Served with coconut sambal.
3) Coconut Sambal (Pol Sambal)
Shredded fresh coconut + chilies + red onion + salt + lime = the most delicious condiment I've ever encountered. It's both spicy and a little sweet. Everyone makes it fresh and the results vary slightly every time you have it. Luckily it's made with all fresh ingredients which helps us stay healthy while traveling!
Good news, the Sri Lankans serve it with almost every dish!
4) String Hopper
Hands down my favorite breakfast in Sri Lankan. Made from steamed rice noodles molded into flat spirals. Served with coconut sambol and Dhal. For less than a dollar, you can get 3 string hoppers, black tea, coconut sambol, and bottomless dhal.
5) Vegetable Roti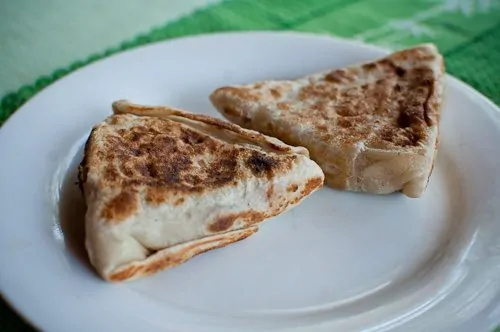 Another staple of Sri Lanka. You can find roti shops on every street which serve these quick snacks. Made by frying up veggie stuffed flat bread. Veg roti's are the ones made into a triangle shape. Usually pretty spicy and only cost $.40 USD.
The most popular Sri Lankan cookbook is available via Amazon for only $16
6) Egg Roti
Just like the vegetable roti, except fried with an egg instead of vegetables. Usually shaped like flat rectangle. Never cost more than $.50 USD.
7) Coconut Roti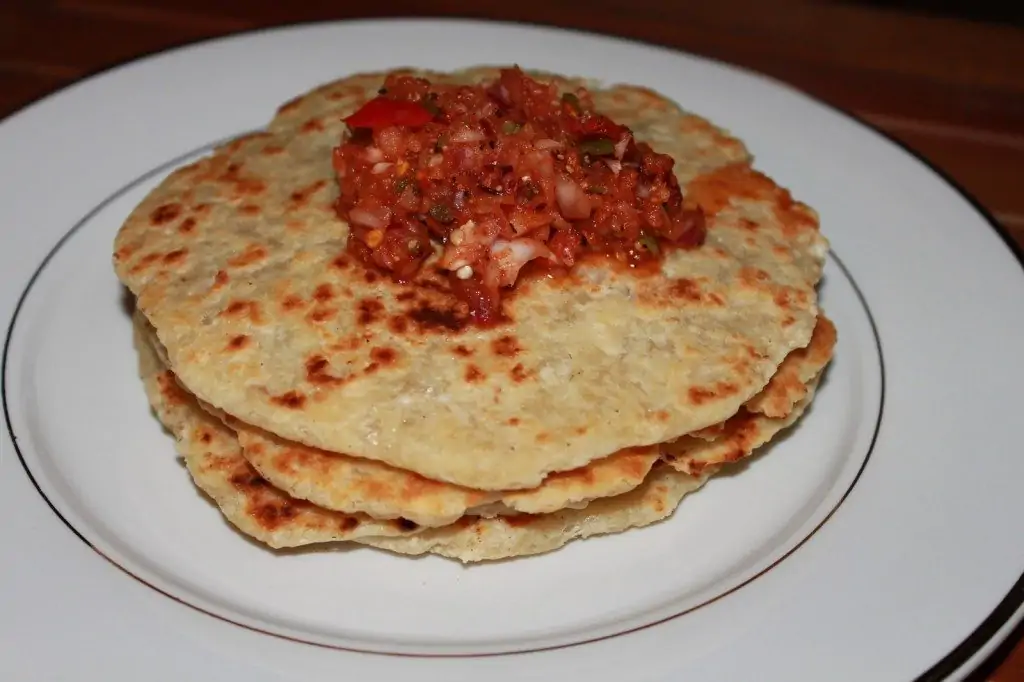 Similar to the veg and egg roti, except it's not stuffed with anything. Instead they cook fresh coconut into the flatbread. Shaped like a mini flat pancake, and served with either a spicy chili sauce or jam/jelly.
8) Lion Stout
After suffering through King Fishers in Indian, Sri Lanka surprised me with their diverse beer selection. Lion Stout was a proper Imperial Stout that could rival any stout from back home…. except for Dangerous Man's Coconut Milk Stout – one of my favorite Minneapolis brews.
9) Sri Lankan Dhal Curry
Looks like India's Dhal Fry except it taste's WAY better. Sri Lankans add heaps of fresh coconuts, more spices, and extra chilies. This delicious dish is packed with protein and fiber and luckily it's served for breakfast, lunch, and dinner!
We learned how to cook Sri Lankan Dhal while volunteering at Elephant Freedom Project
10) Coconut Pancake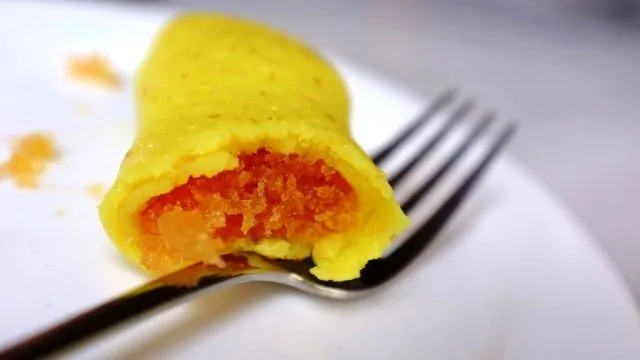 Simple spongy pancake stuffed with fresh coconut and sugar. Found all over, super cheap, and strangely satisfying. Lucky for us, in Sri Lanka some bakers drive around in a funny bakery on wheels delivering you fresh treats. PS you can always hear them coming because they all play the same catching tune!
11) Singhalese New Year treats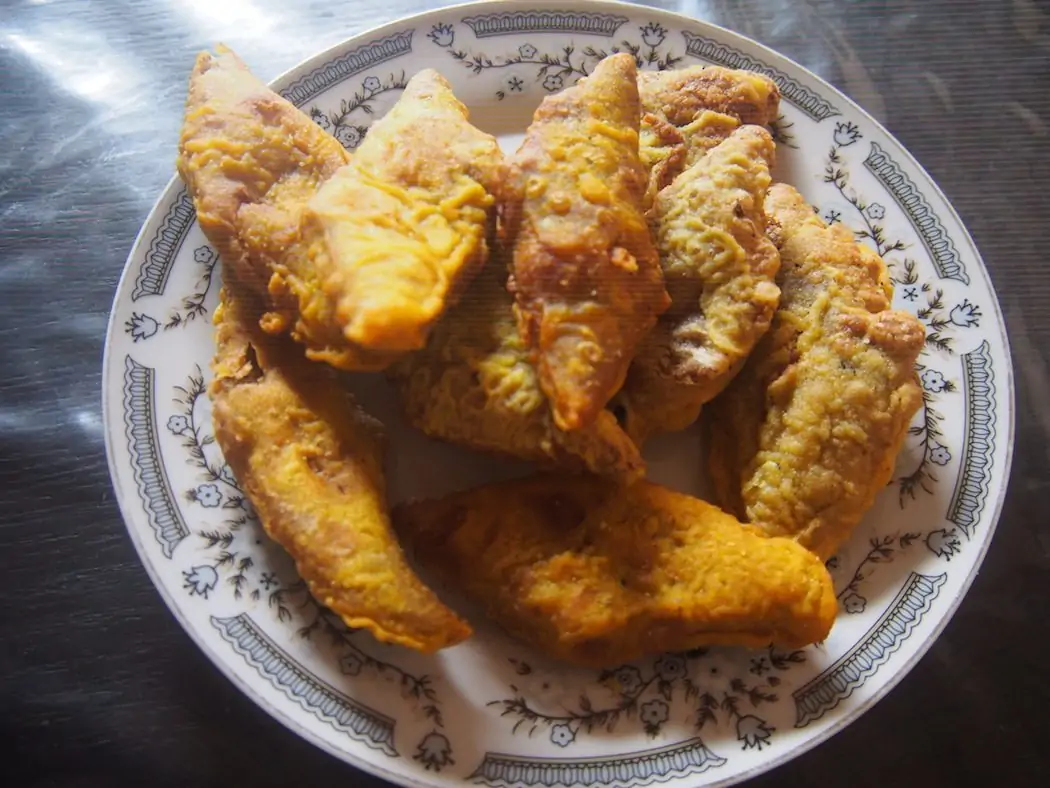 We were fortunate enough to be in Sri Lankan during their new years celebration. This resulted in a festive environment with endless treats. To be honest most of them were just OK. I did however, love the oil cakes!
12) Kiribath (Milk rice) with Banana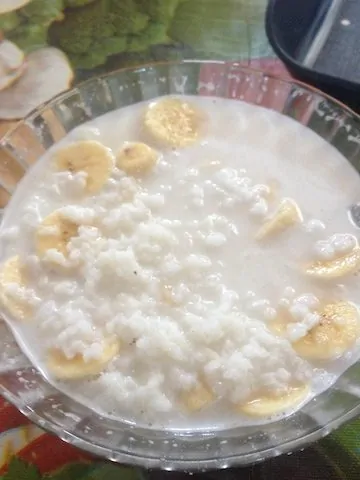 Simple breakfast dish made with coconut milk and rice. Reminded me of porridge. You can add fruit and nuts to give it more flavor.
13) Halapa
Traditional sweet in Sri Lanka made with Ragi flour, coconut, honey, and salt wrapped in a kanda leaf. Mildly sweet and extremely addicting!
Cookbook showcasing food from the region (Sri Lanka, India, Pakistan, and Bengladesh) is available for $23 via Amazon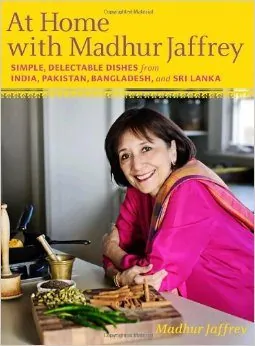 14) Papadum
Fried thin crisp made from flour, dhal, or chick peas. Served with Sri Lankan Rice and Curry and found all over Indian and Nepal too.
15) Vegetable Kottu Roti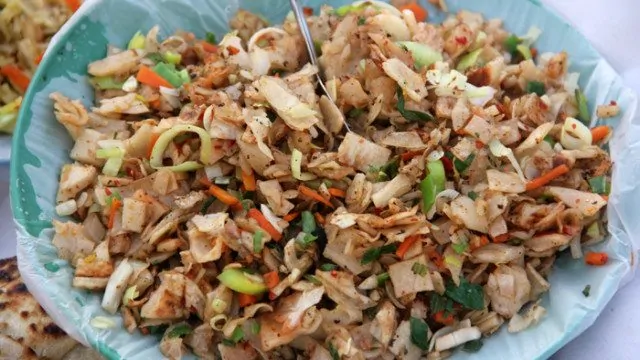 Tasty dish made by frying chopped with flat bread and vegetables. The chef puts on a spectacal each time Kottu Roti is made. You can watch and hear him chopping and mixing the dish while it's being friend. Each chef has their own "song" they cook to. Has a similar consistency of fried rice. Typical street food dinner.
16) Egg Kottu Roti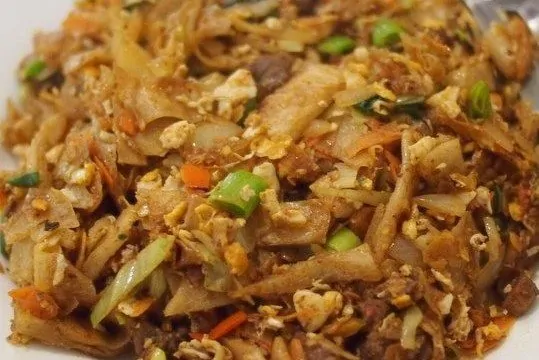 Made exactly the same as the veg kottu roti, except they stir fry a few eggs into the mix! Very tasty, cheap, and filling.
17) Deviled Calamari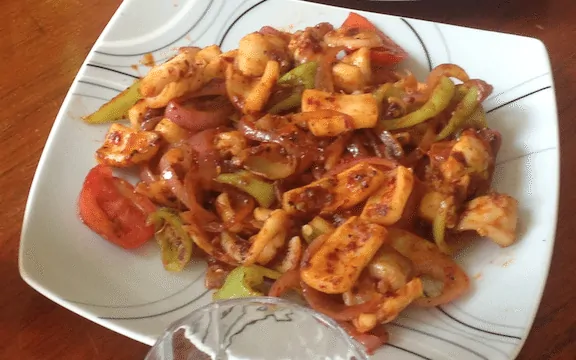 You can get all kinds of things "deviled" in Sri Lanka. Usually meaning grilled or fried after being marinated in a spicy tangy sauce similar to a Caribbean bbq sauce. Fantastic appetizer or main entre.
18) Jackfruit Curry
The Jackfruit is a very large and strange looking fruit. Once it's cooked in a bath of coconut milk and spices it becomes a tender treat! Hands down my favorite curry I tired in Sri Lanka.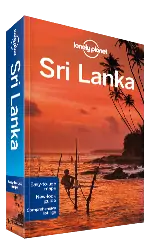 Don't forget your Lonely Planet guide book for Sri Lanka! [$17 via Amazon]
19) Leafy vegetable mallung (or mallum)
Cold salad type dish made from a few kinds of shredded leafy greens, green chilies, and salt. Sometimes other vegetables are added. Always tasty and a nice change of pace from the hot curries it accompanies.
*Getting in your veggies is a common tip to stay healthy while traveling
20) Beetroot Curry
Simply boiled beet slices marinated in a spiced coconut milk sauce. As a huge fan of both beets and coconut milk, this curry was a welcomed addition to any meal.
21) Cream Curd and Sweet Honey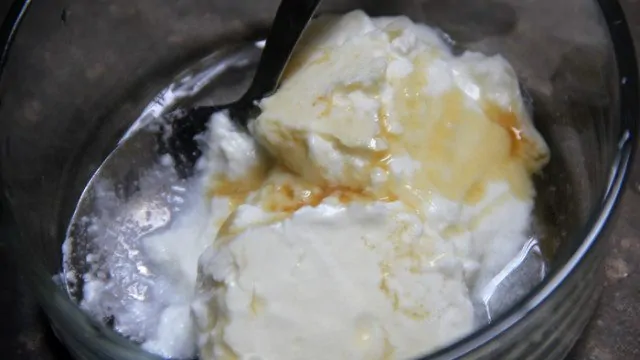 Rich and satisfying dish often served as a desert. Think a sweet honey like sauce drizzled over plain (slightly sour) yoghurt. An excellent combination.
22) King Coconut
The coconut is a huge part of Sri Lankan cuisine. Drinking a King Coconut is the perfect answer to the summer heat in Sri Lanka. For $.30 USD, a vendor will hack off the top of the coconut and give you a straw to drink the sweet juice from!
23) Chick Pea Street Food
Garbanzo beans (chick peas) are a delicious and nutritious snack found all over the streets of Sri Lanka. Often comes with onion, cilantro, spices, and a diced root vegetable.
24) Sri Lankan baked fish
During our AirBnB stay with Lahiru in Welligama, his mom made us an amazing Rice and Curry dinner with fish from the market. I don't know exactly how it was prepared but it was full of flavor!
25) Sri Lankan Pumpkin Curry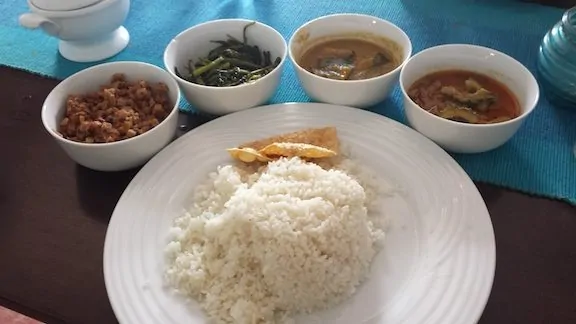 Roasted pumpkin chunks served in a spicy/sweet coconut milk sauce with loads of cinnamon. I've tried ordering pumpkin curries in India and Nepal and sadly they do not compare.
Check out my 30 favorite Vietnamese dishes! Vietnam is home to 2 of our top 5 healthiest cities in Asia
Looking for more information about Sri Lankan food? Here are the best books I've come across:
Sri Lankan cookbook called "Rice & Curry: Sri Lankan Home Cooking" [$16 via Amazon]
Regional cookbook called "At Home with Madhur Jaffrey" [$23 via Amazon]
Lonely Planet Sri Lanka [$16 via Amazon]
Heading to Sri Lanka? Plan ahead by reserving your accommodation ahead of time!
Happy Eating!
Brandon


PS: Did you enjoy this article? Pin me! 🙂