What is the Elephant Freedom Project?
The Elephant Freedom Project is an organization to help improve elephant welfare in Sri Lanka. Started only 6 months ago, the project is one of very few in the country that helps promote a healthy and safe life for domestic, privately owned elephants.
Two Dutch volunteers paired up with a Sri Lankan family to create the project and currently provide a home for 2 baby elephants. The animals are free from abuse here, and get lots of love and attention from the volunteers and family. They get to walk around freely, play with each other, and enjoy enrichment games to keep their brains active and learning.
The project is backed by Volunteers at Work, an organization started by one of the project founders, to connect volunteers with the elephants for the best possible care and oversight.
Volunteers can spend just a day helping out or several months at a time.
Our experience
We spent one full day at the Elephant Freedom Project. Here was our schedule. Please note that if you aren't interesting in a cooking class you're welcome to learn about elephants from the resident expert. We absolutely loved the cooking class (Sri Lankan food is amazing), but also wished we could have taken the elephant class!
8:30AM: Arrival at the project and morning tea/treats
9:30-11AM: Walk with the elephants, feed them, and observe them in their habitat
11:30-1PM: Cooking class and lunch
1:30-3PM: Enrichment activity with the elephants
3:30-5PM: Bathing the elephants in the river
We arrived at the project in the morning and had an entire day planned for us to learn and spend time with the elephants. We were initially greeted by Tim, one of the founders, and later met the gracious Sri Lankan family. We sat down for black tea (the best is found in Sri Lanka!) and treats as we got to know the other two volunteers and talk about our upcoming day together.
Our elephant time started with a morning walk through the lush greenlands while feeding them and learning about the elephants. Then we enjoyed a Sri Lankan cooking class – amazing food! Our afternoon included enrichment games designed to stimulate the elephants minds and bathing them in the river. We thoroughly enjoyed each and every activity and interaction with the elephants! It was clear that they were happy as could be and safe from any abuse.
Location
Nestled between many tourist elephant orphanages on Kegalle Road in, Kegalle, Sri Lanka. Roughly a 2-hour bus ride East of Sri Lankan's capital city, Colombo. Easy to reach from the international airport and the cultural capital of Kandy.
Facilities
The project is located in the expansive yard of a Sri Lankan family's home. It has space to accommodate volunteers who just stay for the day or weeks on end. There is a river just across the street where the elephants bathe. Plenty of space in the back for them to wander around and play!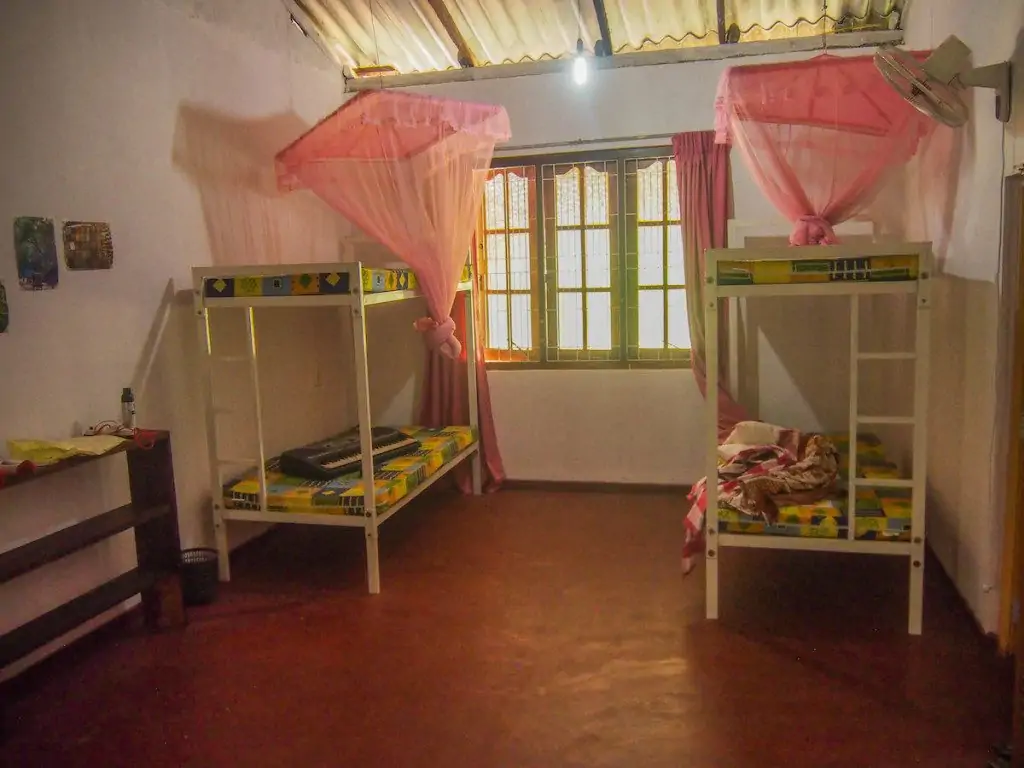 If you plan to spend some time here, your stay includes dorm style accommodation and meals 5 days per week.
Fun facts about elephants
One way elephants "hear" and communicate is through their feet. They pick up vibrations and low-frequency sound waves from miles away!
Elephants flap their ears when they are happy and excited! They also flap them to help cool down when it's hot outside.
Elephants mourn the death of their loved ones. When one of their herd members dies, they gather around the body and touch it with their trunks.
Their memory is fantastic. As migratory animals, elephants walk miles each year from place to place. When they walk past a spot where an elephant has died, even years prior, they will stop to recognize the location and exhibit mourning signs.
Final thoughts
Upon coming to the Elephant Freedom Project, we had minimal knowledge about the abuse that most elephants in the tourism industry endure each year. What we learned was astounding and has forever changed our views on riding elephants and supporting such causes. Unfortunately, many of the elephant organizations in Sri Lanka and around the world are very abusive to these beautiful creatures.
These beautiful animals deserve a happy life free from torment. The Elephant Freedom Project is a safe place to learn and help privately owned, domestic elephants lead a healthy life. We strongly endorse their project and hope that others will too.
Please do you research before taking part in activities related to elephants.
For more information on elephant tourism:
Giselle and Cody from Mindful Wanderlust spill the Truth on Elephant Tourism.
Elemotion – A works to improve the lives of endangered Asian elephants and the people connected to them.
Contact The Elephant Freedom Project:


What else is there to do in Sri Lanka?
Climbing Adam's peak (Sri Pada) is challenging however the view is worth the effort!
Learning to Surf in Weligama
Exploring the tea plantations found in the highlands region near Ella
Eat delicious Sri Lankan Food
Whale watching near Mirissa
Trekking through one of the many national parks (Horton, Yala, Sinharaja, etc)