We have all undoubtedly experienced the healing power of music. Sound is vital to our yoga practice and drastically improves the experience of students in yoga classes as well.
While most modern studios opt for bluetooth speakers, the soothing sounds of Tibetan singing bowls have the capacity to relax our nervous system, sooth tension, and improve spiritual wellbeing by activating our brain waves to higher levels of consciousness.
The sound therapy that comes from an ancient holy instrument can really take a yoga class to the next level and especially powerful for deep meditations or a long relaxing Savasana.
Whether you are a casual yogi, meditation aficionado, or yoga teacher, singing bowls are powerful tools for amplifying your spiritual connection and deepening the quality of your practice.
Like any instrument or yoga accessory, not all singing bowls are created equal. Set the tone (literally) for a magical yoga class with one of these top 10 singing bowls.
Quick Picks: Top 10 Best Singing Bowls
What is a Singing Bowl?
Monks and yogis have harnessed the soothing sound of Himalayan or Tibetan singing bowls for thousands of years to deepen meditation and yoga practices while improving focus, reducing anxiety, and even relieving insomnia, among many other benefits. These gorgeous ancient bowls work by gently striking the surface with a mallet and then slowly dragging it around the rim to create beautiful grounding sounds. They are most commonly made of Tibetan brass, metal alloys, or quartz crystal.
An instrument of sorts, singing bowls have grown significantly in popularity as meditation and yoga become more mainstream in western cultures. The sound and vibration of these uniquely formed bowls can calm your nervous system and deepen your spiritual connections.
Benefits of Singing Bowls in Meditation
If you struggle with anxiety, stress, depression, or general relaxation, perhaps sound healing with a singing bowl could be the secret to soothing your mind and body.
Not only is there significant science regarding the mental, emotional and spiritual benefits of crystal singing bowls, but there is also evidence that the sound vibrations from a singing bowl can promote muscle regeneration, pain relief, better digestion, higher energy levels, lower blood pressure, and even an improved immune system.
But not all Tibetan and Himalayan singing bowls are created equal. The sound quality, echo, volume, and healing potential varies widely depending on what the bowl is made of and how it is used.
Let's explore the best singing bowls to enhance to your yoga or meditation practice.
Top 10 Best Singing Bowls
Product's name
Size
Material
Mallet
More Info

Best Portable


Ohm Store Tibetan Singing Bowl Set — Meditation Sound Bowl Handcrafted in...
3.5"
Hand- hammered brass
Hand-carved teakwood
See latest price

Best for Beginners


Tibetan Singing Bowl Set ~ Easy to Play with Dual-End Striker & Cushion ~...
4" diameter
Etched brass
Dual-sided, easy pencil grip
See latest price

Best Singing Bowl Set


Wish Well Tibetan Singing Bowl Set ~ 4" Sound Bowl with 7 Chakra Crystal...
4" diameter
Hand-hammered and etched brass
Dual-sided for different frequencies
See latest price

Best Crystal Singing Bowl


ALIOTH 8 inch F Note Crystal Singing Bowl Heart Chakra with Padded Bundle...
8" diameter
99.992% pure quartz crystal
Cowhide suede striker
See latest price

Best Large Bowl


Meditative Himalayan Singing Bowl with Mallet and Cushion ​-Tibetan Sound...
5.5" diameter
Gold-colored brass
Wood and suede mallet
See latest price

Most Unique Design


CVNC 8 Inch Rainbow Colored A Note Third-Eye Chakra Frosted Quartz Crystal...
8" diameter
99.99% pure quartz crystal
Ball-tipped rubber mallet
See latest price

Best Quartz Crystal Bowl


RYAN DVAN 8-12 Inch Set of 7 relative pitch 440 hz Frosted Quartz Crystal...
Varies
99.99% pure quartz crystal
2 suede strikers and 7 O-rings
See latest price

Best Nesting Bowl


Singing Bowl Nepal-Beaten Tibetan Singing Bowl Set of 5 Hand Hammered -...
Varies
Holy 7 metal alloy (gold, silver, copper, iron, tin, lead, zinc)
5 unique mallets
See latest price

Best Budget Singing Bowl


Biggo Tibetan Singing Bowl Set-Meditation Sound Bowl for...
3.2" diameter
Brass
Wood mallet
See latest price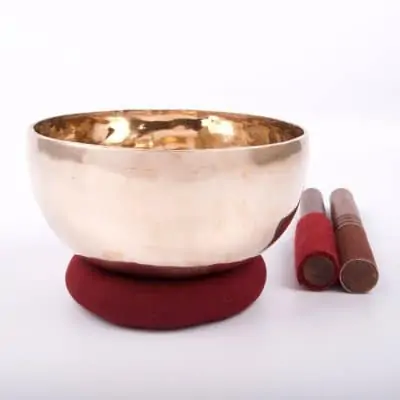 If you're looking for a cream-of-the-crop, world famous singing bowl set, Himalayan Bowls makes the most authentic and truly powerful singing bowls we've encountered. These bowls are heirloom quality, with long ringing tones and exquisite polished bronze craftsmanship. They even offer genuine antique bowls for those seeking a truly ancient, holy sound.
This bronze bowl set is made in Nepal and imported by a single, trusted source to the Himalayan Bowls' warehouse in Gilroy, California. Shipping is fast and safe. Each bowl is carefully inspected and tested before shipping and includes a 7-day return policy (but the company has had less than 10 returns in their entire existence; these bowls are truly that well-made).
This genuine crafted bowl has a smooth bronze exterior and a polished interior that offer a more organic, earthy aesthetic. Reviewers say that it resonates beautifully alongside a crystal bowl and helps ease you into a silent mind with minimal effort. The tuning of each bowl varies.
Pros
Highest quality bronze bowl
Slightly asymmetrical design for optimal singing
Easy to play
Hear the real sound on their recording
Perfect size for balancing sound quality and portability
Directly support known source of female Nepalese artisans
Sustainable, wildcrafted wood used for pallets and packing material
1 free cushion and 2 free mallets included
20 year old trusted company
Imported to California directly from Nepal
Fast shipping in the USA
This simple brass signing bowl is elegantly hand-hammered and made in Nepal at the foothills of the Himalayas. It is a portable 3.5″ size that weighs just 0.66 pounds for use at any yoga or meditation class on the go. It includes a pure teakwood mallet and small felt cushion for ease of use.
These bowls truly sound amazing for such a small size and simple design. The mesmerizing tones help calm your mind and encourage deeper meditations, and the mallet is easy to maneuver for unique sounds on different parts of the bowl. This singing bowl is very affordable and looks nice on display as well.
Pros
3.5″ for portability
Hand hammered brass
Elegant simple design
Hand carved teakwood mallet
Simple felt cushion
Very affordable price point
Instructions are included
Lifetime guarantee or 100% money back
Cons
Some strikers/mallets arrive damaged or do not last
Single surface striker (both sides are wood)
Very small
Cheaper quality than other brands
This authentic Tibetan singing bowl set is handmade by Nepalese artisans and designed for on-the-go or studio use. It's about 4″ in diameter and fits in your hand, yet in spite of its small size, the pure tones are layered and powerful. The beautiful Tibetan designs are etched into the hammered brass bowls and complete with an antique finish that actually lasts. Each bowl comes with an easy-grip dual-end striker and a non-dampening silk decorative pillow for the bowl to sit on. You can use the different sides of the striker to customize the sound tone of your bowl, for example the suede covered end creates lower pitched sounds and the wooden end yields higher pitched sounds.
Pros
5 antique color finishes
Etched designs
Handmade in Nepal
Dual sided striker (leather and wood) for different tones
Hand sewn silk round pillow
Includes user's guide, free ebook, and 3D sound bath audio track
4″ for portability
Very high quality calming sound
Significant resonance for a small size
Easy for beginners to use
Affordable price point
Great customer service
100% money back guarantee
Cons
Higher pitch than larger bowls
The bowl may slip off the pillow during use
Smaller than most people expect
If you're looking for an entire meditation set, this chakra singing bowl set is the buy for you. I love that it comes with a 7 healing stones (coinciding with each chakra) as well as a rose quartz pendulum, spiral necklace, 4″ Tibetan singing bowl, wooden mallet, hand-sewn fabric case, and a velvet pouch for the stones.
The charka healing crystals include clear quartz (crown chakra), amethyst (third eye chakra), lapis lazuli (throat chakra), green aventurine (heart chakra), citrine (solar plexus chakra), carnelian (sacral chakra), and red jasper (root chakra). You can slip any of the stones into the spiral necklace to bring the powerful energy from your meditations with you when you are working on unblocking certain chakras.
The harmonious vibrations of this hand hammered brass bowl can be used in conjunction with the crystals to aid in chakra healing and balancing. The frequencies emitted by the bowl when struck enhance your meditation and helps your brain enter alpha brainwaves, which signify a shift to higher levels of consciousness and peacefulness.
The hand sewn cushion and carrying case have a velvety feel and make it easy to use and transport this singing bowl without risking damaging it. The wooden mallet includes a bare wood and a felt-covered side for different tonal possibilities. But my favorite part of this set is how affordable it is and the excellent customer service from the company.
Pros
Very affordable set
4″ brass singing bowl
Felt pillow and carrying case included
Great for gifting
Handcrafted and etched by Nepalese artisans
Includes chakra healing stones, rose quartz pendulum, and interchangeable spiral necklace
Dual-sided mallet for different frequencies
Cons
Takes a little more practice to make it sing
Mallet may cause "skipping"
Sound can be short
Crystal singing bowls offer a different tone to your sound healing practice. This larger bowl is manufactured with 99.992% pure quartz and hand made to ensure precise tuning to the F note, which coincides with your heart chakra. This bowl is specifically designed to strengthen your connection with yourself and create a stable foundation of self-confidence, courage, and emotional expression. Sound healers and practitioners of energy medicine prefer crystal bowls for specific charka healing because they focus on a singular tone, whereas metal bowls are used to align all the chakras and present more complex ranges of overtones.
The crystal bowl comes at a moderate price range and includes a hollow suede striker mallet as well as a heavy duty sponge for storage and transport. These bowls are much more breakable than the metal types and are best kept in the home or studio.
Pros
99.992% pure quartz crystal
Cowhide suede striker
Padded sponge for storage and transport
Hand crafted and precision tuned by company with 20 years of experience in producing singing bowls
F note vibrance to focus specifically on the heart chakra
Crystal singing bowls have a more precise tone than metal bowls
Excellent sound quality
Replaced free of charge if damaged
Cons
More expensive bowl than brass types
Crystal singing bowls are more breakable and fragile
Lower range of tones than metal singing bowls
This stunning 5.5″ golden-colored hammered brass bowl boasts beautiful artistry and premium sound performance to ease you into a meditative state. I absolutely love the resonant tone that comes from a deeper bowl design that sounds incredibly grounding when played.
There is a wood mallet and hand-sewn royal blue silk cushion included with this singing bowl set. Unlike other products, the cushion is perfectly formed for non-slip placement of the bowl. The suede mallet has one bare wood to use for different tonal variations.
I am most impressed with the sound quality of this larger bowl. It sings and echos beautifully, but some people have found it works best with a larger mallet. Nonetheless, the artistically crafted bowl is gorgeous in any room and the deeper design creates a more wholesome sound.
Pros
Larger, deeper design is easier to use and provides more range of tone
5.5″ x 5″ x 5″ in size
Handcrafted brass
Silk cushion is perfectly formed for a non-slip hold on the bowl
Beautiful artistry makes a great accent in your home or studio
Wood and suede mallet
Cons
Mid-range price point
May not sing as easily as beginner bowls
Works best with a larger mallet
I've honestly never seen a crystal singing bowl as uniquely colored as this. The 99.99% pure crystal quartz is gorgeously frosted with the colors of correlating chakras. It is a larger bowl about 8″ in diameter that includes a ball-tipped rubber mallet that can be used on the interior or exterior of the bowl.
You can purchase these bowls in different notes (A, B, F, or G) for particular charka activation and different tones. Like we mentioned before, crystal bowls have a much more precise sound, whereas brass bowls encompass a broader range of tones. These bowls play at a 440 hz frequency known to reduce stress, improve mental health, and deepen your meditation.
Pros
Comes in A, B, F, or G Notes (coinciding with different bowl colors)
Really nice sound
8″ size
Easy to use ball-tipped rubber mallet
High quality construction
Cons
Colored "frosting" on the quartz is not non-toxic, may have a smell (some customers report the smell is only from the rubber ring)
Made in China
Breakable
Higher price point
This bowl set really takes sound healing to the next dimension. It comes with 7 pure quartz crystal singing bowls in notes C, D, E, F, A, B, and G. It also includes 2 rubber pallets, 2 suede strikers, 7 O-rings, and easy portable carrying cases. The mesmerizing tone of these crystal bowls is what really sets them apart from others.
This brand includes a lifetime guarantee for their 99.99% pure quartz crystal singing bowl set. Whether a certified sound healer, yogi, or hobby singing bowl user, this set does not disappoint with each bowl's beautiful sound and precise tonal purity. Due to the quantity, superb construction, and super high quality sound, these bowls are not cheap, but they do deliver the most incredible sound healing experience. The sound is very loud, sharp, and will deeply resonate with the corresponding chakra note.
Pros
Includes 7 crystal singing bowls of different notes in various sizes
Low, smooth, and loud tones
Premium sound quality
2 mallet types included
Safe padded cases to carry or transport without breaking
Gorgeous frosted crystal appearance
Lifetime guarantee
Cons
Luxury price point
Highly breakable
The different metal alloy composition and sizes of this Tibetan singing bowl set coincide with the most ancient Buddhist meditation practices. The seven metal combination of gold, silver, copper, iron, tin, lead, and zinc represent the sun, moon, and 5 planets. These bowls are powerful and play easily with a pristine, deeply grounding sound that will resonate through your entire home or studio.
I love that these 5 bowls nest together and include 5 unique mallets to experiment with different sounds and tones. Some mallets have a suede side, while others are pure wood. Everything is handcrafted by artisans in Nepal and hammered for the perfect beautiful finish. A silk cushion and carrying bag are also included.
Pros
5 bowls (3″, 3.5″, 4″, 4.5″, and 5.2″)
Bowls nest together
5 differently sized wooden and suede mallets
Include the authentic Seven Metals combination based on ancient traditions
Play different sizes to create a uniquely diverse musical experience
Deep, long lasting meditation sound to help with a silent mind
Premium quality
Cons
Luxury price point
May not nest together perfectly
Many customers prefer purchasing larger alternative mallets
If you don't want to spend more than $20 on a singing bowl for your meditation or yoga practice, this 3.2″ travel size Tibetan singing bowl set is the best budget option for quality sound and beauty without breaking the bank. It is pocket-sized metal alloy bowl with an antique-style design.
It is uniquely easy to use and has a resonance that keeps the sound harmonizing for a fair duration of time, in spite of its size. The singing overtones are graceful and steady for easing your mind into a peaceful state, and the shape of the bowl creates low frequency, high wavelength sounds that are known to promote physical healing.
For such a cheap price, this bowl is impressively high quality and includes a wooden mallet with one suede side, as well as a hand-sewn silk cushion.
Pros
Very affordable small bowl
Palm-sized (3.2″ diameter)
Functional and easy for travel
Very easy for beginners to use
Durable metal
Includes mallet and silk cushion
Cons
Some customers report it is actually made in China
Too tiny for some practitioners
Difficult to maintain a consistent sound
Does not resonate as long as larger bowls
Singing Bowls FAQs
How much should Singing Bowls cost?
A Tibetan singing bowl set can range from as low as $20 for a cheap, mass-produced item to as high as $1,000 or more for a one-of-a-kind handcrafted bowl made of holy metals. The sound quality and vibrational power varies widely amongst price points and different sources. Most yogis and meditation practitioners opt for singing bowls in the range of $40 to $100, made of quartz crystal, bronze, or the sacred 7-metal alloy traditionally used in Nepal.
Do singing bowls really work?
Singing bowls are a perfect way to begin a yoga or meditation practice by using sound therapy to push your mind into a quiet, peaceful state. The vibrations and tones of these bowls have been used for millennia in holy practices. They have been highly effective at calming stressed or anxious individuals, and anecdotal evidence reports the possibility of healing chronic pain, headaches, insomnia, and other physical ailments through the use of singing bowls placed directly on the body.
What is a good singing bowl?
The best singing bowls are made of quality metal or crystal and sourced from an ethical company. Depending on your desired use and experience with the bowls, you can choose from a variety of sizes, from palm sized to over 12″ in diameter. The frequencies and tones of each size and shape of bowl will vary dramatically. The quality and composition of the mallet also drastically affects the singing sound and resonance. A good singing bowl should feel joyful to listen to and vibrate into your heart and mind. It should have a soothing song that brings you closer to a peaceful, meditative state.
Why are singing bowls so expensive?
Singing bowls vary widely in their quality, craftsmanship, materials, and tones. They are typically hand made. Quality singing bowls are handcrafted with specific metals that were sacred to ancient Buddhist meditation practices. These include an alloy of gold, silver, copper, iron, tin, lead, and zinc to represent the sun, moon, and 5 planets. It can take a Nepalese artisan many months to make the finest singing bowls, and it involves a lot of heavy hand work with hammers and anvils to create the perfect final product you see at meditation studios.