There is a new and emerging brand on the block! Forging ahead to the top of the market in athleisure brands, Vuori is here to take athletic wears to the next level. This Vuori review will introduce you to the active coastal California lifestyle brand that combines casual wear with performance apparel and creates epic results.
What is to love about Vuori? Their ethics, the Vuori pants, their sports bra range, their super soft Sunday performance jogger, and the epic color range from coral to charcoal heather in a variety of styles!
They also offer refunds and returns at no additional cost, making your next Vuori purchase totally risk-free! After this Vuori review, they might be your go-to brand as well.
The Beginning – Foundations of Vuori
When there are already thousands of high-waist studio legging styles, colorful jogger pants, and perforated panels on tees, why is there a need for another brand on the market? Well, Vuori is not just another brand, but it is one servicing a specific lifestyle and activewear combination niche that will make you reach for your go-to Vuori pants next time you head to a casual party, or dress for an adventurous hike.
After trademarking certain fabric designs, this brand is well known for its super soft material and wide product range. From a comfy pair of joggers to sports bras, Vuori performance wear is great for both sporty and casual occasions.
Meet the Founder
Joe Kudla, an ex-model, is the founder of the apparel brand Vuori. Beginning in California and being inspired by the active outdoor lifestyle, Vuori has taken the activewear market by a storm, growing a loyal customer base and a retail portfolio that spans 13 locations across California, Colorado, and Arizona.
After years of playing football and lacrosse in college, Joe tried a yoga class to help heal his body from multiple injuries. During these classes, he noticed the kinds of clothing that people were wearing and saw a gap in the marketplace for men's yoga wear.
From his previous experience of working as a model in Italy, Joe knew about fashion and wanted to create a unique brand of his own. Listening to the feedback from his customers helped his brand to grow and to pivot the business in a successful direction. From humble beginnings, Vuori has now grown from a small to a medium sized business that is yet to expand even further throughout the world.
Key Pillars of the Product
The reason that the Vuori brand took off is because it looks after the ethical side of business as well as creating high quality products. The Vuori code outlines three guiding principles that shape it's current and future direction and they include fair treatment of all parties involved in any part of the business.
1. Ethical Manufacturing
Vuori ensures that all factories provide safe and healthy working conditions for their staff and that they follow responsible environmental policies. From their website:
"Vuori is committed to a safe and healthy work environment for all of our team members, whether they work within the four walls of our HQ or at the factories we choose to partner with both near and far. We require all vendors in our supply chain to abide by our Vendor Code of Conduct, which is based on International Labor Organization (ILO) core labor standards and requires compliance with all laws in each of the countries in which our factories operate and ensures programs are in place for continuous monitoring and improvement."
2. Sustainability
Vuori works to reduce waste, offset 100% of its carbon footprint, create social responsibility, and encourage community leaders to empower deeper connections with fitness, nature, creativity, and community. They partner with other businesses that create new solutions to reduce the waste impact on the environment.
3. Community
Vuori aims to create great relationships with its staff, partners, and the communities they operate in. Their products are designed to bring people together to share positive and meaningful experiences around the coastal Californian lifestyle values.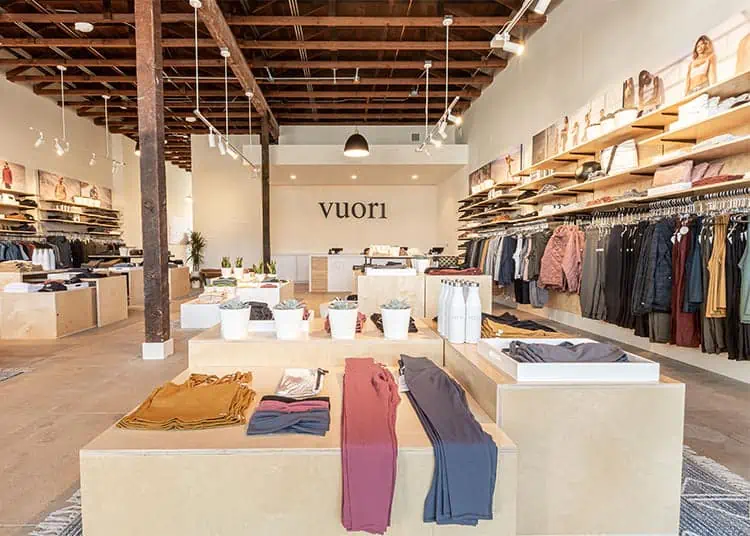 Premium Performance Apparel
When it comes to premium performance apparel, Vuori is competing with many strong and existing performance-wear brands such as lululemon. To create its unique selling point, Vuori has focused on creating incredibly soft, moisture-wicking fabrics that create a relaxed fit for the customer.
Vuori Review – Time to look at the products
Here's our top picks – from vuori joggers to vuori pants – review the key items in the vuori range here:
Vuori Men's Sweatpants review
If you are seeking a new favorite pair of pants, you must try the Ripstop pants from Vuori. These comfortable, slim-fit pants are an investment in happiness and adventure! With a great range of motion and flexibility, they outdo other brands with their new take on the latest gear. If you like hiking, traveling and dressing with a laid-back vibe for all occasions, then these are a must-have in your wardrobe.
Vuori pants review
The other pants in their men's range include:
All of the pants provide a classic, classy look and feel while having the capability to rock some epic adventures at the same time. If you are running from a formal event straight to the mountains to hit the trails, Vuori pants are for you!
Vuori performance jogger review for women
The Vuori performance jogger is made with signature DreamKnit™ fabric, to create soft and comfortable pants for lounging or exercising. The performance joggers feature a slightly cropped leg, side pockets, and an extremely comfortable elastic waistband. With size small, size medium, or size large, you can't go wrong. Choose the size for ultimate comfort so that you can lounge around like you mean it!
Vuori joggers review for men
The men's performance joggers are comfort and convenience combined into one pair of joggers. They provide room to move, a slim fit, no bulky ankle cuff, and side pockets for small item storage. They can be your next go-to pair of joggers for casual wear or sporty occasions.
The men's vuori Sunday performance jogger ranges in size from XS to XXL, with size medium coming in as a popular choice. Thanks to their stretch waistband, you'll be getting comfy in style with these joggers.
Vuori Shorts for Men
The Vuori Kore shorts are the staple item in the men's section of Vuori. They feature an athletic wear look with maximum comfort. Falling just above the knee, with slash side pockets and anti-odor material, you will be a big fan in no time!
In every Vuori review of these shorts, people are saying it's worth the money.
"Shorts are great. Exactly as advertised. Very happy." – Vuori review
Vuori Mindset bra
The beautiful, strappy shoulder strings on the Mindset bra create a beautiful and sporty look for both running errands or hitting the gym. While Vuori has an extensive sports bra range, the Mindset sports bra is a standout for its lighter support style and removable pads. Combine it with the studio legging range for your next workout.
Vuori Tradewind performance tee
The Tradewind performance tee is one of the most technical tees in the Vuori range. With a buttery soft fit, chest pocket, and quick drying capabilities, the opinions expressed about this tee are great. One of the honest reviews from their site said:
"I love this shirt (along with the Strato Tech Tee) quite a bit. I spent all year replacing my gym outfits with Vuori clothing and don't regret it one bit. However, these shirts run a bit tight – I wouldn't classify them as "running small", however. They're just very form-fitting, for better or for worse." – Vuori review
The Strato Tech Tee is another great choice for runners or those playing sports. With next-level comfort, Vuori's softest performance knit is moisture-wicking with UPF 30+. Some even claim it to be the softest shirt on the planet. But you'll have to try it yourself to confirm that!
The Downside
The most common negative feedback about this brand is that the sizes run a little small, so you may be thinking you can fit into a size medium when really you need to bump it up to a large. This isn't necessarily a bad thing, but it is something to consider when making your next purchase.
Luckily, if you do get caught out on size, you'll be able to exchange it for a more fitting size for free.
Price Review
Compared to other brands on the market, Vuori prices are around the same as lululemon and Athleta. This price range is one a long way below the likes of Alo Yoga, making Vuori more accessible to many people.
If you are looking for some cheaper options, then you can check out: the top lululemon joggers and a few alternatives that will fit your budget.
But in the end, you are paying a premium price for a premium performance brand, with quality that will last you a lifetime if you look after it well!
The Final Verdict – Overall Vuori Review
Is Vuori worth it?
The company is focused on sustainability and creating unbelievably comfortable clothes, so our final Vuori review is a positive one! Vuori has the potential to be better than other clothes in the same performance wear category, with the softest performance joggers and moisture-wicking material in most garments and gear that will create the possibility to live extraordinary lives. Therefore, Vuori is a great pick!
Their product guarantee includes free returns if you don't love the product, and that in itself is a testament to the quality of their clothes. Their growth strategy includes listening to their customers and creating a classic look that will last for decades.
What do we think about Vuori? Worth every cent!
If you are ready to make your next Vuori purchase, head over to their store locator to find the closest shop to you!
Frequently Asked Questions:
What is a fun fact about Vuori?
They have thought-provoking quotes embroidered on the labels.
They claim to have the softest material for workout gear and even trademark their own material to keep it that way!
Is Vuori an ethical brand?
Vuori is guided by the principles of ethical manufacturing, sustainability, and community. With these three guidelines in place, Vuori strives to create a high standard of business and social practices. Although Vuori does not own all of its factories, it does pledge to partner with groups who share their commitment to protecting the earth in the choices they make and share common values in how they treat their people and operate their businesses.