Ready to run but don't have the right gear? Looking for comfort with high-performance action? You should take a look at the Vuori range of athleisure wear to inspire your running performance and get you back on track.
Vuori is an up-and-coming brand from California with solutions for your fitness wardrobe problems. Vuori has collections for both men and women, with many cool free shipping deals across the country.
On their site, you will find a description for each piece of clothing on the site, as well as the ability to filter through their collections and find the clothes that are perfect for you! You can sign up for their newsletter on their website too and know that you've got the freedom and rights to wear the ultimate sports gear for all occasions.
So today, let's look at Vuori shorts for men, the models we like best, the prices, and the pros and cons.
Who is Vuori?
Vuori was founded in 2015 by former Dolce and Gabanna model, Joe Kudla. From experience in the modeling industry, he is no stranger to style, but he was disappointed by the lack of stylish sports and lifestyle options available to men. So he decided to create a new brand, and it was called Vuori.
Vuori has designed a number of fashion collections and trademarked special material to provide you with high-quality, breathable clothing.
If you are looking for a new addition to your sportswear section of the wardrobe, this could be the sign you are looking for! Filter out what you need, read the description of the item, add it to your cart, and simply hit submit for your new shorts to arrive.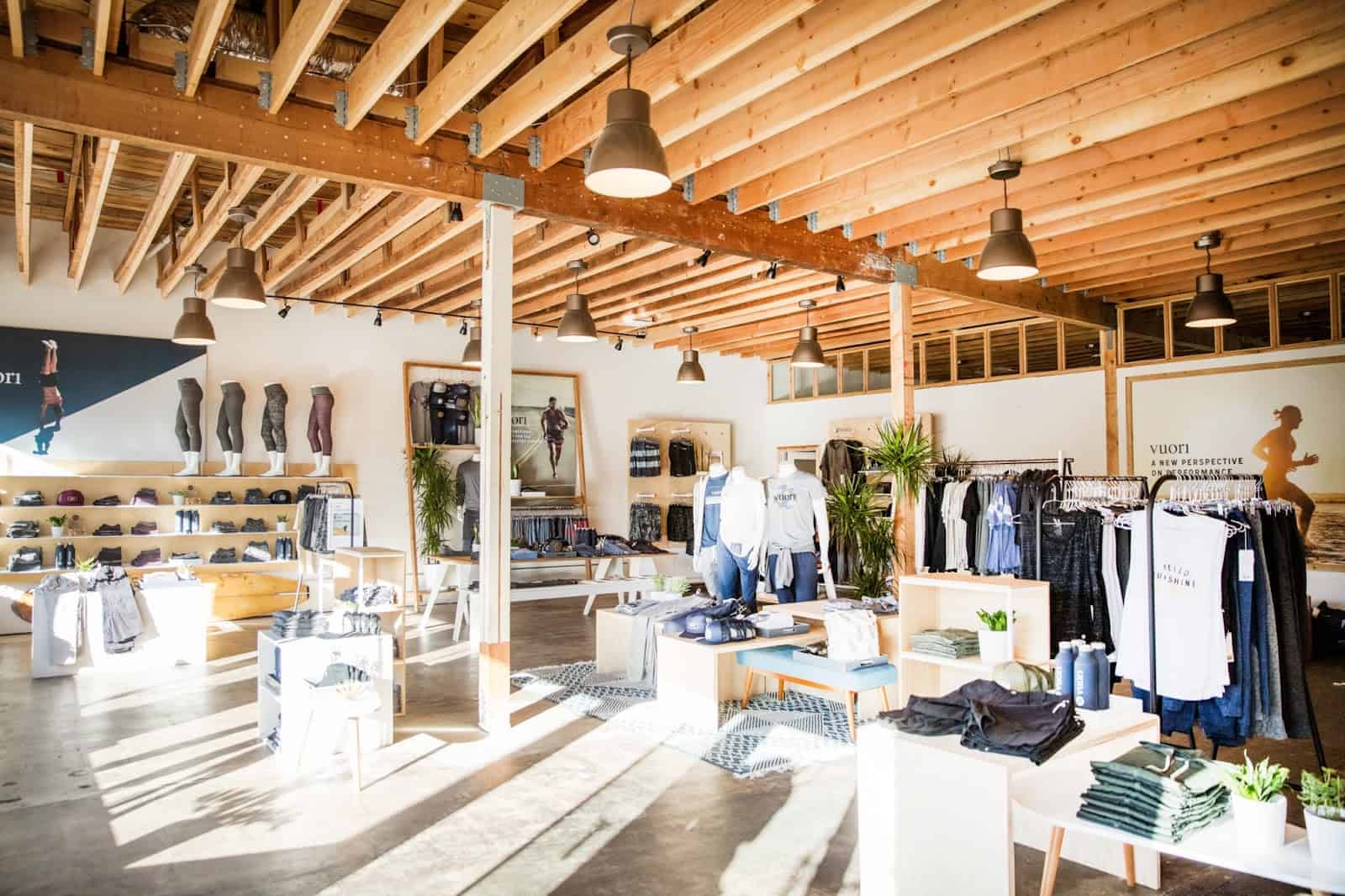 Vuori Men's Range
Vuori has a broad range of clothing for men and women, including leisure shorts, joggers, leggings, and sports shorts. This review is solely focused on the extensive men's shorts range to give you a little idea of why you want to include some Vuori items in your wardrobe.
The short collections include 12 styles of men's shorts in a variety of colors and designs. Let's take a look at which one is for who:
Kore shorts
The Kore Shorts are one for every sport. With a classic athletic fit, they sit just above the knee, and are great for running, traveling, and laying around in. They have different inseam options and also provide the option to purchase the shorts unlined. The sizes range from XS to XXL and all include pockets.
Pros
Classic athletic fit for all sports
Lightweight material, great for drying quickly and traveling
Five different colors to choose from
The inner liner is comfortable
Cons
Run a little small in size
Some people don't like the inner liner
Sunday Performance Shorts
These comfort-driven shorts were designed after the best-selling Sunday performance joggers. Now in a short version and aptly named the Sunday performance shorts, they are a great option for wearing to casual events or to be used as gifts for the boys in your family. See what colors are in stock here, and check out the best item in the short department!
The Sunday performance shorts features include:
Recycled Material
4-Way Stretch
Moisture Wicking
Elastic Waistband
Leg Zip Pocket
Back Zip Stash Pocket
Reflective Logo
And, they come in 7 different colors!
Pros
Perfect fit and length
Versatile and stylish enough to wear from the gym to a lunch date
Maximum comfort and easy to move in
Cons
The colors are not exactly as pictured – the Tobacco Heather color is darker than the images online
Banks Shorts
The banks shorts are designed for all kinds of movement between land and sea. Jump off a ship, swim to shore, and run around the island, these pants will have you covered!
The best thing about these shorts is their sustainability. Vuori uses its trade-marked VCycled™ fabric which means that each pair of shorts is made from four to five recycled plastic bottles. Despite the plastic, the material is still soft, lightweight, and ultra-stretchy. They come with a 7.5″ inseam for comfort and versatility.
Pros
Durable and breathable fabric, great for sports
Easy to wash and quick-drying material
Eco-friendly and made from recycled plastic
Cons
Size runs small, especially for men with bigger thighs
Small pockets, making it uncomfortable to put the hands in the pockets
Length can vary depending on personal sizing
Meta Shorts
The well-loved Meta Shorts are activewear disguised as leisure wear. It is the Vuori take on the classic Chino, but with super high-tech anti-odor fabric. They are moisture-wicking and quick-drying pants. They are the sort of shorts you can wear to a day party, and continue celebrating into the evening!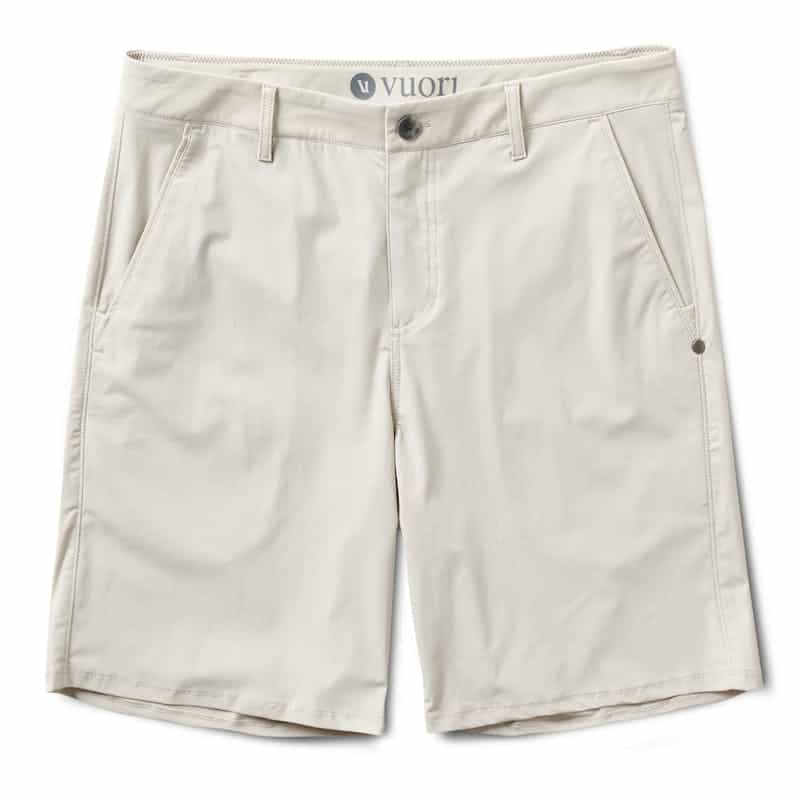 Pros
Doubles as activewear and casual wear for all occasions
High-quality and flexible fabric
Very comfortable for running
Good fit for golfing shorts
Cons
More weighted than the other shorts in the Vuori range
Aim Shorts
The aim shorts are great for lounging, have plenty of pockets, and are the perfect choice for golf events, traveling, or spontaneous adventures. It's all in the details with a hidden zip pocket and slash pockets.
Ponto Shorts
The Ponto shorts are made with Vuori's trademarked DreamKnit™ fabric. Making them feel lightweight and smooth like butter, these shorts have a soft and stretchy feel to them.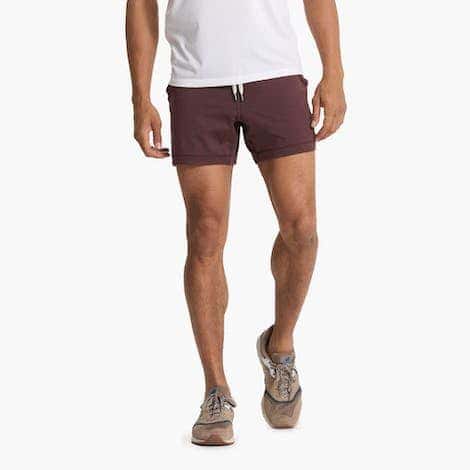 Pros
The DreamKnit fabric is the softest in the Vuori range making these super comfy shorts
Soft and stretchy for everyday comfort
Great fit due to the stretchiness of the fabric
Cons
Some don't like the baggy feeling or fit of the shorts
Can run high as short-shorts on some taller men
Trail Short
The men's trail shorts will make you feel as though you are running naked through nature. Super lightweight and breathable, they will keep you cool and looking athletic. With moisture-wicking material, these shorts can apply to any adventurous situation. They also make great gifts for the ones who love running and an outdoor lifestyle.
Pros
Super light material that feels like you are almost naked
Comfortable for running and sports
Hidden waistband to carry small essential items
Cons
Not as soft or stretchy as other fabrics in the range
Course Run Short
These quick-drying, super lightweight shorts are another great option for runners. With chaff-free technology and breathable material, be sure to order yourself a pair in your favorite color before your next big race event.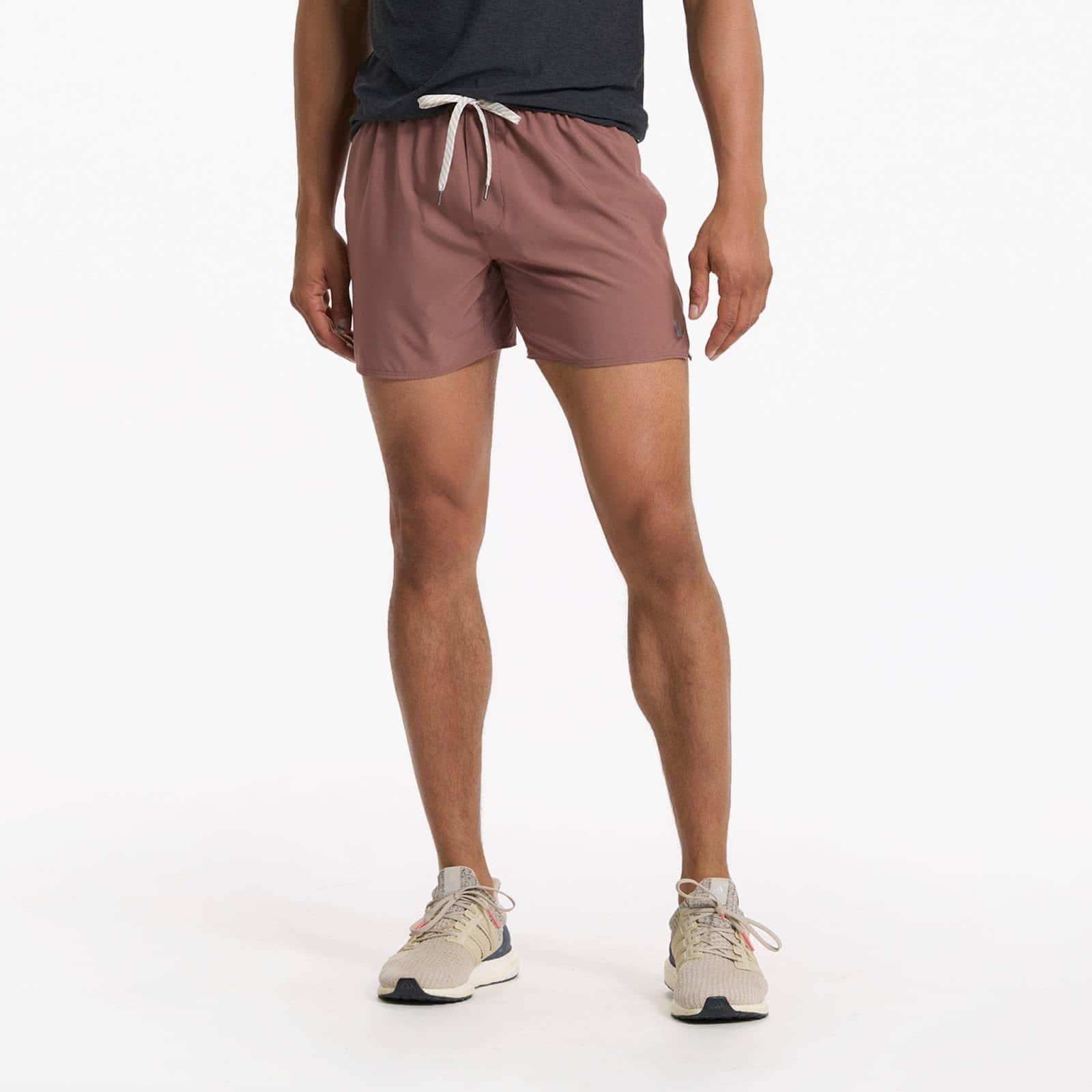 Pros
Designed for chafe-free running or movements
Best shorts for running on hotter days due to the short leg cut
Cons
The lightweight design creates poorly designed pockets
Draft Run Shorts
With next-level comfort offered in the description of these shorts, you can't go wrong. A simple waistband and hidden pocket provide all you need for any sort of adventure!
Pros
Lightweight fit making them a great choice for jogging
Cons
Pockets are way too long, and items hang below the hem
Only an elastic waistband, which moves too much during sports
Runs smaller in size than the other shorts at Vuori
Ripstop Shorts
These cotton ripstop shorts are perfect everyday pants. The description says they are a modern fit with a wide range of motion. Made with 98% organic cotton, you've got yourself one of the best deals, or gifts that you could ask for. Once you've had your own chance to try them on, you'll be sure to add your own positive review to the overflowing feedback on their site!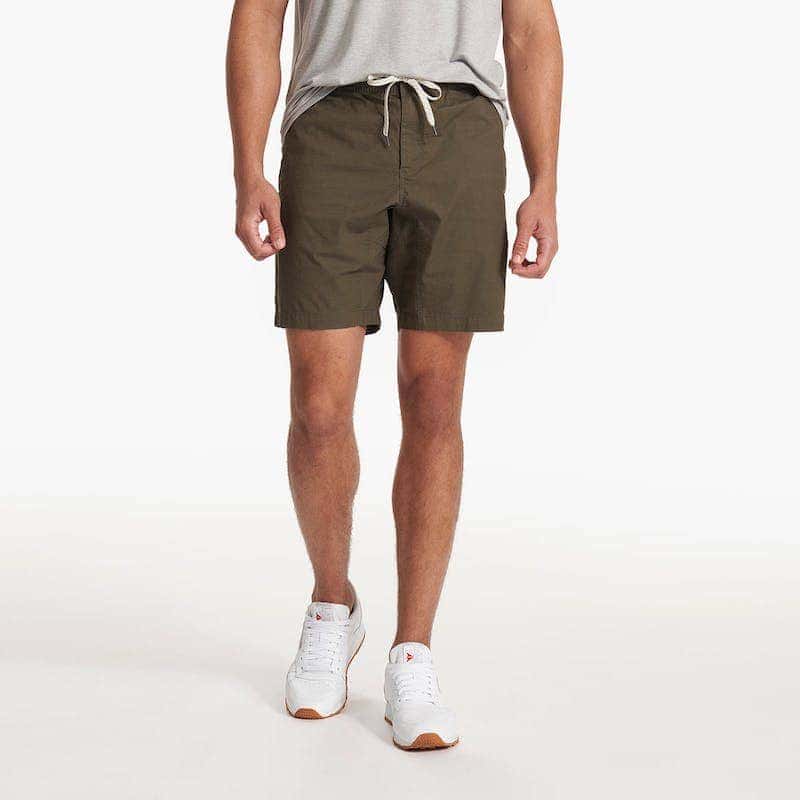 Pros
The durable fabric feels good for outdoor adventures
Runs true to size
Eco-friendly with organic cotton
Cons
Shorter inseam than advertised
Some say the fabric is too stiff and uncomfortable
Optimist Shorts
You have to agree that an optimist in life makes a good fit for an optimistic pair of shorts. Join the happy club when you wear these shorts in your favorite color. With two-way stretch cotton corduroy, you'll have the right to run free and fast in any direction that you choose!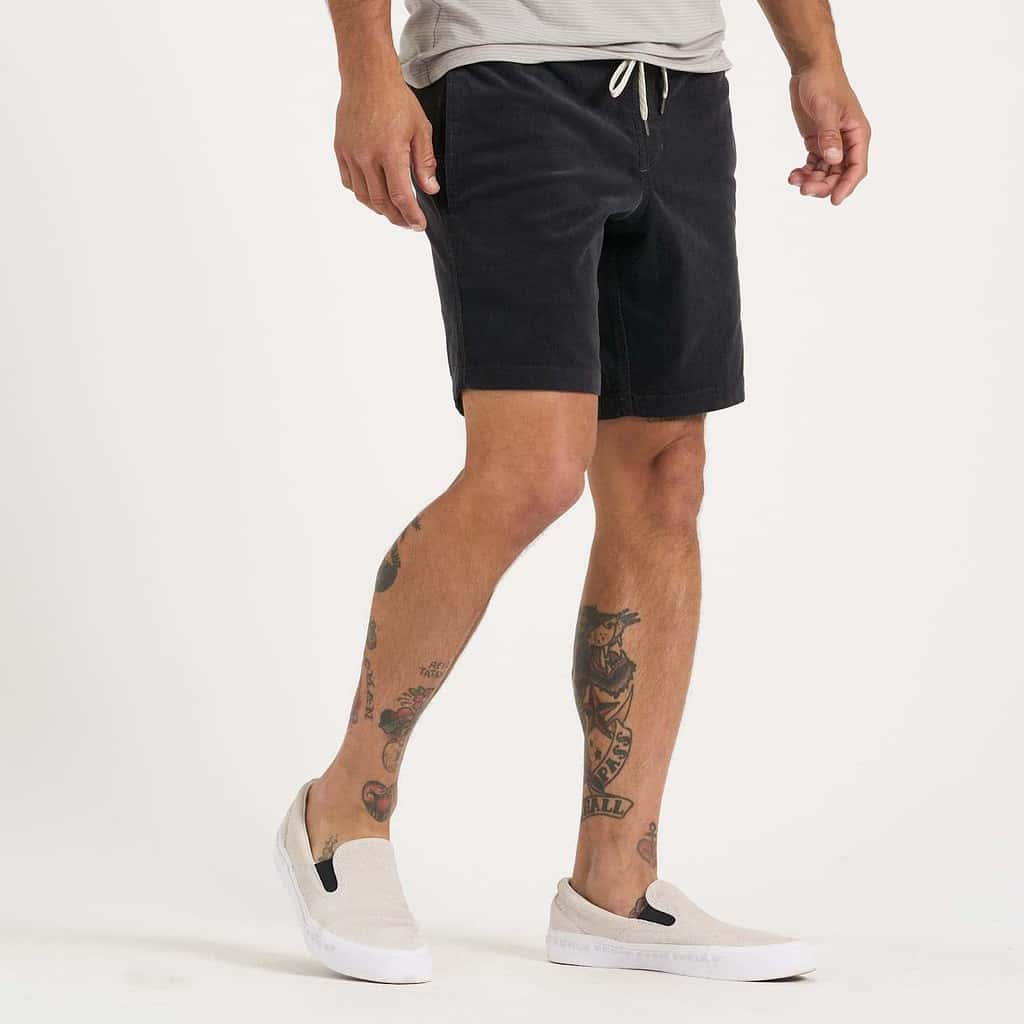 Pros
Made from two-way stretch cotton that increases flexibility
Nice and unique-looking fabric
Cons
Runs small creating a tight fit
Frequently Asked Questions:
Do Vuori men's shorts run true to size?
The various styles of men's shorts all run in different sizes. You can take a look at the sizing chart on their website, but note that most of the styles run smaller and tighter than recommended.
What is the most comfortable pair of Vuori shorts?
The classic Vuori Kore Short is the best fitting, most comfortable, and also versatile pair from the Vuori range. Compared to the other styles, you won't find a bad review on their cleverly designed Kore style.
Where can I buy a pair of Vuori Shorts?
Head over to their website: vuoriclothing.com to see what they have in stock. Simply add any item to your shopping cart, and instantly make your order! You can even sign up for their email list to receive their regular newsletter and to get the best deals delivered straight to your inbox. If you have any concerns or questions about an order or item in your cart, simply head to the 'Contact Us' page for more information.
Where can I find out more about the Vuori Brand?
On the Vuori website, you can filter your choices as you search for items, see what is in stock, browse their multiple collections and even ship your items straight from the website to your front door. You may like to join their email list to keep up to date with the latest clothing styles and deals! They also have an in-depth 'about us' section on the site to read more about their branch, ethics, and guiding principles.