Consider a world without music. Or a movie without a score.
Life just… wouldn't make sense.
Music is a significant part of the human experience for nearly all cultures around the globe. For hundreds of thousands of years, people have been gathering around fires to sing and dance and play music together. No matter where you're from, chances are that music played an integral role during events such as weddings, funerals, and parties.
Music can bring deeply seeded emotions to the surface. Recall a time when a particular song elicited positive or negative feelings. Perhaps it was during a movie, or even during a yoga class?
The primary function of music is communal – to bring and bind people together. Therefore, it makes complete sense why music is usually part of your yoga experience today.
Well all know having great music can help you stand out amongst the crowd (leading to more opportunities and better income). However, not every instructor enjoys creating yoga playlists for class. Sometimes it feels like a chore to constantly have "fresh playlists."
Shouldn't I focus on more important things than fumbling around Spotify?
I feel you. But it doesn't have to feel like a chore.
This article will help making the perfect yoga playlist both FUN and EASY!
Should yoga classes even have music?
Disclaimer: I'm not saying every yoga class should have music. Some people believe yoga and music do not mix and that's totally cool! Truth be told, some days I enjoy practicing without any music.
For me personally, I typically like music when I practice. If the music follows the flow or sequence, it enhances my experience greatly.
To me, music is art… and a strong form of communication. Therefore, I intend to create an experience as much using music, as I do with the asanas.
As I've been guided by my experiences in other people's classes, I hope to take what I've learned and help deliver the same for my students using music.
Music is a moral law. It gives a soul to the universe, wings to the mind, flight to the imagination, a charm to sadness, and life to everything. It is the essence of order, and leads to all that is good, just and beautiful, of which it is the invisible, but nevertheless dazzling, passionate, and eternal form.

-Plato
Things to consider when creating a yoga playlist
You may use music as a soundtrack to other things you do in your daily life: chores around the house, driving, cooking, etc. Chances are, you even select which type of music you want on in the background while doing these things.
Yet, creating a yoga playlist can be a challenging task. So many more things to consider!
Things to consider when creating a yoga playlist:
Time of Day – Music for your 8AM class may vary from your 8PM class.
Class Style & Pace – Song choices for a yin class versus a power flow should definitely be different. The songs you choose can help you pace your class so eventually you won't even need a watch.
Audience – Know your audience. If you see a trend that there's always an older crowd, or maybe a super young crowd, that should influence your song choices.
Class Length – If you have just 60 minutes, you'll have to be more selective in your choices.
Environment – Are you teaching at a corporate gym or an independent studio?
Mood – As seasons change, so do our moods. What mood are you looking to create?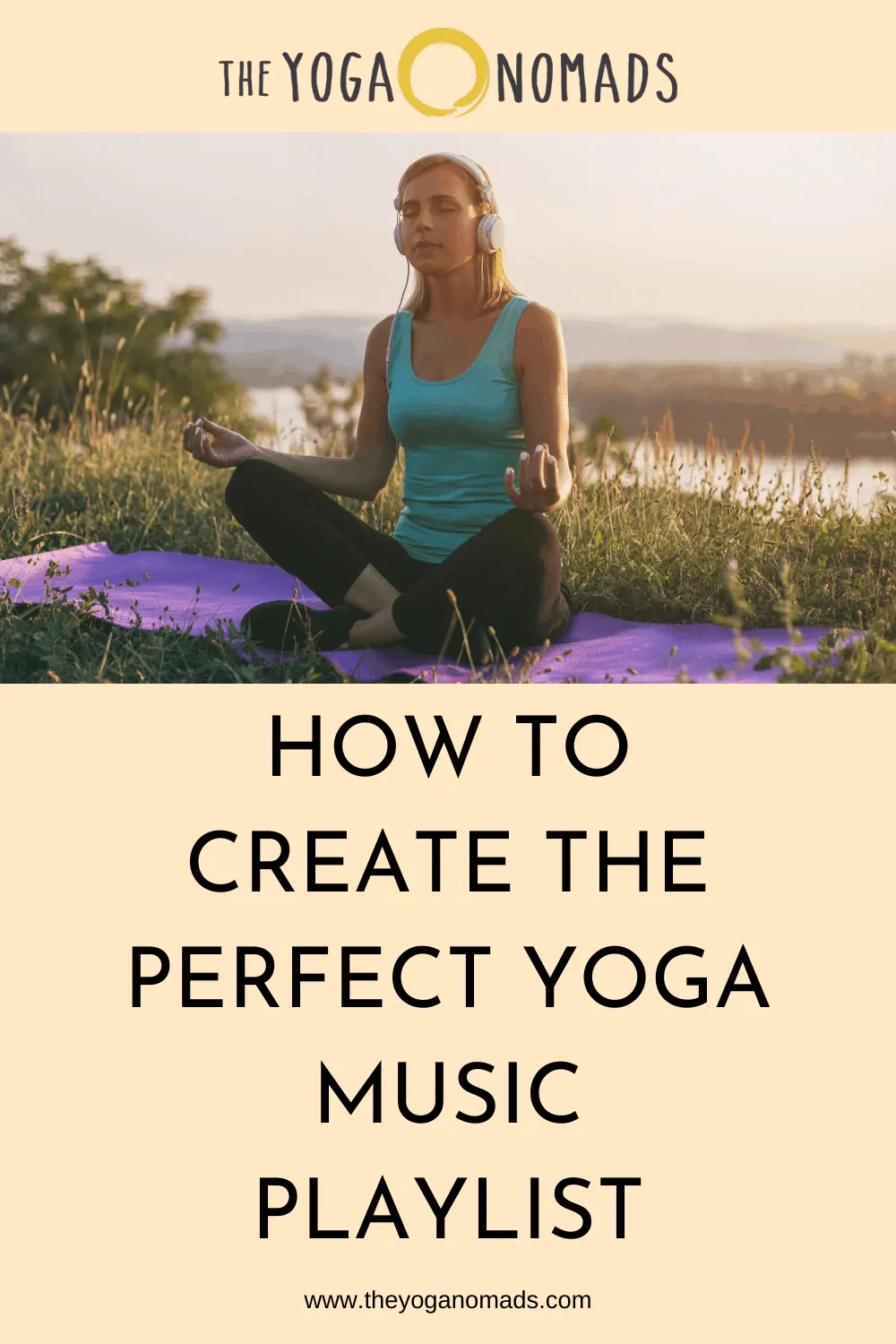 Pin me first? Then keep reading! 🙂
Selecting good music for yoga classes
Obviously "good" music is subjective. Here are some artists that I love to include in my yoga playlists. They're usually well received from students 🙂
Artist suggestions for good music for yoga:
Emancipator
Bonobo
East Forest
Desert Dwellers
Sizzlebird
Random Rab
The Human Experience
Garth Stevenson
Dustin O'Halloran
Words or No Words?
Words are a beautiful thing. The right words can make even the most ugliest thought sound beautiful… but words in songs in a yoga class can be distracting.
Be sure to carefully consider which songs with lyrics you use in your yoga playlist. This isn't to say I NEVER use songs with words in classes that I teach, but I carefully select them and try to have more instrumental music than otherwise. I encourage you to do the same.
The secret ingredient is music that calms without making one sleepy, drives without overdoing, and is emotional without being specific to a particular theme.

-DJ Drez
Song Length
Take note of how long a particular song lasts. I usually keep songs under 6 minutes in length, unless the song itself varies or changes a lot. However, if I were to teach yin or a restorative class, I'd probably choose fewer songs that are longer in length, as the postures are held longer.
How To Create a Vinyasa Yoga Playlist in 4 Easy Steps:
#1 Start with your yoga sequence
Take note of how long each sequence is. Where are the transition periods? I usually keep a notebook of sequence ideas for each segment of my classes, i.e.: Integration, Sun A, Sun B, Floor, Cool Down, Savasana.
#2 Match mood with the music
Find songs to coincide with the energy of the particular part of your sequence. Slow and steady? Energetic and dynamic? Choose songs to mirror those sentiments. The music choice should enhance the practice, not the opposite.
Example: If my integration lasts roughly 10 minutes, I'll choose a combination of songs that measure out to be about 10 minutes total in length, and that are a little slower in tempo as the students are just starting to wake up and warm up their bodies.
#3 Choose a music platform
My two go to music platforms are Spotify and Soundcloud.
Both have monthly subscription options for a nominal fee ($9.99USD/month). By having a monthly membership, you won't have commercial interruptions during your classes.
Spotify has a wider variety of music to choose from. SoundCloud is better for electronic music and offers live sets from many artists.
On both platforms, you can download your music offline so that you can play without a wifi connection. You can build playlists and title them so that they are easy to access for whichever class you are leading.
Pro Tip: Although Spotify houses myriad of music and artists, not everything is available. You have the option to import music from your own personal library to your playlists on Spotify.
#4 Practice your sequence with your music.
It's always a good idea to practice your entire sequence using your newly created yoga playlist. That way, you're able to adjust songs to flow alongside the postures and segments of your class. I love it when a good song is timed with the transitions in my class.
Honorable Mention: SILENCE can be golden in a yoga class. Although I most often prefer to teach with music, I enjoy integrating a few minutes of silence in the beginning and end of my classes.
***If you haven't already, find your first yoga teaching job so you can use your new playlist!
Yoga Music Playlist Examples
Sofiah Thom – a movement artist based in Dominical, Costa Rica, has incredible music in her classes. I took her training earlier this year and can't speak it's praises enough.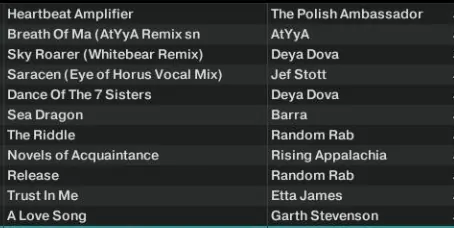 Rob Loud – We had the pleasure of meeting Rob and taking his classes at Sonic Bloom Festival this year in Colorado. He's an incredibly inspiring teacher with great music!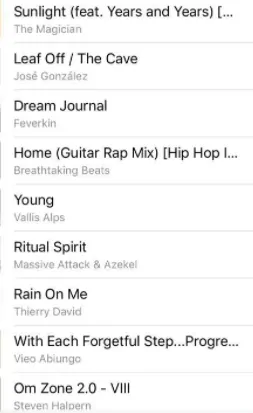 My own: This is a snapshot of my current favorite playlist for a vinyasa class. I get inspired by music on Soundcloud, and try and find the songs on Spotify. For older playlists, check out my 2013 playlist and my 60 minute vinyasa playlist from 2016.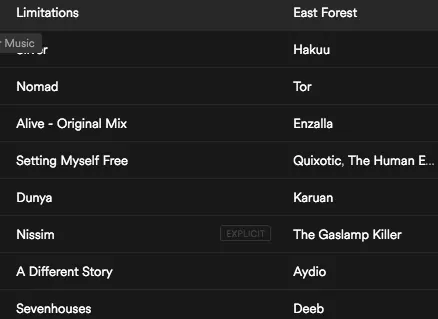 What is your strategy for building a yoga playlist?
PS: Did you enjoy this article? Pin me! 🙂