Reminder: Envision 2017 tickets are on sale
—
Deep within the steamy Costa Rican jungle lies Rancho La Merced, the sacred grounds of Envision Festival. Set alongside the Pacific Coast in the surf town of Uvita, the festival has called this home for 3 of its 6 years of existence.
Thousands of people come together to experience what the New York Times calls "the progeny of Burning Man." Fueled by love and intense jungle vibes, this eco-conscious festival most certainly operates at a higher frequency than others. Like-minded people bound together by a collective consciousness come to the jungle to awaken their human potential through art, spirituality, yoga, music and more.
Envision welcomes all walks of life and cultures year over year and we've been fortunate enough to experience the magic the past two years.
Something tells me already, the jungle will be calling again soon…
Here are our top 14 moments at Envision 2016!
1) Sunrise Sets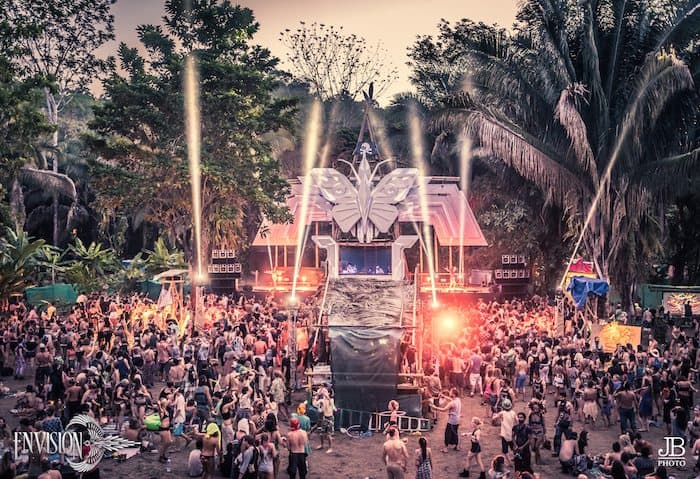 Wowza. Let's dance in the jungle like a bunch of animals as we watch the sunrise. Done and done. Letting Random Rab tickle our ear drums made the experience even more enjoyable. (See Hippie Hug #9). We continued to get spoiled the following day when Atyya's set led playfully into Spoonbill's which led into The Human Experience to close out the festival.
Mind. Blown. Back to back incredible mornings of music and sound. We traded places with the jungle animals when the moon rose and the sun set. Then as the moon set and the sun rose, we winded down as the monkeys and birds and insects came back to life, swapping sounds with the F1's.
2) Chaga Bliss
"A super concentrated organic, wild-crafted 10:1 Chaga extract served warm with a cashew coco milk and Organic Maple Syrup." Need I say more?
Well I am going to anyways… Found at the Food is Medicine vendor, this drink is sure to re-energize your body and mind to keep you going long into the early morning hours. Chaga is the king of herbs and considered one of the healthiest foods on our planet.
Medicinal mushrooms not your thing?  They have incredible food too. The owners are such luminous people who readily dish up knowledge on healing foods. Connect with Greg & Hilary at BeyondThrival.com.
3) The Transformation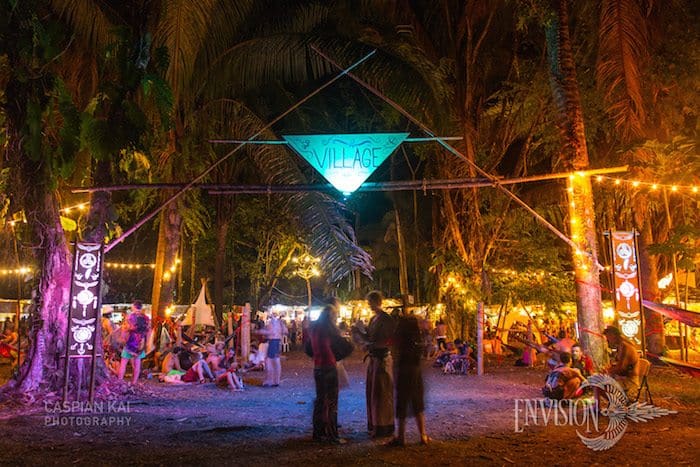 Although the co-founder Josh Wendel says Envision doesn't label itself as a "transformational" festival, it's still important for me to share the 'transformations' we felt on various levels.
Throughout the weekend, simultaneous transformations and changes occurred all around us, and within us. That first day, everyone is still finding their way and for the most part "clean." By the end of the weekend, we trade our cleanliness for dirt, sweat, and a new tribe of beautiful people.
One thing I most looked forward to is seeing how the festival transformed from day to night. The daytime is focused on spreading ideas, connecting like minded people, and refreshing our bodies and minds with yoga.
The dreamcatchers that lined the streets in the sunlight, turned into glowing dreamcatchers lighting your way by night. The art evolved, the stages evolved, the people evolved. You can also most definitely feel the energetic shifts from one day to the next.
4) The Human Experience
Speaking of The Human Experience, as I reflected on my favorite moments of the festival, it felt quite fitting to me that The Human Experience (David Block's premiere project) headlined the festival.
"I aim to cross cultural barriers through music. We don't play music, music plays us." – David Block
In addition to absolutely gushing over each of his 7 sets, I felt a sense of gratitude for being able to live a very human experience myself throughout the course of the weekend. Void of society's labels and pressures, we were able to live freely for 4 days, while we expanded our minds and consciousness. David Block's music only enhanced these feelings for me and what seemed like the rest of the tribe. I felt the oneness in this international gathering of beautiful souls hailing from all corners of the globe.
5) La Musica de Sunday + Funktion One speakers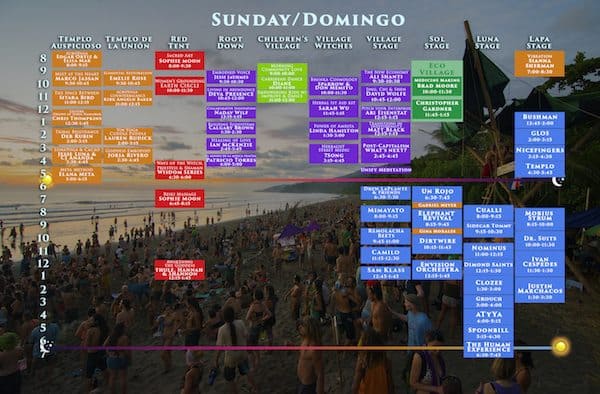 Wow. The Sunday music lineup on the Luna stage was outstanding. Many festivals turn Sunday night into the chilled out send off day. Envision did the opposite. The lineup was STACKED. The sound quality was unmatched in an outdoor environment – thanks in part to an unknown audio engineer (who should get a raise) and a massive stack of the best speakers in the world, Funktion One.
Dimond Saints > Clozee > Grouch > AtYyA > Spoonbill > The Human Experience
Dimond Saints played an inventive trap set that got people moving.
Clozee played a diverse set of bass music which was both heavy and ethereal.
Grouch played a legendary dub-hop set which greatly differed from his psy-trancey set at the Lapa stage.
AtYyA played his sounds from outer space and it seemed like mostly new music.
Spoonbill played one of the best downtempo sets I've ever heard (only rivaled by Dave Tipper)
David Block of The Human Experience closed out the weekend with a tribal bass set which fit perfectly.
ARE YOU KIDDING?
6) Eating at Farm Ferments
Naturally, we will highlight food more than once on this list. Being highly interested in fermented foods of all types, we were thrilled to see this food vendor.
The base of each plate is a dosa made from fermented rice and beans that are topped with probiotic packed fermented veggies. For an extra $2 you can add local organic pasture raised chicken. These hearty plates pack a TON of flavor and were a great value for your dinero.
7) Sianna Sherman's Ignite Magic yoga class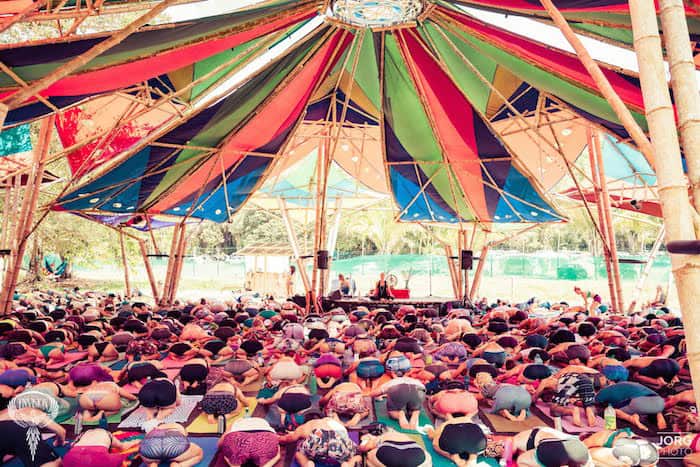 Igniting magic seemed like what we were doing all weekend. Her class just happened to tie it all together. Let me paint the picture for you: we are in the center of the front row just feet away from Sianna herself. To the right of her were two hang drums and behind that set up, David Block of The Human Experience getting ready to play a juicy set as we flowed. Hundreds of sweaty yogis piled in close to take her class under the shaded, colorful yoga shala.
It was a heavy contact and partner class. The connection was strong, the vibration high. I've never shed so many tears of sheer joy and felt as luminous in a yoga class as I did that morning.
8) Pipas Frias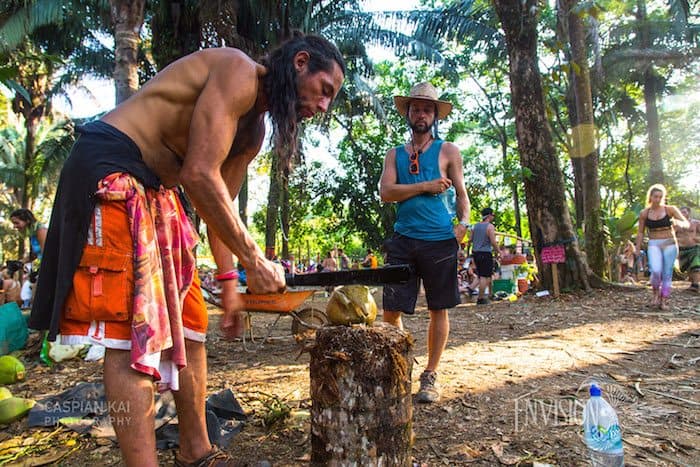 Here in Costa Rica we never want to be too far away from the coconut man. Envision was no exception. Inhaling cold coconut water and it's tasty carne was a necessity during the nearly unmanageable hot and humid days. It was a great way to sneak in good probiotics and cheaper than buying a glass of booch.
9) Giant Group Hug during Random Rab
It's near the end of Random Rab's sunrise set and Brandon and I decide to head up closer to the stage. Good thing we did! We made it just in time to squeeze in for a group hug! We embraced, swayed, cried and laughed for what seemed like an eternity. I think both my feet were elevated. Best. Hug. Ever.
This was Random Rab's 5th time playing Envision Festival. The vibes at his sunrise set were unmatched.
Honorable mention: The man from Colorado who hugged nearly everyone at Envision.
10) Essential Oils spiked water
Fitting in with the community vibe – a wonderful German man offered up his gift of essential oil infused water to anyone who walked by.
We got extra lucky to be camped just a 2 minute walk from this jungle oasis! After hydrating so much with plain water, it was a welcomed surprise to sip your water bottle and taste a hint of orange, lemon, sage, or grapefruit!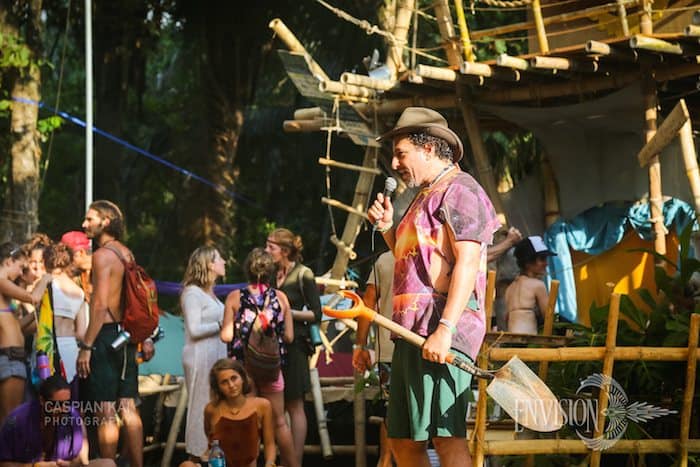 This guy. He knows a whole lot about everything we're interested in. A superfoods and longevity expert, he's dedicated his life to learning how to heal our bodies from what the Earth provides.
He gave a couple talks during the weekend and each time we were extremely captivated the entire time. He has a strong message, drops some serious knowledge, and he's hilarious!
At the end of one of his talks, he brought out a massive buffet of organic tropical fruit from Stephen Brooks permaculture farm. The whole crowd stuffed their faces with jackfruit, guanabana, water apple, and many, many more.
12) Sharing Smiles with Strangers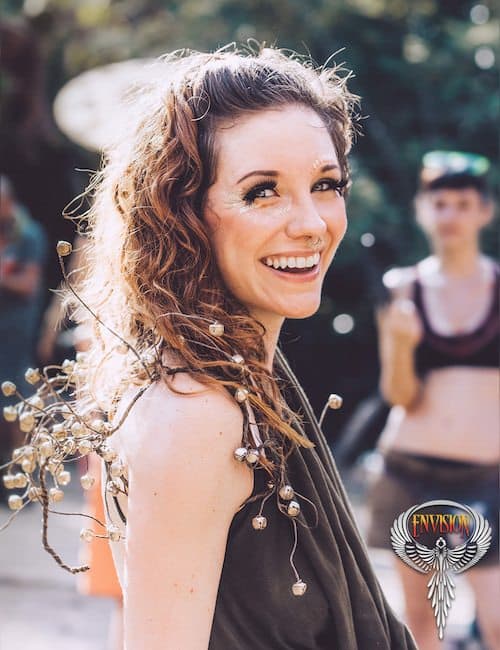 So many genuine and authentic smiles all weekend. Everywhere you went, strangers smiled at you. It was so refreshing. Smiles were felt straight in the heart and always seemed to come with the purest of intentions.
Egos were diminished. Limitations dissolved. Who you are is exactly who the person next to you is. An individual. The smiles made me feel the deep interconnectedness of our beings. We are all one.
13) Healing Blue Clay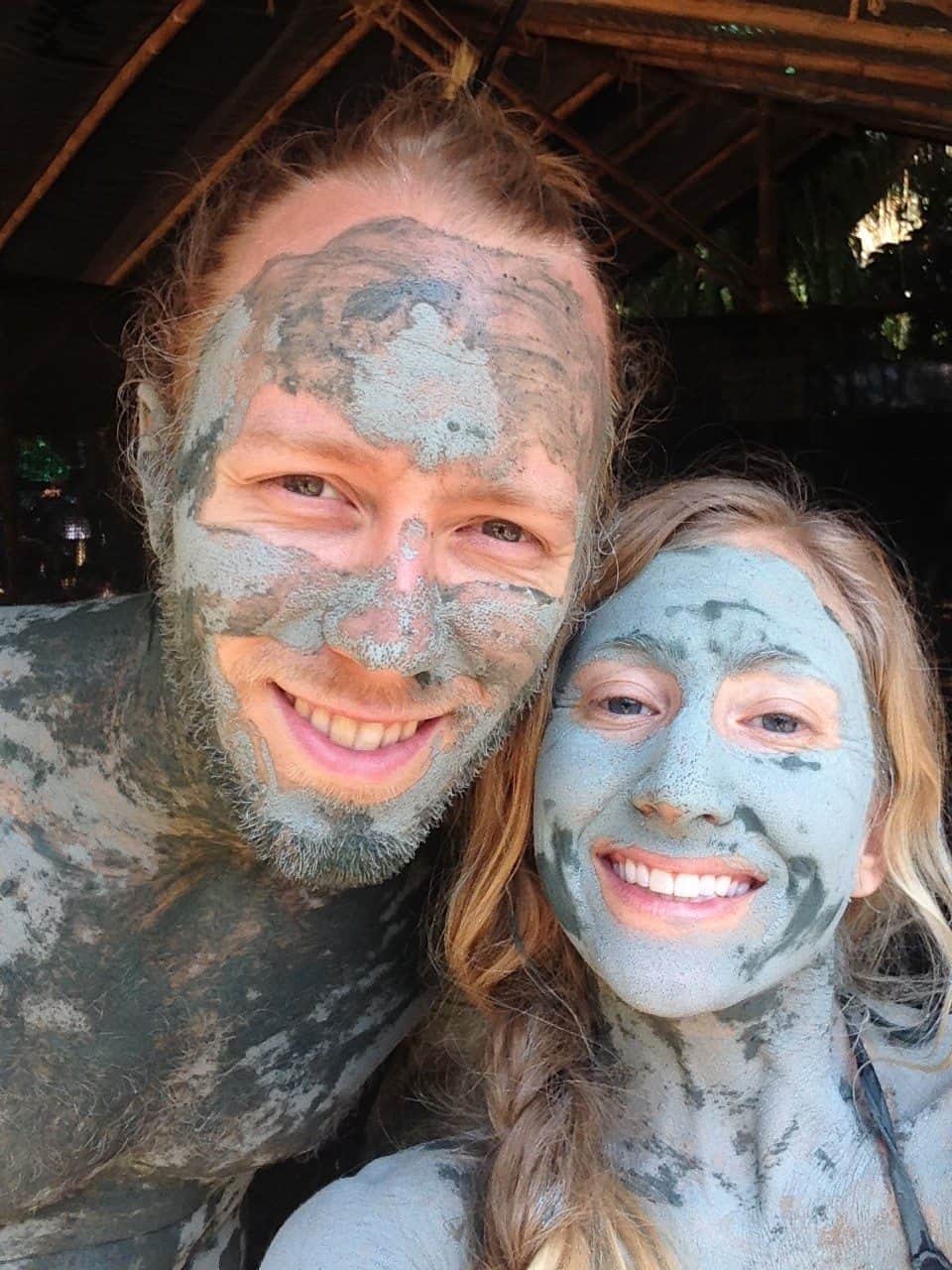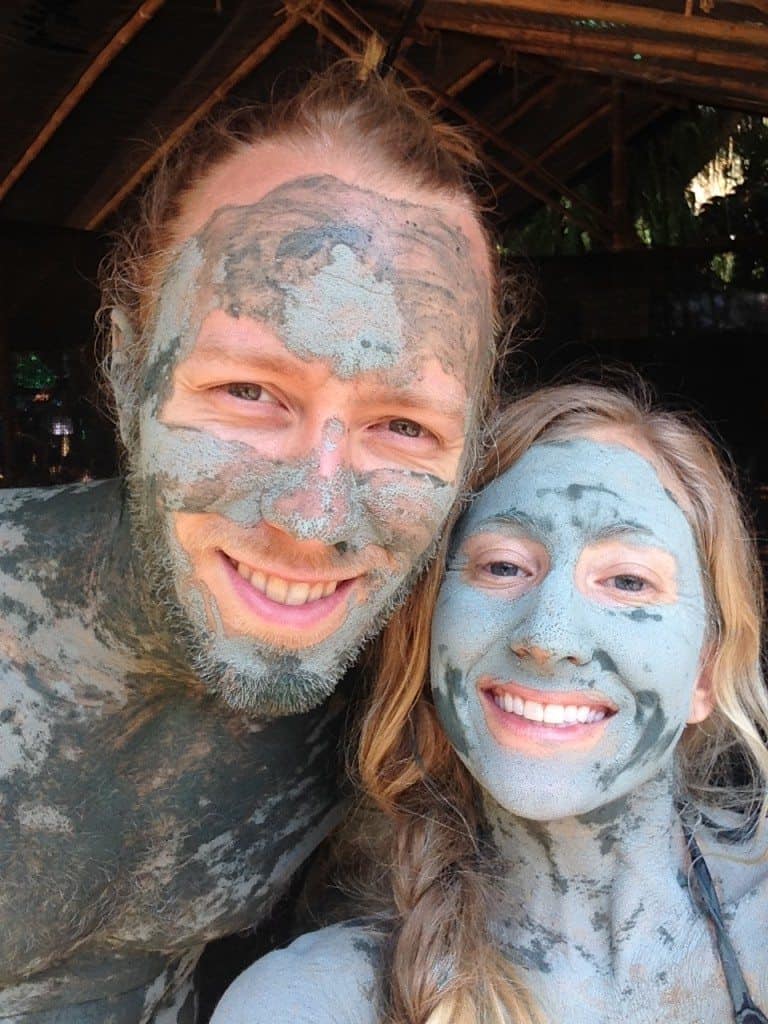 "I don't mean to be racist or anything, but where do all you blue people come from?"
A question our neighbors asked after we lathered up and walked around looking like avatars. During the heat of the day, I would estimate 1 out of 5 people were covered in blue clay!
Our main purpose for applying the clay was to protect us from the sun and lower our core body temperature. The effects go beyond sun protection and cooling though, it's also deeply detoxifying and worked to exfoliate our skin.
This blue clay was free for anyone all weekend long. It was provided by Harlow from Buena Ventura Eco Lodge. Harlow harvests it from the mountains in Costa Rica and runs retreats at his center.
14) The Magical Kids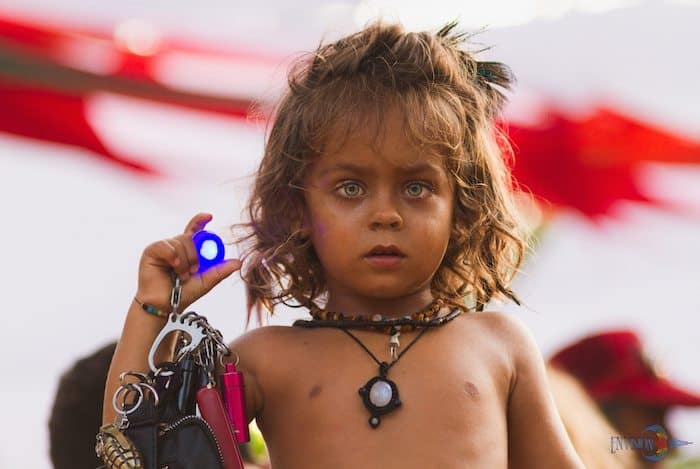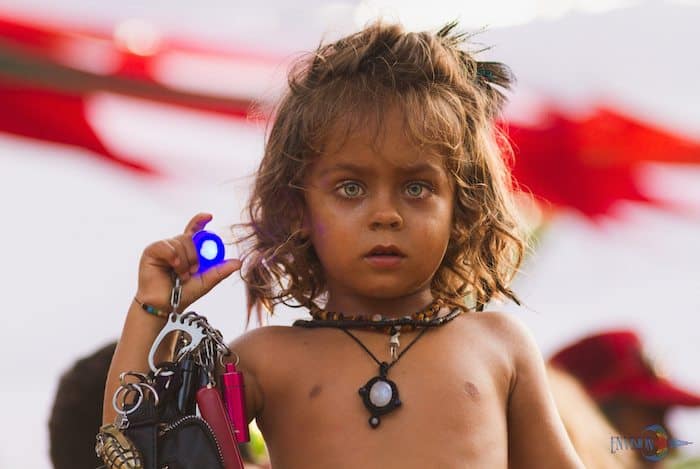 There are so many cute little kids running around during the day at Envision. It was always a pleasant reminder to keep that childlike wonder and curiosity in this life.
Your turn – what was your favorite moment of Envision 2016?!