This was our 2nd consecutive year spending winter in Central America. In 2015, we spent a month on the Caribbean side of Costa Rica in a small surf town called Puerto Viejo. Then we went North to Nicaragua and spent a couple months in San Juan Del Sur.
This year we decided to focus our time on the Pacific coast of Costa Rica. We spent a month in San Isidro and a couple months in Dominical surfing and practicing yoga.
We loved our time in Dominical and Danyasa is a huge part of that.
What is Danyasa Eco-Retreat?
Danyasa Eco-Retreat is a "sanctuary for living artfully." It appeals to those looking to experience transformation and exploration of self through various forms of arts and movement: yoga, surf, dance, healing arts, play, adventure and a connection to nature. What started in 2007 as solely a yoga studio called Bamboo Yoga Play, it has since morphed into an eco-retreat center dedicated to helping you expand the awareness of your mind, body and soul. The unification of these 3 occur through guided movement of many sorts.
Most people are initially drawn to the yoga classes, retreats and trainings, but along the way are introduced to other forms of mindful movements like ecstatic dance, Bamboo Yoga vinyasa, AcroYoga and more. The offerings are endless, and the setting is perfectly poised to help nurture a peaceful experience.
Keeping sustainability at the forefronts of their minds when building the resort, the facilities of Danyasa are almost all created from bamboo, a local and sustainably harvested resource. This makes it not only aesthetically stunning, but good for the environment as well. Using creativity and resourcefulness, they've even repurposed up-cycled shipping containers into comfortable living spaces! The converted spaces are so comfy and cozy, you'd never know that's the foundation.
Danyasa is owned and run by Sofiah and Brendan Thom, the couple who started the very first Envision Festival in the backyard of the retreat center 7 years ago! Sofiah now leads classes, trainings and retreats at Danyasa while Brendan manages the business side and takes all the beautiful photos and videos for the studio. Both movers and shakers, they plan to keep Danyasa growing along side the ever expanding beach and surf town of Dominical.
Check out our video interview with Sofiah Thom
What Does Danyasa Mean?
Dan-ya-sa is a word created by Sofiah and Brendan Thom
/dawn-yah-saw/
verb
when dance and yoga come together
using dance and yoga movements to heal and transform from within
Our Experience
We were lucky enough to spend 2 months in Dominical, which allowed for us to fully immerse ourselves in everything Danyasa has to offer. Our experience began with attending Envision Festival at the end of February. It was very fitting considering Sofiah and Brendan began the first one in the backyard of where Danyasa is today! This was a great start to our time in Costa Rica. It helped open us up and break out of our habits from back home. We were excited to get settled in Dominical and take some quality yoga classes.
We participated in a bunch of yoga classes as well as a few special classes on the weekends. Anne also indulged in a few things from the Bamboutique 🙂
Spending our time at Danyasa was often the highlight of our day!
Classes we attended
We genuinely enjoyed our experience with Danyasa. We always felt very welcome there, and almost like family when it was time for us to leave. Each class had a unique style and every instructor brought their authentic voice and dharma. Sofiah mindfully selects who teaches at the studio, ensuring that they are able to well theme each class from their own personal experiences. This was very apparent in the classes which helped keep our interest as it's not as common elsewhere.
*Check out the Danyasa Yoga Class Schedule here.
Power Alignment – Nicole Gayatri
This class surprised us in a big way. It is hyper focused on finding alignment in your physical body and also your mind. The class starts with a deep meditation in addition to pranayama exercises to help calm your nervous system and prepare you for the physical practice.
The instructor, Nicole, had really specific cues to help get your body completely and safely aligned. We both felt that our downward facing dogs and even forward folds were completely renewed and refreshed. It brought to our attention the habits and patterns of our bodies. The slow, yet powerful, pace created a physical and mental challenge we did not anticipate!

Luna Flow – TJ
Luna Flow occurs at the end of the day, just in time to help you unwind from surfing or spending time in the sun. It is a vinyasa style class with emphasis on hips and shoulders.

Bamboo Yoga – Sofiah Thom
Sofiah developed this class to bridge the gap between traditional vinyasa flow and her own artistic expression and movement. It is based in her own set of Bamboo Yoga Principles of Alignment and has an emphasis on drawing awareness to your core (or, bamboo as she refers to it) center.
It is a fun and energetic class that she usually incorporates and encourages freedom of your own unique expression through movement. Ideally, the student is guided to help awaken to the fullest expression of who you are. Oh, and she always has the. best. music.

Vida Vinyasa – Heidi Michelle
Heidi Michelle brings a great nurturing energy to this class. This was the first class we tried and were very pleased with it. The mixture of Hatha and Vinyasa was particularly good for me, as I love the marriage of the two. You can tell she's been instructing for a while, as the flow was seamless and her dharma was on point.
Heidi leads retreats and trainings with an emphasis on immersion in nature.

Gentle Vinyasa – Maite Onochie
Another class we took with a great playlist. 🙂 Maite brings what seems like extensive knowledge of Hatha, Vinyasa and Restorative yoga to her classes. We thoroughly enjoyed her soothing voice and calming energy. It seemed to invoke a sense of emotional stability as she focused on unifying the 3 rhythms of the body: breath, brainwaves and heartbeat.
Special Classes at Danyasa
Not only are there 2 classes every day at Danaysa, but they also host special events. Seems like every time a traveling yoga teacher is in town, Danyasa hosts them for a special event. We had the pleasure to take part in three events and each was fantastic!

Cacao Ceremony
Cacao is a superfood we have been using in our diets for a while. The last time we participated in a ceremony, was last year at Envision Festival. This setting was entirely different. About 40 people took part in the sacred evening of chanting, singing, movement, and of course, drinking cacao. It was led by a group of individuals who had just come off of a 4 day Forest Full Moon Gathering and their energy was infectious. We swayed and sung, and purred and growled… It was 3 hours of breaking free and enjoying the plant medicine. Definitely would attend again.

Ecstatic Dance – Sofiah Thom
We were so excited to participate in our first Ecstatic Dance class. We both love movin' and groovin' at music festivals so it only makes sense that we would love this class as well. Led by the beautiful Sofiah Thom, the class started off slow and worked it's way up to a more energetic environment. We closed our eyes and followed the beat with our bodies. Of course being led by Sofiah, the music was out of this world.

2-day AcroYoga Workshop – Kirk Angelo Blaker
We didn't have much experience with AcroYoga before signing up for the workshop. A little bit here and there, but no formal training. Kirk Angelo Blaker was a phenomenal instructor! We learned so much more than simply techniques and fun poses, but about relationship building, trust and respect. It definitely peaked our interest and we would highly recommend it to anyone!
Other Offerings at Danyasa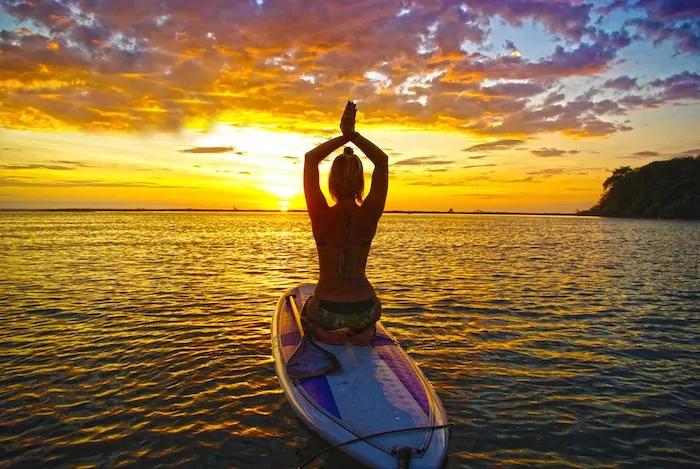 In addition to offering multiple classes everyday, Danyasa has several other offering that might suite your needs.
Costa Rica Yoga Teacher Training

– Led by Sofiah & Serra Lynn Smick starts May 12th

Costa rica surf and yoga retreats

– Book a yoga and surf package through Danyasa

Host your retreat at Danyasa

– Dominical is a great for combining yoga, surf, and nature

Eco-accommodation

– rent a nice clean room onsite. Shared kitchen available for use

Bamboutique

– a boutique shop attached to Danyasa selling clothes, jewelry, yoga gear, etc
Check out the complete list here for more information.
Where is Danyasa?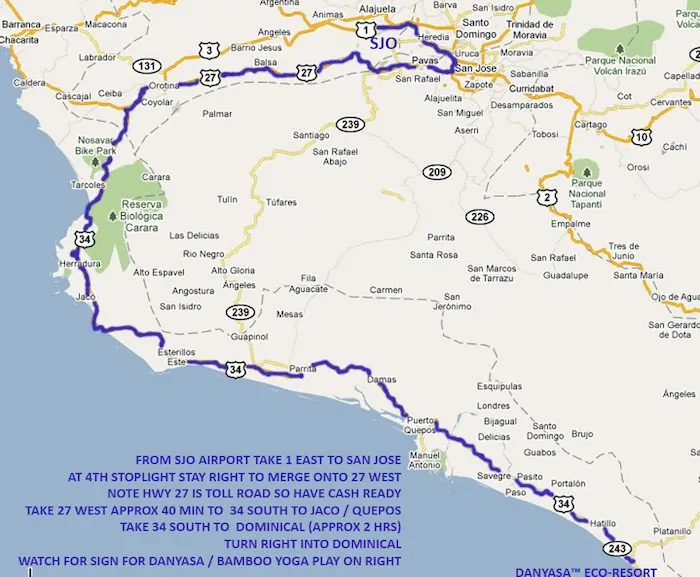 Located in the heart of the small, but growing beach town Dominical. It's just off of the main road in town, across from the public school. You will see the sign on the right hand side on your way to the beach. If the doors to the Bamboutique are locked, there is an intercom on the sign post.
More about the Dominical Area..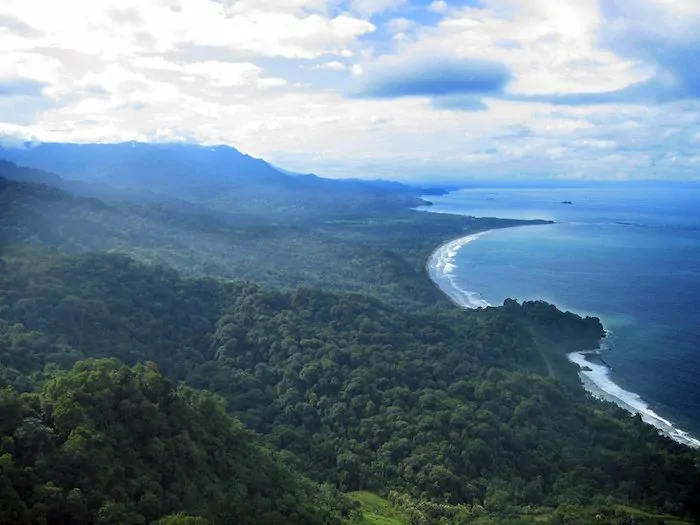 Costa Bellena encompasses the beautiful 35 kilometer stretch of beaches and towns on the Southern Pacific coast. This area is small but growing, and is home to Dominical, Uvita, and Ojochal. It's best known for it's laid back surf towns, great beaches, beautiful mountain views, lush nature and plentiful hiking opportunities.
Don't come expecting endless resorts or 5 star hotels. This region is much less developed and, in my opinion, much more charming.
Surprises & Delights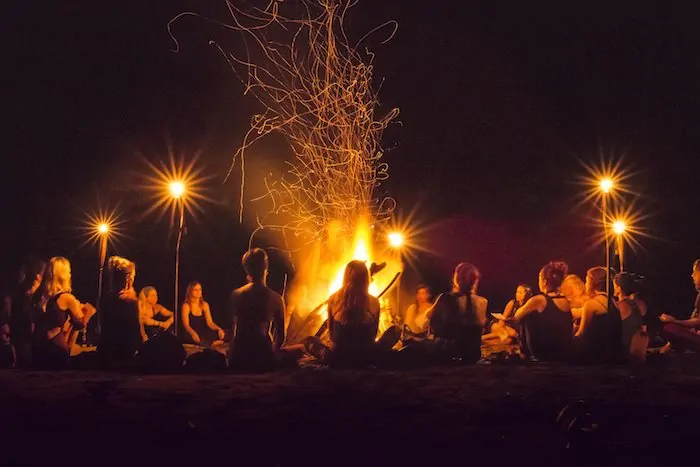 Danyasa was a huge highlight from our 2 month stay in Dominical. The property is a tranquil oasis tucked just off the main road.
I've really enjoyed getting to know Sofiah. I've learned so much from her in 2 short months! But the learning isn't over…
We are pleased to announce that I will be participating in both Sofiah's Live Your YES Full Moon Women's Retreat and Body Wisdom Yoga School 200-hour training!
If you're considering a yoga retreat or going through the 200hr yoga teacher training, I highly recommend checking these out. Let me know if you sign up, I would love for you to join me!