Are you about to embark on a new journey or go traveling alone? Have you had a run of bad luck lately? Or do you often find yourself absorbing negative energy from others?
When negativity enters our energetic field, it can manifest in our thoughts, emotions, or physical reality. Luckily though, there are ways you can attract positive energy and good luck and keep away evil spirits.
One of these ways is by wearing specific stones or crystals. Protection bead bracelets and pendants can free us from harm, negativity, and the "evil eye" while relieving stress, anxiety, and fear. Check out these five powerful beads for protection if you want to boost your defense and prosperity.
The 5 Best Beads For Protection
| Name | Appearance | Highlight | Where to buy |
| --- | --- | --- | --- |
| WFJ Black Obsidian Hematite Triple Protection Bracelet | | Best Triple Protection Bracelet | See latest price |
| Enjoy Risingsun Tripe Tiger Eye Bracelet | | Best Protection Bracelet For Women | See latest price |
| MS Beads Black Tourmaline Root Chakra Protection Bracelet | | Best Protection Bracelet For Men | See latest price |
| HASKARE Black Onyx Tiger Eye Protection Bracelet | | Best Double Layer Protection Bracelet | See latest price |
| Jovivi Protection Crystal Pendant Necklace | | Best Gemstone Necklace For Protection | See latest price |
This triple protection bracelet combines the power of three potent crystals; Hematite, Tiger's Eye, and Black Obsidian resulting in maximum defense for your mind, body, and spirit.
Known as a grounding stone, Hematite promotes stability and security, while Black Obsidian shields against negative energy from others. Tiger Eye increases the protective qualities of the other rocks. It also promotes courage and confidence to take risks and step out of your comfort zone without fear.
The three stones result in a black, silver, and brown mala beads style bracelet, with a total of 20 10mm beads on an adjustable elastic cord. And the best bit? The triple protection bracelet is a set of two, so you can keep one for yourself and give one to your partner or loved one.
This protection bracelet has a unique, feminine style, combining blue, red, and yellow shades. It is made from South African red, yellow, and blue Tiger's eye stone beads, giving triple protection and three times the confidence boost.
Tiger's Eye is one of the best gemstones for the third chakra (Manipura), carrying many outstanding healing qualities. It can help you feel grounded and safe while increasing your inner strength, motivation, and determination to pursue your life goals and dreams.
This beautiful bracelet has hand-selected round high-quality beads and is available in three bead sizes; 10, 12, and 14 mm. The beads are threaded on an adjustable elastic rope, but the bracelet size depends on the bead size. For example, the 10mm bracelet has a length of 6 to 6.6 inches, while the 14mm one measures 6.5 to 7.8 inches.
If you're looking for a protection bracelet with a simple and masculine design, check out this one by MS beads. The all-black bracelet is made with 22 to 24 genuine Black Tourmaline gemstones smoothed and rounded, then threaded on an adjustable cord.
Black Tourmaline is one of the best stones for protection. It works by absorbing negative energy, which removes any present in your body and blocks more from entering your aura.
The beads are approximately 8mm each, and the bracelet can be adjusted from 7.3 to 10.4 inches. Because of its simple design, this bracelet goes well with any outfit style, making it ideal for everyday wear.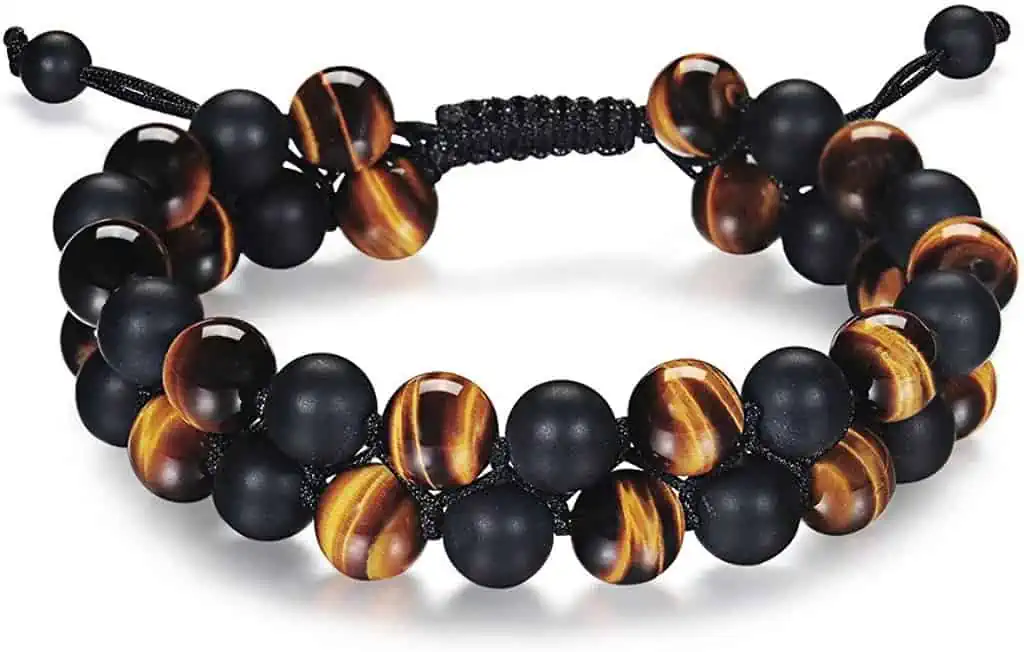 This eye-catching double-layer mala beads bracelet combines matte Black Onyx with bright flamed Tiger Eye on an adjustable drawstring cord. It fits wrists from 7.2 to 8.2 inches (18.2cm-21cm), and the durable black string holds the beads together tightly.
The Tiger Eye helps to release fear and anxiety while increasing focus, concentration, and confidence. The Black Onyx gives you the power and courage to face fears and find strength during emotional or challenging times. Together, these stones absorb and transform negative energy.
Along with bracelets, you can get beads for protection on necklaces and pendants like this one by Jovivi. Choose from various protection crystals depending on your specific needs and intentions.
For example, Obsidian is incredibly powerful at shielding against all negative energy, whether it's in your body or spirit. It also cleanses the root chakra to help you feel safe and find peace and balance even in uncertain times. Interestingly, Obsidian appears matt black in natural light but becomes brighter and lighter (with a green tint) in sunlight.
Your chosen gemstone measures about 16mm and hangs as a round pendant on a simple rope cord. You can untie it to change the length, and it is adjustable from 24 to 28 inches (61 cm-71 cm).
What Do Protection Beads Do?
A protection bracelet or necklace is typically made from natural stones or crystals with protective qualities like Hematite, Obsidian, and Tiger's Eye. A triple protection bracelet combines all three of these stones, giving triple the power.
Many say they feel calmer, safer, and more at peace when wearing these stones. These stones also help to reduce stress and support the mental and emotional well-being of the wearer.
Moreover, as these gemstones work on the lower chakras, wearing them around your wrist or neck can give other properties, like increasing a sense of grounding, focus, or personal power.
Final Thoughts On Beads For Protection
Wearing beads for protection can significantly increase your feeling of safety and absorb any negative energies that seep into your spirit. Thus, protection mala beads can prove comforting and grounding if you feel emotionally low, down on luck, or unsafe.