Whether you've just started a meditation practice or you've been meditating for a while, there is no denying that staying focused on the present moment is not easy.
Thankfully, a meditation necklace is an excellent tool for progressing along your spiritual journey. Meditation necklaces help you shift your focus from your mind to your body, and the materials they are made from have unique healing qualities.
So if you need a little help to stay consistent in your spiritual routine, here are our five favorite meditation necklaces and how to use them.
The 5 Best Meditation Necklaces
| Name | Appearance | Highlight | Where to buy |
| --- | --- | --- | --- |
| VadiForest Natural Healing Crystal Tree of Life Wire Wrapped Necklace | | Best Crystal Meditation Necklace | See latest price |
| Wonder Care Certified Rudraksha Panchmukhi Mala Beads | | Best Mala Beads Meditation Necklace | See latest price |
| Orgonite Pendant Om Symbol Luminous Chakra Healing Necklace | | Best Chakra Meditation Necklace | See latest price |
| AYANA Ethically Sourced Citrine Crystal Necklace | | Best Manifestation Meditation Necklace | See latest price |
| PNEIME 108 Natural Stone Mala Beads Necklace | | Best Handmade Meditation Necklace | See latest price |
VadiForest has a small selection of meditation necklaces made with natural crystals and stones known to help deepen your meditation practice and spiritual connection.
For example, this Clear Quartz necklace helps to cleanse and balance all the chakras, purify your aura, and promote spiritual growth. Alternatively, Amethyst is excellent at clearing the mind, increasing mental clarity and focus, and enhancing intuition and other mystic powers.
The beautiful stone is encased in steel wiring shaped into the tree of life symbol. The tree of life symbolizes the cycle of life and death and our connection to the earth and universe. Thus, this iconic design serves as a reminder that we are more than our physical body and a prompt to focus on the present moment.
The crystal pendant is about 2 inches long and 0.5 inches wide, weighing 10 to 30 grams, depending on the specific stone. It is attached to a 24+2 inches long stainless steel chain and has a lobster clasp.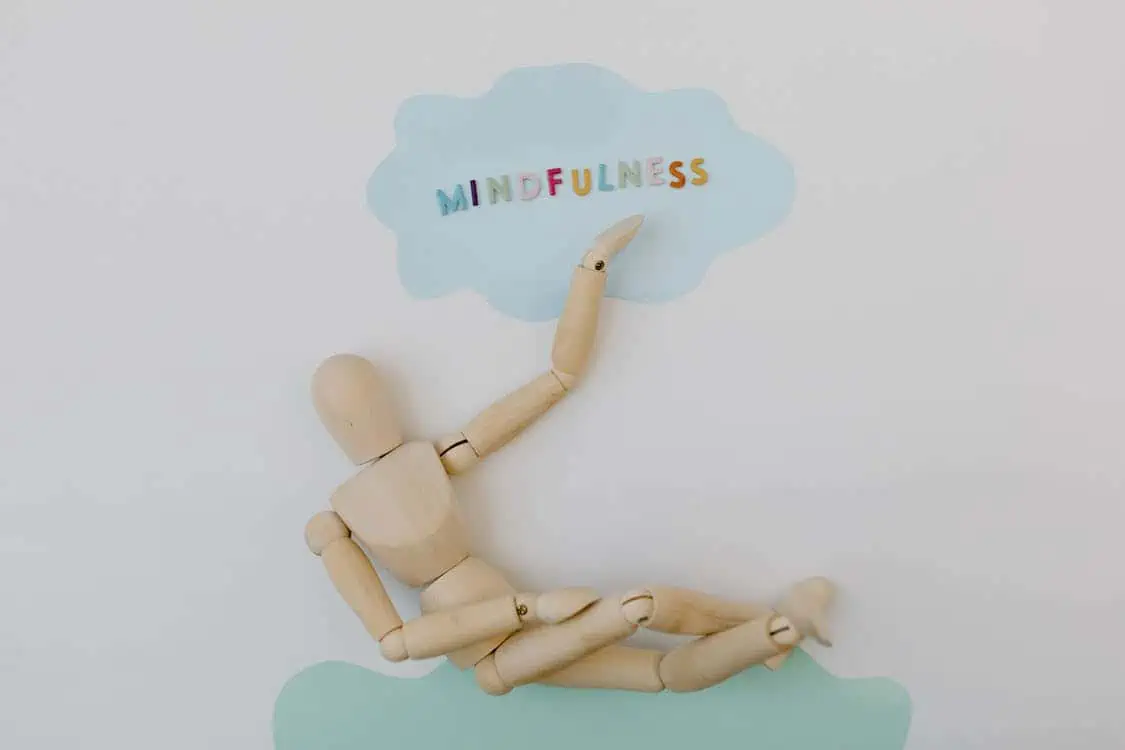 If you chant mantras in your yoga and meditation practice, I recommend choosing a mala beads necklace. For centuries, malas have been used as a meditation tool across various religions and traditions, including Buddhism and Hinduism. Thus, malas are a natural top choice among many modern-day meditators, many of which are introduced to them by their meditation teacher.
This mala beads necklace by Wonder Care is made from certified and genuine 5-face Rudraksha seeds. Rudraksha promotes peace and positivity, reduces stress, and calms the nervous system.
The handmade meditation necklace comprises 108 10mm beads threaded on a heavy-duty cord with individual knots between each bead. It also comes with an authenticity certificate.
Many yogis use meditation to cleanse and heal the chakras (the energetic body). A chakra healing necklace helps to clear any blocked or stagnated energy, which may assist in healing specific mental, emotional, and physical ailments.
The necklace features premium handmade orgonite with crystals for the seven chakras. The stones include Red Jasper, Carnelian, Yellow Aventurine, Green Aventurine, Turquoise, Lapis Lazuli, and Amethyst.
As orgonite is made from resin and metals, it has the unique benefit of absorbing and neutralizing harmful energies. This includes cancer-causing emissions from tech devices like your cell phone. Thus, along with improving your meditation practice and healing the subtle body, it can improve your sleep, reduce stress and soothe headaches.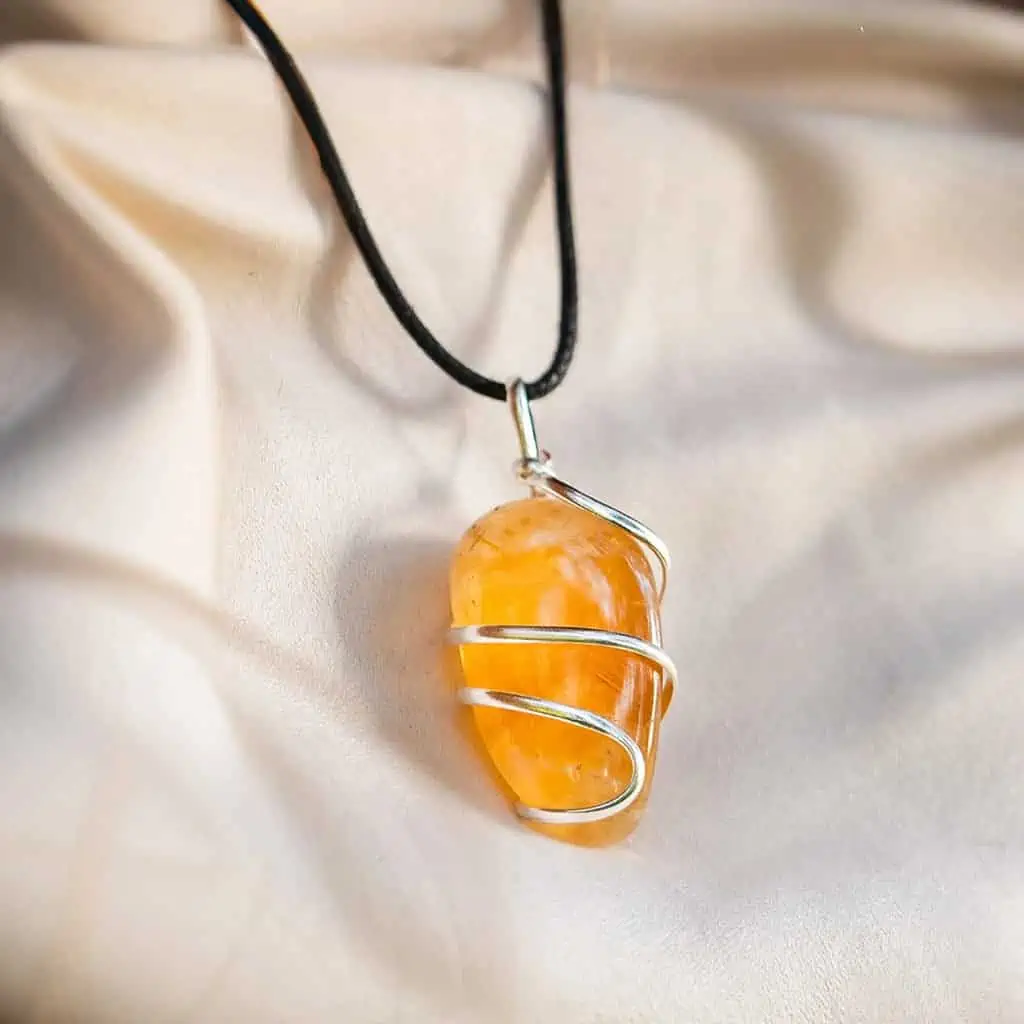 Citrine is often called the success stone for its impressive ability to help the wearer manifest their goals and desires. Thus, the Ayana citrine crystal necklace is for you if you work with manifestation and affirmations.
This manifestation meditation necklace features a raw, ethically sourced citrine stone on an 18-22 inch adjustable, durable cord. It can help ignite creativity, magnify personal power, enhance self-confidence to chase your dreams, and maximize prosperity and manifesting powers.
Moreover, if you find the raw gemstone is not up to your standard, Ayana offers a 30-day money-back guarantee.
Have you ever had a delicious meal that you could tell had been prepared with love? This is precisely how you will feel with this handcrafted natural stone mala beads necklace.
It is made in South Africa using locally sourced landscape stone, which naturally has a landscape painting style image. This fine-grained rock is mainly composed of feldspar, quartz, and iron oxides, which results in a multi-color neutral tone patterning.
The mala has 108 8mm smoothed and finely polished beads, and there is a hand-tied knot between each one. It is then finished with a 4-inch silk tassel and is around 42 inches long. PNEIME also offers a 90-day money-back guarantee if you are unsatisfied with the quality.
How Do You Use A Meditation Necklace?
So how do you use these necklaces in your meditation practice? As they vary in style, the exact usage depends on the type of necklace. So let's discuss the two most common meditation necklaces; gemstones and malas.
Crystal Meditation Necklaces
Every crystal has unique healing properties; meditating with them can activate certain parts of your emotional body and rebalance energies. This is why you will find many meditation necklaces made with crystals or stones.
The crystal you choose for your meditation necklace depends on where you are in your spiritual and healing journey. In addition, you can choose to use the stone's properties as an intention for your practice.
For example, moonstone is inner growth. It enhances intuition and inspiration, stabilizes emotions, and calms the mind. Thus, with a moonstone meditation necklace, you might set the intention for your practice to regulate your emotions, reduce stress, or find new inspiration in your work or personal life.
Mala Beads Meditation Necklaces
While a mala is often worn around the neck, you should place it over your hand during meditation. You then use your thumb and index finger to move between the beads and count your mantra repetitions. Each bead represents one repetition, not one syllable, and most malas have 108 beads, suggesting you chant your mantra 108 times.
Final Thoughts On Using A Meditation Necklace
A meditation necklace is much more than a pretty piece of jewelry. Malas and gemstone necklaces have many benefits, such as clearing the mind, enhancing spiritual connection, and connecting to the breath. What's more, a meditation necklace is a fantastic tool to bring more calm and ease to your practice, no matter your previous experience.