Have you seen people sporting colorful beads around their necks during a yoga or meditation class? Mala beads are not only beautiful jewelry; they also contain a special meaning and can help you find more focus and presence in your spiritual practice.
If you'd like to wear mala beads but need help finding authentic, high-quality ones, read on. We're sharing our favorite mala necklaces that you can buy online, along with detailed instructions on how to make your own if you're feeling creative!
Top 5 Mala Necklaces – Quick Look
| Name | Appearance | Highlight | Where to buy |
| --- | --- | --- | --- |
| PNEIME 8mm 108 Hand Knotted Japa Mala Necklace | | Best 8mm Mala Beads Necklace | See latest price |
| BALI BALI 6MM Mala Beaded Tassel Necklace | | Best 6mm Mala Beads Necklace | See latest price |
| MeruBeads 108 Mala Necklace for Meditation | | Best Premium Mala Beads Necklace | See latest price |
| BALI BALI 8MM Semi-Precious Gem Stones Wood Mala Bead Necklace | | Best Budget Mala Beads Necklace | See latest price |
| Bivei 7 Chakra 108 Knotted Mala Bead Necklace | | Best Chakra Mala Beads Necklace | See latest price |
The 5 Best Mala Necklaces – Reviews
These five mala beads make gorgeous necklaces, no matter your taste and style.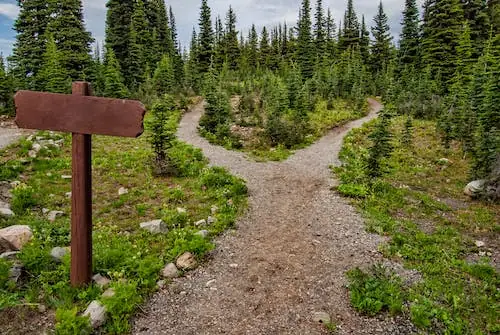 This traditional Tibetan mala necklace is an excellent choice if you prefer a mala that is not too dainty or thin. PNEIME's mala necklace collection features 11 different material options, including rose stone, white pine, amethyst, black onyx, bright amazon, blue aventurine, and Indian agate.
The hand-knotted mala features 108 8mm high-quality beads with a 3.2-inch tassel. The necklace measures 44 inches in length and is handmade with knots between each bead. This mala is exceptionally high quality and durable, with many rare mineral options based on your desired healing.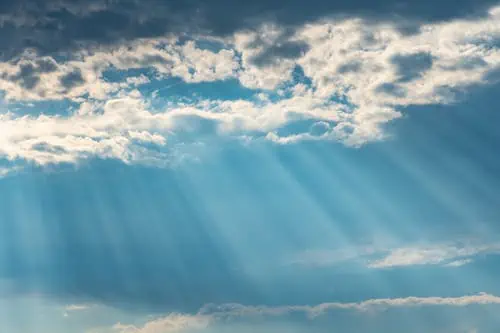 This 6mm mala necklace by BALI BALI has a simple, feminine, and earthy design that will complement any outfit. Choose between rare minerals such as amazonite, agate, topaz, jade, and coral stone, each of which has an eye-catching 3-inch silk tassel attached to the end.
The handmade necklace has knots between each of the 108 beads and comes in a lovely gift box and protective cloth bag. It looks and feels incredibly high quality, making it excellent value for money, considering the affordable price.
MeruBeads offer one of the highest quality mala necklace collections, with an extensive range of natural crystals and gemstones. Choose from black obsidian, clear quartz, purple amethyst, tiger's eye, rose quartz & sandalwood, rose quartz, amethyst, sage amethyst, and more.
The hand-knotted mala consists of 108 8mm beads threaded on a durable cotton string. It is finished with a matching larger guru bead, silk tassel, and a small silver branded charm. This durable, top-quality necklace possesses a solid, heavy feel. It also comes in a gift box with a protective storage bag.
If you want a high-quality mala necklace without the high price tag, check out this 8mm mixed gemstone and wood necklace by Bali Bali. Five gemstone combinations are available; wooden + lapis lazuli, wooden + picture jasper, wooden + rose quartz, wooden + tiger eye, and wooden + turquoise howlite.
Each gemstone possesses a unique quality; for example, turquoise howlite promotes emotional awareness and connection. The necklace comprises 25 beads of your chosen stone, with the remaining beads made from natural wood. It also has a lovely 8cm silk tassel, representing enlightenment and divine connection.
The mala measures 45cm long while weighing just 30 grams. While it can be worn as a multi-layer mala bracelet, because of its design, it looks best around the neck. However, note that there is no knot or counter bead in between each bead.
Suppose you're after a mala bead necklace that you can use for energy healing, chakra meditation, and yoga practice. In that case, you can't go wrong with this beautiful necklace by Bivei. The knotted mala necklace has seven precious gemstones for each chakra.
All gemstones are all 100% natural with no artificial color added. A small knot between each bead keeps them in place and increases durability. You can choose between 6 or 8-mm beads and opt for a tassel, crystal pendulum, lotus om pendant, or tree of life pendant. It looks just as pretty as a mala bracelet as a necklace.
How To Make Your Own Mala Bead Necklace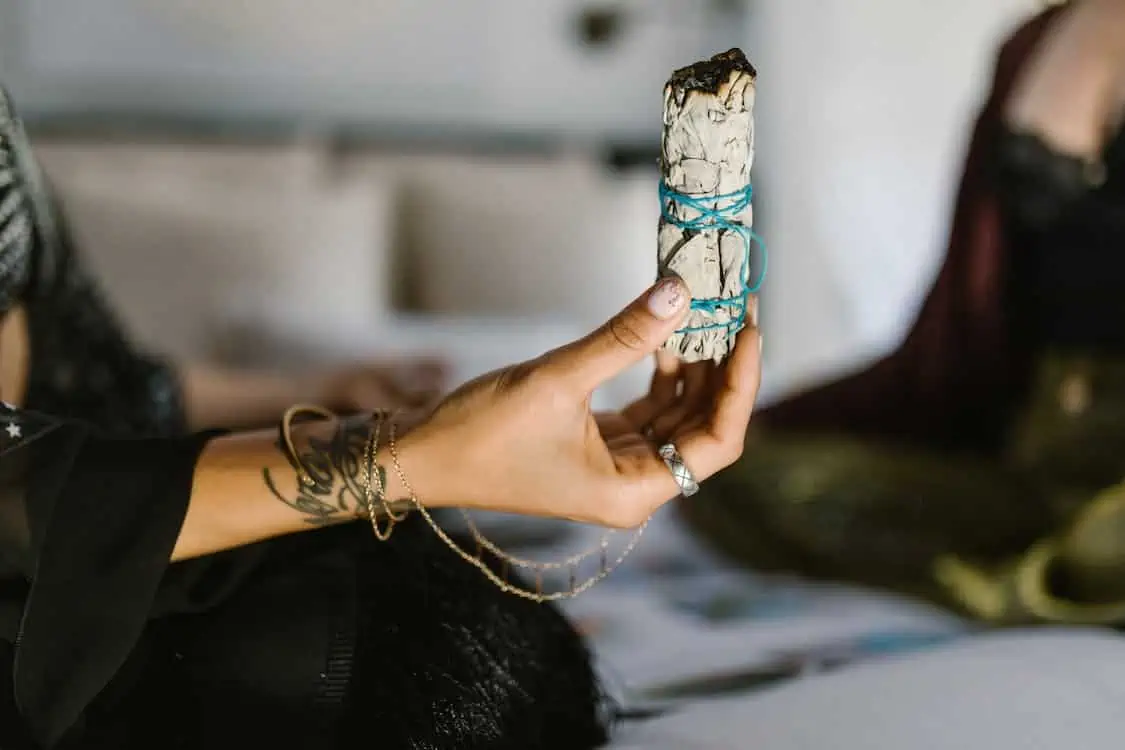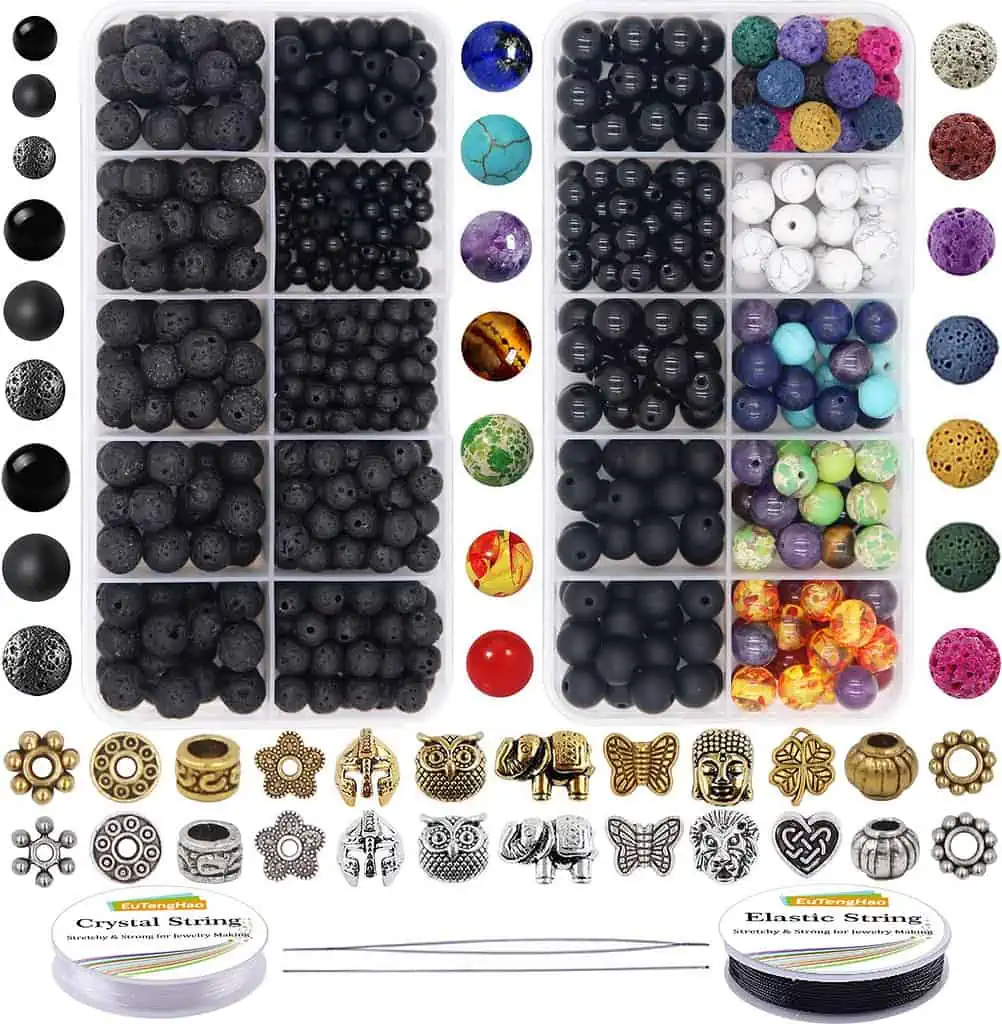 Along with a vast mala necklace collection, you'll also find plenty of kits to make your own mala necklace. This is a great way to get a unique and personalized mala necklace and infuse your intention and creativity into sacred jewelry.
To make your own mala bead necklace, you'll need the following:
108 beads in 6 mm or 8 mm size
5 feet of 1 mm cotton or elastic cord
1 guru bead or charm
1 tassel
Scissors
Nail polish or glue to seal the ends of the string
Once you've got your materials, here's how to make your mala necklace:
First, cut your cord to 5 feet the coat one end with clear nail polish or glue. Let it dry, and cut it to a pointed tip. This will make it easier to thread the beads.
Tie the other end of the cord, leaving a 5-to-8-inch tail for the tassel.
Thread the first mala bead, pulling a tight knot after, before threading the second one. Alternatively, you can use a counter bead between each one instead.
Contain this process until you have threaded all 108 beads. Then, tie the two ends of the string together with a simple knot.
String your guru bead onto both pieces of string at the bottom of the mala. Tie another knot to secure it in place.
Attach and secure your tassel by tieing multiple times.
Lastly, infuse your intention into the necklace by thinking about how you want the mala to help you or chanting a sacred mantra.
I recommend the EuTengHao 810-piece Color Lava Rock Beads Kit, which has everything you need, including 300 black lava beads of three sizes; 4mm, 6mm, and 8mm. There are also 30 colored lava beads, 63 chakra beads, and 20 white howlite beads, so you can add color to your design.
In addition, there are 110 bright black agate and 110 black matte agate bead, so you can make a gemstone mala necklace instead if you prefer. You'll also have 156 optional spacer beads and 12 silver or gold charms, giving you endless options.
What Are Japa Mala Beads?
Mala beads are a string of beads used for meditation and spiritual practice. They have origins in India and Hinduism, where they are known as Japa Malas and are used to count the repetition of Sanskrit mantras during chanting or meditation practice.
Mala beads are also used in Tibetan Buddhism for similar purposes, known as Buddhist or Tibetan prayer beads.
Mala necklaces typically contain 108 beads, a sacred number in Hindu and Buddhist religious practice. In Hinduism, 108 represents the universe and all its creation; thus, Hindus repeat mantras 108 times. Moreover, there are 54 letters in the Sanskrit alphabet, but each has a masculine and feminine, equating to 108. In Buddhism, 108 is the number of delusions (worries) said to afflict human life and cause suffering. It is believed if you overcome these delusions, you will reach enlightenment.
Along with 108 prayer beads, a mala necklace will have one larger guru bead, and some will have tiny spacer beads between each prayer bead. Mala necklaces can be made from various materials. Still, the most common are sandalwood or gemstones such as black onyx, rose quartz, or carnelian.
What Are Mala Beads Used For?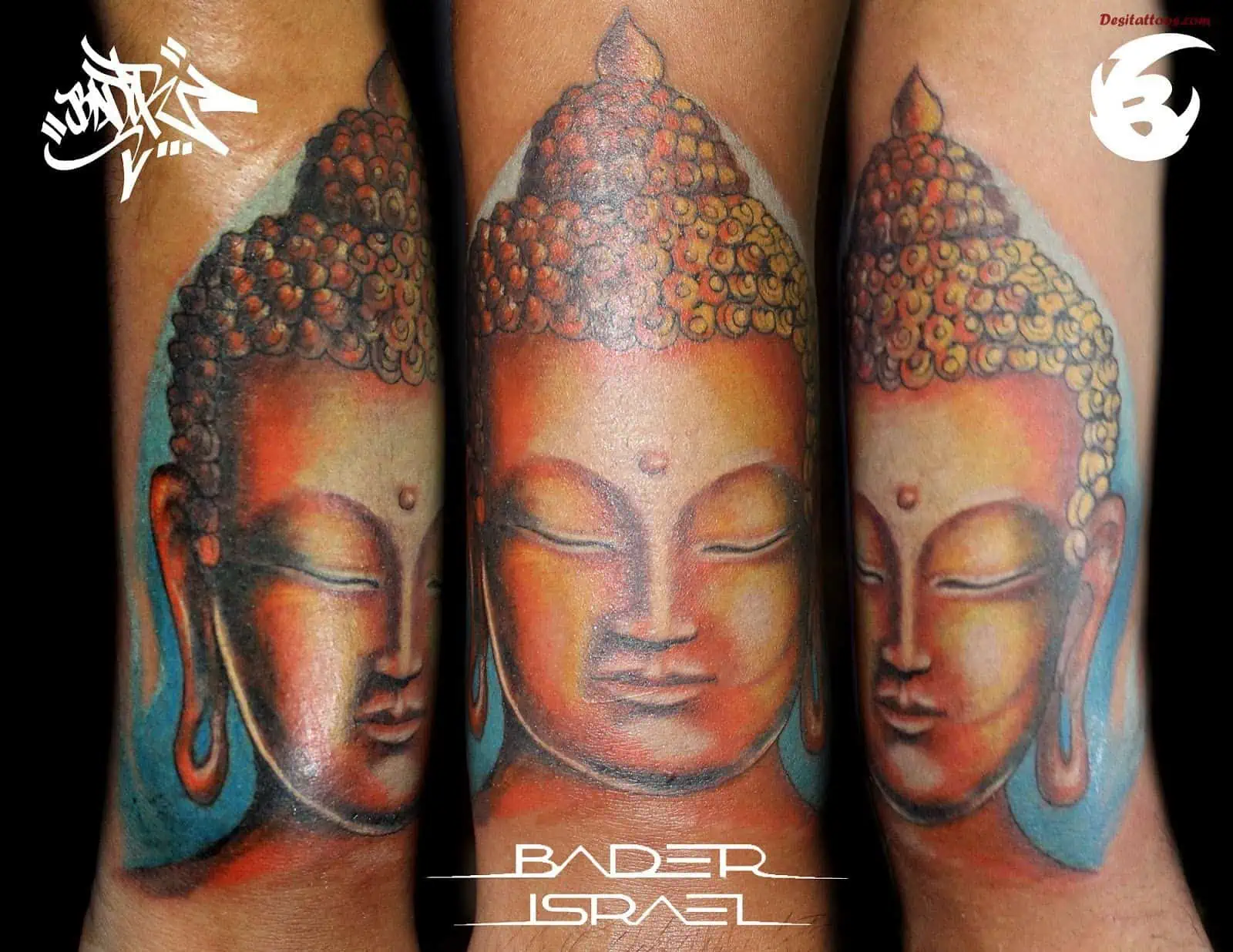 In traditional religious and meditation practice, mala prayer beads were used to maintain focus and count mantra repetitions. They would typically be held in one hand or draped over the right wrist with two fingers moving along the beads to count repetitions.
Today they can be used as worry beads to cultivate mindfulness, calm, and presence and relieve stress. In addition, many people choose to wear mala beads as fashion jewelry around the neck. Aside from completing an outfit and looking pretty, they can also offer a regular reminder of your intention and spiritual journey.
Final Thoughts On Mala Necklace
Mala beads are a versatile accessory with many uses. Whether you prefer to wear mala beads as jewelry or use them for cultivating focus in meditation, they will help you connect to the present moment and find peace in everyday life.
Which of these mala necklaces is your favorite?