An unstable surface doesn't seem ideal for a yoga practice, but a half ball balance trainer is actually one of the best ways to drastically improve your core strength, stabilizer muscles, and balance for a more effective yoga workout. Instead of trying to make use of a full rolling exercise ball, these flat-sided workout balls are a great option for supporting your yoga flows.
A half ball or bosu ball basically looks like an exercise ball that has been chopped in half. It has a platform on one side and an inflated rounded area on the other side. You might have seen them at gyms or sports stores and wondered "what the heck do I do with that?"
We decided to review the top 5 half exercise balls for yoga and dig into the best yoga ball workouts for a strong core and amazing balance.
If you've been wanting to add a little more umpf to your yoga practice, a Bosu ball is the perfect challenge to sculpt your body and take your balance to the next level.
Quick Picks
What is a Half Yoga Ball or Bosu Ball?
Not everyone can afford to invest in a full home gym or yoga membership, but a bosu ball workout is a bit like an all-in-one. This exercise ball cut in half can be used to challenge your balance and coordinate your nerves and muscles for more stability. Bosu balls are most commonly used in physical therapy and strength training, but they have now become very popular in the yoga world as well.
For yogis, a bosu ball is like an extra versatile yoga block. It can support your knees in deep lunges or challenge your balance in tree pose. It can also cushion your lower back during boat pose or up-level your arm strength in plank.
A half ball is essentially a yoga prop, cushion, and workout aid all-in-one. You can use it to make your practice more comfortable or more challenging, depending on your goals.
Benefits of Using a Bosu Ball
Balance training on a yoga ball challenges all those smaller muscles that may not always get activated during regular asana flows. The bosu ball helps promote proper alignment while supporting your body weight and cushioning joints. This prop is extremely useful for people with limited flexibility or knee pain who still want to practice yoga. It is also a great way for fitness-minded yogis to take functional strength training to the next level.
Practicing yoga poses and exercises on a half ball improves your body's stability and resilience in times of stress. The elevated, uneven surface is a bit wobbly at first, which helps you learn to find equilibrium when life throws your balance out of wack.
Lastly, half balls are very popular for physical therapy. You can combine many yoga poses with physical therapy exercises to rehabilitate injured body parts without putting too much strain on them from a standard yoga class.
Bosu balls are helpful for beginner and advanced yogis alike. But not every half ball is created equal. Like any yoga prop, you get what you pay for, and you definitely don't want a bosu ball that bursts in the middle of your yoga workout. Yikes!
Top 5 Best Half Yoga Balls
Product's name
Size
Material
Weight Capacity
More Info

Best Overall


BOSU 26 Inch Pro Balance Trainer Ball Exercise Fitness Gym Equipment for...
26"
PVC
450 lbs
See latest price

Best Grip and Weight Capacity


PEXMOR Yoga Half Ball Balance Trainer Exercise Ball Resistance Band Two...
20"
Hypoallergenic PVC
660 lbs
See latest price

Best Portable Option


ZELUS Balance Ball Trainer Half Yoga Exercise Ball with Resistance Bands...
23"
Eco-friendly PVC
880 lbs
See latest price

Most Durable


LifePro - Balance Ball Half Trainer -Stability Ball for Exercise, Full Body...
23"
Heavy duty plastic and TPE
440 lbs
See latest price

Best Budget Pick


Sportneer Balance Ball Trainer with Resistance Bands and Pump - Inflatable...
23.4"
PVC
300 lbs
See latest price
Best Overall
#1 – BOSU 26 Inch Pro Balance Trainer Ball Exercise Fitness Gym Equipment for Yoga, Sports, Personal...
See latest price
Anyone serious about their balance training and yoga practice will find this ball to be a very worthwhile investment. This is the original brand name BOSU ball that actually holds up for years to come. It is easy to stand on or crouch on and never causes awkward curves in your alignment. It is strong and durable, yet comfortable to use.
This professional-grade BOSU Pro is about 1 inch bigger than no-name brands and makes a huge difference for both grip and performance. At 26″ diameter and just 17 pounds, the ball is easy to pick up and move around, and super simple to inflate. The burst-resistant material can support up to 350 pounds of weight. It even includes a hand pump, training manual, and several downloads.
Pros
Original brand name BOSU ball
Professional grade quality
Easy to inflate
26″ ball
Weighs 17 pounds
Supports 350 pounds
Burst-resistant, durable material
Non-skid bottom
Holds shape
Comfortable on feet
Includes hand pump, balance training manual, wall chart, and owner's manual
Cons
Luxury price point
May need to use Vaseline when using the air pump
Best Grip and Weight Capacity
#2 – PEXMOR Yoga Half Ball Balance Trainer Exercise Ball Resistance Band Two Pump Home Gym Core Training...
See latest price
This hypoallergenic PVC yoga ball balance trainer can safely support up to 660 pounds with anti-burst technology and an anti-skid bottom surface. It is lightweight and portable, yet still durable enough for long term use. The pebbled surface of this half ball has the best grip surface for bare feet or for using as a back massage on body acupuncture points. This textured material stimulates blood flow while you workout and can even help reduce fatigue.
The 8 anti-skid "feet" on the bottom make it easy to do crunches, tricep dips, planks, and more without worrying about slipping around. Thanks to the complimentary hand pump and foot pump, it is easy to setup and start your half ball yoga practice right away. This brand also includes 2 resistance bands that can attach to the base of the ball for over 100 different workouts.
Unlike some cheaper brands, you can really jump around and get some cardio into your yoga workout with the Pexmore. This half ball can easily support your full body weight in any yoga balance.
Pros
Pebbled massage surface
Ultra anti-skid base with 8 secure "feet"
Lightweight and portable
Highest weight capacity (660 pounds)
Can jump around on it without worry
Hypoallergenic PVC material
Includes resistance bands to attach to base
Mid-grade price point
Cons
Bottom portion of ball may have sharp screws
"Nubs" on the textured surface may be uncomfortable when kneeling or stretching on the ball
Best Portable Option
#3 – ZELUS Balance Ball Trainer Half Yoga Exercise Ball with Resistance Bands and Foot Pump for Yoga...
See latest price
At only 11 pounds, the Zelus is by far the most portable option for going to the studio or practicing your yoga exercise routine outdoors. The flat side has 6 anti-skid rubber feet that firmly grip any floor surface. The upper portion of the 23″ ball is textured with an eco-friendly PVC material that has excellent traction for any pose. The top of this ball is extra wide and cushioned for better core workouts and posture adjustments.
This bosu ball includes resistance bands that securely attached to each side of the base. It is also the quickest to inflate and deflate for easy storage and portability. But what most impressed us is how weatherproof and durable this exercise ball is. You can literally take it anywhere!
Pros
Textured eco-friendly PVC surface for traction
Included resistance bands can attach to base
23″ half ball
Only 11 pounds for portability
6 rubber anti-skid feet grip the floor
Weatherproof for outdoor use
Easy use foot pump
Great value price point
Cons
You could use air plugs
Bands may be too long for some users
Pump is not as quick or high quality as other brands
Most Durable
#4 – LifePro - Balance Ball Half Trainer -Stability Ball for Exercise, Full Body Workout Ball- Half...
See latest price
When it comes to high intensity workouts or joint support during your yoga practice, you have to trust your base in order to fully let loose. Because of its durability, this bosu ball is one of the most popular for professional physical rehab, pilates, and strength training.
The LifePro only weighs 14.3 pounds but supports up to 440 pounds of weight. The ultra stable base is non-slip and easy to grip or move with the built-in handles. The top surface is made of heavy duty plastic and TPE that will seriously last a lifetime. This ball includes one of the easiest-to-use pumps and portable inflation straws. Best of all, it is one of the easiest balance balls for beginners and can drastically improve your balance in a very short time frame.
Pros
23″ heavy duty half ball
Super strong plastic and TPE construction
Supports up to 440 pounds
Weighs 14.3 pounds
Includes handles for moving
Includes brochure of training exercises
Perfect for pilates, physical therapy, or yoga at any level
Easy to shift your center of gravity and practice balance
Pump and inflation straw included
Super long-lasting
Cons
Mid-range price point
Base may bulge in certain weather conditions
May need replacement air caps
Best Budget Pick
#5 – Sportneer Balance Ball Trainer with Resistance Bands and Pump - Inflatable Half Yoga Ball for Home...
See latest price
At under $70, this PVC 23″ ball gives you the most bang for your buck. It is extremely anti-skid and durable for maximum stability in any pose. We were impressed with the ball's stability on the flat side as well as when used upside-down for balance challenges. This ball includes quality resistance bands that securely attach to the base for a diversity of workouts.
The Sportneer is very similar to the exercise balls you find in most gyms. It is burst-resistant and holds air well. The original air pump inflates the ball very quickly (less than 15 minutes) so you can get started right away. It will hold up even when slightly deflated for less resistance. Many reviewers have even found that it is better than the brand name Bosu ball!
Pros
Affordable price point
23.4″ inch diameter
Adjustable resistance
300 pound weight capacity
Quality air pump inflates quickly
Can adjust resistance by slightly deflating the ball
Flat side of the board is super stable
Includes resistance bands
Cons
Surface may be uncomfortable for some skin
Slightly lower quality and durability than other brands
How to Use a Bosu Ball to Build Strength and Balance
The possibilities for yoga and workouts on a half ball balance trainer are virtually endless. You can use it as a cushioning prop under your joints or use it to make poses extra difficult for a maximum sweat. But you can also just use your yoga ball to make core and balancing exercises more comfortable. Here are our favorite yoga poses using a bosu ball:
Crunches for Yogi Abs


Incorporating crunches into your yoga routine can be rough on your back. A bosu ball is the perfect prop on or off the mat to ease back pain while still strengthening your core.
Begin with your lower back on the bosu ball and feet flat on the floor. Bring your arms up behind your head and begin crunching just as normal, allowing the ball to support your spine as you move. Variations include hovering straight-leg crunches, bicycles, and side crunches to activate the obliques.
Boat Pose with the Half Ball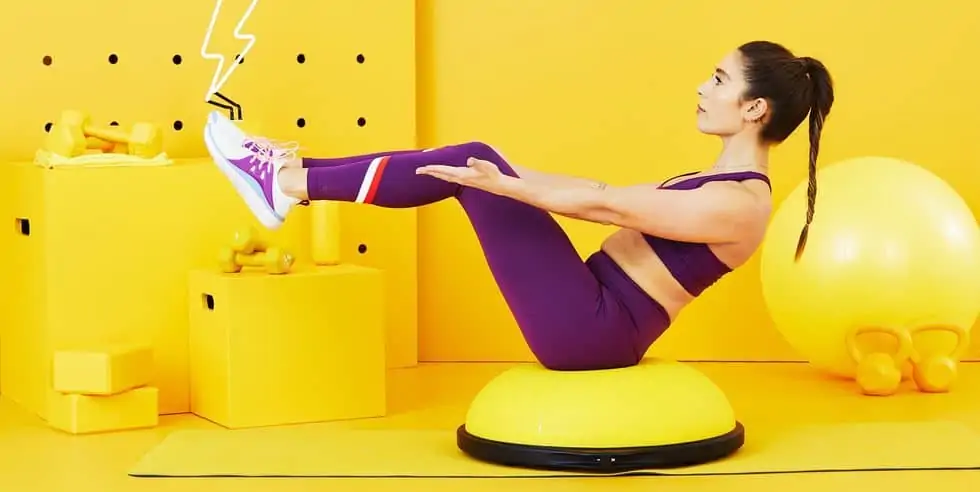 Crunches are nice and all, but the king of yogi ab workouts is by far Boat Pose (Navasana), which is so much easier on the low back with the help of a yoga ball! Begin with your tail bone firmly resting in the center of the ball.
Lean back and bring your body into a "V" shape, then slowly lower your legs (knees can be bent or straight) until you feel your abs activate. Lean back with your hands straight forward and embody a boat floating at sea. Keep your chest lifted and arms engaged. Breathe through the challenge for at least 30 seconds to tone the core and aid in back pain.
Chair Pose Balance Trainer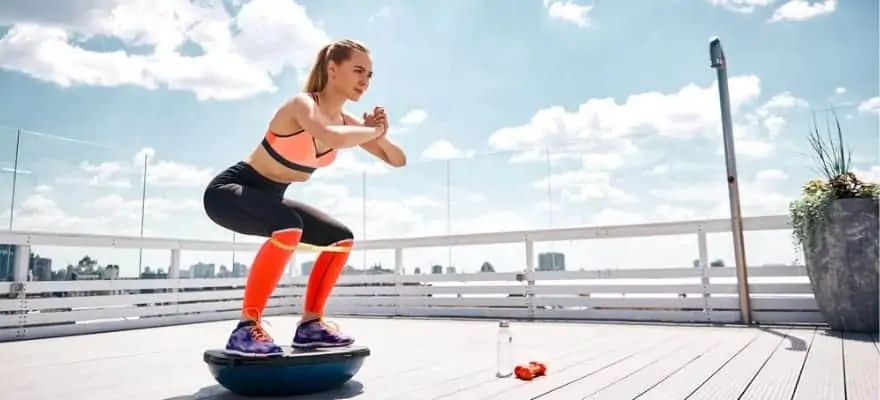 We don't usually think of Chair Pose (Utkatasana) as a balancing pose. However, when you flip over a bosu ball and stand on the flat surface with in your squatted chair position, the challenge on your smaller lateral leg muscles can drastically improve your balance.
Start standing with the ball flipped upside down in front of you. Slowly step on with your right leg on the outer portion of the ball and allow your body to adjust (fan your arms for balance) as you step your left foot onto the ball.
Stand up straight with your arms up by your ears, then begin squatting backwards as if sitting down in a chair. Keep your chest lifted and gaze forward. Breathe and flow with the ball as you feel little muscles twitching and activating to try to keep you stable.
Bosu Ball Balance for Tight Hips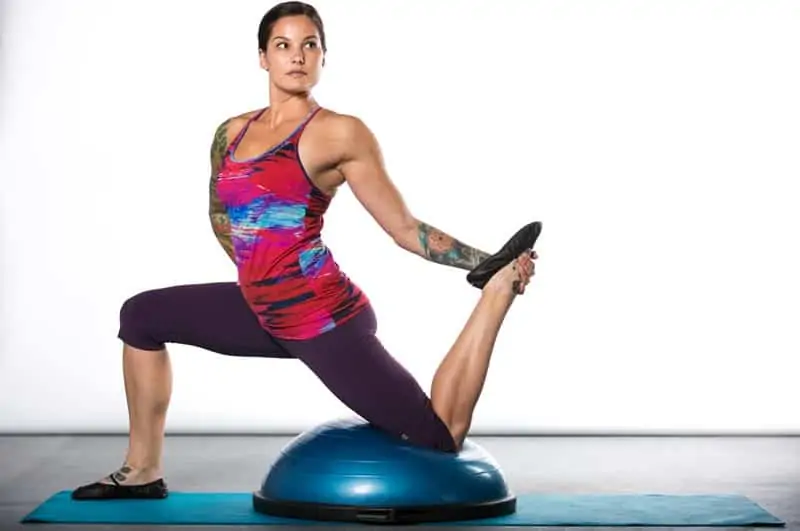 Anyone with tight hips or sensitive knees knows how hard it can be to fully stretch out when lunged poses put so much strain on your joints as they dig into the hard ground. Simply place a half ball under your knee and use it to stabilize while lunging into your hip flexors.
Start in a Downward Facing Dog with the ball under the center of your body. Inhale and lift one leg, then lunge forward, bringing the back knee onto the equipment and lunge forward for a deep stretch.
For an added balancing challenge, bend the back knee and grab your right foot with your right arm. Engage your leg and core muscles for more stability. Then, place your hands back on the ground, move back into Downward Dog, and repeat on the other side.
Closing Thoughts
A half ball may seem like a funky prop to use in your yoga practice, but once you experience the drastic improvement in your balance, stability, and comfort, it's hard to go back.
Have you tried any bosu ball workouts before? What did you think?
Namaste!