This is part 11 of our traveling yoga teacher interview series. Each Wednesday we will release a new interview of a different traveling yoga teacher. If you know someone who would be a good candidate – email us at [email protected].
—
Marina is a new traveling yoga teacher who is getting to know herself through the greater world around her. Just last year, she trusted her intuition and made a huge leap of faith. Turns out, this leap was just what she needed to grow as an individual and yoga teacher. Learn more about her experience leading retreats in places like Bali, and how she copes with being away from home for an extended period of time.
Reminder: comment below with additional questions for Marina!
How soon after receiving your 200-hour certification did you start leading retreats and what do you do to prepare?
Running yoga retreats and teaching yoga was never something that I imagined that I would one day be doing full time. 2 years ago my teacher asked me to assist her on a retreat, and it was an amazing experience. I knew at that point that my life had started to take a different direction and I started re-evaluating where I was.
I take time to prepare for retreats because I really believe it's important that everyone has an experience that is different and authentic as well as something that is shared with the other retreat participants. Each retreat has a different vibe and you have to be adaptive. I think the best preparation any teacher can do is come willing to share their knowledge and also open to learning from their students. On retreats there will often times be people you've never met and may not have a student/teacher relationship with so it's important for me to find a way to connect either in the yoga shala or on another retreat activity.
How do you find the opportunities to lead retreats and teach abroad?
Since I love traveling so much, one of the ways I think about where I want to run a retreat is usually a place that I also want to visit. I try and think about what the place will offer in terms of experience for my students and for myself as a teacher. I've always wanted to visit Bali so it was very much a no-brainier in terms of leading a retreat there.
Yoga Nomad's guide to Ubud, Bali
The universe lined up perfectly…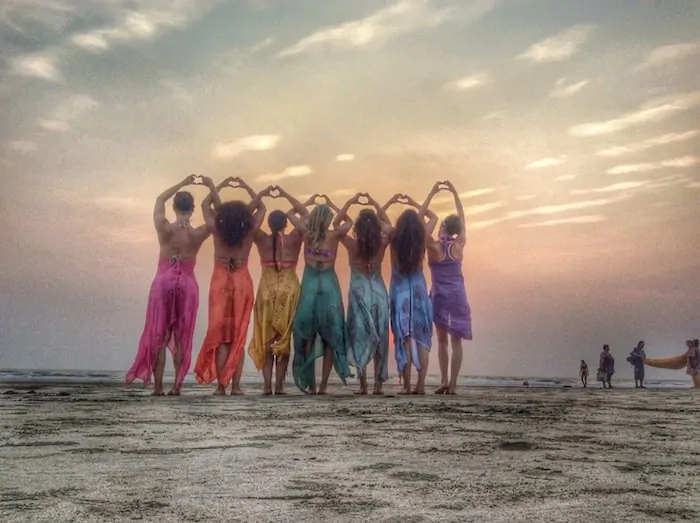 I recently spent 3 months living and teaching in Morocco and that was a unique experience because my boyfriend had invited me to come and teach yoga on his adventure and volunteer based retreat. It just so happened that I was looking for an opportunity where I could immerse myself into living abroad full-time and teach abroad. The universe lined up perfectly and within days of arriving in Morocco I was given an opportunity to teach in an amazing space and live in the culture of the south of Morocco.
Where is your home base and ideally, how much time would you spend there vs. traveling?
For many years my home base was always the tri-state area of New York. In December of last year, I decided to really take a chance on myself in both my career and my love life. When I was asked to come teach on the retreat in Morocco I recognized that as a sign that it was time to take that leap of faith and pack up my things.
I didn't anticipate that my relationship would blossom in the way it did or that my desire to live in a new place would be so strong. I now have no "home base" but will be spending 4-5 months living in a place teaching yoga and running a retreat. I spent a long time feeling like a never belonged in one place and I know I'm most at home when my heart is full of love and the sun is warm and I can be near the ocean.
…it was time to take that leap of faith…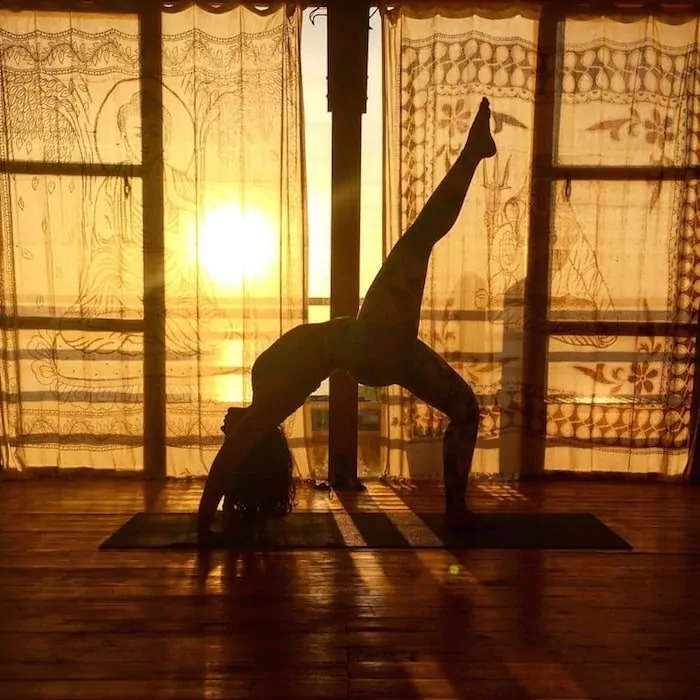 Being on the road isn't always easy, can you tell us how you cope with missing home?
Currently I've been on the road for almost 5 months and it's definitely had its ups and downs. I'm very fortunate that I have such a strong bond with my friends that when I can't get them on FaceTime because of crappy wifi (Africa is not easy) I know they understand and don't take offense. Almost all of my family has lives in Brazil so seeing them once a year and having check ins every couple of months is pretty common. Social Media and WhatsApp have been great ways to stay connected to my extended family and friends that I meet all over the world.
You mentioned your boyfriend also leads a nomadic lifestyle. How do you support each other while maintaining a relationship?
I think that when you decide to live a nomadic gypsy travel life you need to meet someone who is also living that life and understands the sacrifices and the beauty in it. My boyfriend is very supportive and our goals and vision line up. We both support the others opinions and choices and also talk very openly about how to stay true to what we need as individuals while we travel the world together.
When I arrive in Nicaragua in April we will have spent 7 weeks apart, me running a retreat and doing more yoga training, and him setting up the next step of his organization and retreats, and we also value and understand that this time apart is necessary. My soul was looking for someone that not only wants to bring me along on their adventures but also encourages me to pursue my interests and my adventures.
If you had to choose one place in the world to practice and teach yoga, where would it be?
It's so hard for me to chose one place to live and teach right now. I feel that at different stages of my life the places I've loved and connected with have changed. I've grown to love Goa, India because of the time I've spent there training with my teachers and the friendships I've made during those trainings. But the truest home for me right now is the home that I have been able to find for my heart.
Trusting your gut has been a common theme in your blog posts, tell us a bit more about how that got you to where you are today.
I am a firm believer in the fact that we are all constantly being guided down our unique purposeful path. Whenever I'm looking for an answer or feeling lost or confused, I turn to my meditation and yoga practice to connect to the answers that are already inside of me. When I come from a place of love and my intentions are pure, it makes it so much easier to trust myself and trust that a divine power, greater than me, is gently illuminating my path.
I am a firm believer in the fact that we are all constantly being guided down our unique purposeful path.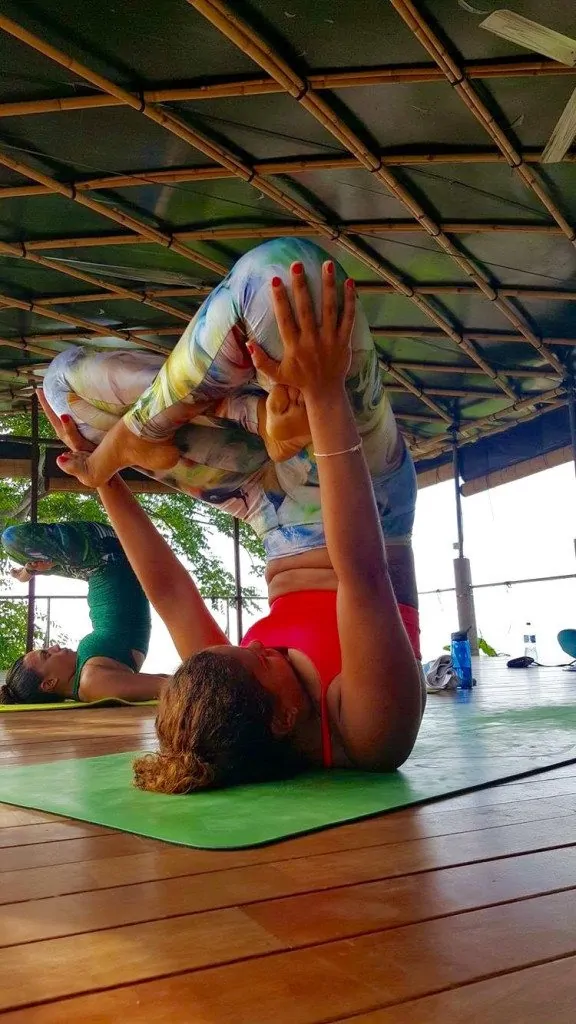 In what ways have you noticed yoga differs around the world?
I've been really blessed to practice and teach yoga in many places around the world, and I find that the yoga that I first came to know in the western world of physical asana practice is so different in the eastern world where the goal is self realization through mediation. And although the methods may be different, there is a universal language of yoga and a universal goal of healing yourself and others and becoming the most authentic version of yourself.
What's your spirit animal and why?
I've never really thought about what my spirit animal was until recently. When I was living in Morocco I learned to swim and started to learn to surf. I grew up telling myself the story that I couldn't swim and was afraid of water. After 3 months I'm not only comfortable in the ocean, but look forward to my daily swims in the ocean. If mermaids existed, that would be my spirit animal.
Connect with Marina
Marina is a certified 200- hour registered yoga teacher. Marina received her certification in 2014 from Yoga in the World under the instruction of Anayra Calderon and Victoria Arvizu. After over 10 years of working in television production and entertainment, Marina came to yoga to find balance in her often hectic professional life.
Marina fell in love with the way yoga challenged her physically through asana practice as well as mentally and spiritually through meditation practice. In March of 2015 Marina traveled to India to further her yoga education and study Ashtanga Vinyasa with Jamie Clarke and Dulce Aguilar of The Yoga People. Marina's classes are a dynamic open level flow set to an eclectic playlist. Marina is eternally grateful to her teachers and spiritual guides who encouraged her practice and influenced her unique style.
Marina's greatest passion in life is traveling and exploring foreign lands. Marina was bitten by the travel bug at a very young age, having traveled with her family from her native Brazil to New York City at only 2 years old. Marina believes that traveling, as much as yoga and meditation, are an essential part of her health and wellness.
Traveling, retreating, adventure, as well as yoga, are all tools that Marina believes broadens your scope of the world and allows for you to get out of your own way. Exploring your bodies through asana practice, your minds through meditation, and different people and cultures through travel, cultivates compassion and kindness. Marina's vision is about crafting worldly and fulfilling experiences for those who seek adventure.
Connect with her on Instagram and her website