This is part 4 of our traveling yoga teacher interview series. Each Wednesday we will release a new interview of a different traveling yoga teacher. If you know someone who would be a good candidate – email us at [email protected].
—
Today we will learn from Les Leventhal of YogaWithLes.com. Les is former crystal meth addict turned world famous yoga teacher. After using yoga to turn his life around, Les built up a huge following in San Francisco while teaching at Yoga Tree. He then set off on various teaching gigs internationally before planting roots at Yoga Barn in Bali. Anne and I had a chance to take a few of his classes in Ubud, Bali.
Les teaches yoga classes, workshops, and leads trainings all over the place. He also does speaking engagements and has written a book. Check out his yoga book Two Lifestyles, One Lifetime: An Inspiring Journey From Rock-Bottom Hopelessness to Wildly Extravagant Possibility. Les will be teaching at Wanderlust Thredbo in Australia later this month. Today, Les travels all around the world but calls Bali home.
If you have additional questions for Les, please leave them in the comments and he will answer them!
What was your life like before teaching yoga around the world?
I was still a world traveler, in sales. Ok so that's 2 careers kinda sort of. Before I worked at the bank I used to sell lots of things, some stolen things and some cooked up in the kitchen things and we're not talking about food. Oh yeah, then I sold myself a bit too because I needed food.
I kept looking outside myself for the happiness, balance and guidance through challenging times.
Then came the bank job where I was in aviation sales, buying, selling and leasing aircraft engines to South American airlines. Truth in and around all this… I was searching for love and career; purpose, and a way of living more meaningfully. My wall I kept bumping into is I kept looking outside myself for the happiness, balance and guidance through challenging times.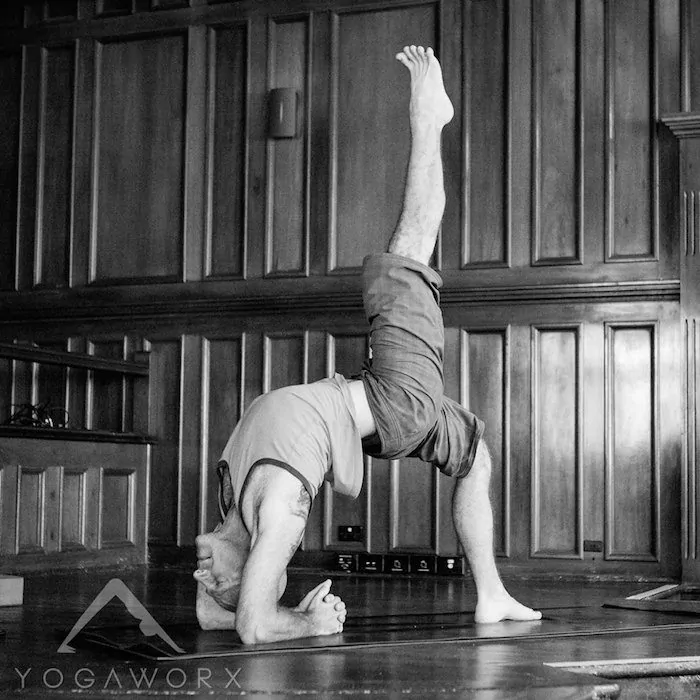 How did you secure your teaching job at Yoga Barn?
I was leading a retreat at Soulshine in Ubud and the owners stopped in one day to practice and have breakfast and they also checked me out a couple times while I was teaching in San Francisco. They saw that I spent a lot of time in Bali and surrounding areas (Australia, Japan and China) and thought it would be a great idea if I moved to Bali. I said yes. The windows and doors that have opened from that decision have been amazing.
"What I'm teaching comes from my studies and how I incorporate that into my body and my spirit.

My voice should only be a guide for you to explore your own body and spirit and the voice of your spirit will speak to you more clearly than anything I would ever have to say.

It could be the most amazing thing that's ever happened in your entire life.

Who wants to miss that?"

— Les
Do you recommend teaching yoga at home before hitting the road?
I think this is probably different for everyone but for me the answer is yes. It was good for me to teach for a couple years and that first trip just came from someone visiting San Francisco asking me if I would come teach at their studio in Kansas City, Darling Yoga – who can say no to that name? 1 hour before my first class there the tornado warning sirens went off in the town and I thought mother nature has a sense of humor too.
Besides your new book, Two Lifestyles, One Lifetime, what's the #1 book you recommend for traveling yoga teachers?
Really, I have to choose one book – ok, Anatomy of the Spirit by Caroline Myss. It's in my bag right now as I'm typing this to y'all in the Sydney airport on my way to Wanderlust, New Zealand. Now, let's consider, for a moment, your question said books. How Yoga Works, Siddhartha and The Four Agreements.
What's one thing you never leave the house without?
Chapstick – Joe makes fun of me but he has a right to because I usually have 3-4, one in every pocket and bag that goes out the door with me. Years ago when I lived in LA, I was a huge cologne snob and now chapstick. I do drink plenty of water but many times during and after teaching, oooh so soothing and I am completely into finding as many flavors as I can (not the most organic practice I have).
Be patient and trust. For me the patience piece was important because after that first trip, I was lit up with energy and wanted more. I'm an addict and addiction can attach itself to anything for me. I would not have been able to handle everything that is happening today 7 years ago. Also, trust – I used to get all worried about expenses and income (one of the reasons we left San Francisco was to enjoy living someplace less expensive to alleviate some of this pressure).
Now, I just trust, the people that need to be there will be there and it allows me to show up in a more authentic way. The universe has brought us all this far. She ain't gonna yank the magic carpet out from underneath us now – doesn't mean we don't have challenging things to walk through now or down the road but we can do so knowing we can move through with grace and reach out and ask for help. For me, one of the key ingredients to yoga is community. I think that's getting a little lost in the yoga and business of yoga boom right now. We will walk through this together too.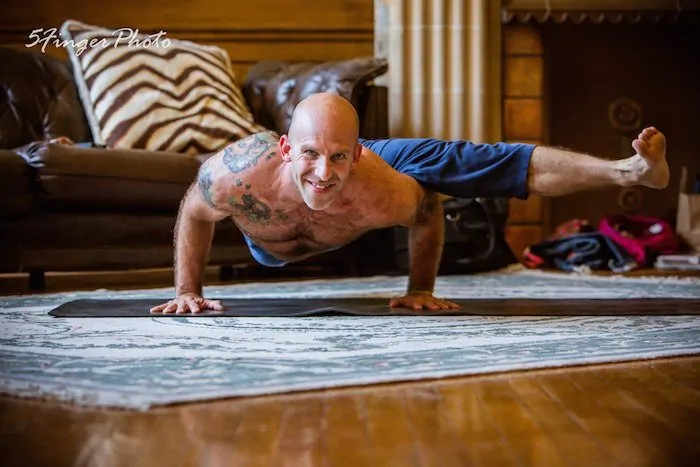 How do you support your lifestyle? Do you have a side gig besides teaching yoga?
Oh maybe just answered a piece of that in the last question but no side gig – yoga is my life on and off that mat and I do everything because I want to make available this piece called possibility for change and healing that was provided for me in yoga. So, I teach classes, workshops, retreats, and trainings. I wrote a book on yoga and recovery with yamas and niyamas. I do speaking engagements, fundraisers (not for me). We're talking about a movie with my book – how crazy is that – to even be having a conversation is enough (almost).
I teach classes, workshops, retreats, and trainings, do speaking engagements and I wrote a book.
I have videos on my site and just shot 20 new videos with One O Eight TV for those folks accessing yoga through that channel. It's kind of this amazing blessing that there are ways to connect with people that maybe otherwise would not or could not connect. One of the videos is called 15 Minutes, because that's all you have. For me, it's not about the quantity of time you put in to your practice(s). It's all about the quality of whatever time you have or make available.
Somehow, someway at the end of everyday, week, month and year 47 now, it has all balanced out and been taken care of. I do live a very blessed life and I try really hard not take that for granted (anymore) and know that making it to 47 means savasana is getting closer and closer. So, I'm ever more mindful and don't need as much to live a full life like I used to.
What about the future? Where do you see yourself in 5 years time?
Really??? My life is changing every 6 months and year now. Currently, I'm about to finish up my teaching at the barn at the end of June and listen to the call from around the world and travel even more.
In 5 years, I do see a movie, a saving grace story that's accessible for the masses. We've talked about big motion picture and we've talked about smaller film festival tours and even then it could be the gay and lesbian film festivals that exist worldwide as therein lies my experience.
I love to travel but I love to have a place to call home
Everyone always asks me if I want my own studio – not now because I want to travel but in 5 years, maybe. I will still be with my husband, Joe, of 16 years as of today, and we will still be living in Bali. Although, I do plan on beginning some European travels and will probably base myself for a couple months in Barcelona and travel out from there.
The funny thing about me is, I love to travel but I love to have a place to call home. I need to know that at the end of 2 weeks or a month long training or 6 weeks of travel that there's a home to go connect to, Joe and our dogs and just enjoy time in our garden which is finally producing fruit and vegetables. That home is Bali.
One thing I know for sure is that I do have many, many dreams and every time I take a step in the direction of realizing this dream or that dream, I meet people that say have you thought about this or that and did you know that I specialize in this or that – for me – "anahata chakra vinyasa" – collaboration.
Connect with Les
Les is one of Bali's (formerly of Yoga Tree San Francisco) most beloved yoga teachers. Having trained with Ana Forrest, Tias Little, Seane Corn and Max Strom, Les' vinyasa classes & workshops are steeped in the Forrest tradition and filled with technique and alignment cues for all levels. Variations and longer sequences will also challenge and inspire seasoned practitioners. You will have the opportunity to heal your heart, laugh, cry, dance, sweat and just let go. Les teaches classes, workshops trainings and retreats at The Yoga Barn in Ubud, Bali and around the world and is also the author of his new book Two Lifestyles, One Lifetime (available on amazon e-book or hard copy).