This is part 3 of our traveling yoga teacher interview series. Each Wednesday we will release a new interview of a different traveling yoga teacher. Expect to learn their secrets for success and to gain an understanding of what it's really like to be a nomadic yoga teacher. If you know someone who would be a good interview candidate – email us at [email protected].
—
Today we will hear from Erica Hartnick – the traveling yoga teacher who founded YogaTrade.com. Erica spent many years traveling and teaching yoga before starting Yoga Trade. By observing yoga teachers get hired abroad through Yoga Trade, she's gained an understanding of what makes a teacher easily get hired (or not hired). She's originally from California however she usually spends half her time traveling to surf/yoga destinations like Costa Rica.
If you have additional questions for Erica, please leave them in the comments and she will answer them!
What was your life like before teaching yoga? Was there any particular event that led you down that path?
My life was much the same before teaching yoga, the differences I remember were that I seemed to have a lot more free time (too much), my mind was more rigid and not as present, and my body was really feeling the negative effects of high-impact sports. I have always been into adventure, nature, and exploring, and I spent most of my 20's chasing the snow by working ski and snowboard related jobs in various mountain towns. In 2009, I moved to Half Moon Bay to go back to school at San Francisco State. Instead of finishing the Public School Teacher Credentialing Program I had enrolled in, I followed my new-found passion for surfing and fell in love with yoga with a huge thanks to the yoga studio, Enso.
my mind was more rigid and not as present
Later that year, my grandmother passed away and left a few thousand dollars to all her grandchildren on her behalf. I wanted to use the money to partake in a memorable experience to honor my grandmother, and I started looking into yoga retreats. While looking into the world of retreats, I found a yoga teacher training instead and thought I would learn a lot more that way. I had no intention of becoming a yoga teacher, but the whole process really shook up my world, and has taken me on an unbelievable ride!
What does a typical day in your world look like? Any positive routines?
I strive to make most days a balance of work and play. I am definitely a morning person, and the early AM has always been the most important part of my day. A good morning sets the day up right. I usually wake up with the sun and try to be tech-free for at least the first hour. Sacred morning time is reserved for alone time, tea drinking, exercise, yoga & meditation, journaling, and enjoying the peace and quiet. I don't know how many times I have enjoyed extraordinarily beautiful nature in the morning and wondered, "Why is no one else awake?!", while also grateful for the solitude. I guess part of me is happy that a lot of people sleep in.
I usually wake up with the sun and try to be tech-free for at least the first hour.
9AM-noon is usually when I get most of my important work done. I feel like I have the most brain power and concentration then. I always try to get at least one good dose of outdoor nature in daily and I also notice if I eat healthier, I feel and function at a much better capacity (this is something that I am always working on). I usually go to bed fairly early and know not to work on important things or make big decisions in the evenings.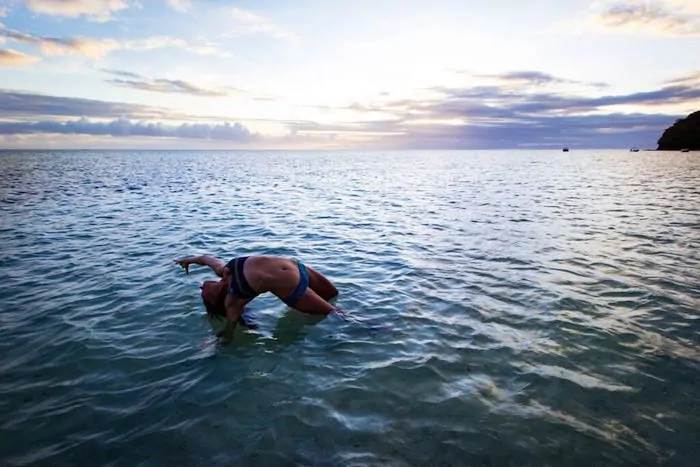 How do you support your lifestyle? Is YogaTrade.com your main source of income?
We started working on Yoga Trade in 2012, so it has been a work in progress! We did not have any investment capital and got it up and running all with our time, hearts, hard work, and dedication. We are devoted to providing the yoga and wellness community with the best job connection platform and resource on the planet. My partners and I enjoy travel and living in multiple locations, so part of the idea was to create a business we could work on from anywhere. I have definitely worked other part time jobs, mostly seasonal and hospitality gigs (restaurants) and teaching yoga. I have also continued to teach yoga thru "yoga trade" opportunities as a way to continue to do what I love while keeping living costs low. We are finally paying ourselves monthly "salaries", but still have to work other jobs to make ends meet while living in the United States.
You've spent several years traveling & teaching yoga and have seen many yoga teachers get hired through YogaTrade.com – what tips can you share with an aspiring traveling yoga teacher?
I would say that staying authentic and being yourself is key! Stay true to your beliefs! Also, know that traveling and teaching yoga can be hard work as dreamy as it sounds. Practice persistence and never give up. Focus on what you really want to do and go for it!
Making a website or a resume landing page with great photos and savvy writing can help a lot.
These days, it goes a long way to have a solid online presence. Making a website or a resume landing page with great photos and savvy writing can help a lot. When responding to jobs or opportunities, provide a short and clear email that explains why you are right for the job. I notice that a lot of people apply for jobs or opportunities that they are not qualified for, or they clearly do not read the posting and respond incorrectly and do not follow directions. Also, be ready to accept rejection and don't take things personally. When I started emailing places in 2010 looking for places I could teach yoga abroad, I must have emailed 50 places before I finally received an invitation to teach in Morocco on a work exchange.
It also helps a lot to downsize life at home before attempting to hit the road. I wanted to travel and teach so badly that I got rid of most all of my possessions and gave up a "traditional" way of life. This enabled me to have no excess baggage to carry around while traveling.
Here is a great read about teaching yoga abroad
Let's say you met someone at a social event and they asked you "what does it mean to take yoga off the mat?"- how would you respond?
To me, taking yoga off the mat, translates into "Living Yoga." This means to live as present as possible and to love ourselves and to find compassion for others. Knowing that once we learn to bring loving kindness to ourselves, we can then begin to bring it to others and the world! It means bringing more awareness to our everyday lives and remembering that life is precious, so let's do what lights us up! Getting involved with community and loving Mother Earth is also huge. We don't have to twist our bodies in crazy shapes, we just have to live life with open hearts and open minds!
If you only had one day left on this planet… how would you spend your time?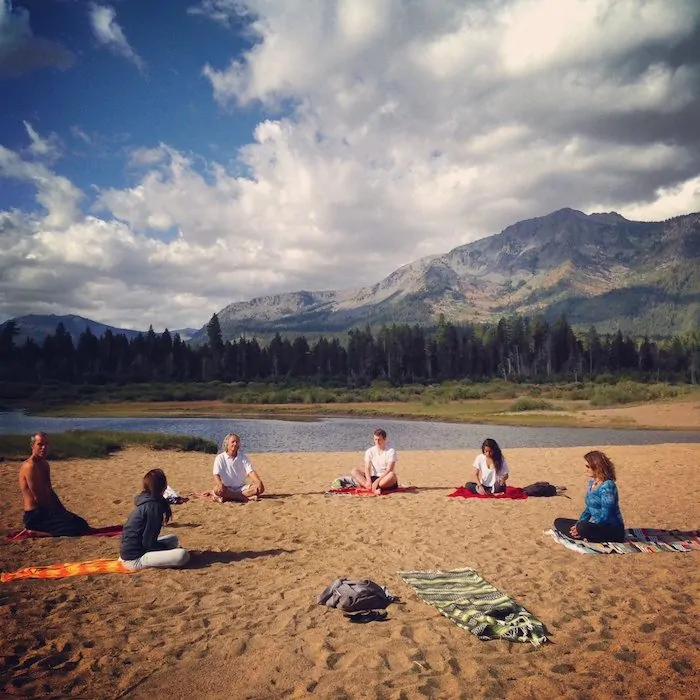 Tough question! I would definitely want to be OUTSIDE all day enjoying a favorite nature spot with some of my favorite people. Either hiking on a trail around Emerald Bay in Lake Tahoe, soaking up the sun on a granite boulder at the Yuba River, or surfing in Costa Rica would be nice. I would just want to sit and enjoy my breath, enjoy the beauty of nature, and enjoy the human warmth of friends. I would try to fill my day with as much gratitude as possible and be a witness to all the amazement in nature.
Where do you see yourself in 5 years time?
I would like to continue to travel and explore, but also be more settled with a "home base." I will continue to teach yoga in Lake Tahoe and Costa Rica with an emphasis on Nature Connection .
Yoga Trade will continue to passionately improve communities locally and globally through living yoga based exchanges and educational resources for yoga and wellness professionals. I also see myself in the best mental, physical, and spiritual shape of my life at 40 years young.
Connect with Erica Hartnick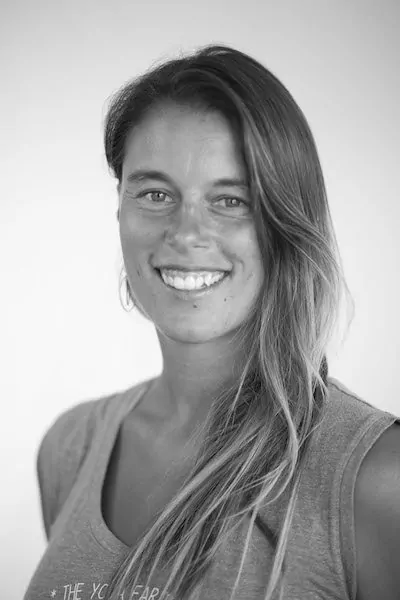 Erica Hartnick grew up in the Sierra Nevada foothills of California, and enjoys all things wild and free. Being extremely active and outdoorsy her entire life, she found yoga as a way to help maintain balance. She is grateful for having the opportunity to live a life of adventure and exploration as a world traveler. She teaches nature inspired yoga & leads mindful adventures in California/Costa Rica. She gets excited about: LEARNING, intense weather, glassy ocean peaks, pillows of fresh powder snow, crystal clear water, positive people, cultural travel, thriving vegetable gardens, fresh mint chip ice cream, nature's glory, LIVING YOGA & connecting with others. She's passionate about the collaboration with friends that led to the creation of Yoga Trade, and is devoted to connecting the yoga community with infinite opportunities!
Connect with her on YogaTrade.com, Instagram, and Facebook.