Parts of Goa are pretty inexpensive but the popular beach cities are not. We stayed mostly in Anjuna which is relatively expensive as many tourists flock there for sun, sand, and a party. We found accommodation to be cheap, and food expensive. Motorbikes were cheap and autos/cabs SUPER expensive.
How much does Goa cost?
After about 12 days in Goa we had an average daily cost of $20/person which was surprisingly HIGHER than our daily cost in Mumbai.
Click here for our budget breakdown in Mumbai
PS: you're going to laugh at how much we spent on food…
In this cost breakdown you will find:
Detailed breakdown of our expenses (with tables and a pie chart)
Free actives in Goa (worth your while)
Our budget mistakes & budget victories (learn from them)
Valuable money saving tips (remember these)
See how we graded ourselves (school house grading.. A through F)
**Our budget is based on 2 people and in USD.
Our style of Travel
Try to keep expenses low but prefer to eat healthy and stay in private rooms
Love AirBnB and Couchsurfing. Especially AirBnB.
Walking around is fun and we rarely spend money on organized activities (with exceptions)
Enjoy traveling by public transportation– and can live without using A/C (so far).
How do we keep track of our budget?
We manage our expenses by using Shannon from a little adrift's travel budget spreadsheet which is user friendly and all the equations are prebuilt. We have heard great things about the iphone budgeting app Trail Wallet created by Simon from Never Ending Voyage and may try it out in the future.
Notes on Goa:
We originally planned to stay 3 nights in Anjuna before exploring the rest of Goa. However we soon found a great opportunity to participate in a 5 day yoga and meditation course at Oceanic Yoga. Anjuna was touristy and we wanted to meet "real" Goans so we booked another Airbnb stay 30km inland in the tiny village of Aldona.
Check out our review of the 5 day yoga and meditation course at Oceanic Yoga in Goa
Aldona… beautiful little village: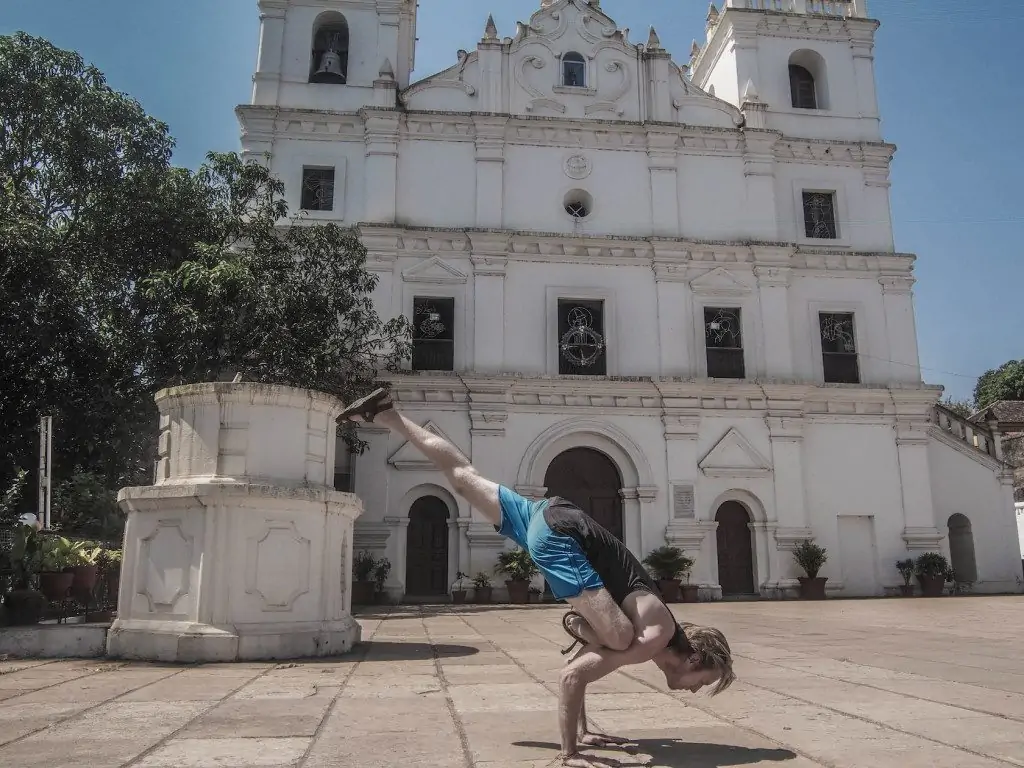 Although we were paying almost 4x as much for accommodation, Airbnb in Aldona ended up being a great budget move because we cooked our meals and didn't spend much (nothing to do).
We loved Aldona because we got to see what village life is all about and the locals were genuine unlike the obnoxious Anjuna. We stayed in a super old Portuguese style home with a fun couple our age. Bonus: The girl was Mexican which made Anne happy to speak some Spanish with her.
Summary (2 people in USD)
| City | Total Spent | Days in City | Cost Per Day |
| --- | --- | --- | --- |
| Anjuna | $385 | 7 | $55 |
| Aldona | $96.4 | 4 | $24.10 |
| TOTAL GOA | $481 | 12 | $40.08 |
Daily Breakdown by Category
(2 people in USD)
| City | Lodging | Food | Entertainment | Transport | Misc | Total |
| --- | --- | --- | --- | --- | --- | --- |
| COMBINED AVERAGE | $7.25 | $15.52 | $1.34 | $8.45 | $7.31 | $39.87 |
| Anjuna | $2.68 | $24.33 | $2.19 | $12.87 | 12.53 | $54.60 |
| Aldona | $17.08 | $3.99 | $.20 | $2.82 | 0 | 24.10 |
Total Cost Breakdown by %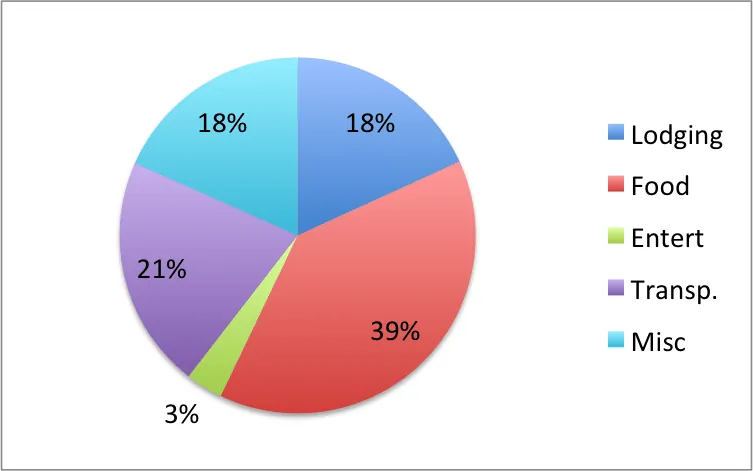 Most expensive items:
Anjuna flea market

– was free to enter but we got carried away shopping, whoops, $36 USD. (2200 INR )

Overnight bus to Hampi

– 2 tickets for $34 USD (2,100 INR)

Train from Hampi to Mysore

– 2 tickets in AC3 for $33 USD (2,060 INR)

Celebration Meal

– After confirming that our yoga retreat and accommodation were going to be sponsored we splurged at Bean Me Up with an expensive meal for $21 USD (1300 INR)

Taxi from Airport

– to Anjuna for $19 USD (1,200 INR)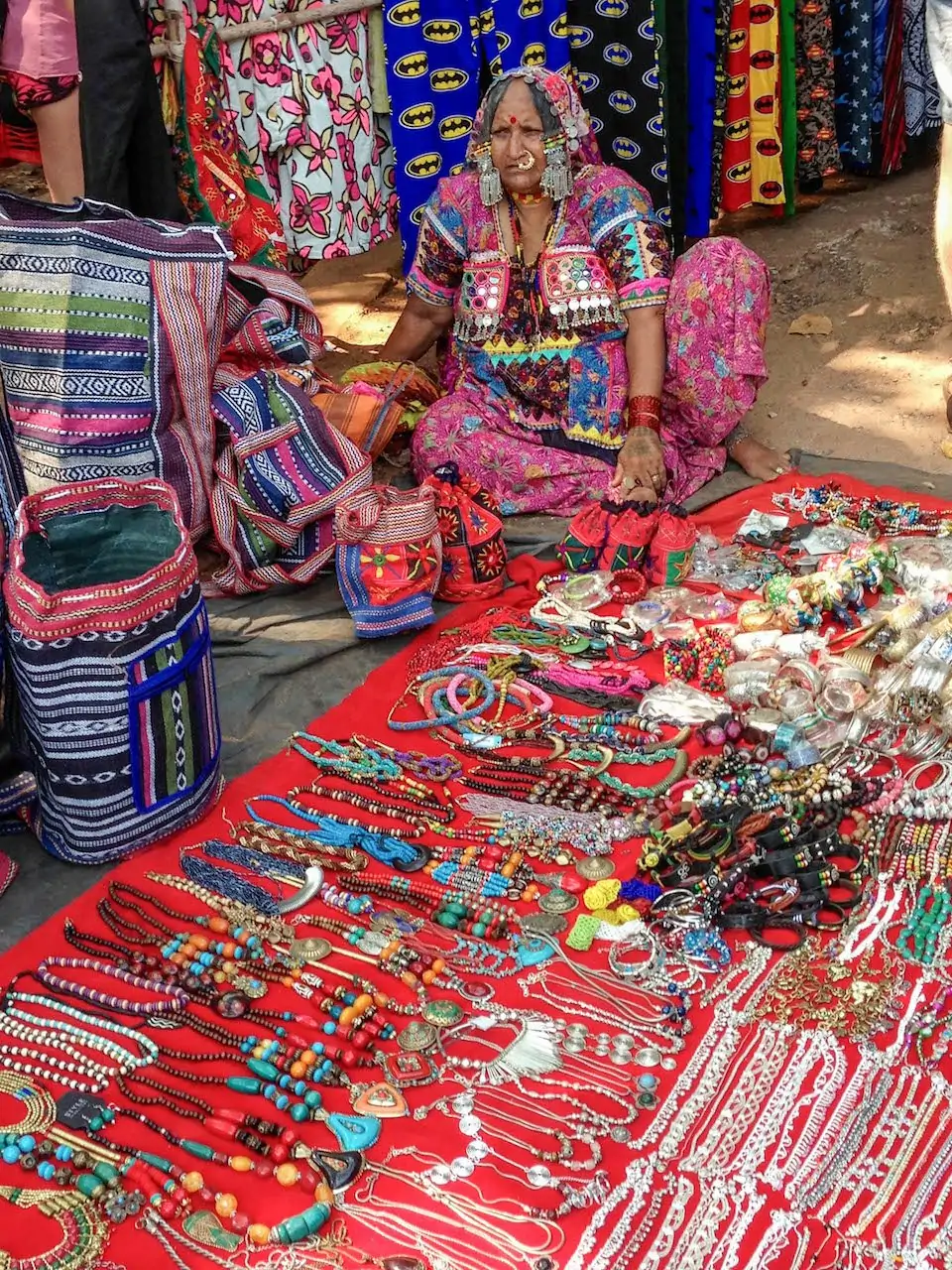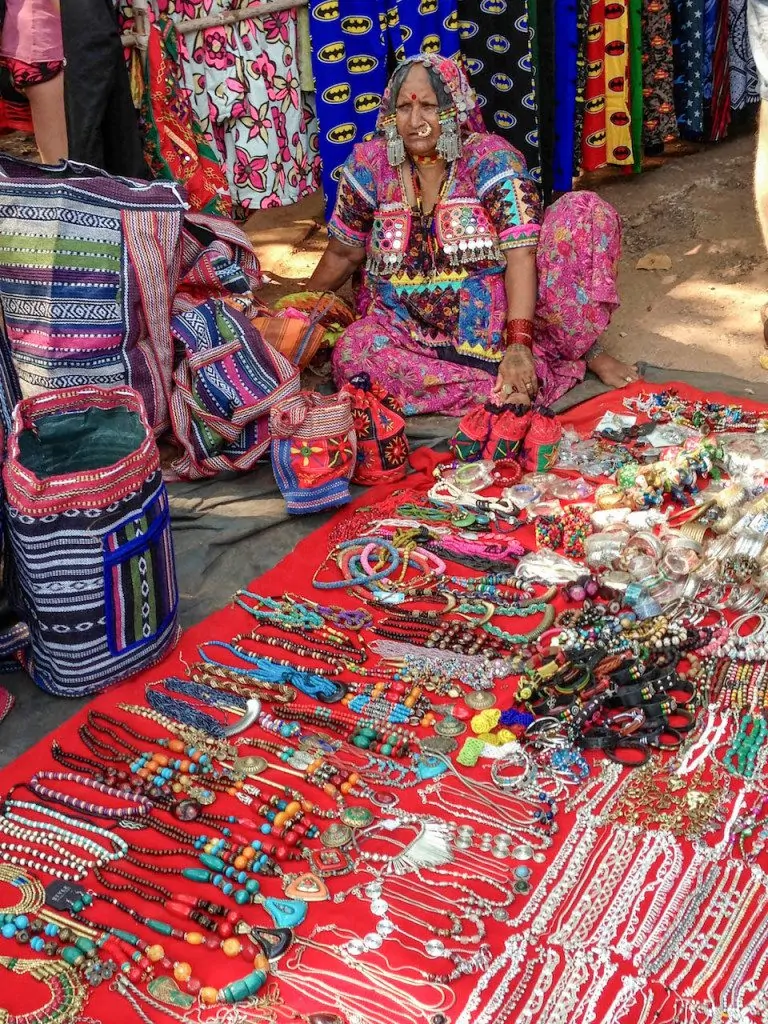 Budget mistakes:
Expensive Transportation:
Since we like to plan as we go (and didn't get our Cleartrip account sorted out in time), we were stuck booking last minute trains through a travel agency. This means booking fees for travel agency and not getting the train class we wanted.
Travel agency fees – $10 USD (600 INR)
We wanted Sleeper Class but only AC3 class was available, charged $20 USD extra for 2 tickets (1,200 INR)
Food:
We love Indian food but really got carried away in Goa eating healthy Western food.
In our defense… the Indian food we found in Anjuna was generally awful (and expensive) and we LOVED Bean Me Up so much that we ate there 8 times in 5 days which really added up.
Click here for 7 reasons we hated Anjuna
Budget victories:
Staying in Aldona through AirBnB:
At face value we were paying 3x the price for accommodation in Aldona compared to Anjuna. However, when you factor in having our own kitchen to cook and not spending money on activities (there are none) it turned into a huge budget win. Our total daily cost in Aldona was $12 USD per person. (730 INR)
Sign up for Airbnb and we both get a $20 credit!
During our stay we received:
Free chai and home made baked goods every morning (thanks Karla!)
Several free meals (thanks Karan and Karla!)
Free ride from Anjuna to Aldona valued at $5.70 USD via taxi (350 INR)
Eating at Rudra:
A tiny local Indian restaurant with only 8 items on the menu, all at a great price. Our meals averaged $2.50 USD (150 INR) here compared to $5.00 USD (300+ INR) elsewhere.
The owner was awesome and we even made friends with Frank, the cow, who visited us during dinner.
Sponsored Travel:
We did a marketing trade with Oceanic Yoga for a 5 day yoga and meditation course and Bean Me Up for accommodation.
During this week, we had free accommodation and spent all our time at Oceanic yoga – only spending money on food. We also had access to free water at both Oceanic and Bean Me Up saving about $1.25 USD (75 IN) per day.
Budget Accommodation in Anjuna, Goa
Prison Hostel (dorm rooms $15)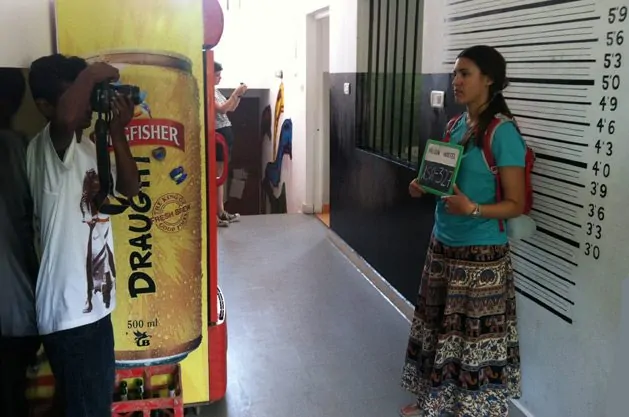 This famous hostel is built to resemble a prison. You even get your own mug shot when you check in! Centrally located in Anjuna. Walking distance from the Anjuna Market & the very popular hangout cafe, German Bakery.
The Tamarind Hotel (private rooms $46)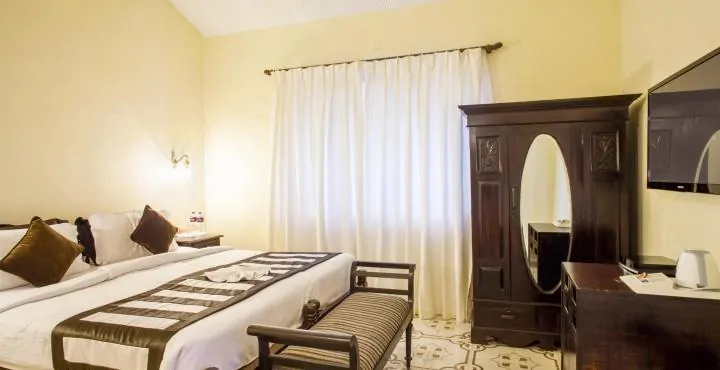 Nice and clean rooms, free breakfast buffet, onsite bicycle rental. Walking distance to the Anjuna Market. Onsite bar and restaurant. Pool onsite.
*If neither of these suit your fancy, here are the top rated hotels/guesthouses in Anjuna
Cost saving tips:
Walk!

Most everyone rents a motor bike but we love walking. We walked 1-2 hours per day.

If you don't like walking, rent a scooter

– Autos/Taxis rip you off in Anjuna. Expect to pay $2-$4 USD per day (150-250 INR) for a motor bike

Find a local Indian restaurant

– most restaurants in Anjuna are catered towards tourists which means expensive and very hit or miss quality. (see: Rudra)

Learn the public bus system

– Especially if you plan to travel to multiple cities in Goa, 15 INR will get you to the next city compared to 350 INR by taxi

Buy huge jugs of water from the Oxford Arcade (convenience store)

– 5L for $1 USD (60 INR) instead of $.50 USD (30 INR) for 1L at a restaurant

Fruit from market

– for snacks and breakfast. Protip: Don't buy "fruit bowls" for $1.70 USD (100 INR) – when you can make your own for pennies on the dollar

Accommodation away from the beach

– the closer you are to the beach the more expensive your accommodation.
Free activities:
If you're in Goa just to take a break from India and relax on the beach, you won't need much to stay content. However, if you need activities outside of baking in the sun (like I do), check these out.
Anjuna Flea Market (Wednesdays) – easy to spend 4 hours at this massive and diverse market. Located near South Anjuna.

Read on the beach

– bring a blanket or pay for a drink to get a restaurant chair and get lost in a good book. Warning: you WILL be approached to buy trinkets.

Watch the beautiful sunset over the beach

– maybe pair with a picnic meal

Anjuna Night Market (Saturdays)

– we never made it but heard it's similar stuff as the Wednesday market but with a better vibe (and live music).
Activities that will drain the budget:
Nightlife

– beer is cheap in Goa but they'll add up fast

Taking Taxi's or Autos

– huge rip off in Anjuna

Lack of self control

at the Anjuna Markets

Eating lots of Western Food

– try Rudra in Anjuna for cheap delicious Indian
Overall Score:
Both Anne and I independently submitted our scores for budgeting in Goa and agreed upon a B-.
We thought Goa would be a little bit cheaper than it was, especially the food. Turns out we were spoiled with street food prices and flavors in Mumbai. We were really happy with our sponsors in Goa which balanced out our crazy food habits.
Next time we would skip Anjuna and check out it's more relaxed neighbor to the north, Arambol.
Areas for improvement:
Next time we may try exercising some self control while eating at Bean Me Up. The food was so amazing (and healthy) that we ended up eating there every day. Also, we got a little carried away at shopping at the Anjuna Flea Market – there was so much cool stuff!
What was your daily budget in Goa?