This is part 12 of our traveling yoga teacher interview series. Each Wednesday we will release a new interview of a different traveling yoga teacher. If you know someone who would be a good candidate – email us at [email protected].
—
Leah began her journey as a traveling yoga teacher after she completed her 200-hour training in Bali. Like many, she fell in love with the healing energy of the island and tries to bring that to each and every class she teaches. The marriage of travel and yoga has taught her so much about the value of getting out of your comfort zone, and how you can find genuinely good people all around the world. Learn more about how she balances teaching and traveling, along with her favorite mindfulness habits, below.
Reminder: comment below with additional questions for Leah!
What is the most beneficial piece of yoga, to you?
The concentration on the breath. I am a typical Type-A personality (or at least, I used to be). I like to go, go, go. I like lists and efficiency and I like to get things done. Yoga has taught me to slow down and enjoy the ride. Simply paying attention to my breath has transformed so much in my life. Taking the time to sit down in meditation and just listen to the slow, steady rhythm of my own breath has changed my pace with everything else in my life. This simple practice has been such a great gift to me. Yoga, along with travel, has taught me that it is not about the destination, but much more about the journey to get there.
Simply paying attention to my breath has transformed so much in my life.
How and why did you choose to do your 200-hour TT in Bali? How long were you practicing yoga before deciding to do training?
I had always wanted to travel to Bali as I had heard about its beauty and magical spirituality. I first started seriously practicing yoga with a teacher that I absolutely loved and really respected his teaching style. So, I asked him for recommendations about a teacher training program and he suggested Frog Lotus Yoga (who were phenomenal!) and when I saw that they offered trainings in Bali, I knew that I had to go! I had been practicing yoga very much on and off for about seven years when I decided that I wanted to do a training. Then, I freaked out a bit after I signed up thinking that I was totally unprepared, so I started a very serious, daily practice for about a year leading up to the training.
The Yoga Nomad's Guide to Ubud, Bali
What was your first teaching gig like?
My first full-time teaching gig was in Cambodia and it was terrible. I was offered a position at a retreat center with absolutely no guests (so no students at all). I was housed in an isolated little hut with no locks covered in massive spiders and an outdoor bathroom in the middle of the Cambodian countryside. I felt unsafe, alone and not in my highest spirits. I cursed myself for being an idiot and quitting my job to travel halfway around the world only to return back defeated a week later. I quit this job after about a week (as the conditions were very different to what had been described to me) and I wallowed in self-pity for a little while at a small, cheap hotel in the town of Siem Reap. I miserably looked up flights back home every day.
And then an amazing thing happened: I started to meet a number of the expats and locals that lived in the town (it was a very small, tight-knit and loving community).
They were all so welcoming and helpful to me that before I knew it, they had all helped me to find five new teaching gigs around town. I ended up teaching full time around different centers and hotels. I fell in love with Siem Reap and Cambodia, in general, still holds a very special place in my heart. Since then, I am more cautious when I choose international jobs, but I have been lucky enough to never have another bad experience again. I also try to "pay it forward" as much as I can now. When I meet new members of a community, I try to offer a helping hand to find them work or friends or whatever it is they may need. It never ceases to amaze me how much goes around, comes around and how much a little helping hand can truly impact a person. I know that little acts of kindness like that have helped me beyond measure.

When did your wanderlust begin and what is it that keeps you traveling and teaching?
My first really big trip was the summer of my junior year in college when I went to go study abroad in Greece. To this day, I still think it was the most out of character thing I had ever done in my life (at the time, at least), but it was also the greatest decision I have ever made. I am a creature of comfort and I went completely alone to a whole new world and fell madly in love. Once I caught that bug, I decided to spend the rest of the summer traveling through Europe and exploring all the main tourist sites of Western Europe. I was a bad traveler at the time, but I was having the time of my life. After that, I was hooked. I visited 45 countries within the next six years and I haven't looked back since.
I was learning how to travel outside of my comfort zone, which has been my greatest teacher in life alongside yoga…
When I did my teacher training in Bali, I bought a one-way ticket and spent about six months after the course traveling through Southeast Asia. By then I was learning how to travel outside of my comfort zone, which has been my greatest teacher in life (alongside yoga). I fell so in love with the region, that when I moved back home, I was missing Southeast Asia so much that I went online and researched how I could move there. I found a job in Cambodia and never looked back.
Since then, I've followed my heart to many different countries that keep teaching me more and more about myself and about life. What keeps me traveling and teaching are that these two forces in my life have taught me more than I could ever imagine. I am humbled and grateful for the immensity and magnitude of all that I have learned and continue to learn every day from these powerful teachers. I firmly believe:
"Travel is the only thing you can buy that makes you richer." – Anonymous
"One of the great things about travel is that you find out how many good, kind people there are." – Edith Wharton
"Travel is fatal to prejudice, bigotry, and narrow-mindedness, and many of our people need it sorely on these accounts. Broad, wholesome, charitable views of men and things cannot be acquired by vegetating in one little corner of the earth all one's lifetime." – Mark Twain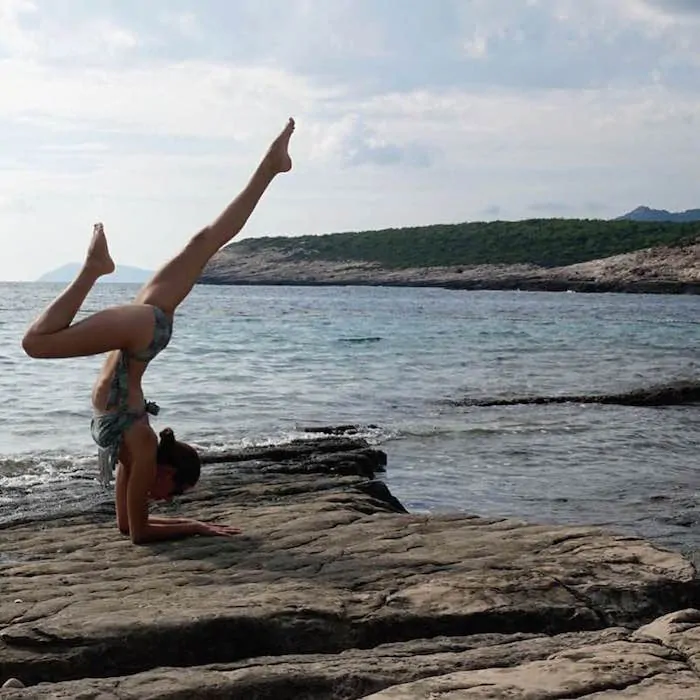 How do you market yourself online and what advice can you offer new instructors?
In our ever-evolving world, social media is any business or person's strongest tool. I post daily to Instagram, Twitter and Facebook and I also write a lot sending my voice out across other platforms for even further reach. I also refuse to take no for an answer. I very politely bug people until they respond to me. 😉 I am very proactive in my own career and I am constantly trying to take steps forward to gain more and more exposure. My advice to new instructors is quite simple: never underestimate what you have to share. Thousands of people are waiting to hear what you have to say. So if one person tells you no, then there are ten other people waiting to tell you yes. Everyone, everyone, everyone has something unique to share no matter how experienced or inexperienced you are. Share what you know and many people will be grateful for that gift.
What other mindfulness practices do you do?
Meditation, yoga, surfing, singing, writing, washing dishes 😉 I try to bring mindfulness into the forefront of every part of my life. I try to notice the views out my window or the blueness of the sky. I try to time my breath to the sound of waves crashing on the shore. I try to find gratitude in all things and practice humility. I read. I listen to my breath. I say "I love you" all the time. I try to be present whenever possible, and I try to remind myself that it is always possible 🙂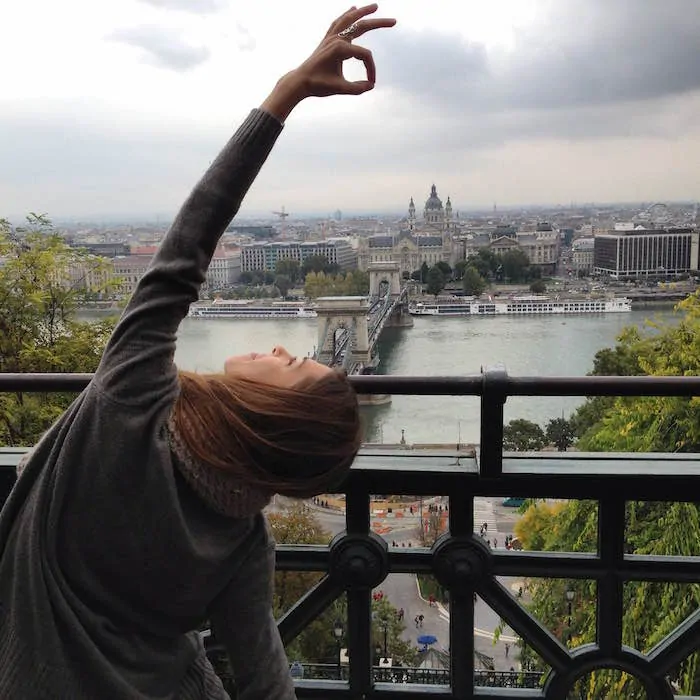 Tell us about a time you were fearful and how you overcame it.
I traveled through Southeast Asia for the majority of my time with a dear friend of mine, but after a few months wandering together, she had to return back home. So, for the first time in my life, I was traveling alone.
I was in Thailand for the third time on that trip, so I felt really secure and safe there as I mostly knew my way around the culture and the people and I stayed on the well-trodden path for the most part so I was always surrounded by other tourists.
It was here that I decided I wanted to visit Myanmar. It would be the first country that I would travel to completely alone and also one of the least traveled countries in Southeast Asia. Formerly Burma, Myanmar has a bad track record in human rights and is not highly advisable for tourism (although relations are starting to change). But for whatever reason, I had made up my mind that I would be going. I applied for a visa in Bangkok and booked a one-way flight into the capital city of Yangon. My family tried to dissuade me from going advising me that it was unsafe and unstable, but I had my heart set on seeing Bagan (an endless horizon of ancient pagodas in a small little village in the countryside).
I was terrified as my flight took off.
From the moment I stepped off that plane, I knew that I had made the right decision.
I had a bag filled with malaria tablets and guidebooks but I had no idea what I was doing. I didn't speak a word of the language and I was scared, but absolutely excited for the challenge. From the moment I stepped off that plane, I knew that I had made the right decision. Myanmar was a magical place filled with incredible people. Every person that I encountered was very concerned for my wellbeing, continuously asking me if I was "only one?" Every single person that I met guided me along my trip; from men helping me to cross the street to women offering to let me stay in their hotel room with them to couples offering me the best advice for bus travel. I was very well looked after on that trip. I am grateful for the kindness and generosity of the people that I encountered, many of which did not speak a word of English either. As we communicated through smiles and gestures, my fear melted away as I truly realized that wherever I go, whomever I encounter around the world, we are all one in the same. I overcame my fear through the love and affection that I grew toward the Burmese people and the whole country of Myanmar. I overcame my fear through the loving kindness that people showed me when I appeared lost or distraught. I overcame my fear through love and I continue to utilize this method again and again in my life whenever fear arises.
I truly realized that wherever I go, whomever I encounter around the world, we are all one in the same.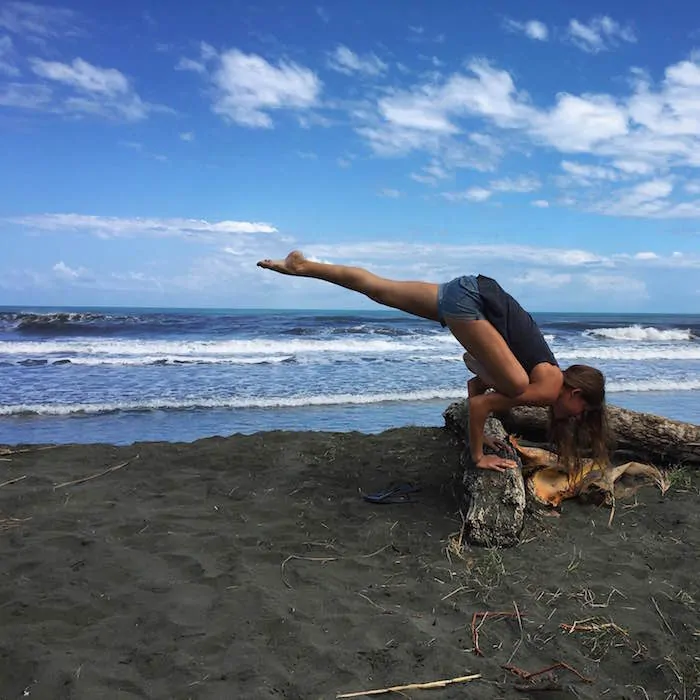 What words do you live by?
"Surrender to what is. Let go of what was. Have faith in what will be." – Sonia Rocotti
Connect with Leah
Leah Sugerman is a yoga teacher, writer and passionate world traveler. From Leah's very first encounter with yoga, she was hooked. She fell in love with the pure dichotomy of the practice: the stark contrast between the strength and power compared to the grace and surrender. She enjoys the beautiful dance between the two extremes that happens on (and off!) her mat every day. Leah has been a passionate, dedicated student since her very first class. When Leah is not teaching, she can be found practicing handstands in the sand, finding magic and eloquence playing with words or traveling to far ends of the globe with her mat in hand.
Many ways to find Leah! Find her on her: Website, Instagram, Twitter and Facebook