These days, it's every yoga teachers dream to teach yoga overseas. Images of doing yoga on the beach while sipping on coconuts all day flooding into into your mind's eye. However, for most people, the ability to "afford such a luxurious lifestyle" feels out-of-reach… Which I totally understand.Have you ever wondered how you can travel the world teaching yoga?
Keep reading to turn your dreams into reality.
In this article, you're going to learn:
Why teach abroad in the first place?
Overcoming financial fears
Addressing culture shock
How to manage missing friends and family (homesick)
Fear of not finding a job
Fear of the unknown
….and more!
First things first… why would anyone want to teach yoga abroad?
Why teach abroad in the first place?
What's the real reason you want to teach yoga abroad? Ideally, your reasoning should resonate with both what your heart desires and also your ideal yoga career path. Traveling is often a sign of change; you're leaving the old behind to make way for the new.
Perhaps your own journey is symbolic on a deeper level.
Are there things in your life you wish to change or leave behind? What can traveling offer you on a personal level?
Are you ready to teach abroad?
What can you offer as a traveling yoga instructor? Ask yourself if you're ready. It's a competitive world out there, do you have these things in place?
Now that that's taken care of. Let's talk about the benefits of teaching abroad.
Teaching abroad has many benefits:
Sharing yoga on a global scale will impact more people's lives than just your "regulars"
Expanding your network of clients, students, collaborators, and employers
Gaining cultural experience by teaching in a new country
Asserting your independence by living and teaching on your own in a foreign country
Living a slower paced, less stressful lifestyle (depending on location) to reset
Many benefits come from teaching yoga abroad. Whatever it is, be sure it holds truth (satya) for you. Don't let fear dictate your choices. Don't let other people's opinions sway your own desires – if it's your dream to teach at a ski resort or in a metropolitan city in a foreign country, DO IT! So what's holding you back from becoming a traveling yoga teacher?It is important to identify what's preventing you from accomplishing this goal. Is teaching yoga abroad something you really, truly want? Or are you just fantasizing about the yogis on Instagram? Are you actually willing to do the work to get there and are you up for seizing an opportunity when it arises?Let's explore the commons fears you may experience when teaching yoga abroad:
Fear #1

: Not having enough money

This is probably the #1 reason people are afraid of both teaching abroad and traveling abroad in general. It is a valid concern, no one wants to run out of money in a foreign country! Luckily, this fear can be remedied through preparation and some lifestyle changes. How to work through financial fears:
Ensure your finances are in order – save some money, pay off debts, set aside an emergency fund you're comfortable with, and secure travel insurance.

Make a simple budget – How much income will you need? Are you comfortable with just your room/board being covered? Or will you need paychecks on top of the food/accommodation being covered.

Be clear on your personal requirements when applying for a job.

Explore jobs to supplement your income outside of your yoga classes(online is the most lucrative)

Start planning your next job immediately when you arrive. This will take some time and energy away from being there initially but it will lead to better gigs and less stress.

Can you take a leave of absence from your classes back home and ensure you'll have work lined up when you get home?

Ask if your overseas employer can provide a "paycheck advance" upon arrival.
Consider your location wiselyYour flight to the teaching destination might be the most expensive part. If you're based in the United States for example, flights to Costa Rica are much cheaper than Thailand. Where can you afford to fly to? What is the cost of living in that location? While Cambodia has a low cost of living, Japan could break the bank. Do your research.
If you're concerned, focus on teaching gigs that are closer to home. Your network may be stronger and if anything goes wrong, you're a quick flight from home. Once you feel more comfortable traveling and teaching, taking opportunities further away from home won't feel so risky.
The truth is: high paying yoga jobs abroad are few and far between
While some resorts offer short-term contracts, most people will need a second source of income (besides teaching) if you wish to sustain yourself long-term. This is where having a website can help generate an income abroad. When preparing for your trip, try to determine how you will generate an income before you arrive. At most places overseas, you will teach 1-2 classes per day without much of a commute. This means, you'll have free time to work on other projects. How to find higher paying jobs?Higher paying jobs are often in cities or countries that are less appealing. Everyone in North America wants that cushy job on a beautiful beach in Costa Rica. If you're willing accept less popular destinations, you may find more lucrative teaching gigs.
Ask yourself… is teaching abroad just an inexpensive way to travel? Or are you looking to teach abroad for the income? Do you want to spend your time in paradise working all the time? Will that defeat the purpose of your trip?
Fear #2

: Culture shock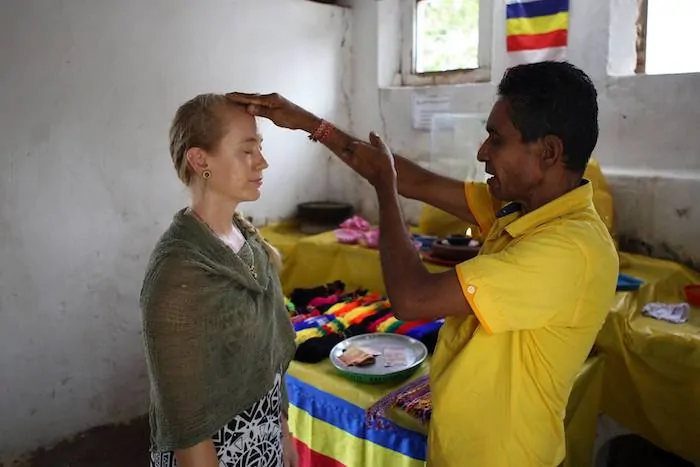 Being immersed in a new environment and culture can be a shock to the system, especially if you have not traveled much outside your home country. While living and traveling in new environments can be exciting, there are also many unknown factors that may make you feel lost or out of place at times. From strange food to unpredictable weather and housing conditions… are you ready to embrace the challenge? For example, you may be living in a hot country without A/C and only have access to a cold water shower. There may be regular power outages and the overall pace of everything may be slower than what you're used to.
The key is to adjust your attitude and accept the situation/location as it really is.
You may ask for something on the menu that you love back home and it doesn't taste anything like what you thought. You may enjoy this at first, but after a little while, you may become frustrated when trying to, say, use the internet for work during a power outage.Here are a few ways to minimize culture shock:
Arrive early to get a feel for the country. If you are able to work it out through your contract to arrive a few days early before you start working, you can ease yourself into the lifestyle while adjusting to any cultural conditions that may be different than yours.

Share your concerns with others as they arise. Is there a coworker, fellow teacher, or manager that you can speak with about anything that comes up? It's important that your well-being is supported while you are there.

Ask plenty of questions before arriving (ex: anything you need to bring that you can't find easily in that country, i.e. contact solution)

Be prepared by learning how to say hello and thank you in the language.

Give yourself time to integrate upon returning to your home country. Reverse culture shock can also happen, where the pace and/or look of where you are from seems foreign after spending a certain amount of time elsewhere. Take a day or two (or a few weeks) to unpack, meditate, share your stories, and ease back into your lifestyle.
Fear #3

: Missing family and friends (homesick)

Let's face it: being far away from your family, friends, and loved ones is really hard. This may be an even more difficult consideration if you're married, in a relationship, or have children. Thankfully, the internet makes it much easier to stay connected these days. Here are some ways to minimize being homesick:
Stay in communication!

Schedule regular video chats especially if you're in opposite time zones (this may mean late night or early morning calls)

Send regular email updates

Post photos online through your social media outlets to share your journey, so that you still feel connected to your friends and family.

Make new friends! Traveling and working somewhere new is a great opportunity to create a once-in-a-lifetime experience and along with that, memories and friendships that will last forever
Fear #4

: Finding a job abroad
Plenty of resources exist helping yoga teachers find jobs abroad. This is particularly handy if you like to have something cemented in stone before you take the leap. It's also important to know that certain places like Europe will only accept people who have an EU passport and can work legally there. Word to the wise: Always check Visa requirements! Every countries is different.Online resources for finding a job abroad to ease the fear:
Now that you know where to look, all you have to do is attach a link to your website, resume, and write a cover letter! Don't slack on your cover letter. Many people will skip this step. Make your letter concise with a clear description of who you are, your background, your teaching style, and intention for teaching at that particular location (remember your whys!).
Fear #5

: Not liking it once you're there…

Things happen. Sometimes things don't turn out the way you thought they would. Will you be able to break your contract? It is important to make sure you have one in the first place and that it clarifies everything that is provided compensation-wise as well as expected duties. If there are any issues, be clear in your communication as they happen so that if you do need to break your contract, you have sufficient reason (for example, the housing situation was not what you were told it was going to be, etc).
Fear #6

: The unknown

For those who like to go with the flow and take risks, you can pick where you want to go and then try to find work once you are there. There's always that moment of the unknown before you click the purchase button on a flight… But going into the unknown provides space for growth and for things to happen which perhaps you didn't even plan, like finding a resort to teach at while backpacking through Central America.
We do not fear the unknown. We fear what we think we know about the unknown.
Take it from my experience – you can create opportunities as you travel if you are a fly-by-the-seat-of-your-pants person. Many places offer jobs that aren't posted online to people who are already near by. So if you want to take that dream trip to Costa Rica to teach, you could always save up enough money for 3 months of backpacking through Central America and see what happens. The cards will already be in your favor since you will be closer to the source of the jobs you seek. However, there is still the gamble of the unknown… can you face it?How to overcome your fear of the unknown
:
Just do it! Once you begin traveling and teaching, the fears seem to melt away and your chances of scoring jobs increase. If potential employers know that you have been traveling and teaching for awhile, they will typically hire you over someone who is newer to this world.
Parting wisdom
Teaching yoga abroad is a very rewarding and potentially lucrative endeavor. A little preparation goes a long way. 🙂
In order to make the most of your experience, here's some parting wisdom:
Get clear about WHY you want to teach abroad – life experience, sabbatical, grow your career, earn money, etc.
Don't let fear stop you – I know it's scary, but if you do your homework and prepare, chances are you will have a rewarding experience!
Get your website up and running BEFORE you go – this will help you secure teaching gigs and provides income opportunities to supplement teaching.
So there you have it! Do you have any stories of facing your fears and just going for it?
Until next time,
Lindsay