When is the last time you tried something for the first time?
Can you recall how it made you feel? Perhaps nervous, intimidated, even embarrassed for the sheer fact that you don't already know.
If you continued to keep trying, you would have more confidence, less fear and intimidation and probably more excited!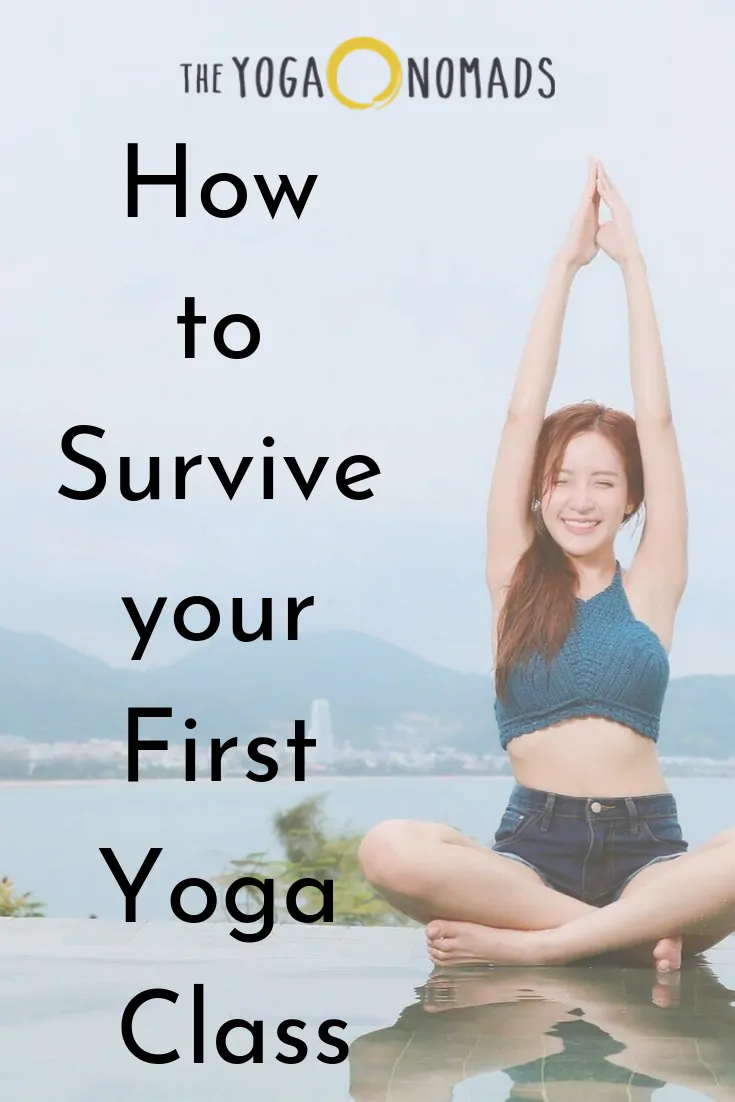 Pin me first? Then keep reading!
Insert in yoga. If you're not already practicing yoga, chances are you've at least considered trying this 5,000 year old tradition. With new yoga studios popping up daily in the West, it's hard to not be at the very least, curious!
However, going to a yoga studio can be intimidating to the newcomer. At first it may seem like a religious ceremony with incense, chanting and meditating. Or maybe if you're attending at a local gym, it can seem like everyone is super fit and all wearing lululemon. But not all yoga classes are the same!
Whichever style of yoga and studio you decide to try, knowing some helpful tips before arriving will alleviate your nerves!
Below are some tips to ensure you survive your first yoga class!
1) What to wear
Don't worry about not having the latest new top from lululemon; the brand of your clothing won't improve your yoga practice . What's most important is choosing pieces so that your instructor can easily check your alignment and adjust you as needed.
Females – chose a tighter fitting top and slim bottoms. If you're practicing in a heated room, a tank top and cropped pants or shorts would work best to keep you reasonably cool. Be mindful of choosing pieces that are appropriate.
Males – athletic style shorts and either a slim fitting top or shirtless (if allowed) work best.
For both, keep in mind loose tops will lift up and cover your face when inverting (that means in downward facing dog too, not just headstands!). Oh, and take your socks off before entering the room!
2) What to bring
Mat and water bottle. Most studios and gyms will have extra mats on hand (often for an additional charge) but bring your own if you have one. Bring a water bottle to drink during and after class. A towel might be useful if you're in a heated class, to wipe the sweat off your face and hands, but most places will also offer these.
*Top 5 yoga destinations for students
3) Greet the instructor
As you check in, make sure to let the instructor know it's your first class, and tell them of any injuries you may have. They will undoubtedly make you feel welcome and this will help them to give you additional attention in class if you need it. As an instructor myself, I like to know ahead of time to adjust the class level or make sure to add appropriate modifications during the sequence so that all students are happy and getting what they need.
4) Etiquette
Arrive at least 20 minutes early to the scheduled class time. This allows you plenty of time to check in and register, put your mat down inside the studio, and go to the changing room to place your belongings. Your first time in any studio usually requires some brief paperwork.
Remember to practice silence inside the studio. Yoga studios create a sense of community and are a great place to meet like-minded people. It's fun to make new friends and catch up on life before class, but please be mindful of other students while in the studio, and have those conversations outside of the room. That said, each studio etiquette will be different. Be flexible and go with the flow. 🙂
5) Practice beforehand
This is optional – but recommended to help make you feel even more comfortable. There are plenty of resources on the internet that can show you a few basic postures. YouTube works great. For starters, look at downward facing dog, upward facing dog, warrior 1 and warrior 2. These postures will mostly likely be in your class.
Check out Yoga with Adrienne on YouTube.
6) Choose an appropriate class for you
Even if you're an athlete, have completed 6 triathlons and were a gymnast in high-school – it's so important to start in a beginner class level! Yoga is a practice that builds with time. (Both the physical and mental!)It's important to learn proper alignment and foundational postures to have a solid and safe practice. Your physical strength from other sports will serve you well, but starting with a beginner class level will help your practice grow in a healthy and safe way.
7) Remember, it's not a competition
Leave your ego at the door (along with your socks)! Yoga is not a competitive practice and there is no space for comparison in the studio. Sure the person in front of you may have a solid handstand that they effortlessly hold for 2 minutes, but they were also in your shoes at one point! The practice is not about other people in the room, it's about you. Keep your focus on yourself and go within.
8) Be open-minded
Not all yoga classes are filled with incense and chanting, but if yours is, be open to it! There are numerous styles of yoga, so try not to get discouraged if the first one doesn't speak to you right away. Take each class as an opportunity to learn something new. Invite the new experiences inward and don't place judgment. Be open to what the practice has to offer you in any given moment. It can change your life, if you're open!
9) Breathe.
Your yoga instructor will be guiding your body in and out of postures, and at the same time, telling you when and how to breathe. Inhale, exhale, inhale, exhale. If you need to breathe more than what they tell you, then do it! Take it at your own pace and energy levels, and do what's best for you. I've been practicing for years and still need extra breaths between postures!
10) Have fun!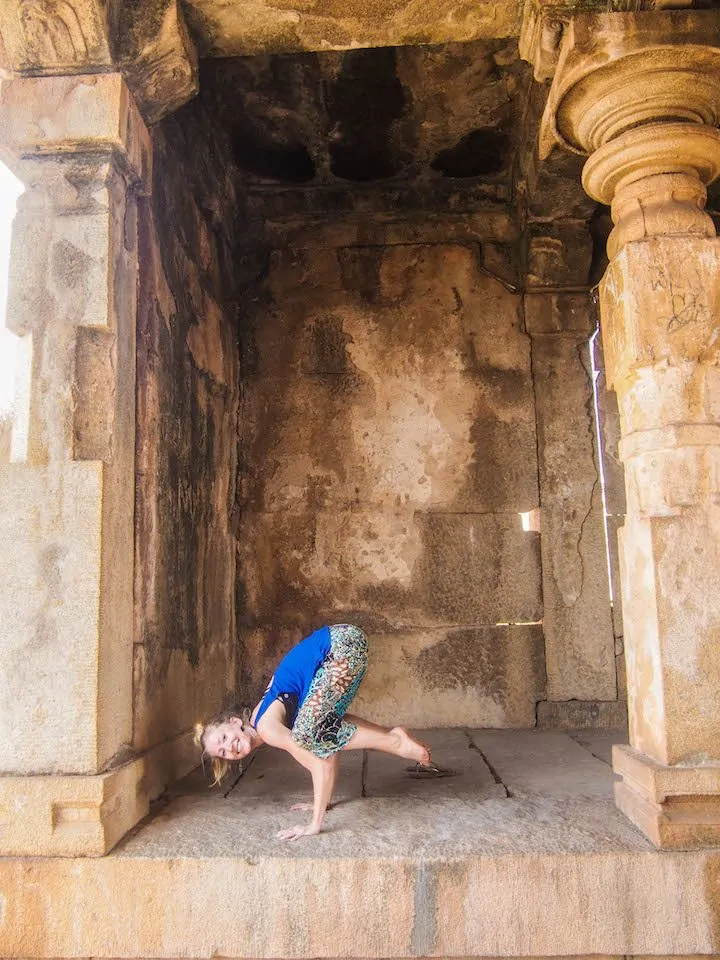 Most of all, have fun! Don't take it too seriously and just enjoy it. If you fall over or face the wrong way, smile and laugh it off. FART! Did you hear that?! It's not uncommon for people to pass a little gas while practicing. Ha! Just go with it, and enjoy whatever happens…You're in a supportive and safe environment! 🙂
Final Thoughts
Practicing yoga in all it's forms has the power to change you from within. It is a lifelong journey of self exploration and discovery, and can lead to many positive changes in your life. The first time on your mat can seem scary and you may not even like it. Give it time and more practice before making your mind up.
And remember, "with practice, all is coming."
How was your first yoga class?

PS: Did you enjoy this article? Pin me!