This is part 1 of our 5 part series enabling "Yoga Nomads" to teach and practice yoga while traveling!
Part 2: How to find a yoga teaching job abroad
Part 3: Top 5 countries for your next yoga vacation
Part 4: Tips For Choosing a Yoga Retreat
Part 5: Top 5 Yoga Mats for Traveling
—
Being avid yogis, finding yoga is a top priority while traveling.
Due to the rising popularity of yoga, we figured it'd be easy to find yoga everywhere! However, it isn't as easy as you may think. Studios in the United States are on practically every street corner, but that's not the case internationally.
Spending time away from our home studios, we've developed a solid home practice and cherish its benefits. However, nothing quite compares to being guided through a flowy yoga class by a local instructor.
Traveling for nearly 15 months, we have learned a thing or two about finding a yoga studio while on the road. We hope our tips can help you, too.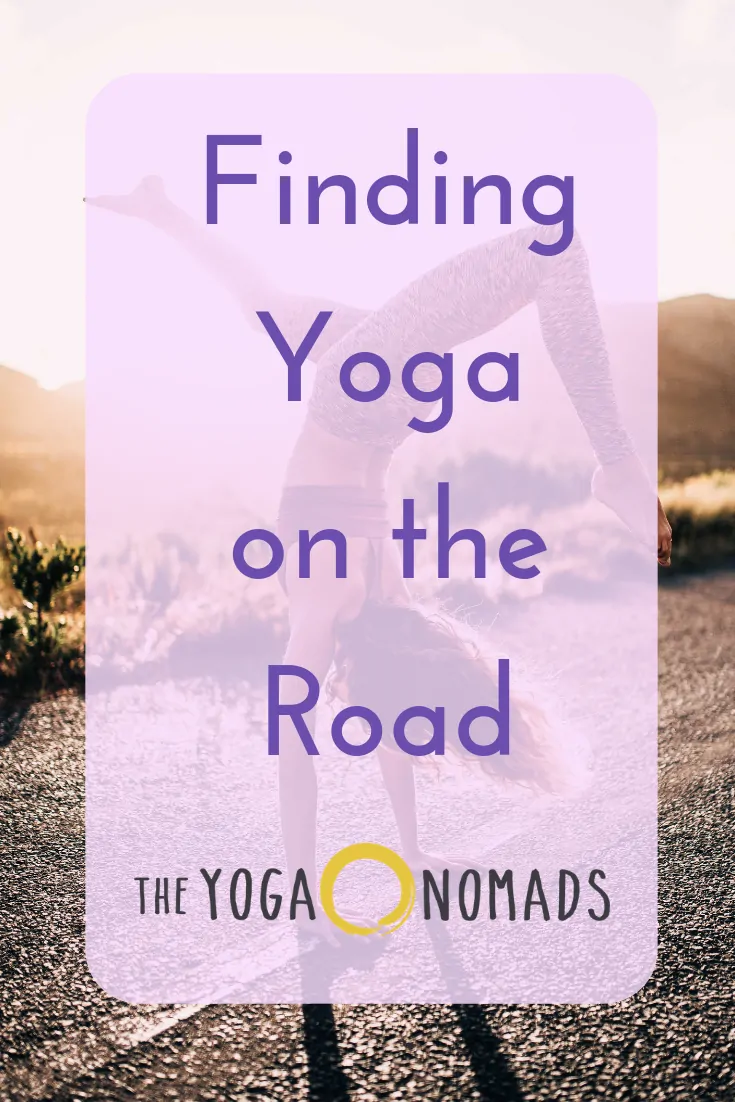 Pin me first? Then keep reading!
1) Google it
Yep. When in doubt, google it. Most local studios try to create some type of online presence. In a google search, you'll also get access to the yoga studio's social media as well. Any Facebook pages, Tweets and Instagram pictures will show up in your search. Hotel reviews on TripAdvisor can be a good resource as well. Some reviews may state where they practiced yoga during their stay. Make sure to do a "drive-by" to ensure it's still in business, though.
Don't stop at "Googling it"
Search Instagram to find yoga studios near you. Example search: "Portland Yoga." This will give you a chance to check out the studios vibe and see if it matches what you're looking for. [tip submitted by Yogi Rene]
2) Go where the yogis go
Generally speaking, yogis congregate in the same types of spaces. Consider visiting the local coffee shop, smoothie spot, the beach, or a local farmer's market. Chances are, you'll see someone with their mat slung over their shoulder, sipping on kombucha and talking about the cosmos…. Either way, you'll probably be in close quarters with someone who might know where to find yoga in the area. As a bonus, by sparking up a conversation with a random person, you may begin a new friendship and/or travel partner.
3) Ask the staff at your hostel/hotel
One of the best resources at your fingertips while traveling, are the people who work at the place you're staying. Chances are, they are local people or foreigners who've lived in the area for a while. They should know if yoga is offered in the area, and if anything, know a few spots where yogis would be hanging out. 🙂 If you're an instructor, you could offer to teach yoga there in exchange for something: a meal, free or discounted room, free drinks.
4) Keep your eyes open for signs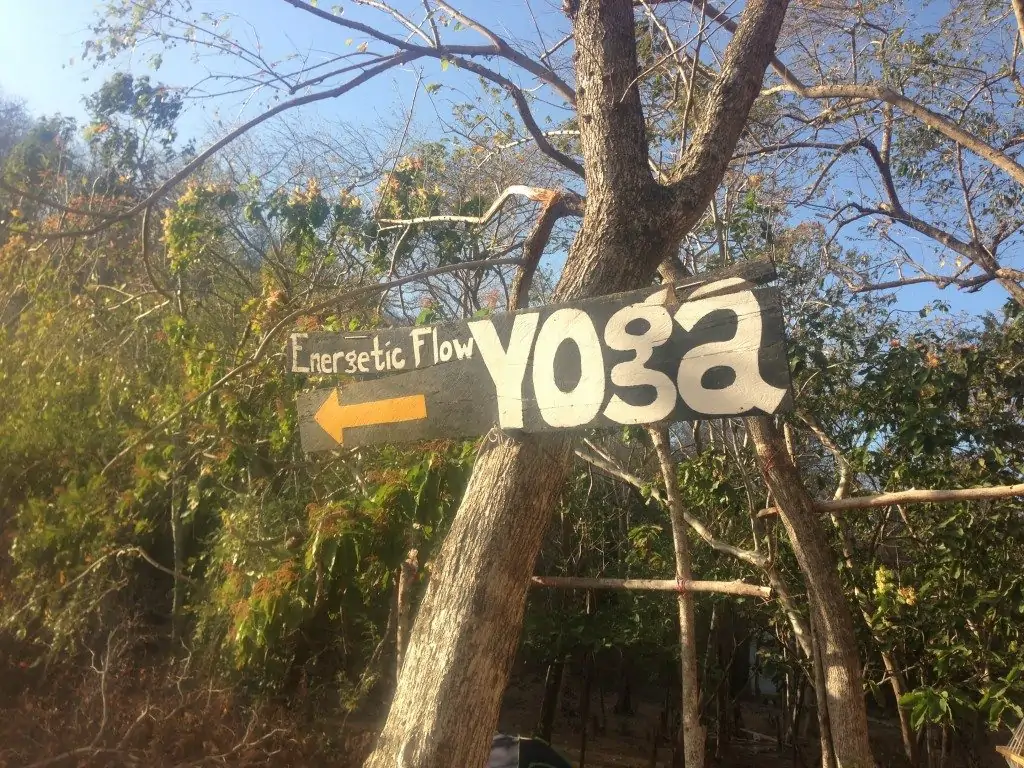 While you're out walking exploring the city, be sure to keep your eyes open for postings along the way. Local businesses like coffee shops, grocery stores, community centers and gyms often have bulletin boards posting all sorts of advertisements. Telephone poles are still being used around the world for advertisements of all kinds – so don't overlook them!
5) Ask resorts and hotels in the area
Fancy hotels usually have a gym (so if anything, you could look into a day pass to use the space to put your yoga mat down), and often times host daily yoga classes for guests. This could also be another opportunity to offer your services if you are a yoga instructor. You could do an exchange, or even just get paid per class.
Things to keep in mind:
If you're a beginner to yoga, it's all-good! There will always be newbies practicing yoga. Check out our tips for surviving your first yoga class.
Don't worry about not having a mat with you, all studios should offer mats for free or for a small fee to rent. We've reviewed the top yoga mats for travel if you want to bring your own.
Dan from ThisWorldRocks.com shares tips for Finding Yoga on the Road.
Any style of athletic clothing should be fine. Wear clothing that you're comfortable moving around in (i.e. no denim).

Yoga is an ancient yet accessible practice that's making its way to the modern world quickly. Studios are popping up all over the globe, but may not be right at your fingertips when you need it the most. We hope that these tips will get you on the right path to finding a place to roll out your mat and enjoy the practice wherever you plan to be.
Your turn! What is your #1 tip to finding yoga on the road?
Cover Photo Credit: Hulakai Hotel
PS: Did you enjoy this article? Pin me!