We all crave less stress, more peace of mind. But it can be hard to find time to escape the chaos of our lives and quiet our overwhelmed brains. Whether you're just starting a meditation practice or you've been meditating regularly for years, it is so much easier to have a dedicated space for quieting your thoughts.
If meditation rooms have always seemed like an overpriced luxury reserved only for high-end yoga studios or meditation retreats, you're in luck! You can design a tranquil meditation space in your own home for under $100.
Here are 10+ inspiring meditation room ideas for every style, from bohemian to traditional zen to modern chic, and everywhere in between. We cover how to get started creating a DIY relaxing space, including the best meditation room decor, meditation cushions, and affordable accessories for inspiration and rejuvenation.
How do you create a meditation space on a budget?
A meditation room can cost anywhere from $100 to $1,000+, but the secret to creating a quiet space on a budget is simply utilizing affordable decor to convert a spare room, corner, or extra space in your home into the peaceful ambiance of your dreams. Here's how:
Location: First, decide if you'd prefer a dedicated room for your meditation and yoga practice or if you'd like to utilize a small space in your office or bedroom. Measure out how much space you're dealing with and create a little drawing sketch of the area.
Light: Identify where you can incorporate natural light (windows or skylights). Sunshine is free and helps add a warm glow to your meditation. You can also decide if you want to use any lamps or lighting fixtures to create a soothing ambiance. Maybe you'll even opt for hanging fairy lights.
Floor: Begin decorating from the floor, upward. Use our guide below to choose an area rug, blankets, or yoga mats that will make the space feel warm and welcoming to your bare feet.
Seating: Decide what seating you prefer: cushions? a meditation chair? a meditation bench? a hanging chair? Simple pillows and meditation cushions tend to be the cheapest options (we'll cover our favorites below).
Walls: Hang wall art like tapestries or posters to make the space feel a little more welcoming and inspirational.
Focal Point: Consider whether you want to use a large or small table, altar, shelves, image, or mirror as the center focus of the room. Small spaces tend to feel larger when there is a window, mirror, or light colored walls.
Meditation Tools: Next, you'll want to find space to store and display anything you use during your meditation. Think singing bowls, books, Mala beads, crystals, journals, or anything else that helps you meditate.
Sensory Elements: Aromatherapy has the unique ability to blast us into the present moment and help us focus solely on our internal experience. Essential oils, candles, incense, or sage are the best ways to incorporate scent into your meditation practice. They can also help clear the energy of the space before and after your practice.
Natural Elements: Accent with natural elements like houseplants, stones, crystals, or herbs.
Accessories: The final touches like throw pillows, blankets, canopies, statues, prayer flags, and miscellaneous decor make all the difference for emanating a calm, soulful vibe.
Personal Touches: Finally, add your unique flair with a vision board, photos of someone who makes you feel peaceful, your favorite inspirational quotes, or your manifestations you hope to bring to fruition.
Meditation Room Ideas
Now that you know how to create a meditation space, it's time to dive in. Check out some of these inspiring meditation room ideas to get a vision for how you will infuse some soul into your space.
Then, choose a part of your house and start to visualize how your favorite products can bring the meditation room to life. If you want to keep the space under $100, be sure to prioritize the elements most important to you- seating and decor tend to make the biggest transformation until you can save up to add more flair to a space.
Here's our favorite trends and unique elements:
Bohemian Meditation Space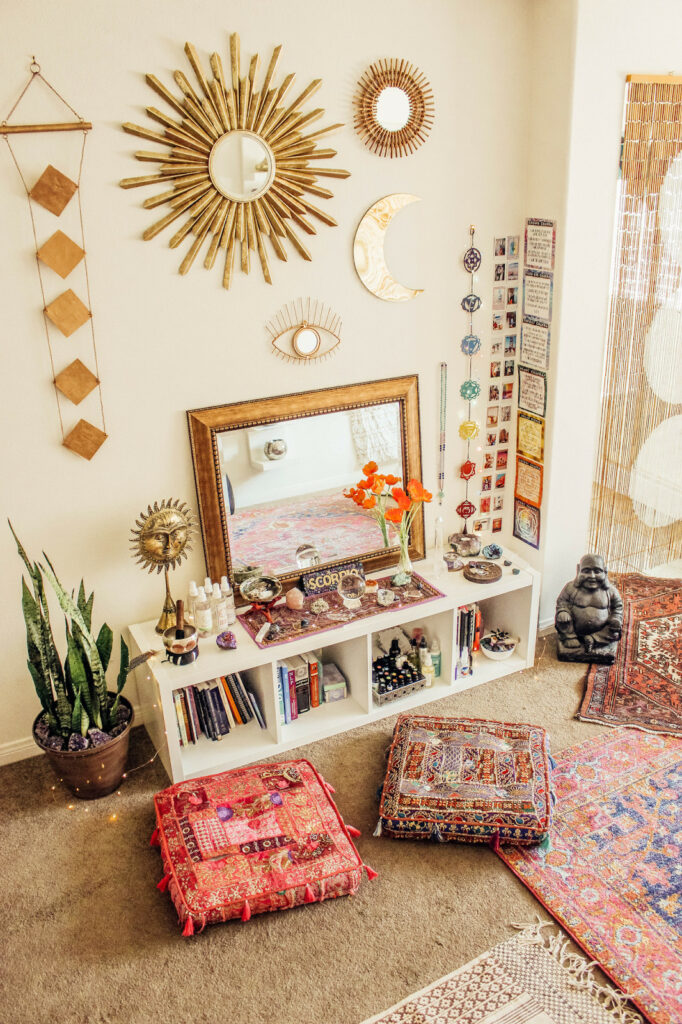 For the eclectic, hippie-minded yogi, this meditation room idea is all about bright colors and patterns. Patchwork floor cushions, suns & moon decor, houseplants, and boho rugs or tapestries draw on a diversity of cultures to make this space feel like a vagabond traveler's oasis.
Get This Look: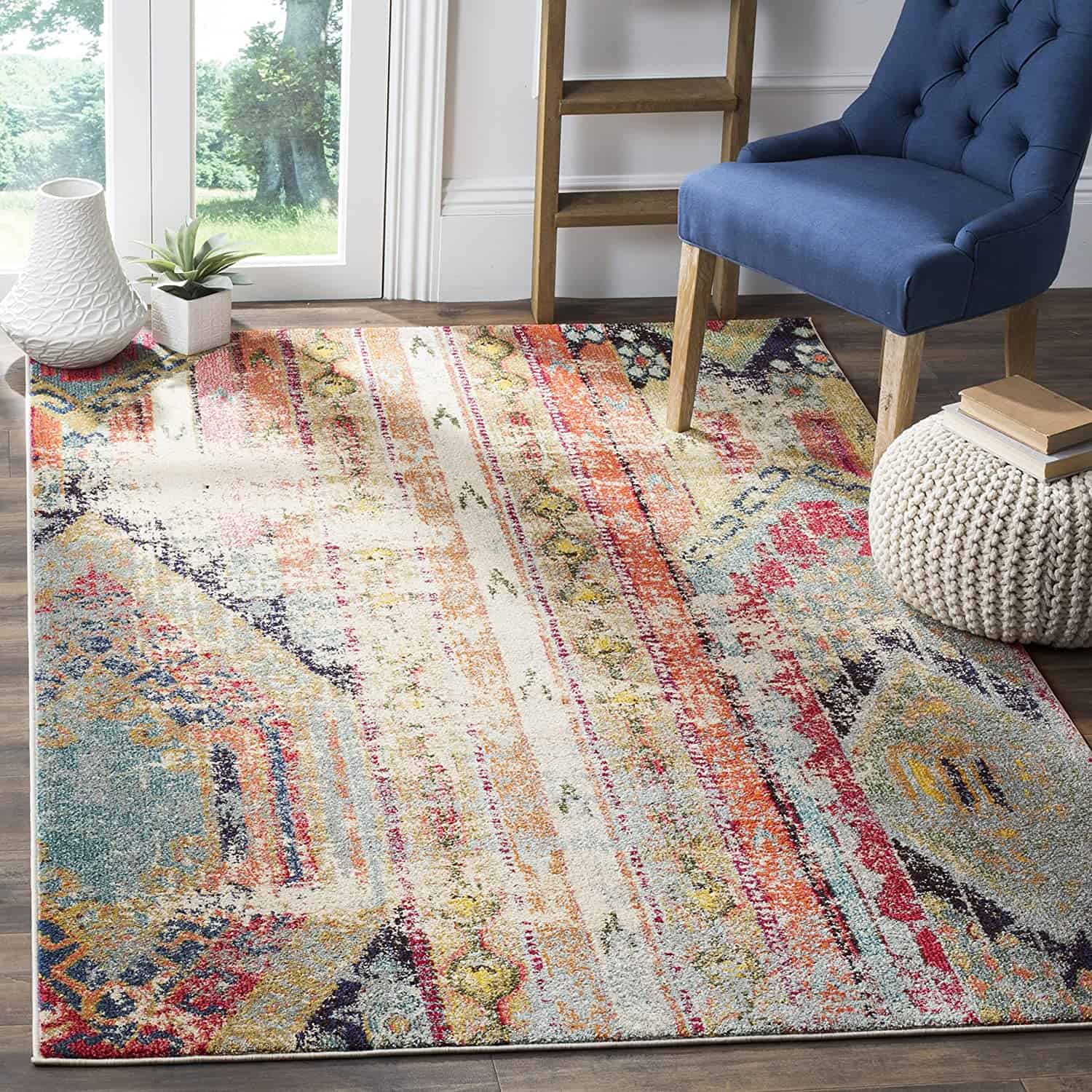 When in doubt, the best affordable boho decor can even be found at local thrift or vintage stores for a bargain price. Don't be afraid to mix and match floral, tribal, and exotic patterns.
Minimalist Meditation Room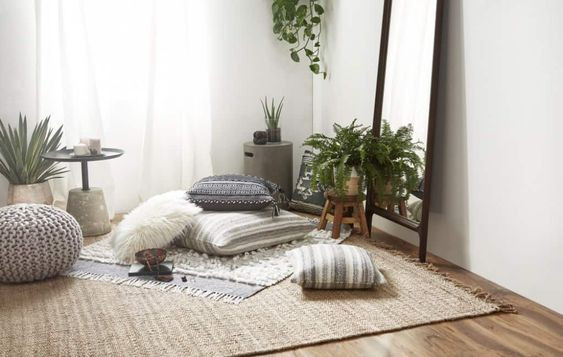 If you prefer a more modern, minimalist look, place your meditation space in a part of your house with plenty of windows and neutral colored walls. Then, get creative with some muted yet elegant accessories.
Get This Look: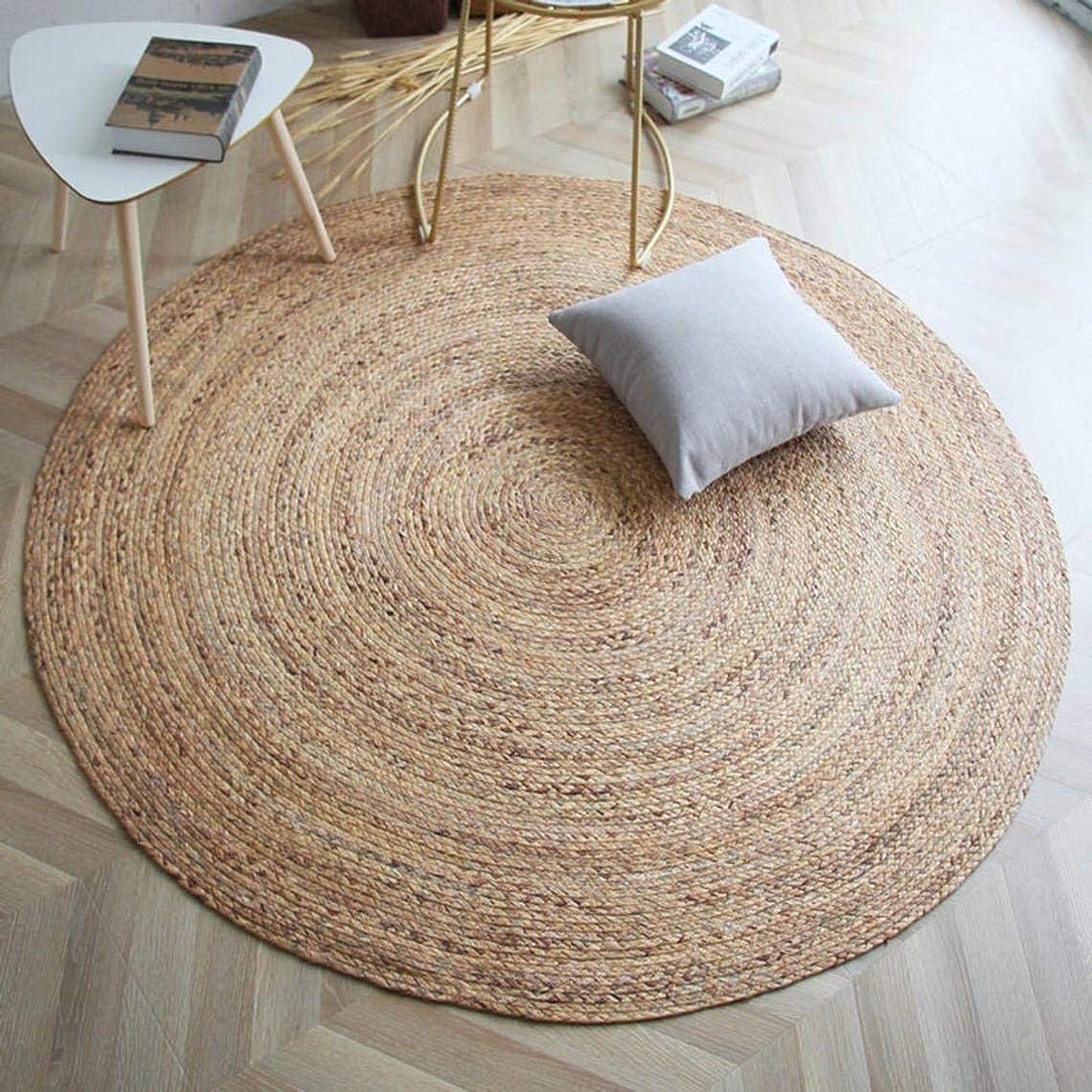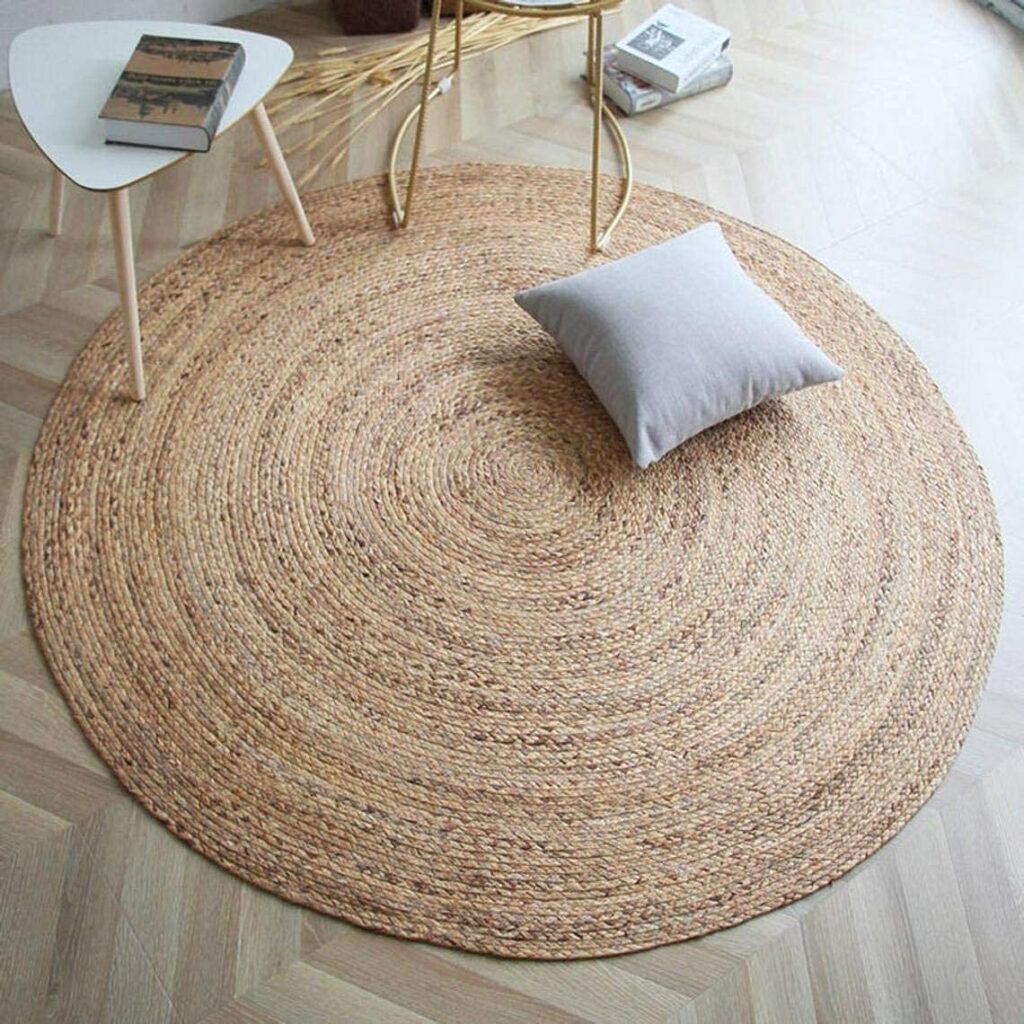 Japanese Zen Meditation Room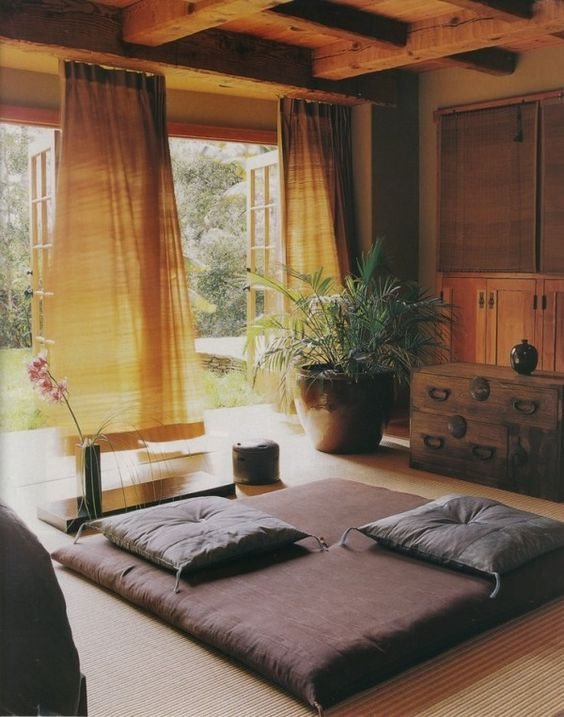 For a traditional Japanese zen room, focus on natural light, square lines, and feng shui design elements.
Get This Look: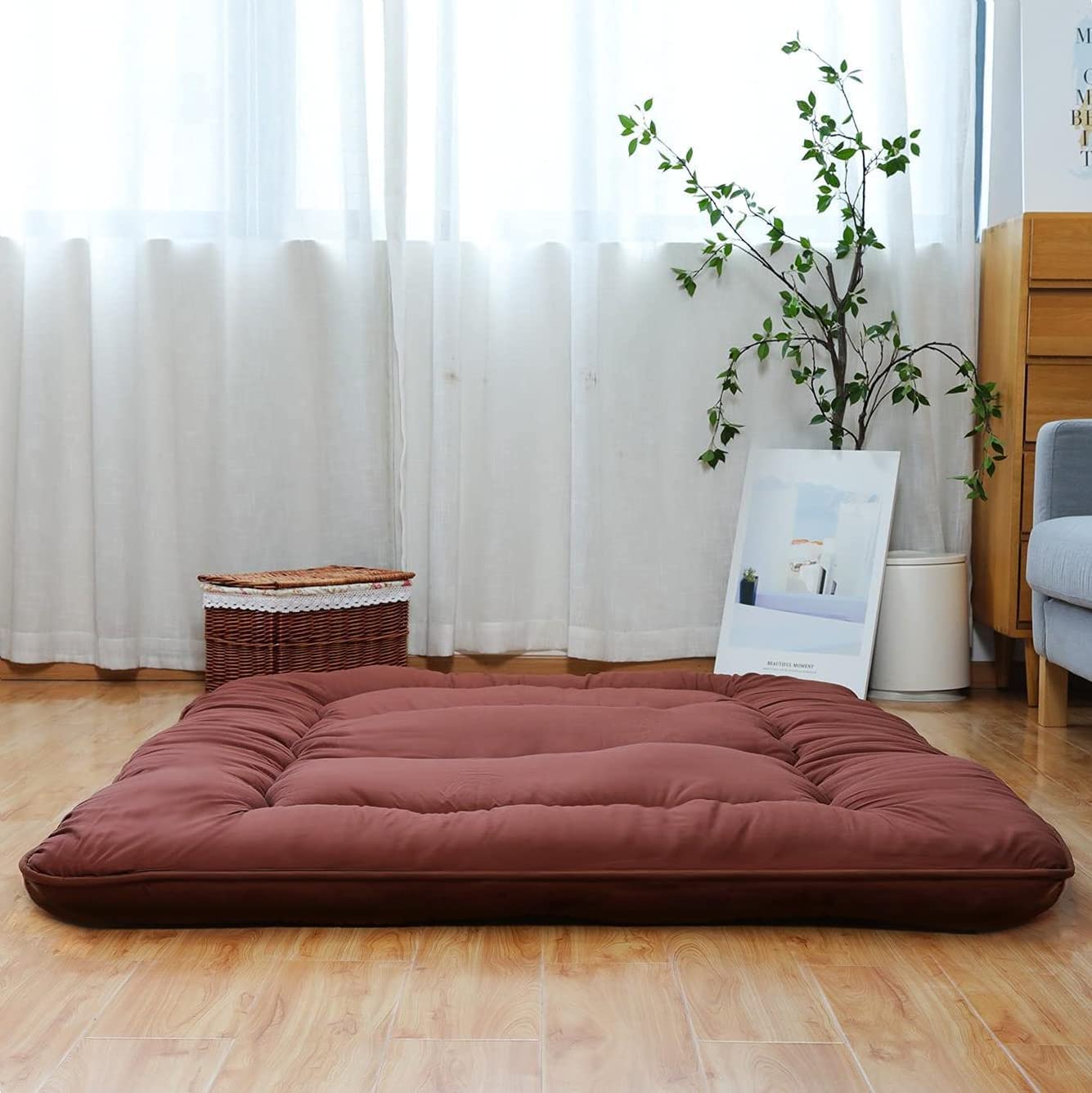 Botanical Meditation Room
Anyone has tried meditating on a hike or in the woods knows how healing nature can be. The best meditation spaces are undoubtedly those where you can feel a little more in touch with the Earth.
What better way to recreate your favorite moments with nature than to bring plants inside with you? Plants let down your guard and breathe clearly so you can remember the natural essence of life. A botanical meditation room doesn't have to be an elaborate greenhouse. This sacred space is all about bohemian accents and easy to care for houseplants.
Get This Look:
More Meditation Room Ideas
Whether you want to meditate every morning or just sit in silence every once in awhile, your space should be incredibly comforting and relaxing. Lighting, pillows, and dreamy spiritual decor are key. Here are more ideas and products to help decorate your mindfulness oasis.
Eclectic Meditation Room
Global accessories like these moroccan lamps help add an air of bohemian mystery.
Crystal Meditation Space
This triangular shelf is the perfect wall-hanging for displaying crystals and sacred objects.
Vintage Meditation Altar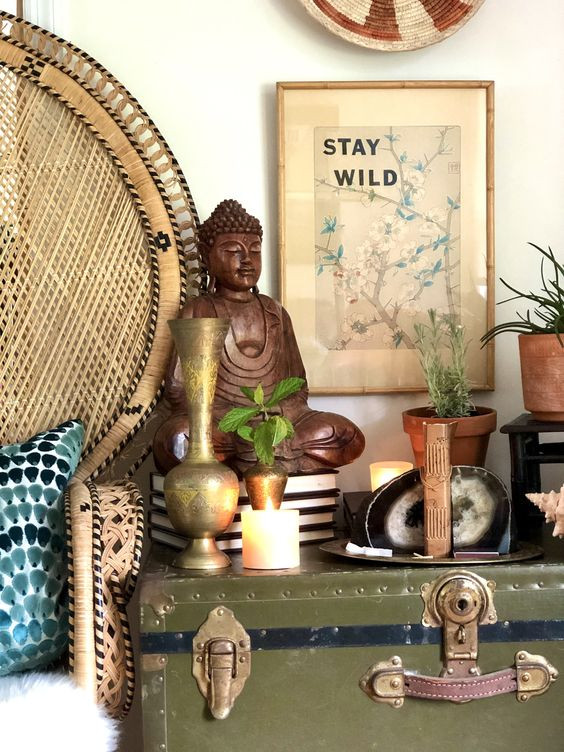 Meditation Corner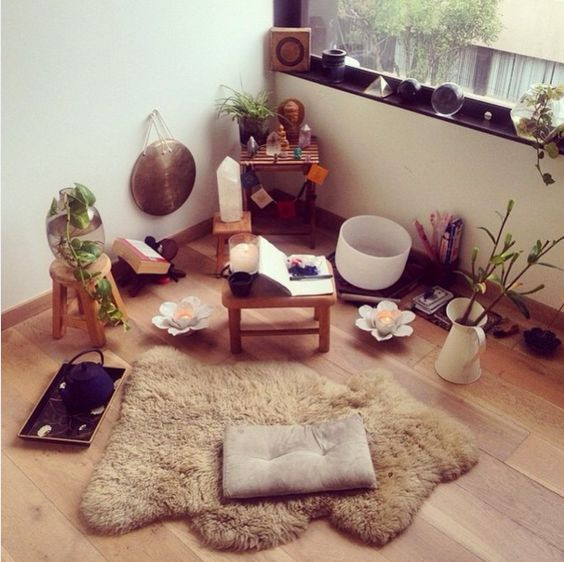 A meditation corner keeps things simple and compact. Add a meditation bench, crystal display, and lotus candles to inspire more relaxation (even if it feels like chaos in the rest of the room). Stay cozy on your floor space with a faux fur sheepskin rug like this one.
What should I put in my meditation room?
A meditation room is the perfect combo of practical tools (think floor cushions, yoga mats, books, or singing bowls) and sensory elements that relax your mind. Crystals, beads, bells, chimes, candles, incense, or a meditation altar table can help bring you into a meditative state. You will also want to include inspiring decor like tapestries, statues, and artwork.
Key Takeaways: Mix and Match Budget Items for the Perfect Vibe
Now that you've seen our favorite meditation room ideas, it's time to take a few moments to visualize the feeling and vibe of your dream meditation room. You probably want to feel calm, relaxed, comfortable, and maybe even mystical. What colors and symbols do you see? What type of lighting, seating, or plant life would make you feel more at peace?
Use this inspiration to get creative and craft a sacred space that will inspire you to pause and breathe every day. Remember that the best budget meditation decor can be found online or secondhand at local thrift stores.
Ultimately, the most successful meditation practices are all about ritual. How can you incorporate small daily rituals into your meditation area for more inner peace?
Namaste!