Whether you're a devout yogi or beginner meditator, a meditation altar is the perfect way to create a sacred space in your home or meditation room. It acts a reminder to set aside time for yourself and your connection to the universe or cosmos.
Healing crystals, dried flowers or herbs, rejuvenating candles, therapeutic essential oils, and small statues are just a few of the special spiritual talismans you can add to an altar table to help you set an intention for your meditation practice.
But what makes the perfect meditation table and how should you decorate an altar table for your unique spiritual practice?
Here's everything you need to know about creating a meditation altar, or table, filled with peaceful, positive energy.
Quick Picks: 7 Best Meditation Tables
What is a Meditation Altar?
A meditation altar or meditation table is a form of a traditional shrine where spiritual tools and talismans are displayed as the focal point of a meditation room or sacred space. They often have ornate decor (like cloths, flowers, and states) as well as meditation tools (like incense, candles, or a singing bowl) that help with focus.
The world "altar" comes from the Latin root meaning "high place". This can be interpreted in a literal and metaphorical sense, as altars are often displayed on shelves, mantles or high tables, and they can be an aid in reaching higher consciousness.
Altars are used in a wide range of religions from Hinduism to Buddhism to Christianity, however there is no specific religious affiliation with a meditation altar. Instead, they can be catered to your unique spiritual practice to help inspire a deep connection with your soul and any higher power you may believe in.
What do You Put on a Meditation Table?
Decorations and accessories for your meditation altar table should have a spiritual meaning that inspires you to work towards the highest version of yourself. These objects can have practical, historical, or ritual meanings, or they can simply be beautiful things that make you feel joyful and at peace.
Examples include:
Top 7 Unique Meditation Tables
Regardless of what you want to put on your spiritual altar, you need a functional and beautiful place to display these spiritual reminders. Choosing the right meditation table comes down to:
Here are our top picks for a variety of uses: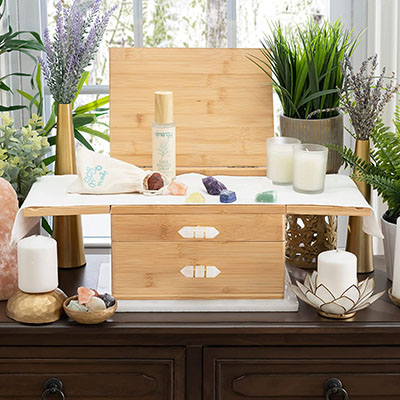 Best Overall:
Altar Starter Kit. Small Portable Altar with Hemp Altar Cloth, Sage Spray, 2 Soy Wax Candles, Seven...
See latest price
If you're not quite sure where to begin with your meditation table, this all-in-one starter kit is beautiful, accessible, and super easy to set up. It includes a sage mist, 2 soy wax candles, a hemp altar cloth, 7 healing chakra crystals, and a foldable bamboo meditation table with drawers. The drawers even have quartz crystal handles!
We love that this kit is ready to use right out of the box and it looks beautiful in any room. At 7″ x 10″ x 6.5″, it's a small altar that can easily be moved around your home as needed. The smudge and crystal
Pros
All-in-one kit includes everything you need to get started with mindfulness meditation
High quality bamboo construction
Fold out table design makes it easy to set up or take down
Great value for everything included
Perfect gift for yogis or new meditators
Adds relaxing beauty and decor to any space
Cons
Mid price point
Crystals may not be authentic
Best Decorative Wooden Meditation Table:
DharmaObjects Solid Indian Elm Wood Hand Carved Shrine Altar Meditation Table (Small, Dark)
See latest price
This Tibetan-style table is ornately hand carved in India from solid Indianlm tree wood. With its unique dragon and floral design, this meditation altar is beautiful, strong, and super durable. The solid wood construction and finish are seriously impressive quality!
We love that it can dual function as a floor altar, tabletop altar, or simply an accent side table. It adds an authentic Indian feeling to your meditation space or interior decor. Pair with a meditation bench or bolster and you have the perfect zen space.
It is available in 3 sizes and easy to assemble. The small table measures 16″ x 9″ x 9″ and can easily be folded up.
Pros
Hand carved solid wood
Ornate patterned design
Very sturdy and durable
Available in 3 sizes
Space-saving foldable legs
Perfect for interior decor
Cons
High price point
Fairly low to the ground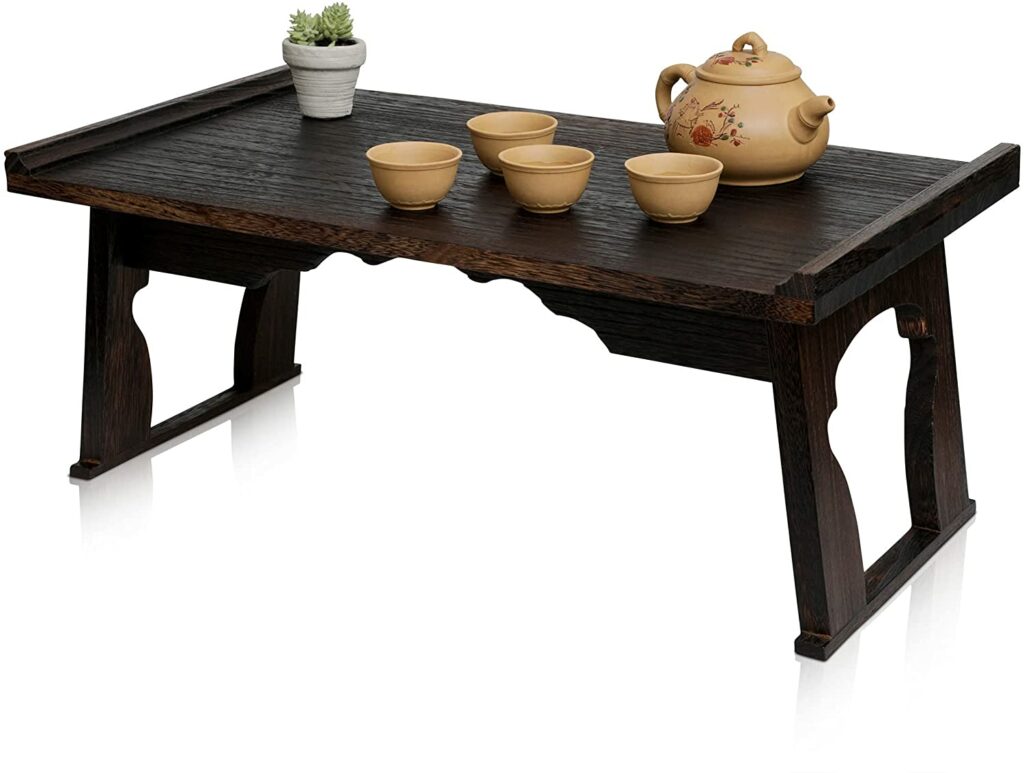 Best Japanese Style Meditation Altar Table:
ENSO SENSORY Kiri Meditation Table - Premium Carved Japanese Minimalist Altar - Chabudai Coffee or...
See latest price
This traditional Japanese altar floor table is perfect for holding small statues, decor, or the ingredients for a zen tea time. The solid Palownia wood has a dark walnut color and sleek Japanese aesthetic that adds a lovely zen vibe to any space.
The table is 23″ x 13.5″ x 10″ and holds about 26 pounds. The legs are foldable to make it easily portable for outdoor use or retreats. We love how beautiful all our trinkets look when spread out on this little tea table.
Pros
Eco conscious wood material
Versatile and multi-functional as an altar table, tea table, or low sitting desk
Foldable legs
Affordable price point for great quality
Cons
Cannot support very much weight (only 26 pounds)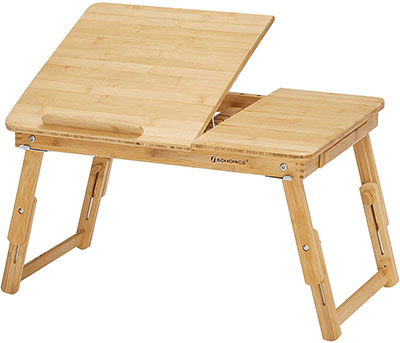 Best Multifunctional and Portable Meditation Table:
SONGMICS Laptop Desk, Folding Lap Tray, Bamboo Bed Desk with Tilting Top, Small Drawer, for Home...
See latest price
For an ultra portable and versatile option, foldable laptop desks can make excellent meditation tables. This one is particularly awesome because it weighs just 7 pounds, expands to 21″ x 14″ x 11″, and is made of pure bamboo.
There is a small magnetic drawer and tiltable top for your favorite spiritual book or virtual yoga class. The 17 lb capacity is enough to hold small crystals, candles, and talismans.
Pros
Super versatile for use in meditation, yoga, eating, or working on a laptop
100% natural bamboo construction
Foldable and ultra portable
Built in drawer for tarot cards, incense, etc.
Cons
Only supports 17 pounds (no large statues)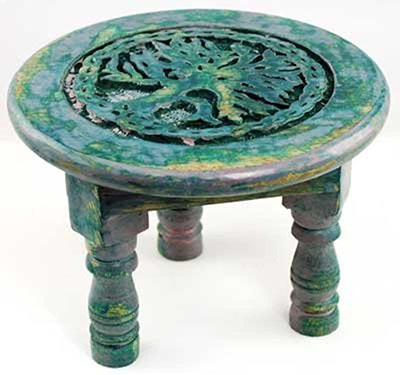 Best Mini Round Meditation Table:
New Age Imports Round Tree of Life Altar Table, Rustic Green, Magenta
See latest price
This 6″ diameter and 4″ tall round table is perfect for a mini meditation altar. It has a hand-carved tree of life image in the green-painted wood. Though it can't support much weight, the beautiful rustic design adds a lovely vibe to a meditation room and can easily hold small crystals, sage, incense, or mala beads.
Pros
Budget-friendly (under $30!)
Beautiful rustic emerald color
Pure wood construction
Tree of life emblem
Cons
Very small
Low weight rating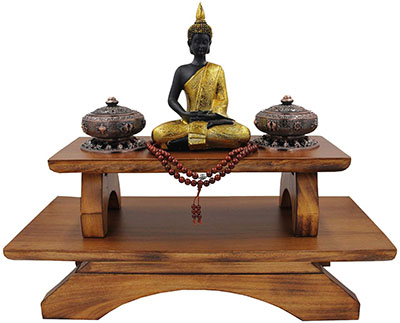 Best Premium Meditation Table Shrine:
DharmaObjects Premium Solid Wood Hand Carved Personal Shrine Altar Meditation Table
See latest price
The best meditation tables are elegant enough to stay on display as part of your home furniture. This beautiful polished wood altar is hand crafted in India from dazzling mango wood. The sustainable material is super tough and naturally water resistant.
The double-layered pedestal design gives you space to lay out crystals, oracle cards, a small statute, and other accents. Together, the entire meditation altar is 21″ long x 10″ wide by 9″ tall. It looks great on the floor and atop a larger shelf or table.
Pros
Gorgeous hand crafted mango wood
High quality, durable, and water resistant
Double tiered pedestal design for extra display space
Easily foldable for flat storage
Cons
Fairly small
Can't support super heavy statues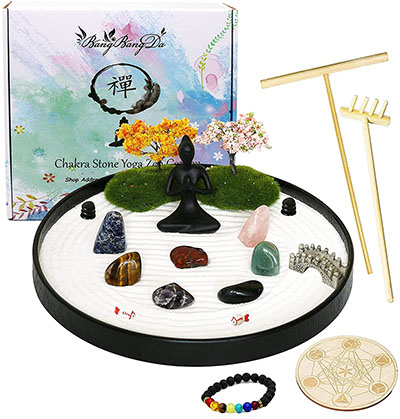 Budget Altar Tray:
BangBangDa Tabletop Chakra Yoga Zen Garden - Meditation Altar Zen Kit Set Japanese Crystal Quartz...
See latest price
When you don't have room for a full size meditation table, this tabletop meditation altar kit is the next best thing. If you've never engaged in the art of making sand designs, you will quickly understand why zen master meditators find so much peace from making fleeting masterpieces in sand.
This mini zen garden is a 9.4″ diameter circle tray that includes 7 beautiful chakra stones, a bottle of sand, 2 sand rakes (for meditative sand designs), a buddha statue, moss, and a few different accessories for the full zen garden feel. This little altar makes a great gift set or a simple prop for your zen meditation room.
Pros
Great gift set
Includes stones and mini zen garden accessories
Meditative sand art practice
Super small and easy to set up
Beautiful accessory for a meditation table
Use a Meditation Table to Create a Dedicated Space to Your Peace of Mind
Hopefully these ideas help you create a safe area for unwinding as much as possible. May your meditative altar be filled with calmness and inspiration to meditate on a daily basis!
Namaste!