Yoga teachers everywhere are accelerating their businesses online by building a website.
After all, a website is the foundation of your yoga business.
But it's imperative you build on that foundation mindfully, in order for your business to grow successfully.
It takes time, attention and hard work to get your website to work FOR you. We've seen yoga teachers make so many website mistakes over the years that prevent them from gaining the success they deserve.
Unfortunately, many are under the assumption that "if you build it, they will come." We're here to help you stay motivated to grow it beyond the initial creation…and teach you which mistakes to avoid so you can stay on a path to abundance!
Have a look – and make sure you don't fall into the same pattern of mistakes!
Not Having a Blog
First, let's clarify the difference between your blog and your website. Your website has several static Pages that don't change often. Within those pages, exists your Blog. Your site houses your Blog. Your Blog lives on your Website. Got it?
Blog posts are a way to connect with your reader on a deeper level. With every article you write, you're exposing more of who you are. Vulnerability breeds connection. Connection builds trust. With time, your readers get to know you through your words, solidifying that trust along the way.
It doesn't have to be hard. Start by writing about what you love related to yoga; asanas, mindfulness, taking lessons 'off the mat,' how yoga impacts your life, etc. Once you're more comfortable with the writing process, begin to write with the intent of solving your reader's potential problems. Eventually, each blog post will help your reader in some way.
Building trust with your readers is crucial in order to realize success. Having a blog section on your website is an easy way to do this.
Make accessing your blog easy to find on your website. We recommend making it a tab as part of your navigation menu.
Pro-Tip: By publishing blog posts, this tells Google that you're actively creating new content to improve your site. This will attract new readers to your website AND improves your Search Engine Optimization (SEO).
For more help, read our post: 5 Ways Yoga Teachers Can Improve Their Blog Posts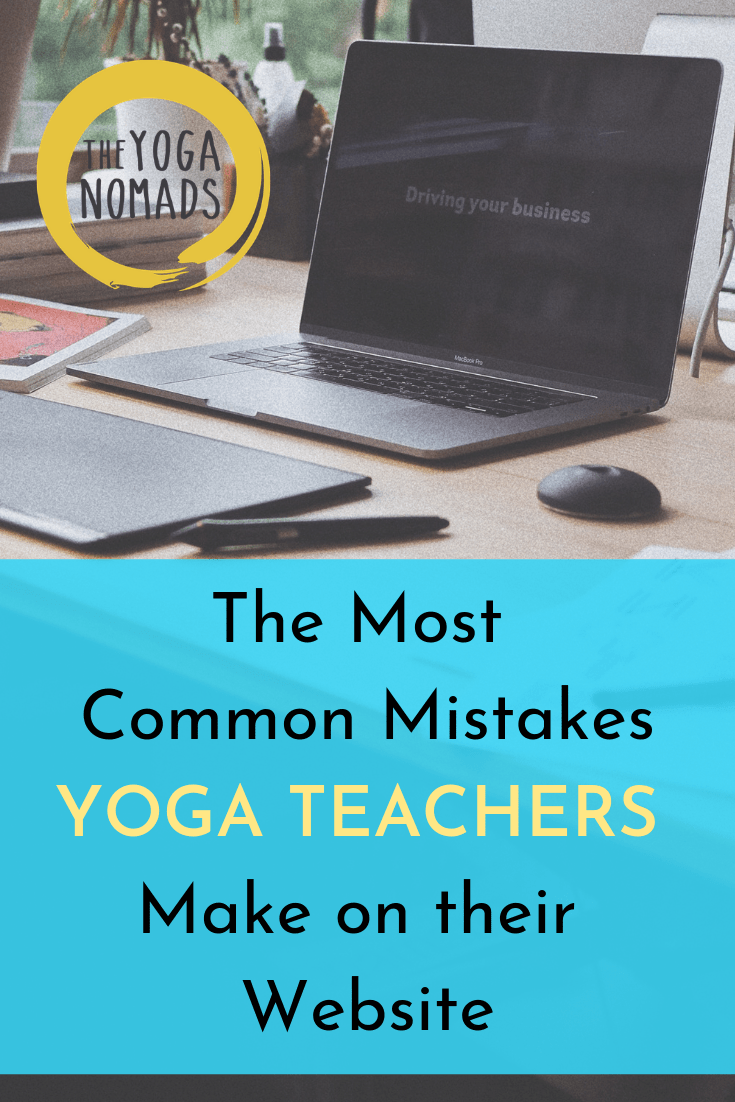 Pin me first? Then keep reading!
Not Being Clear on Who You Serve
If you're not clear on who you serve, you won't attract the right people to your website. This presents a major problem long-term.
You'll not only have a lot of short lived visits to your website, but you'll have a hell of a time finding future clients. It's important to clearly demonstrate who your website serves. Studies show that if a visitor to your site doesn't understand who you are and who your website serves within ~5 seconds, they leave!
To avoid this, start by discovering your niche which will help you to create a clear message for who you serve and why. This can also be further explained in your "About Me" section. (Which is also a non-negotiable piece of your website – and should most definitely be written with care and detail).
Having Too Much Clutter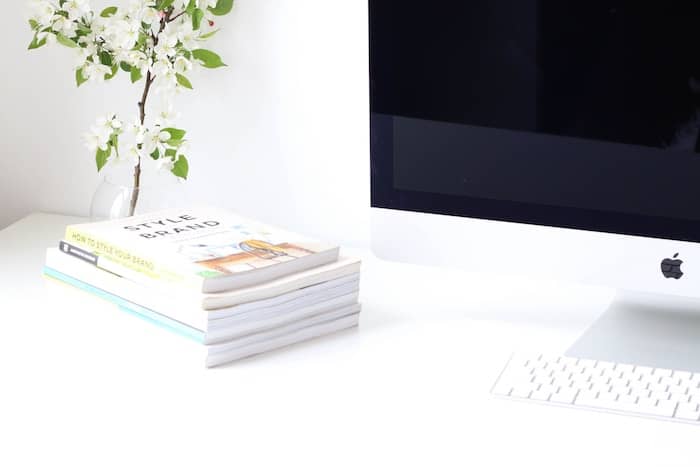 Minimalism is not only a trend for lifestyles, but a great way to approach your website, too. A clean and simple design with minimal clutter will ensure you attract and retain readers.
So as you're designing your website, less is more. You want to give your site visitors just enough information to keep them engaged, but also wanting more.
To do this, be sure your website is focused only on the most important aspects of your business. If you're a yoga teacher who runs retreats – don't clutter your website with a bunch of other stuff you "kinda-sorta-maybe do."
We often see yoga websites where the teacher claims to offer workshops, corporate yoga, essential oils consults, Skype yoga, custom yoga, and everything else you can possibly imagine. When you offer up a ton of options, you actually dilute your most important/valuable offering.
Pro-Tip: Each page should have ONE goal. Usually this is to sign-up for your email address, schedule a 1×1 consult, or "click buy." When you design your pages, remove all the clutter so your reader only has 1 thing to click on (aka the most important thing).
Not Listing an Up-To-Date Teaching Schedule
Your website will be among the first places students look when trying to find your teaching schedule. How many times have you Googled your favorite instructor, to see when and where they're teaching?
Without an up-to-date schedule, you risk losing not only students, but potential clients too! Make your schedule easy to find on your site, like part of your main navigation bar.
Pro-Tip: Share more information about the classes, such as: drop-in prices, class descriptions, studio address or link to Google Maps, etc.
Not Having a Call-To-Action
Once you get readers to come to your site, engaging with them is the next step in retention and conversion.
Retention and conversion are key concepts to know as you start to understand how to get your website to work for you.
How do you retain and convert readers on your website?
Implementing a Call-to-Action, or CTA, as I'll refer to it from now on. A good CTA gets your reader to do something/take action. It will help you generate leads, which will turn into paying customers from your website. As a general rule, every page (and blog post!) on your site should have some sort of CTA. This can look like many things: Lead Magnets, Buy Now, Schedule a Free Intro Consultation, hare the article, etc.
Studies show that most website visitors will only come your website ONCE, unless you capture their contact information somehow. The best way to do this is by having them join your email newsletter. The second best way is for readers to follow you on social media. Make it EASY for your readers to stay in contact by putting email opt-in forms in prominent places. 🙂
Not Collecting Email Addresses
It's hard to earn an income online without an email list. One of the easiest ways to collect emails is through your website! So having a website without a way to collect them isn't going to get you very far…
As many resources will teach you: the money is in the list.
While I don't like how "the money is in the list" sounds, the sentiment holds true: your email is the number one priority and it's the best way to convert fans into clients.
And isn't that what you're really here for? To leverage technology to help more people while earning an income online?
Get started right away by signing up for Mailchimp (free) or Drip ($$) to build your email list. Then put "email optin" forms in the prominent spots on your website.
Pro-Tip: Give something away for free in exchange for joining your email list. This is usually called your Lead Magnet or Free Gift. Most people give away a worksheet, cheat sheet, guide, video, or audio file as their lead magnet. Whatever you do, just make sure it's very, very, very useful for your target market. 🙂
Not Being "Mobile Optimized"
Say what?
Mobile optimization simply put is having a website that can be viewed clearly on a mobile device or ipad.
It's common to have a massive chunk of your site traffic from Google. And if your website isn't optimized for mobile viewing, Google will actually penalize you! No bueno! To ensure your site will look great on a mobile device, make sure you choose a WordPress theme that is already mobile optimized such as Divi by Elegant Themes.
Not Using Photos of YOU
People connect with images far more easily than just words on a screen. Since your website is all about you and your yoga business (and chances are your domain is even your name), be sure to use photos of yourself throughout your website.
As your readers start trusting you through your consistent blog posts, seeing images of you will only further encourage that trust.
It's okay to use just a few when you're first starting out. Better to have fewer QUALITY images, than more less quality ones.
Pro-Tip: Avoid using images of you in advanced asanas. This will alienate some students from connecting with you. Rather, select easier poses if you chose to use yoga images of you.
For more: How to Use Images on Your Yoga Website
Not Being Real & Honest
You're doing yourself and those you serve a massive disservice by not being authentically you. While onlookers may not notice this at first glance, it will come through eventually.
People will follow you, become interested in you, and eventually become your client because of YOU. Not because of what you sell, how many years of TT you've done, or even what your website looks like. They will buy from you and who you are.
Have you ever heard the statement "people do business with who they like"?
When you're busy being no one but yourself, you give permission to other's to do the same. So if for no other reason, do it to be of service for others.
Let's Wrap Up!
Where are you on your yoga business journey? Do you have a website or are you still thinking of creating one?
If you haven't created your website yet, be sure to download our free guide: How to Create a Yoga Website you Love you in 7 Steps.

My sincere hope is that you take these common mistakes seriously, and work to overcome them on your website.
Any other questions – please don't hesitate to leave them below!
Until next time,
Anne