You want to be more efficient in your yoga business? Then you need tools to automate mundane tasks like:
Booking your students
Capturing payments
Elevate your online marketing game.
But today there is more than 100 yoga studio software serving different needs on the market. It's hard to choose the best one that fits your situation.
That's why we created this extensive article. We've analyzed and tested 15 of the best yoga software to help you choose the best one.
We've segmented the tools based on these 3 types of yoga teachers:
Solo yoga teachers
Small and single studio owners
Large or multi-location studio owners
So go to the section that best fits your current situation to get our top recommendation.
Before we get started, do you currently use a yoga software? If so, tell us which one so we can compile the results from all our yoga teachers:
Best Yoga Studio Software for Personal Yoga Teachers
| Software | Ease-of-use | Customer support | Features | Value for money | Overall Ratings | Learn more |
| --- | --- | --- | --- | --- | --- | --- |
| | 4.4/5 | 4.6/5 | 4.5/5 | 4.7/5 | 4.6/5 | Learn more |
| | 4.6/5 | 4.7/5 | 4.7/5 | 4.3/5 | 4.5/5 | Learn more |
| | 4.5/5 | 4.6/5 | 4.2/5 | 4.2/5 | 4.3/5 | Learn more |
If you're a solo yoga trainer and you mostly offer your classes online, these are the best software for you.
Your core needs are probably:
Online bookings and payment
The ability to sell memberships, recurring payments, and maybe "ad-hoc" payment for an online course or ebook
Ideally have marketing functionalities (email marketing, sms reminders, etc)
What you typically won't need:
A POS system for in-person registration
Advanced Customer management functionalities (CRM)
HR/Staff reporting
Here are our top recommendations if you fall in this category:
SimplyBook.me is a starting tool for your software business. Starting at only 10$ per month (there's even a totally free plan), you can get your business going for a very low investment.
But, to have a full setup to run your yoga business, you might have to get additional paid add-ons. The tools offer a certain amount of paid add-ons included in each of their packages, so you get to customize it based on your needs while keeping the costs low.
So for the basic plan, you get everything needed to offer your services: Your students can easily book themselves and pay online. You can display the scheduler on your website. You can track attendance, send reminders and use coupons to bump up your sales.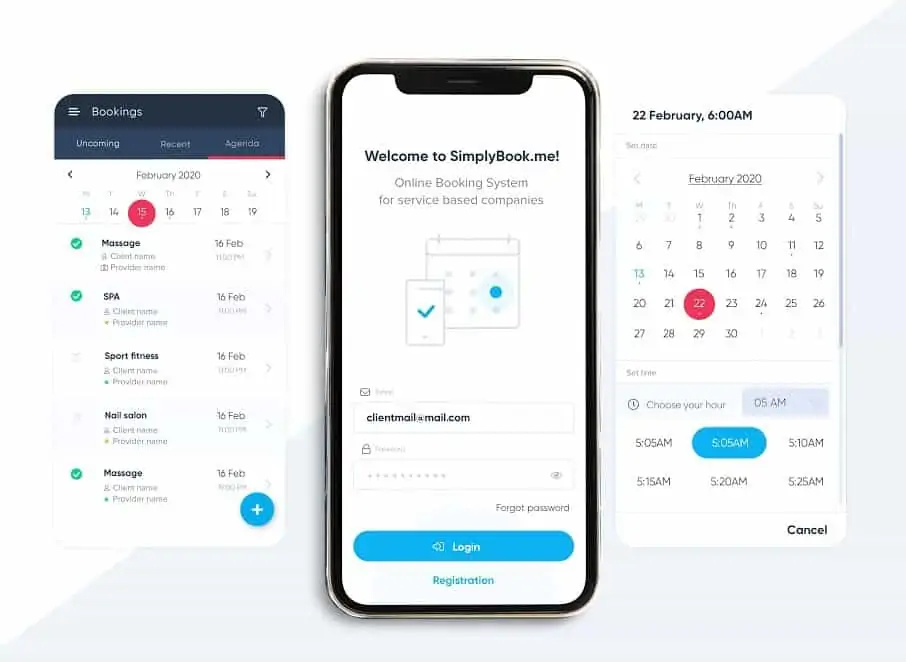 You'll also get to be listed on their Booking.page (similar to the MindBody marketplace), although honestly, we don't think it might bring you a lot of extra customers.
It might not be as user-friendly as our next recommendation, Acuity, but if you need a super basic appointment booking system (with a free option), it's a great software to get you started.
2- Acuity Scheduling
There's a reason Acuity Scheduling is one of our top choice for a solo yoga teacher:
It's the most user-friendly software in its category
The value for money is great
It has all the features needed for a teacher to offer online classes
Starting at 15$ per month, a teacher will have most features needed to sell their classes online. You'll get mostly the same features as with SimplyBook.me.
It integrates well with Zoom and Google Meet, as well as with the most popular email marketing softwares (like Mailchimp).
It's also one of the most customizable software in its category, both on the front-end (design) than on the backend (automation and management).
And their support is great, fast and friendly.
But, if you want to offer memberships and subscription packages, you'll need to go with their Growing plan at 23$ per month. Its still inexpensive in our opinion (considering what you get out of it).
As with all appointment software, it's missing customer relationship management (CRM) and advanced marketing functionalities. But, you can sync Acuity to many well-known third-parties like Mailchimp to accommodate for those features.
It checks most boxes needed to operate a solo business. You can also have a few employees/partners, although at some point it might be more productive to switch to a more holistic yoga software (like the ones in the second category).
3- Schedulicity
Schedulicity starts at 20$ per month. But at that price, you're missing a lot of key features needed to operate properly (text reminders, package management, automated billing, etc). So mainly for this, we think the previous 2 software offer a better price to value.
But, if you're looking for a higher-end system, with integrated marketing capacities like email marketing, it might be a reasonable option (although you'll need to chip in about 50$ per month for all these functionalities).
At that higher price tag, you'll enjoy great customer support and an easy-to-use (very well designed) software.
But honestly, for most single yoga teachers, I would stick with Acuity or SimplyBook.me…
Other Scheduling Software currently not considered
GymCatch
It does seem like an interesting solution at a very attractive price (10$ per month), but we feel it's not customizable enough to offer a seamless experience for your clients. But we're keeping this one on our radar and will do a full review at some point.
10to8
Another potentially good alternative with an attractive free plan. Although, in order to run your yoga studio properly you'll probably need their Grow plan at 25$ per month.
Booksteam
We're still waiting for them to offer a demo so we can fully their offering. Their pricing starts at 20$ per month. We'll update this page once we get access.
Best Yoga Studio Software for Single studio owners
| Software | Ease-of-use | Customer support | Features | Value for money | Overall Ratings | Learn more |
| --- | --- | --- | --- | --- | --- | --- |
| | 4.7/5 | 4.6/5 | 4.7/5 | 4.7/5 | 4.7/5 | Learn more |
| | 4.8/5 | 4.6/5 | 4.5/5 | 4.7/5 | 4.5/5 | Learn more |
| | 4.5/5 | 4.4/5 | 4.4/5 | 4.5/5 | 4.2/5 | Learn more |
These softwares are better geared towards small studio owners with virtual and in-person offering. Typically, they offer better class management, more robust CRM systems, better class packaging, etc. But, all this comes with a higher price tag than a simple scheduling software.
In addition to the core features from a scheduling system, you'll get:
Better team/staff management
Better client management
Better software integration
Stronger marketing capabilities
Here are our top software recommendations if you fall in this category:
Momoyoga is built specifically for yoga teachers. It offers a great user experience for both the teachers and the students. The class management is powerful, giving you good visibility on class numbers, attendance, no-shows, etc.
It also offers a good app for yogis to find and book their classes online.
If you're a solo yoga teacher, the price is very attractive at 20$ per month. But as you add teachers to your team, the price will escalate by about 4$ per month, per new teacher.
We do find that the booking process and payment to be a bit complicated, but at that price point, it still offers great value.
Overall, it's a well-designed and beautiful software at an attractive price, ideally geared for solo yoga teachers offering virtual and in-person classes.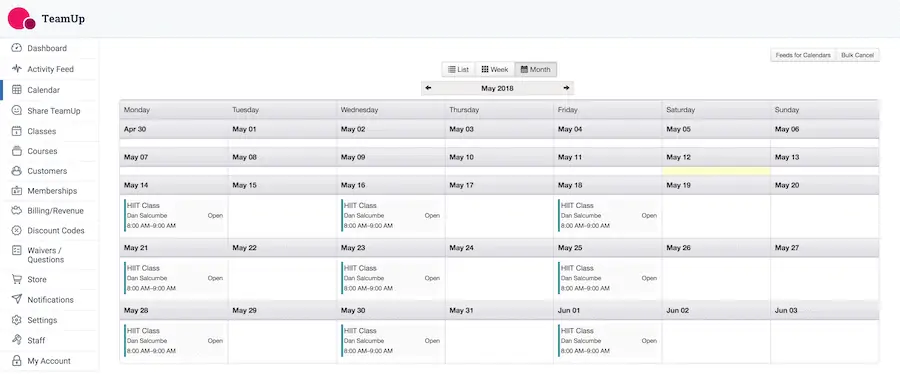 Teamup is a great option for small to mid-sized yoga studios. Starting at 59$ per month, it boasts an impressive list of features. Their pricing structure is also depending on the number of active customers, so you'll only pay more as your business grow.
It offers everything you need to run your studio with a powerful customer management system, membership options, attendance management, automated billing, etc.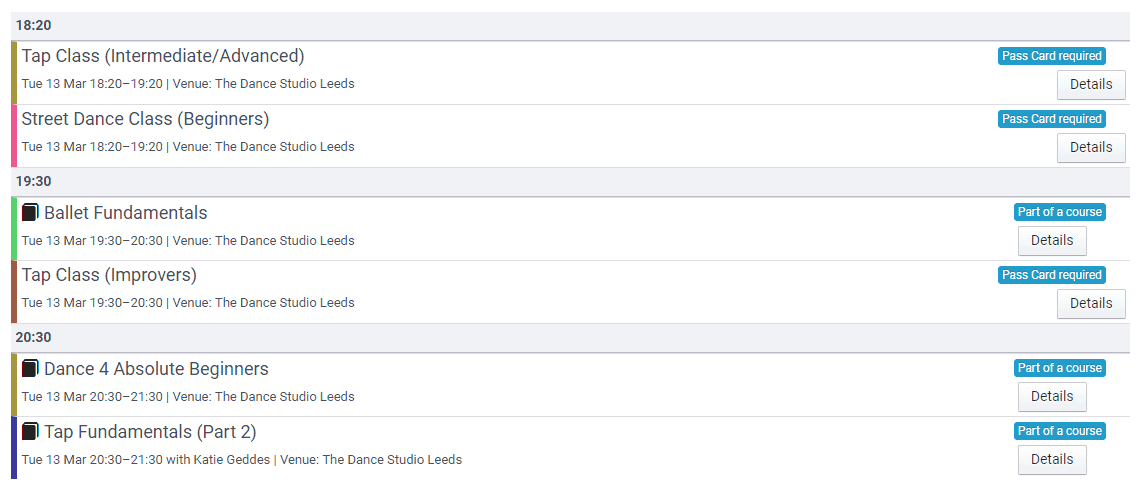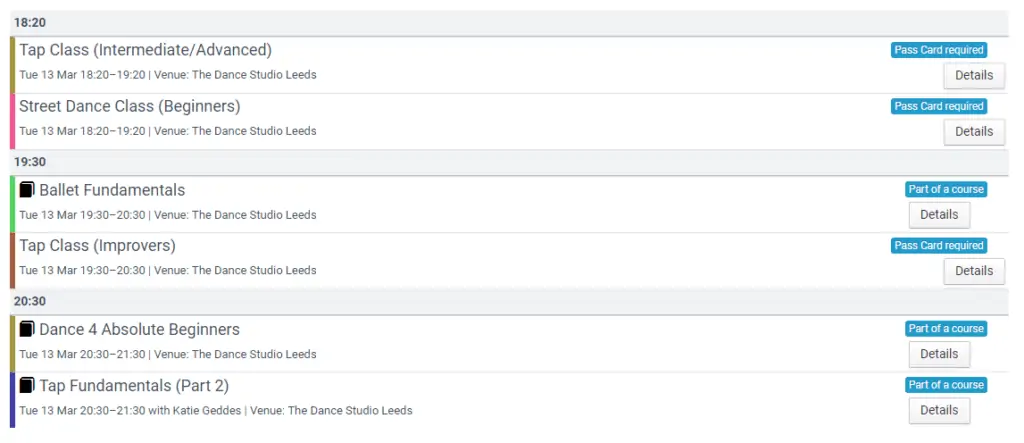 They've also recently added new features for on-demand content, which allows you to sell pre-recorded content, online courses, etc.
So for small studios with various offerings, it might be the right choice. We only wish it would offer built-in marketing functionalities. But, they do integrate well with most marketing software like Mailchimp.
3- Vagaro
Vagaro offers an impressive list of features at an attractive price point. Starting at 25$ per month for 1 teacher, you get mostly everything needed to operate your yoga studio.
Keep in mind that adding staff members will quickly bump the price tag by about 10$ per month per person.
We like that by using this software, you can get listed on the Vagaro app, bringing you additional sales opportunities.
You can also make use of their Website builder for an extra 10$ per month. Although it does lack a lot of customization a site built on WordPress might offer. Also, if you ever want to change software, you'll also need to change your whole website, so we don't recommend it.
It does offer a point of sale capability to accept in-person payment. It also have a payroll integration with Gusto, which is great if you manage multiple staff members.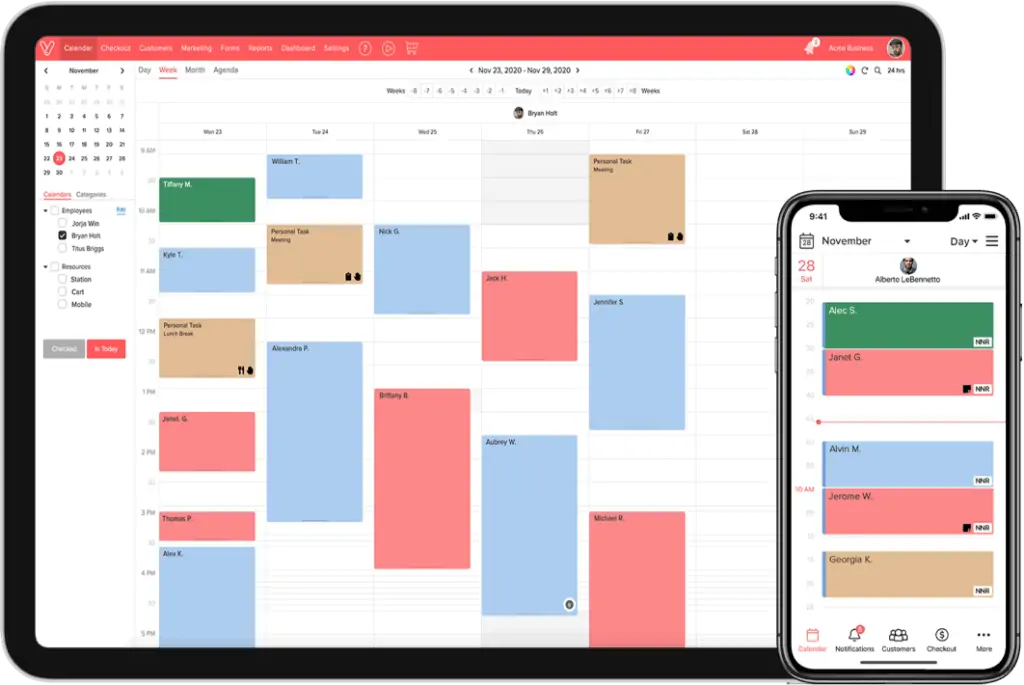 We would have like to see important features being bundled with the base package. Unfortunately, most marketing features come as add-ons, which might quickly become cost-prohibitive.
So if you're looking for a great integrated software with accessible customer service and you're willing to pay for it, it might be a good option for you. If price is important to you, the value Momoyoga offers is superior for a smaller price point.
Best Yoga Studio Software for Large or multi-studio owners
| Software | Ease-of-use | Customer support | Features | Value for money | Overall Ratings | Learn more |
| --- | --- | --- | --- | --- | --- | --- |
| | 4.2/5 | 4.4/5 | 5/5 | 4.7/5 | 4.8/5 | Learn more |
| | 4.2/5 | 4.3/5 | 5/5 | 4.6/5 | 4.7/5 | Learn more |
| | 4.3/5 | 4.8/5 | 4.3/5 | 4.5/5 | 4.3/5 | Learn more |
| | 4.4/5 | 4.4/5 | 4.2/5 | 4.3/5 | 4.1/5 | Learn more |
These software offers the most complete set of features. They are well integrated and allows you to run all aspects of your business using one tool. Obviously, it comes with a price, but at some point it's worth paying more to save time and be more efficient.
On top of all the features listed on the above 2 categories, you'll probably need:
A POS system to capture in-person payment
Inventory capabilities to sell products
Payroll reporting
Robust promo features like being listed in top directories, gift cards, customer referrals, etc
Here's our top software recommendations for larger yoga studios
1- Mariana Tek
Recognized as a superior choice for yoga studios looking to expand their community and business, Mariana Tek offers an all-in-one yoga studio software solution designed by industry experts. The platform stands out due to its intuitive usability, superior client experience, and best-in-the-industry support team.
One of Mariana Tek's strongest features is its automated marketing capability, which helps boost engagement and drive revenue. The platform also provides studios with a unique, custom-branded app for a personalized digital presence. With Mariana Tek, scheduling classes, workshops, and events is effortlessly done through the app or website.
The client journey is seamless, with easy-to-use features for booking classes, checking in, and buying add-ons. Furthermore, Mariana Tek's emphasis on a superior client experience ensures that yogis are delighted with every interaction.
Starting prices are competitive, providing value for money with a range of capabilities that are imperative for running a yoga business successfully.
Are you ready to take your yoga studio to the next level?
Mindbody has been a leader in the field for a while. It's a well-known, feature-rich software that enables you to run all aspects of your yoga studio in an integrated way.
A big incentive to use Mindbody is the ability to be listed on their app listing (probably the most widely used app out there) so you can capture more walkins from tourists, etc.
With their Starter package at 139$ per month, you have mostly everything needed to run your studio.
Although, we feel the Starter package is missing key features like a mobile-friendly booking website and email marketing, which comes as add-ons or are part of their Accelerate plan at 279$ per month.
But with it's starter plan, you have great client and staff management capacities, online bookings, POS, the ability to sell products, inventory tracking, etc.
It might not be the most user-friendly software available, but that's usually expected when dealing with such a feature-packed application like Mindbody.
And even though it's gotten a bit of a bad rep lately (due to increasing competition from other software), it's still a solid software and a leader for a reason.
3- WellnessLiving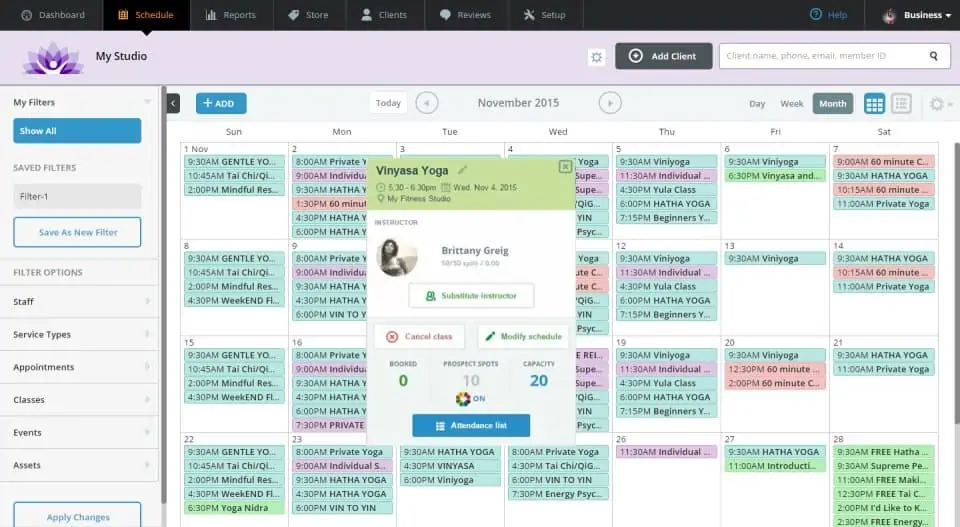 At 59$ per month, it offers most features to be able to operate. Unfortunately, important ones like class bookings, wailists and workshop bookings will require their Professional plan at 129$ per month.
But even at 129$ per month, we feel it's pretty good value for money considering all the features it offers.
Bonus points for their advanced marketing functionalities like drip emails, Groupon integration (is this still a thing?), deal features and the built-in loyalty program.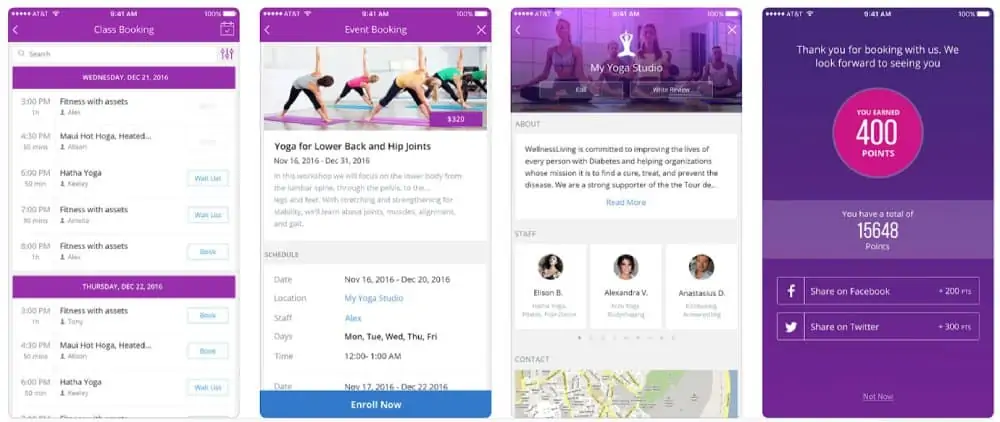 We feel pretty strongly about the software, it's rapidly gaining ground over Mindbody and it a serious contender to the leader in this space.
Also bonus point for having a monthly plan as opposed to an annual one. We still prefer MindBody, but we'd like to be able to sign up and use the software for a few months. If it doesn't work for you, you're not stuck with them for a year.
4- Zen Planner
Starting at 117$ per month for up to 50 active members, Zen Planner is a good option for active studios. It offers everything needed to run your business.
You'll find most features available from Mindbody. Although, if you have more than 250 active members, the software will cost you 227$ per month. So if you have a lot of members, Mindbody is probably a better alternative because of its holistic offering.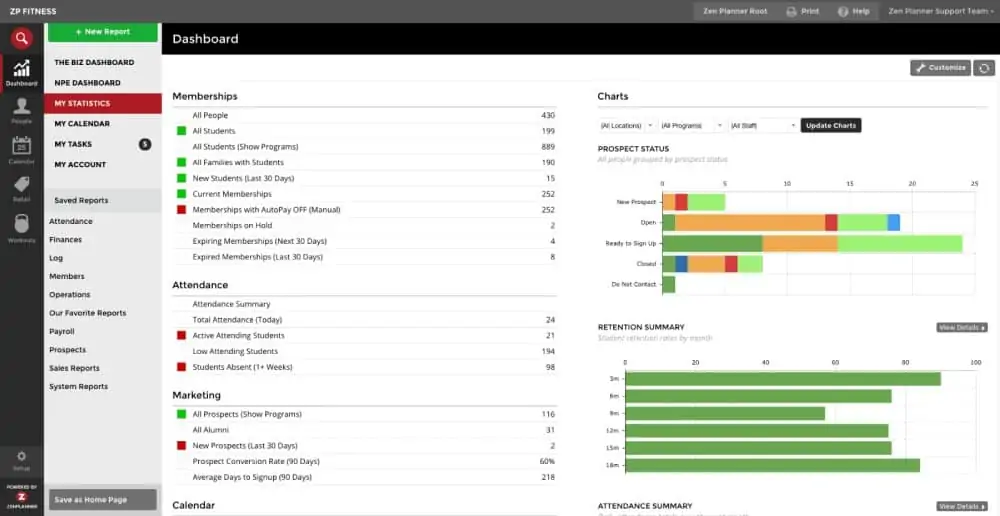 And we'll be honest, the software feels more designed toward gym facilities like Crossfit or martial arts, with added functionalities specifically for them.
Other Yoga Software not considered
Glofox
We tried getting a demo but we're still waiting, we might update it in the near futur as we get access to the platform.
Upper Hand and Pike13
Both tools feel more geared towards gym studios so you'll end up paying for features not really relevant for a yoga business (like their video analysis tools for proper form)
PerfectMind
PerfectMind is another featured-packed software, but we find the interface clunky. They also focus a lot on marketing features while we wish the would focus on user experience and integration more.
VirtuaGym
We tried getting a demo but we're still waiting, we might update it in the near futur as we get access to the platform.
Yoga Software Buying Guide
Here's a rundown of the most important features you need to think of when choosing a yoga software.
1- Online Class booking
This is the obvious one. It should be easy and simple for your students to book your classes (or workshops, online courses, etc) online.
Some software will have a specific app for it, which is cool, but you should make sure their app is well designed for mobile.
The schedule should be clear and it should be easy for you to add/edit classes, have a waitlist, etc.
2- Client management
While online schedulers may have basic client management functionalities (although you may be able to connect them to a third-party CRM), tier 2 and 3 software will be more robust. You should be able to log into individual students' files to see what they've bought in the past, maybe have rules to automatically send emails to past customers with special offers, things like that.
3- Communication and marketing
Again, with schedulers you'll probably have to link them to a third-party like Mailchimp to have the ability to send newsletters. But more holistic softwares will have email marketing integrated in their platform. This is an important feature to stay connected with your actual and future students. This is how you can quickly promote additional time slots for your class or any new offering you're coming up with.
4- Staff management
While this is only for larger studios, it becomes an important feature as you'll save a lot of time and headaches when it's integrated in your base software. Some apps will allow you to connect to a third-party like Gusto to manage payroll, insurances, etc, and some will have these functionalities built-in.
5- Point-of-sale functionality
If you have an actual studio (or a popup outside studio) this becomes important. You can easily have new walkins pay directly at the reception. You'll also be able to capture payment for bottles of water and various merch.
6- Reports and analysis
This will be available in all software compared above. Obviously, the depth will vary depending on the robustness of the app, but we made sure all recommended software had good reporting capacities.
Yoga Studio Software Benefits
1- Save time
This is the best advantage of using a Yoga software. You'll save a lot of time by being able to:
Have your clients book themselves and pay for your classes online
Update your schedule in real time
Send text messages to students and teachers
2- Communicate with clients
Both for client retention and acquisition, being able to communicate effectively should be a big focus for you. You should be able to easily:
Send push notifications through your app or text/email client.
Advertise new products
Offer discounts
3- Streamline your business
By using the reporting features, you'll get a better understanding of how your business is doing. You need to be able to anser these questions:
Are students keep coming back?
Are they leaving you after a few classes?
Do they refer their friends?
These insights can be crucial to help bring your business to the next level.
Conclusion
We really hope this guide will help you find the right yoga software for you. We'll continually update it to make sure it is current.
Please let us know if you have additional questions by commenting below, we'll do our best to answer them!