Have you ever considered making Yoga Videos, Blogs, or tutorials to share with the world? Have you ever thought about it, considered it, and stopped because it seemed really intimidating?
With the advent of technology becoming not just more accessible but easier to use, even your phone is more than capable enough of holding its own if you're making content designed to be viewed online. You honestly no longer have anything to fear.
And it helps that there are a plethora of online guides, articles, tips, and tricks out there ready to help you out.
Today, we're going to show an example of that by showing you what you need to get started for your first foray into the video world.
Look Great, Look Ready!
Before we even talk about how to prepare for a shoot, you should first prepare yourself!
One of the first things you should do?
Pick out a great outfit! Dig deep and find something that reflects you as a person; something that captures the feel and vibe you want your video to give off. Choose clothes and accessories that are practical, comfortable, and something that, when you look at yourself in the mirror, you can confidently say that you're ready.
If you don't have one yet, now's the best excuse to buy one.
One thing to remember though is to watch out for very busy patterns such as checkered and the like. These have a tendency to not come off well on video and will end up looking weird on frame. Get ahead of things and avoid that by sticking to solid colors or simple patterns.
Also, make sure your skin looks fantastic! Since you'll be front and center for this video, you have to be in tiptop shape. Remember to always follow your routine properly, take care of your body and make sure to put your best foot forward! If you need some skincare recommendations, try checking out www.kryzuy.com for routines or products that could work for you.
Now that you're ready to go in front of the camera, the next step is to make sure everything goes well behind it.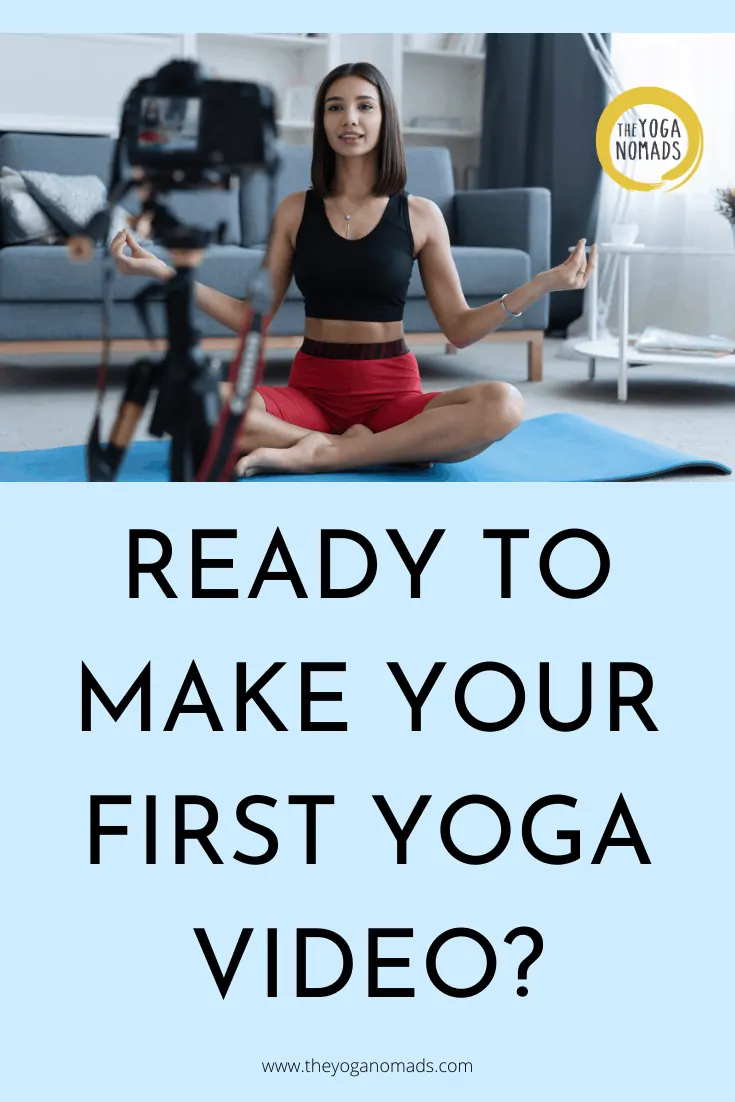 Pin me first? Then keep reading!
Prep, Prep, Prep!
If you want things to go smoothly, the next thing you have to do is prepare accordingly. Be as thorough as you possibly can. Whether it's for yoga videos, or any kind of video endeavor, proper preparation is usually the first step to success.
So many things can go wrong, even with a simple shoot, so it's best to have plans and contingencies for every scenario. You don't want to be caught off guard by anything!
Start things off by creating a detailed schedule for you to follow! What do you need to prepare the night before? What do you need in general? Is there any part of where your filming, be it at home, outdoors or even in a studio, that needs to be fixed up, covered up or improved upon?
Make sure everything's ready.
Creating an outline, a video guide or even a script will do wonders for you on shoot day. Having a schedule to follow, even if you don't follow it religiously, will help ground your shoot and gives you something you can track to see how far you've come already.
It can also save you a lot of future headaches as it gives you a checklist of all the shots you may need. One of the worst things that can happen is that, during the edit, you realize you've missed an essential shot and you either have to go back and shoot it or try to edit around the missing piece.
You never have to experience that if you prepared accordingly.
Two more essential things you can do the night before?
Charge your batteries and clear your memory cards! Simple and essential but also forgettable. In the rush of things, we sometimes forget about these two very easy steps. Taking care of them early can go a long, long way.
Some people say that pre-production and preparation can make or break a shoot. We wholeheartedly agree.
Take Your Shot
Now that you're ready in front of the camera, and prepared properly for everything that goes behind it, you're finally ready to start shooting!
A basic set up with a camera and a tripod is essential. You can also use your phone if you're inclined, but be sure that your phone's camera is decent enough. If you have no tripod, you can get creative so long as you prop your camera up properly and keep it steady.
The last thing you want is a shaky camera or a shot failing or moving unexpectedly. It's best to experiment and make sure you have a set up you're comfortable with.
You'd also want to frame your shot accordingly. Be sure the space you're shooting in looks aesthetically appealing but also practical. If you don't have lights to help you light your shot, choose a space with a lot of natural light instead.
If you find the right spot, it could look even better than something that's artificially lit.
Give your frame enough space on every side, If you find the perfect angle and frame, add a little extra on every side, to make up for possible errors or issues that may come up when you're editing your video. Be sure to also shoot, if possible, on the highest resolution your camera can give you – at least 1080P would be good, but 2k or 4k resolution would be even better.
Although the video output doesn't necessarily have to be that level of HD, this allows you to zoom in and fix things you need to fix in your shot, in case a problem occurs during the editing process.
It's always good to have a backup plan, in case anything goes wrong.
Once you start shooting, as much as possible, stick to your shot list, your schedule, and your plan! Even if things come up unexpectedly, stick to it as close as possible. Be strict with yourself, but flexible enough to deal with problems or to let happy accidents happen.
You're Ready!
If you keep our tips and tricks in mind, we're sure you're not just going to end up with a good video; you're gonna have a great time as well. Shooting the video is one thing, posting it is another question altogether. But at the end of the day, the goal isn't just to create great content centered on a true passion of yours – namely Yoga – the goal is to also have fun.
Why else would you make anything that doesn't add to your life in a positive and meaningful way, right?
Good luck with your first video and we hope to see the fruits of your labor, soon enough!
PS. Did you enjoy this article? Pin Me!